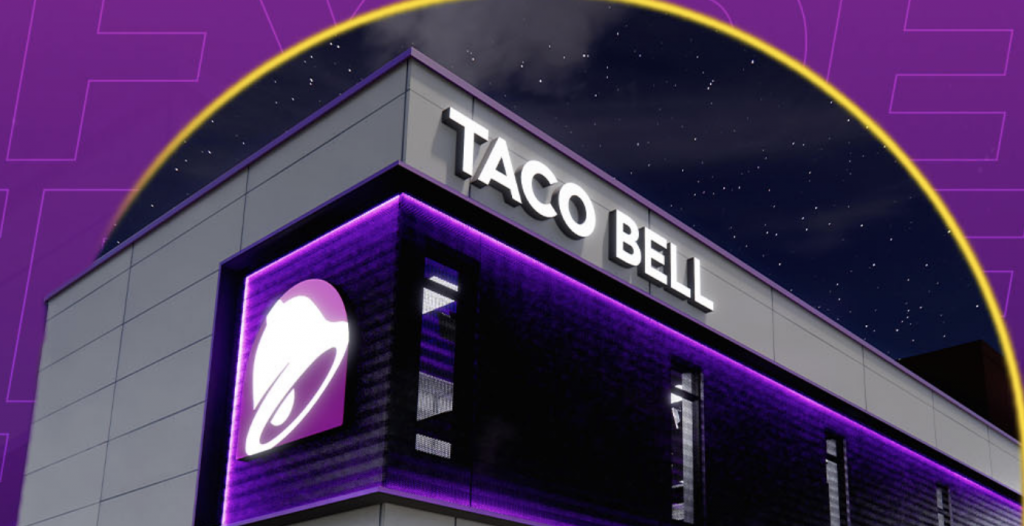 Taco Bell is kicking off the summer season with a redesigned futuristic drive-thru. Cleverly called Taco Bell Defy, the Mexican-inspired restaurant chain said the newest high-tech location will open its doors in Brooklyn Park, Minnesota this week, The Verge reports. The new concept aims to reduce service times to two minutes or less while providing a fun, easy, and seamless drive-thru experience for customers, according to company President Mike Grams.
Taco Bell's two-story location broke ground last summer and features four drive-thru lanes. Three of them will be dedicated to mobile and third-party delivery orders (like DoorDash and Uber Eats), while the fourth will service dedicated customers looking for the traditional drive-thru experience. The outlet is also equipped with digital check-in screens for mobile orders, unique QR codes, two-way audio, and video technology for customers to talk to restaurant employees, and a proprietary vertical lift to transport people's favorite menu items.
The Minnesota-based fast-food outlet will be operated by local franchisee Border Foods, which has more than 230 Taco Bell locations across the Upper Midwest. "Taco Bell Defy embodies the innovative, entrepreneurial spirit of Minnesota businesses and franchisees," Border Foods co-founder and CEO Lee Engler said in a statement via the New York Post. "It is a creative, technological solution for a faster, contactless experience for as many Taco Bell fans as possible and is poised to be the future of quick-service dining."
Speaking about the Defy concept, Taco Bell President and Global COO Mike Grams said the location is an incredible innovation for their brand. It's also one that's meeting their consumer in a really unique way. "For decades we've been committed to providing a fast, safe, and friendly drive-thru experience. We're thankful for our incredible 36-year partnership with Border Foods and feel like Taco Bell Defy is a culmination of years of success between our teams," he wrote in a statement via Today. He also thanked local partners like Vertical Works, whose expertise helped make the vision possible.
Taco Bell also hinted that many of the features seen at Defy concept location could show up at other restaurants across the United States in the future. This isn't surprising since a CNBC report revealed that drive-thru usage increased by about 26% in the middle of 2020. The same year, Taco Bell said 4.8 million vehicles passed through its drive-thrus as a result of the Covid-19 pandemic. Since food delivery apps were prominently used during the pandemic, ghost kitchens also made their mark among larger brands as restaurants moved to minimal contact food delivery for customers.
Interestingly, Taco Bell is one of several fast-food chains prioritizing a digital-ordering format. In 2019, CNBC said that McDonald's started experimenting with artificial intelligence to save on labor costs and make adjustments to menus according to the weather and promotions. Sonic and Checkers have also been toying with AI for their drive-thrus. Not to be outdone, Chipotle is reportedly testing out a robotic chip-maker and White Castle hired robot fry cooks to flip burgers.