Popeye's launched a new iteration of its classic Chicken Sandwich - the Blackened Chicken Sandwich - which has been marinated for 12 hours in a blend of cajun and creole spices.
Popeye's is reigniting the fast food wars with its brand new Blackened Chicken Sandwich. Starting this week, customers across the United States can grab the eatery's fresh take on its iconic, hand-battered chicken sandwich which almost broke the internet three years ago. "Our Chicken Sandwich changed the industry in 2019," Popeye's President Sami Siddiqui said in a press release.
Since then the chain continued to innovate within the category to give people more options. The Blackened Chicken Sandwich is made with a breading-free, whole chicken breast that has been marinated for 12 hours. The meal is also perfectly seasoned with a delicious blend of Cajun and Creole spices.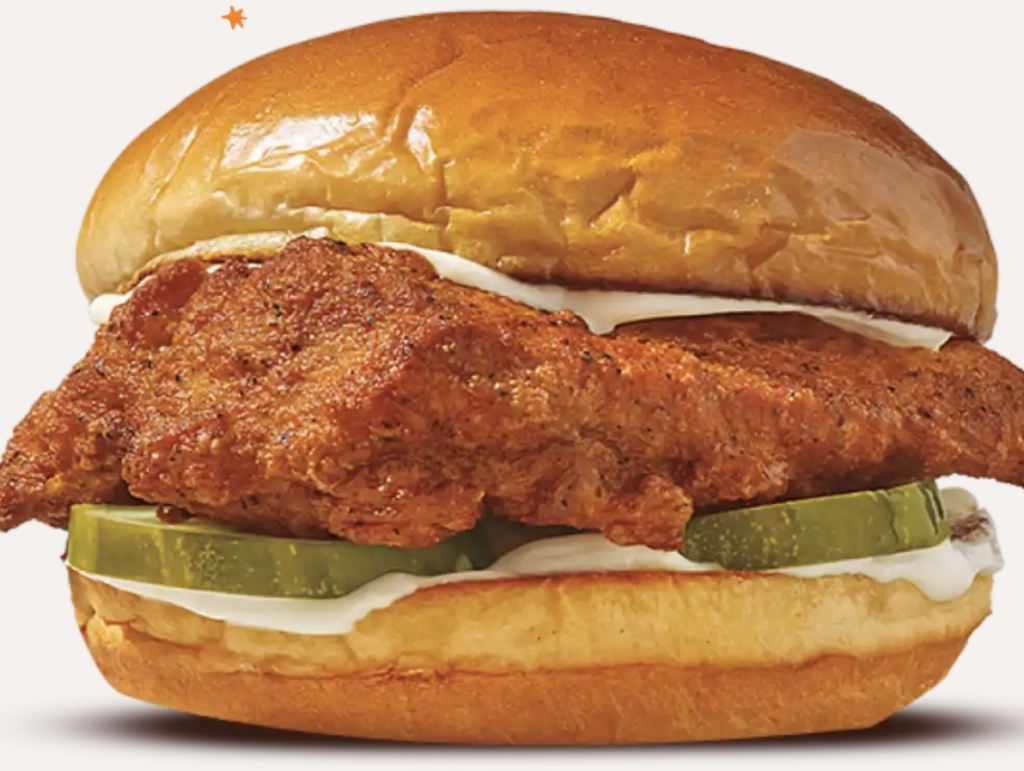 It is served between a Popeye's toasted buttery brioche bun along with pickles and the eatery's house classic or spicy mayo. Starting at $4.99, the delicious sandwich will be available for a limited time at participating locations.
Interestingly, it took Popeye's culinary team four years to develop this version of the classic Blackening cooking method. The technique originated in Louisiana and is the best way to seal in seasoning and spices to flavor the meat. Once the process is complete, the chicken develops a crave-worthy, yet subtle browned or blackened crust. Speaking to Food&Wine, Popeye's Vice President of Culinary Innovation Amy Alarcon explained how the restaurant created its popular chicken offerings.
"Both the Blackened and our classic Chicken Sandwiches have been in different stages of development over the course of several years, despite the fact that the original was released in 2019," the Popeye's executive told the publication."In fact, the original chicken sandwich took much longer to develop, so that was in the works well before we actually launched it, too!" The eatery also tested the Blackened Chicken Sandwich before deciding to launch it nationwide.
Along with the cooking technique from Louisiana, Popeye's also drew inspiration from some of their global menus in markets like Brazil and Switzerland. "We certainly took some key learnings from the original Chicken Sandwich launch and applied them to the Blackened Chicken Sandwich," Alarcon continued. This is evidenced in the way the eatery incorporated the same buttery toasted brioche bun, with its house classic or spicy mayo.
They simply added fan-favorite elements, like the crunchy barrel-cured pickles, with the classic Blackening cooking technique. Moreover, Popeye's rewards members will receive 200 bonus points when they purchase the Blackened Chicken Sandwich via the restaurant's official app or website. The points are good for one free order of regular fries, the press release says.
 "As many will recall, the Popeye's Chicken Sandwich sparked several copycat recipes from competitors, chefs, and at home cooks alike," the press release noted. Now, that Popeyes is launching a Blackened Chicken Sandwich, the brand is sure others will try to copy it again. But the popular fast food chain is so confident its new chicken recipe can't be surpassed, it launched a new campaign sharing the ingredients in the Blackened Chicken Sandwich while inviting everyone to make a version of their own and "Copy This."