The gel blaster offers mess-free outdoor play in a safe, eco-friendly way.
The calendar may have changed from summer to fall but there are plenty of wonderfully warm days still in the forecast, which is great news for kids. This means outdoor entertainment can still be had and what better way to have it than by getting the neighborhood kids together, creating teams, grabbing your favorite Gel Blaster, and turning them loose and letting them have some fun? And if you're not sure what a Gel Blaster is, we can help.
THE GEL BLASTER IS SIMILAR TO A PAINTBALL GUN
The Gel Blaster is a toy gun that is very similar to airsoft and paintball guns. They shoot small, spherical projectiles known as gel balls, gel beads, water bullets, gellets, or hydrogel balls. These projectiles absorb water to get their size and around 99% of their final mass and volume is water.
To get these gel balls from point A to point B (gun to target), the Gel Blaster employs the use of a motorized system. This electric motor takes the Gel Blaster water bullets from the gun's magazine up through the Gel Blaster firing device. How far and fast the gellets go is dependent on how powerful the electric device is.
There are two different models of Gel Blaster. Both models are powerful but adjustable weapons. Let's take a look at both.
TYPES OF GEL BLASTERS
Gel Blaster Surge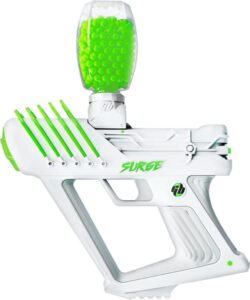 The Gel Blaster Surge is the original Gel Blaster. This model offers semi- and fully automatic modes so you can track down and eliminate your opponent the best way you see fit. With the Surge, you can adjust the sting potential of your gellets by dropping the weapon's power down to 90 FPS, but if you want to add a little more sting to the touch, you can adjust it up to 170 FPS.
The Gel Blaster Surge gets its power from a built-in lithium battery that lasts up to four hours of play. To charge the battery, the Surge uses USB-C fast charging, and takes 45 minutes for the weapon to be fully charged. The Surge also comes with colored tips and fins that can be easily swapped out for team play.
The Surge comes with a hopper that will hold up to 800 gellets. You can change modes from semi to fully automatic with a button on the back of the weapon. You can also change barrels from low velocity to regular.
It costs $49.99 on the Gel Blaster website. With every Surge, you will also get 10,000 gellets, a low-velocity barrel, a barrel removal tool, a USB-C charging cable. It even comes with safety glasses.
Gel Blaster Starfire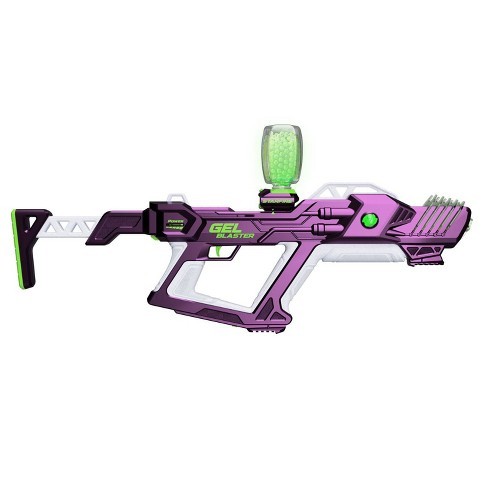 Is there anything more fun than taking out your opponents with your new Gel Blaster? How about doing it at night? You can now do this with the Gel Blaster Starfire.
The Gel Blaster Starfire is built for nighttime fun. The gellets glow in the dark, as is the Starfire itself. So, what does it take to make the weapon and gellets glow?
Like the Surge, the Starfire Gel Blaster operates with a built-in lithium battery. But what is different with the Starfire is that Starfire has a glow activator (needing two AA batteries) that charges the gellets. So when they come firing out of the Starfire, they glow in the dark as they hit your target.
The Starfire Gel Blaster comes with a hopper that will hold up to 800 gellets and has a reduced velocity barrel that will take the shooting power down to 100 FPS. You can go full auto or semi with the flip of a button. The Starfire also has a colored tip and fins that can be changed if you are setting up teams.
It runs at $69.99 on the Gel Blaster website. With every Starfire, you will get 5,000 glow-in-the-dark gellets, a low-velocity barrel, a barrel removal tool, a bonus feed neck, USB-C charging cable. And of course, safety glasses.
GEL BLASTERS: GELLETS WORK WITH WATER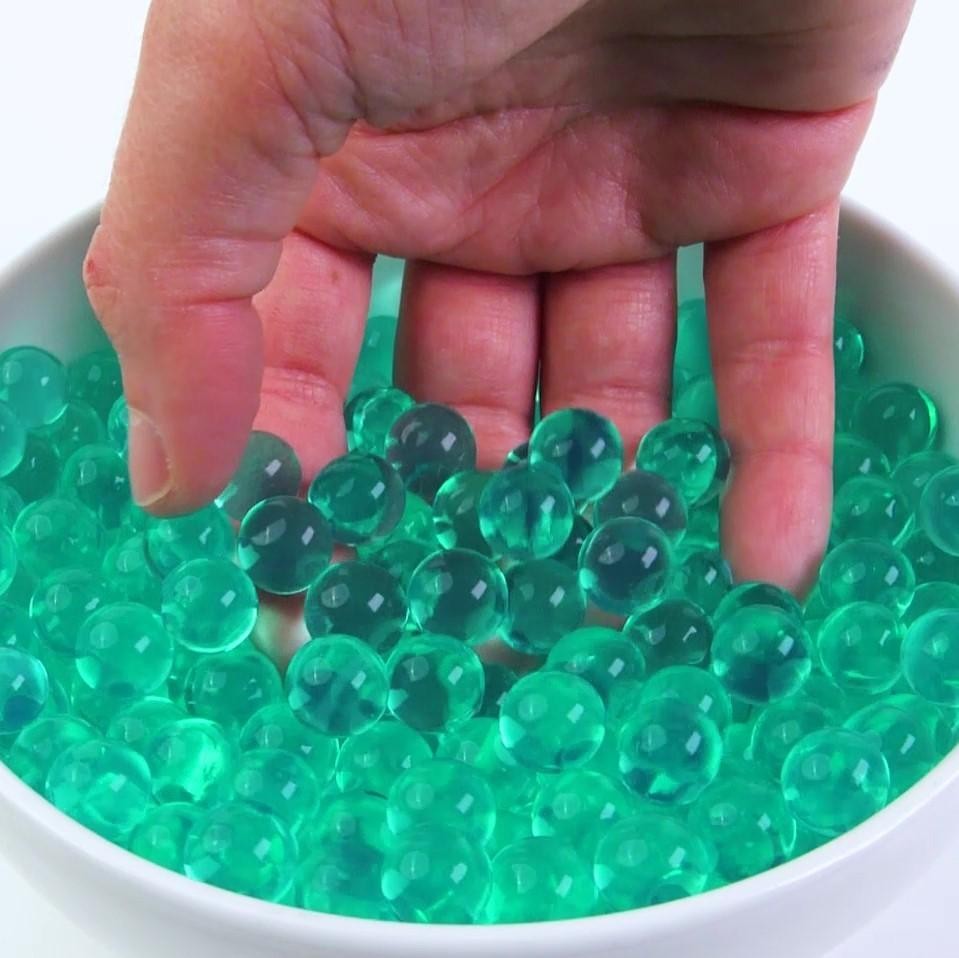 When you get your gellets, you are going to look at them and probably ask "how," as in how the heck do these things work? They are very small balls that don't appear like they would burst on anything because there is nothing in them. They soon will.
The Gel Blaster gellets are very easy to hydrate. Simply pour them into a large container. As a rule of thumb, for every pack of gellets, add one gallon of water to them.
After you add your water, wait at least two hours so your gellets can fully grow. Once they are all almost bursting, strain them, and they are now ready to be added to your hopper. There are a couple of things to keep in mind when hydrating your gellets.
The first thing is if you fail to completely hydrate the gellets, it may cause your Gel Blaster to not function as you wish it to. To get the best results from your gellets, it is recommended that you let them soak overnight. With that in mind, you can never overhydrate your gellets.
This is why an overnight soak is recommended. Any leftover gellets can be stored in an airtight container. But make sure to keep them away from direct sunlight.
THE GEL BLASTER IS ALMOST PAINLESS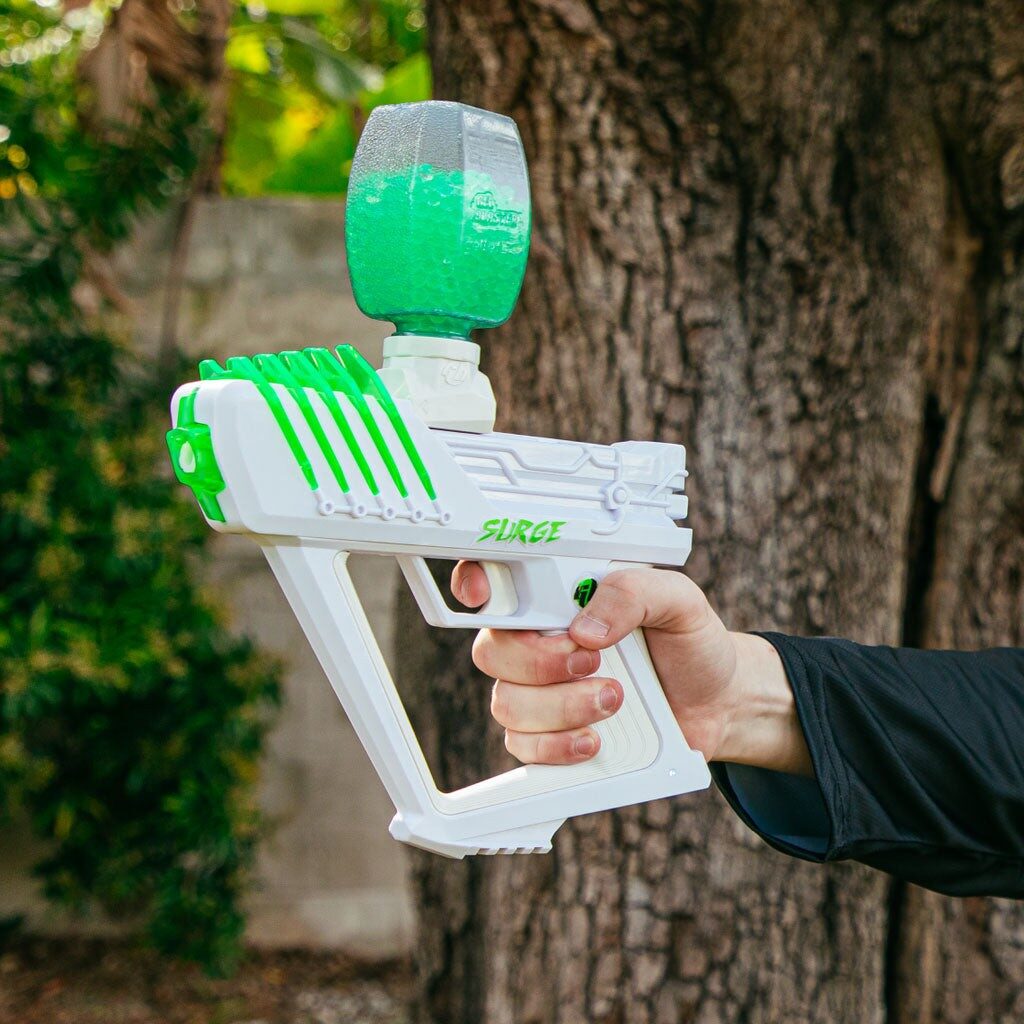 You would be correct in being concerned about the pain factor with the Gel Blaster, but you should know, they don't offer too much sting. The gellets hitting you have been described as if you got shot with a rubber band. The sting is quick and minor and most time you probably won't even feel it.
Depending on your Gel Blasters setting, it can shoot as far as 100 feet, though it is not recommended to shoot from that distance. For one reason, the gellets aren't accurate from that distance. Another, playing at close range is so much more fun.
GEL BLASTERS ARE SAFE AND ECO-FRIENDLY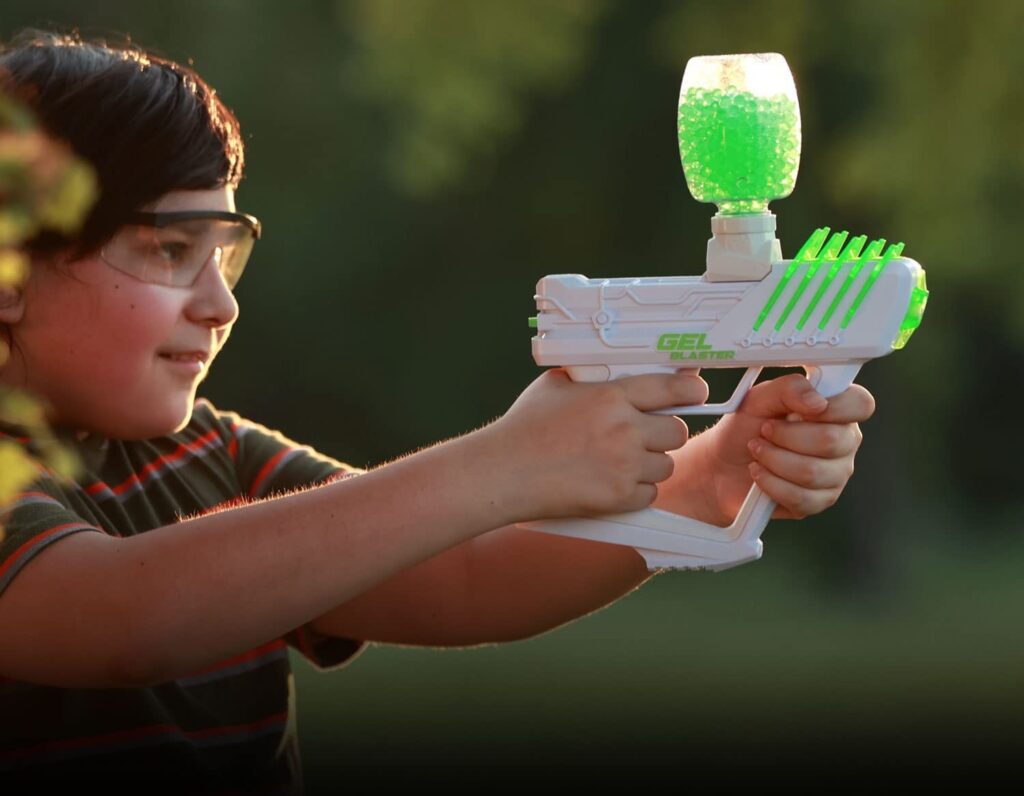 Not only are the Gel Blasters a safe and fun way to entertain kids, but the gellets are also eco-friendly. These water-based beads are all-natural, they don't irritate, and most importantly, they are non-toxic. If your animal decides they want to try one for lunch, they will survive.
The Gel Blaster gellets are also nice because they disintegrate on contact. After they burst, they begin to dehydrate and will leave no mess, residue, or stains. You simply can't lose with a Gel Blaster, and they are quickly becoming the preferred alternative to paintball guns.