Calling all puppy parents! Krispy Kreme is now serving up some special doggie doughnuts to commemorate National Dog Day.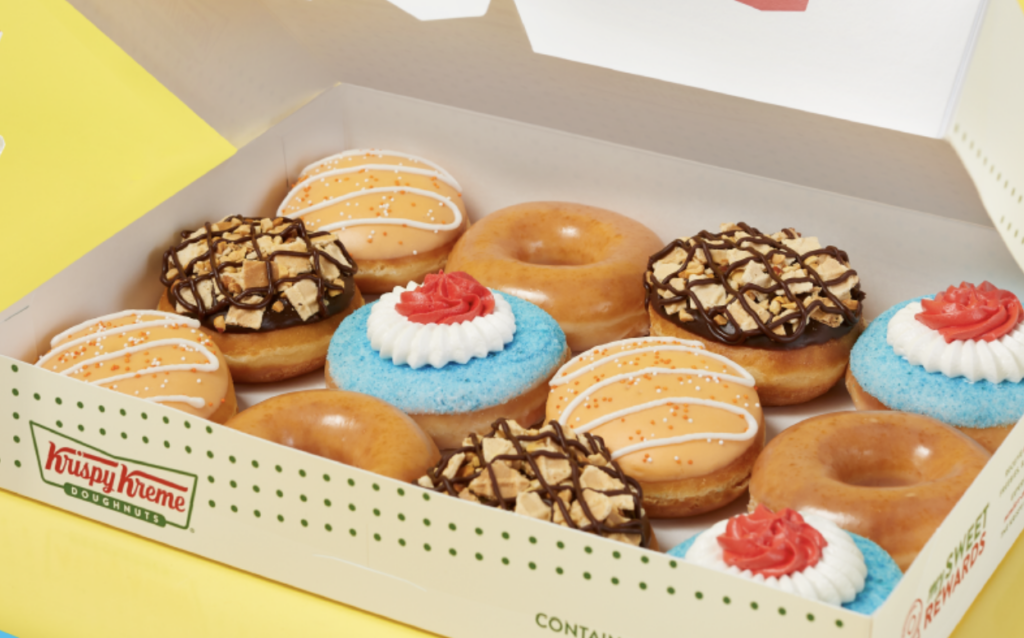 Everyone knows Krispy Kreme makes fun, tasty, and innovative creations. Their latest creative move? Giving dog owners the chance to celebrate National Dog Day together. They recently announced the news they were launching a brand new product – Doggie "Doughnuts."
The product developers at Krispy Kreme found a way to design dog biscuits that look just like some of their top sellers. The Doggie Doughnuts are natural and formed into a traditional doughnut shape. They come in six packs and feature a variety of delicious flavors.
And don't worry. The production lines that deliver your favorite doughnuts will not get used to make the Doggie Doughnuts. Krispy Kreme knows its manufacturing limits and wants to ensure they adhere to all food safety guidelines.
That is why Krispy Kreme partnered up with a well-known manufacturer of pet treats – Huds and Toke. The Australian-based company did some fantastic product development work. Both companies set out with the goal of developing treats that would be suitable for dogs of every age and size.
They even discovered safe ways to mimic chocolate doughnuts without harming any dogs. There's no reason you and your dog can't both enjoy a chocolate-glazed "doughnut" simultaneously. And, if you were wondering about any of the ingredients in the Doggie Doughnuts, you can check them out for yourself. Krispy Kreme published a complete ingredient list and suite of nutritional info on their website to ease the mind of owners.
Doggie Doughnuts are fun, creative, and innovative. But they are also not the first time Krispy Kreme has teamed up with another party to put a taste delight in their customer's hands. So far in 2022, they have surprised customers through collaborations with three major companies.
Good Humor-Breyers, Twix, and Cinnamon Toast Crunch are a few examples of recent Krispy Kreme collaborators making the news. One thing is certain, fans of the doughnut company will never get bored. There are too many mouth-watering options to bring to the table.
This week, however, their focus is on your pet's tastebuds rather than your own. Celebrate National Dog Day with your furry loved one by giving them the treat they didn't know they needed. Krispy Kreme Doggie Doughnuts.
You will get an additional gift when you stop by Krispy Kreme to pick up a six-pack of biscuits. In celebration of the limited-time offer, the company will offer every dog an accessory. It is a colorful bandana showcasing a collection of dogs, doughnuts, and bones. Consider adorning your dog with a cool bandana on the spot so they can dine in style.
An important note is that the Doggie Doughnuts and the unique bandanas are a very limited-time offer. The nationwide launch starts on August 28th and will run through the weekend. Both items will only be available while supplies last at individual Krispy Kreme locations.
So don't wait too long. Once news gets out about this super creative offering, it will likely sell out quickly at most locations. So, grab your favorite furry friend and head over to your local Krispy Kreme location for a tasty treat!
---