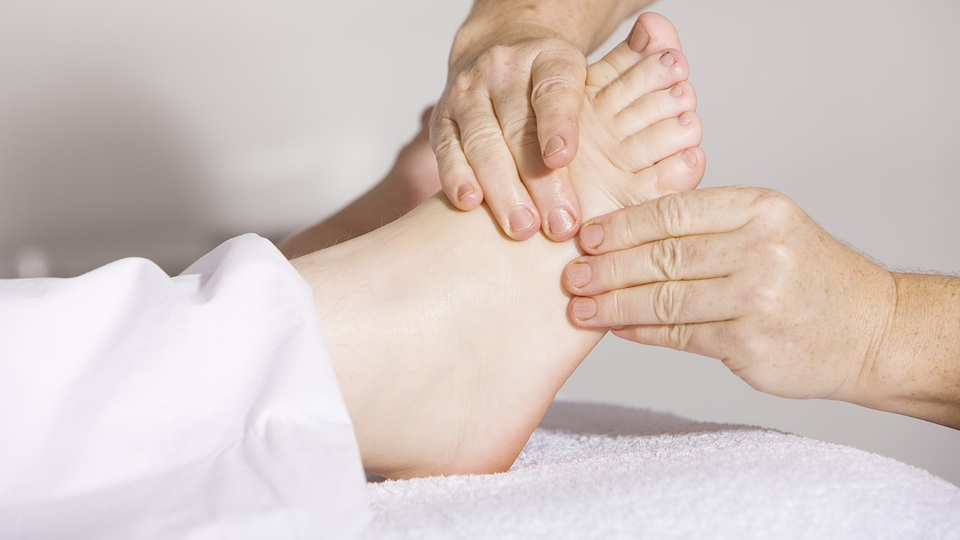 It's been a long day. Your back is killing you, your head hurts, and your feet, well, they need some help. There is nothing like a good foot massage to end that long, stress-filled workday. And the older one gets, the better it feels, especially for those dealing with issues like arthritis, plantar fasciitis, diabetic neuropathy, or any other possible foot, ankle, or leg issues. Making regular trips to the salon can become an expensive undertaking if your feet are in constant agony. Even more upsetting to some could be coming home after a long day and having a partner unwilling to satisfy the needs of your feet.
You may be asking yourself then, what are my options? Well, there are plenty out there, electronically speaking. We are talking about electronic foot massagers, and we are here to give you the lowdown on some of the best foot massagers on the market.
So, what makes the best foot massager? Some knead, some massage, while others vibrate. Most do all three. The best foot massager is going to offer the user numerous functions, though some come with so many, it may be hard to choose which one suits you the best.
Some of the best foot massagers will offer plenty of speed options, vibration choices, jets to push some water around to keep your feet happy. Other foot massagers will be simple and right to the point. Some of the best foot massagers will provide a deep tissue massage, others are built to help blood flow.
Everything offered is designed for what you feel is best for your feet. And we are here to help you decide. We have put together a list of five of the best foot massagers that hopefully will hit every need, from price to comfort. We even tossed in a luxury foot massager on the off-chance money is no object.
So, sit back, relax, kick up your sore feet while you peruse our selection of best foot massagers.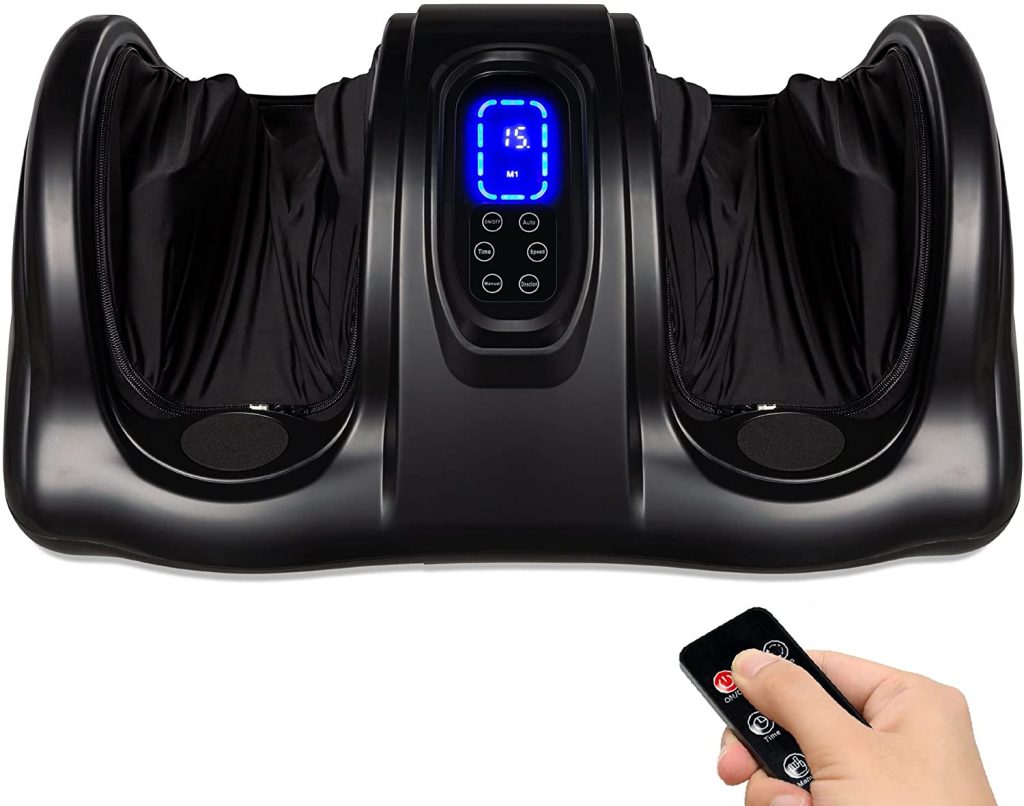 WHAT'S TO LIKE – As one of the best foot massagers on the market, the Best Choice Shiatsu Foot Massager is convenient and portable. The massager offers two forms of control, one with an easy-to-use remote control and the other with controls on the massager itself.
The controls (whichever you use) results can be seen on the LCD screen showing power, speed, and direction of the massage. You will also have the ability to set massage mode from automatic to custom to manual.
This is considered one of the best foot massagers because it targets all areas of your feet that help with different parts of your body. Easy to clean, the massager also has a non-slip bottom for your feet and an anti-skid pad for those wooden floors or tile.
PRICE – $109.99 on Amazon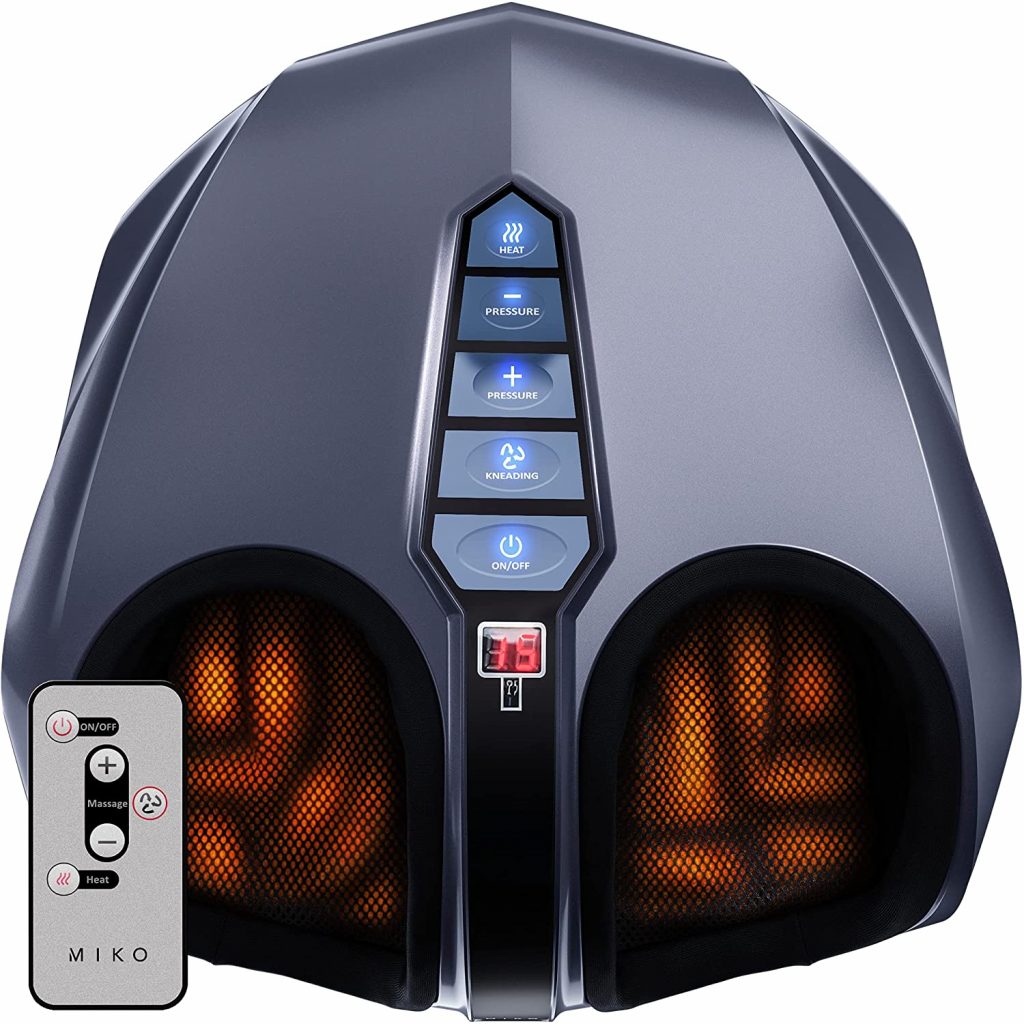 WHAT'S TO LIKE – If you are looking for the complete performance in the best foot massagers available then the Miko Shiatsu Foot Massager is the one you're going to want. You will put your feet inside this massager and all your trouble will dissolve as it comes complete with heat, compression, deep kneading, rolling, and subtle vibrating pleasure.
Article continues below headlines
---
The Miko does its business using its patented massage technique whose independent foot chambers provide your feet with a shiatsu massage to the bottom and sides of your feet while air pressure takes care of your entire foot.
Miko also gives you two remote controls to use with its LCD display. The unit is equipped with non-slip grips.
PRICE – $169.99 on Amazon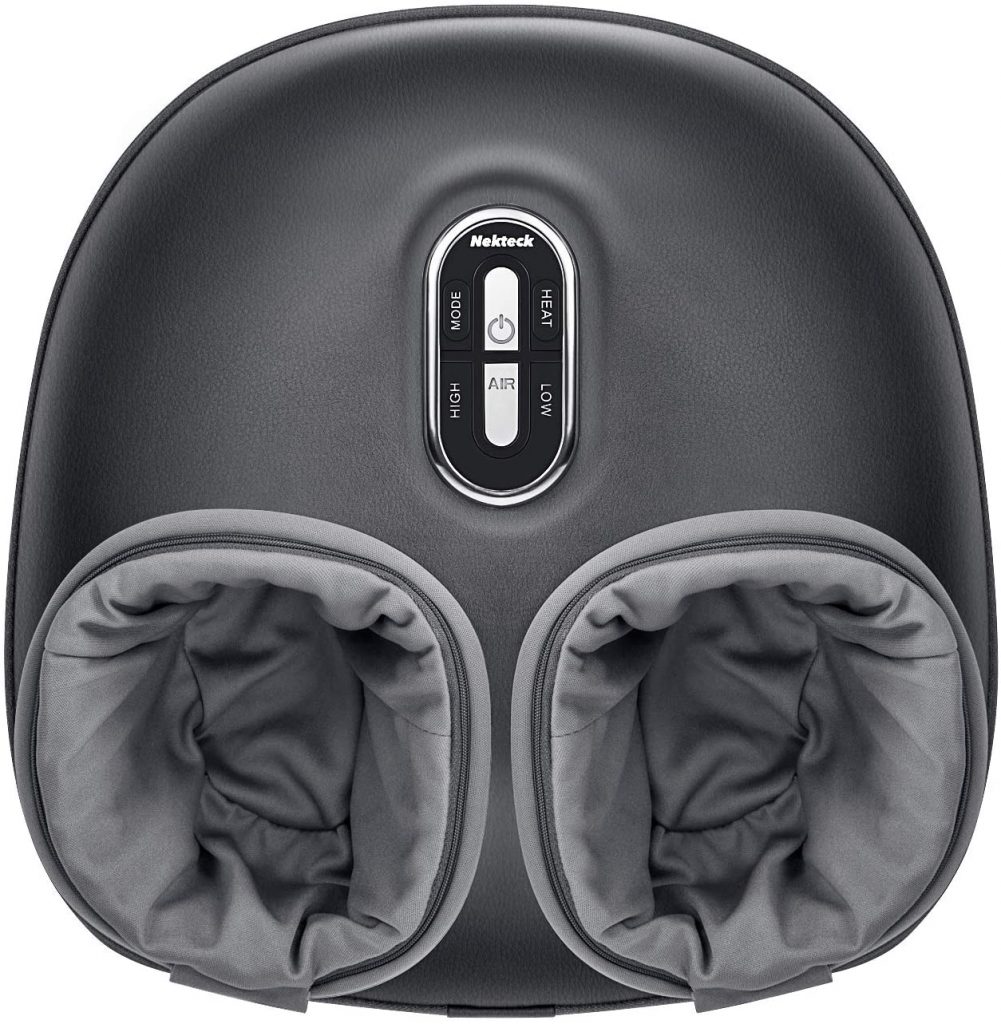 WHAT'S TO LIKE – One of the best features of this foot massager is its attractive price. But does it do the job it was hired for? It does and it does it well. This is another of the best foot massagers that use foot chambers to work your tired feet.
It has three massage modes and uses both heat and compression to give you the relief you are searching for. The air compression is offered in two intensity levels and the deep-kneading nodes allow for the shiatsu massage.
The Nekteck's foot covers are detachable to allow for quick and thorough cleaning.
PRICE – $79.99 on Amazon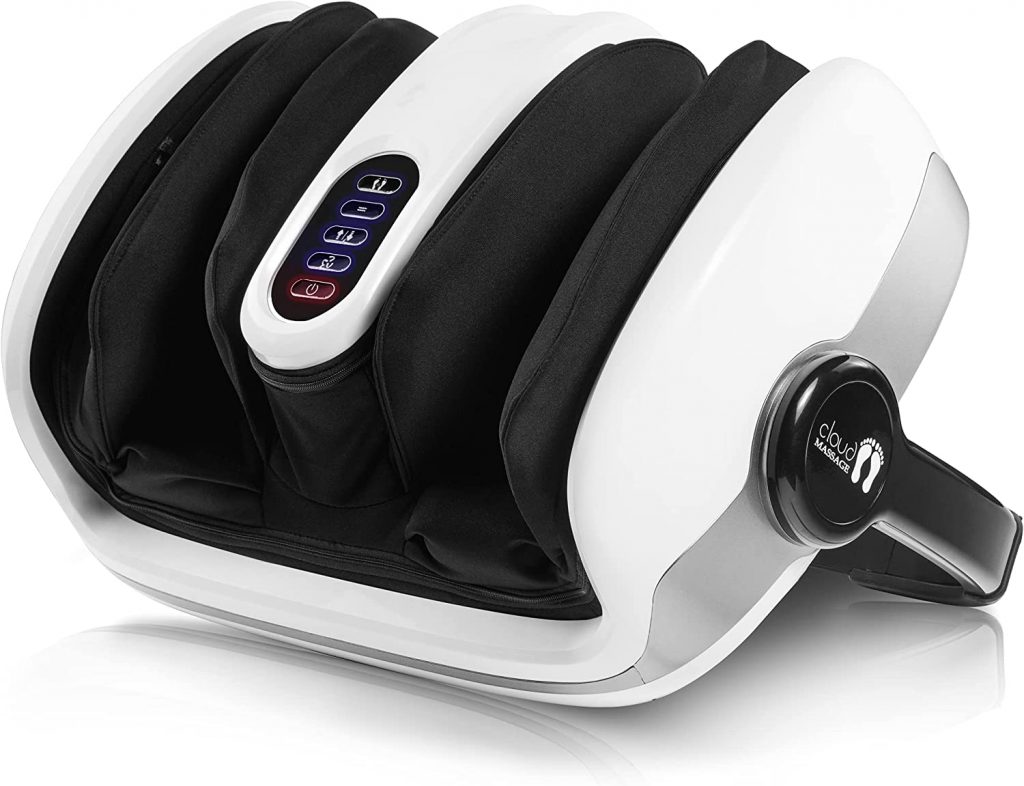 WHAT'S TO LIKE – Let's get this out of the way right now: the price – not an attractive trait. But, if money is no object, the Cloud Massage just may treat your feet in a way never touched.
The Cloud Massage doesn't employ foot chambers like some of the others, instead, you slip your tired feet into an open-top massager. Considered one of the best foot massagers, the Cloud offers three levels of intensity. It controls look right at you, making adjustment easy.
What is unique about the Cloud Massage is that while most foot massagers stay strictly with the feet, the Cloud has an adjustable bar that changes the level of the massager, so if your ankles or calves are also feeling stressed, you can slide them in the massager so they can get some love.
PRICE – $299.99 on Amazon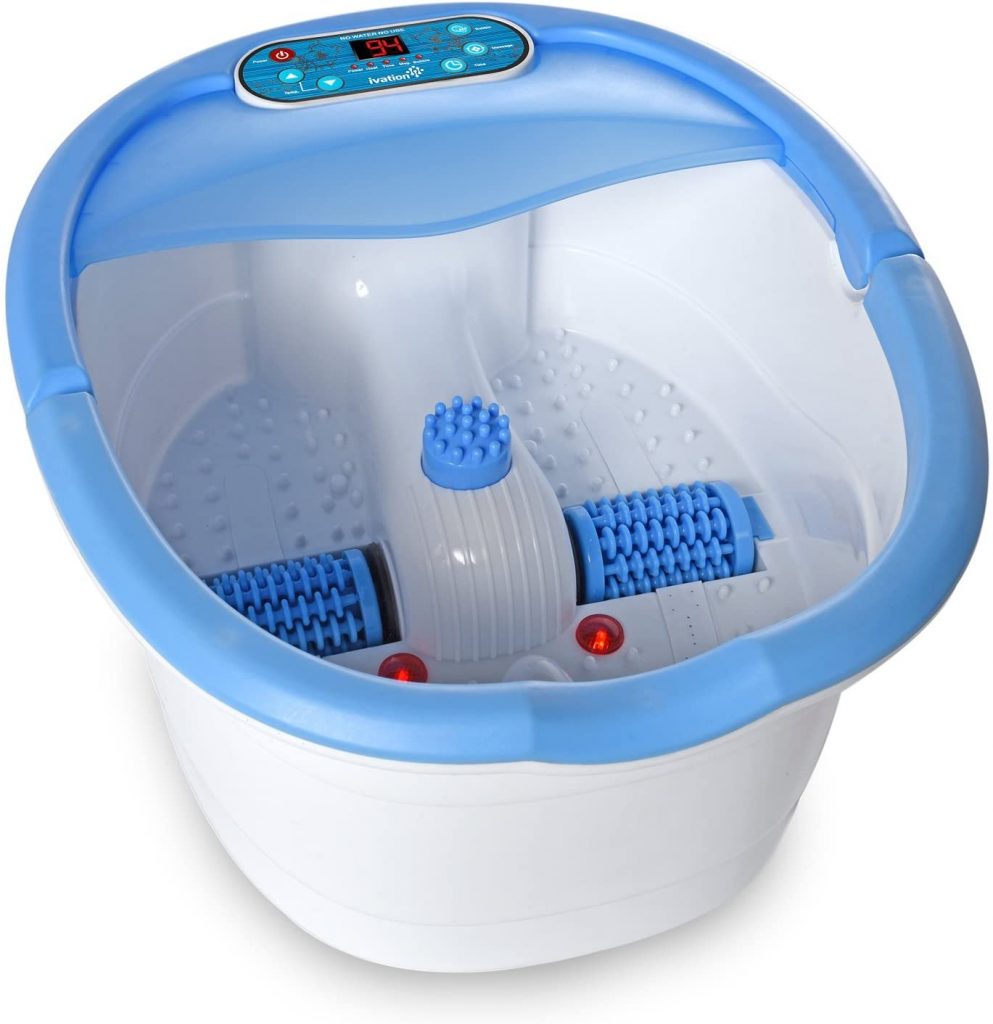 WHAT'S TO LIKE – The difference is in the name. Ivation uses heat, vibration, and water to satisfy all needs.
The Ivation Foot Spa Massager uses an advanced LED Display to control the unit. It has a timer and multifunction selections to change massage direction, turn bubbles on, or adjust the water temperature. You will have the ability to warm the water up to 122°.
The water jets will feel fantastic on your feet as they create thousands of healing bubbles.
PRICE – $79.99 on Amazon
FINAL ANALYSIS
It is hard to go wrong with any of the above choices. You can find your best foot massager with an open-top or one that uses foot chambers. Most use heat to help relieve your aches and pains, but some are designed for those who may be experiencing discomfort from diabetes.
The above are reasonably priced and probably offer more relief than a partner or a massage therapist could offer.
As we like to say, though, do your research. Know what it is about your feet that is causing the discomfort and start your best foot massager shopping from there.