The best silicone pot holders are from Homwe, Big Red House, and OXO.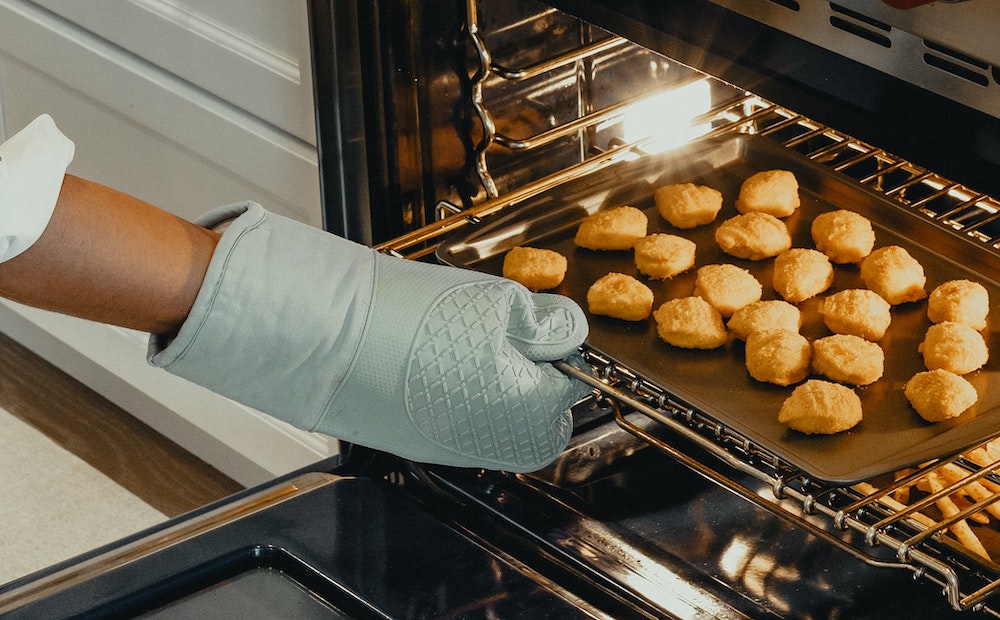 Silicone pot holders are becoming the most popular option out there and it's easy to see why. Many of us have had the rather unpleasant experience of reaching into a hot oven for a delicious dinner only to feel the heat searing through our previously trusty pot holders. When that happens, it is easy to let frustration grow.
After all, you need to somehow rescue dinner without getting burnt or dropping it. Then it means actually going shopping for pot holders … again. But how do you start picking a quality pot holder that won't radiate heat again? One increasingly popular option is silicone pot holders. 
However, many people new to silicone pot holders are understandably skeptical about their efficacy. Don't worry; we can help. We will dive deeply into silicone pot holders and everything to consider with this style.
SILICONE POT HOLDERS ARE NATURALLY HEAT RESISTANT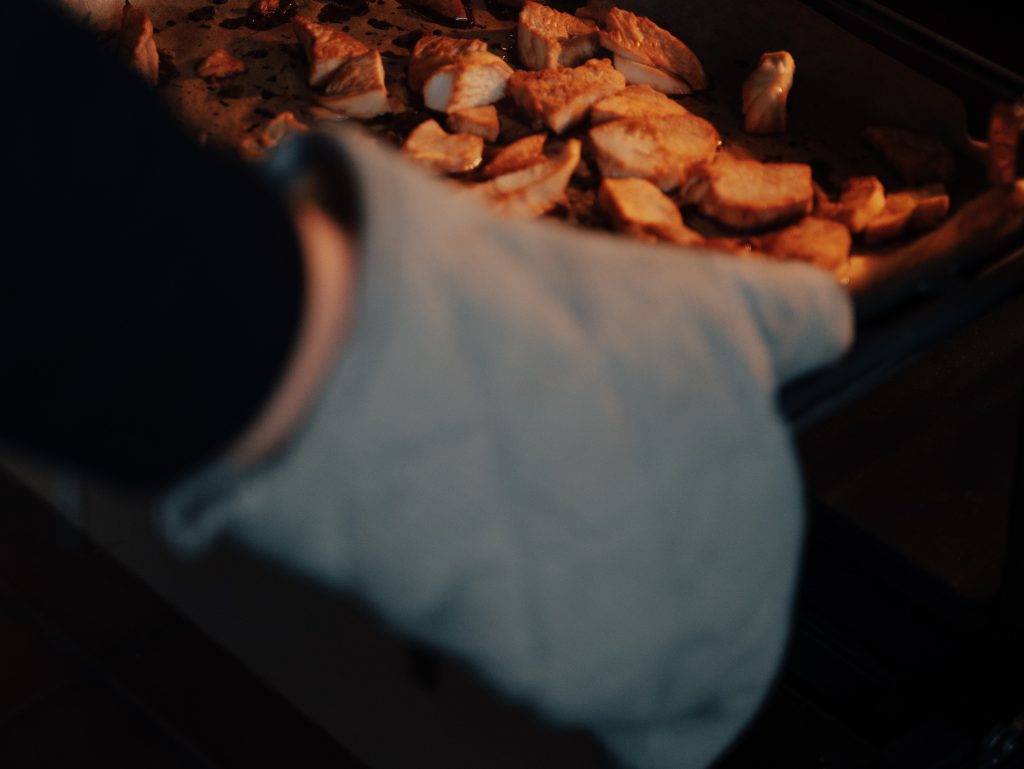 The point of pot holders (as opposed to a towel) is to protect against burns and to ensure expensive kitchen towels don't get ruined. Silicone pot holders are a fantastic option to add to any kitchen. The material is naturally heat-resistant, meaning you can pull that lasagna out of the oven worry-free.
However, over time, the material may start to degrade. If any hot spots develop, it may be time for a new silicone pot holder. But this isn't different from any other possible pot holder material. Things do get worn with repeated use.
THIS STYLE IS BETTER FOR CLEANING AND SLIGHTLY BETTER FOR PROTECTION
Are silicone pot holders better than cloth? The short answer is yes, and also no. Ultimately it depends on what features you are looking for. Is cleanliness and ease of cleaning the most important aspect of a new pot holder? If so, the best bet is to pick up a silicone pot holder.
They are significantly easier to clean and typically won't stain (unless you have impressive skills). Cloth, on the other hand, stains quite easily and is more difficult to clean. It is possible to wash them, but that risks the overall life span of the pot holders.
If comfort is the most important feature, then the better option is a cotton pot holder. Or a silicone pot holder with a comfortable cotton lining.
But when it comes to protection against a 450-degree oven, it is nearly a toss-up. Silicone pot holders offer slightly better protection against hot pans than cotton ones. However, the difference may not be noticeable unless you plan to hold hot dishes for an extended period.
Either way, it is better to invest in higher-quality brands. We know … the kitchen supplies at dollar stores are tempting. And for some things, they work just fine. However, when it comes to protecting our oh-so-sensitive hands, consider splurging for something a little better.
SILICONE POT HOLDERS CAN STAND UP TO 450 DEGREES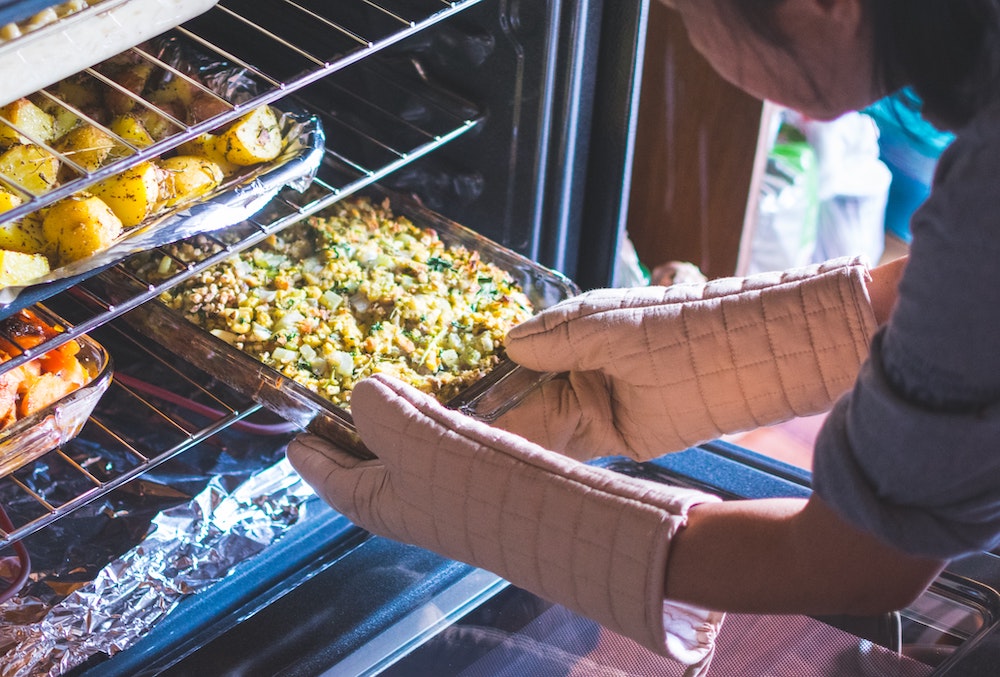 Silicone pot holders can withstand a fair amount of heat and do fine up to about 450 degrees. Any temperature higher than that won't instantly burn silicone, but it may result in scorch holes if the heat gets applied for too long.
However, while silicone pot holders are heat-resistant, they are not fire-resistant. And the silicone will degrade over time with consistent heat exposure. So, make sure to replace any silicone pot holders as soon as hot spots appear to prevent burns in the future.
SILICONE POT HOLDERS ARE FOR HAND AND COUNTERTOP PROTECTION
The beauty of silicone pot holders is that they offer excellent protection against hot surfaces. Often, they are used to remove hot pans and dishes from an oven. However, they will also work well to reposition hot oven racks safely.
But don't stop there! Silicone pot holders help when removing hot lids or grabbing onto a pan's handle to serve dinner. They are handy to have around as a protective measure against any hot surface in the kitchen.
Additionally, if you have smaller silicone pot holders, they can double as a trivet to protect your table or countertop.
SILICONE IS THE BEST MATERIAL FOR POT HOLDERS
When choosing a pot holder, pick one made from heat-resistant material. That cute pot holder may catch your eye. But if it isn't the appropriate material, it won't do any good at all.
The best material for pot holders is silicone, cloth, or a combination of the two.
That said, silicone offers superior protection against heat for a longer time. And if you do opt for cotton pot holders, pay close attention to the number of layers and type of cotton. Not all cotton pot holders are equal in quality.
Additionally, cotton pot holders get wet easily. And wet pot holders will not protect your hands against heat.
In contrast, the primary concern with silicone pot holders is comfort. Straight silicone is not comfortable. So, look for silicone options with cotton (or another fabric) layered inside for comfort.
THERE ARE THREE STYLES OF POT HOLDERS
Now that we have explored what silicone pot holders are, it is important to look at the available styles. Pot holder styles, like material, boil down to intended use and personal preferences. The term "pot holder" includes oven mitts, oven gloves, and smaller pot holders. So what's the difference?
Oven Mitts
This style of pot holder offers the greatest amount of coverage. So if you tend to burn your forearms often, this is a fantastic solution. They are bulkier than the other options. But they are typically quite comfortable and very easy to use.
Oven Gloves
Think about winter mitts and gloves. Mitts offer better protection, but you can do more with gloves. The same is true when it comes to oven gloves and mitts. Oven gloves give you more flexibility for delicate items. But they don't offer the same level of coverage or heat protection.
Pot holders
These are similar to oven mitts, only smaller. That means less protection on parts of the skin that may bump into the oven or pans. You can find them with a little slot to slide your fingers in or plain flat pieces that double as a trivet. These are great for delicate tasks, easy to maneuver, and quick to grab.
BEST SILICONE POT HOLDERS
Homwe Extra Long Professional Silicone Oven Mitt -$19.00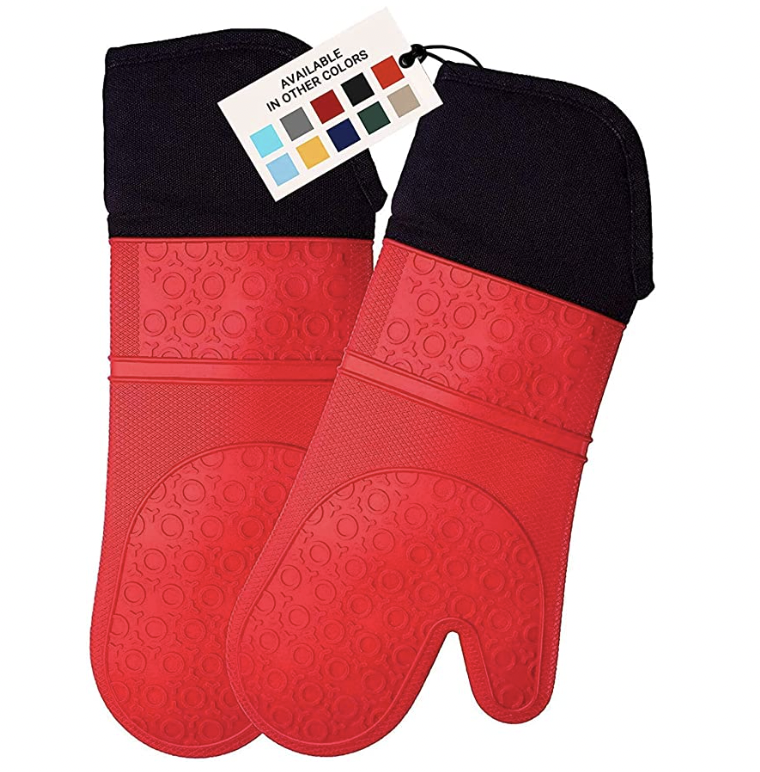 The Homwe Extra Long Professional Silicone Oven Mitts are 15 inches long, providing wearers excellent protection against burns.
They are comfortable, thanks to the fabric lining, and super easy to clean. So feel free to be your messy self!
Big Red House Oven Mitts – $17.86 for a set of two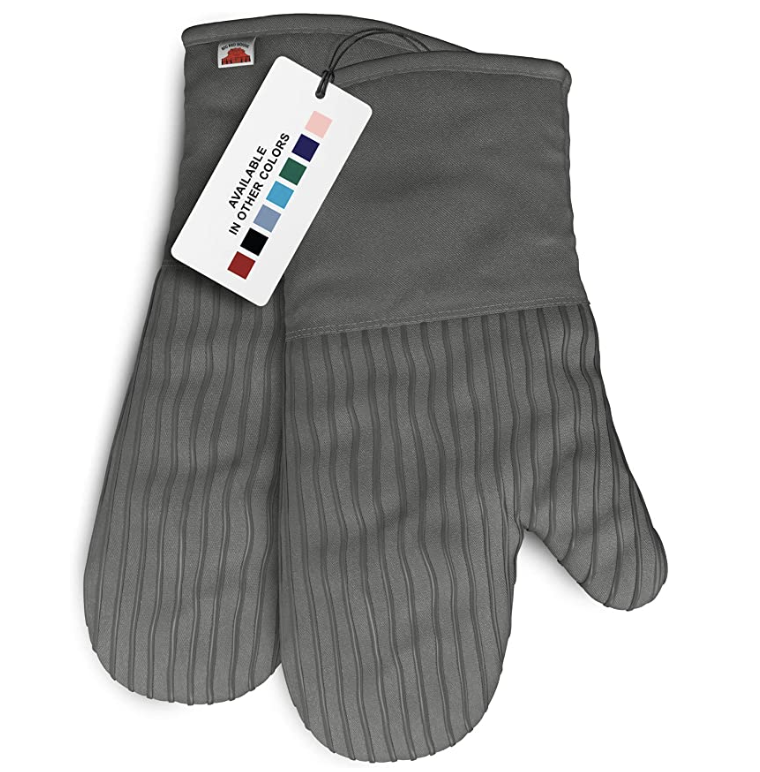 The Big Red House Oven Mitts are closer in size to oven gloves, but they do cover a decent amount of arm beyond the wrist. Like many other silicone pot holders, Big Red House strives to balance the comfort of fabric and the heat resistance of silicone. But they achieve that a little differently than most brands. These oven mitts are cloth around your hand, but silicone where it matters. 
OXO Good Grips Silicone Pot Holder – $14.47 for 4 pieces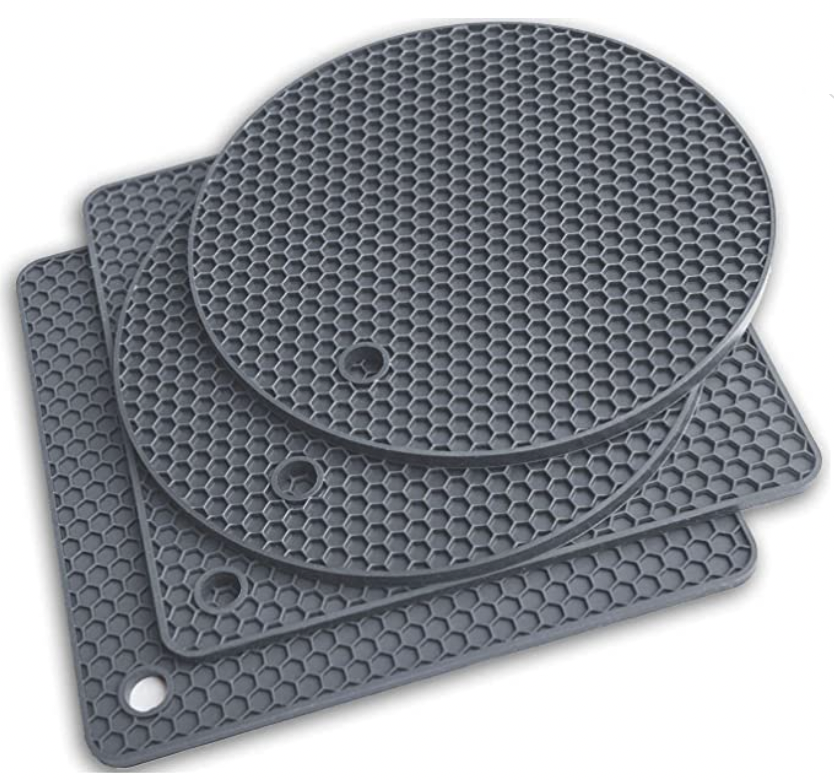 The OXO Good Grips Silicone Pot Holders offer exceptional heat protection. And the bumpy silicone surface ensures you won't drop that hot pan. It also features an extra-large design and pocket to slip delicate fingers into for extra protection.
—
In all, if serious about cooking and baking, silicone pot holders are the way to go and can be added for a reasonable cost.
---