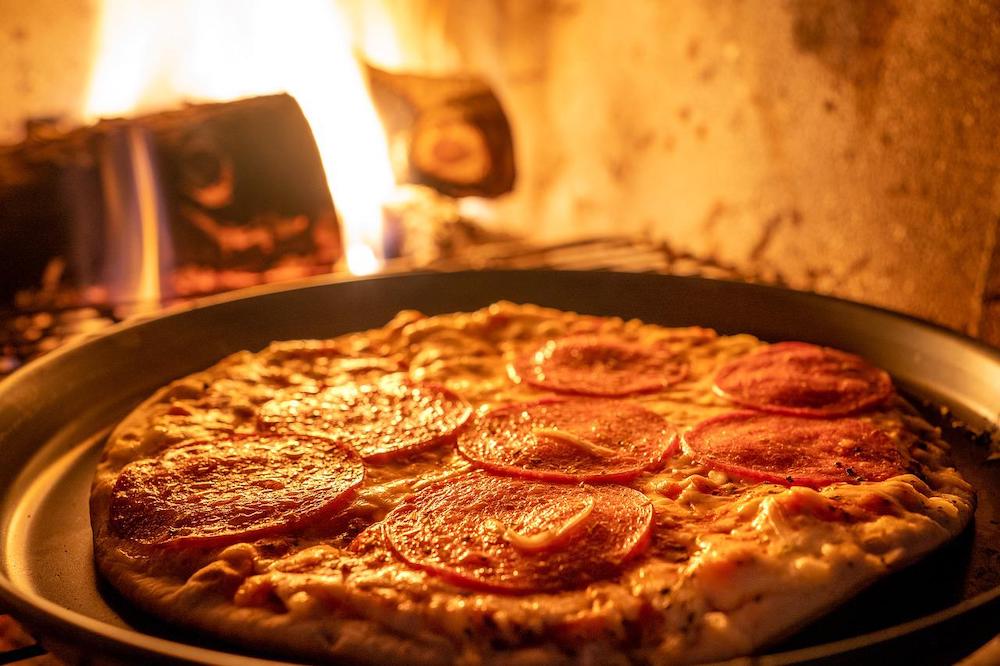 Brick pizza ovens are becoming a relic of the past. With more sophisticated materials, the brick pizza oven is giving way to metal ones that are much smaller and lighter, while offering different methods of heating. But just because brick pizza ovens may be less popular than a new-style outdoor pizza oven, it doesn't mean the new ones cook any better. In fact, there are plenty of restaurants that cook using a brick pizza oven and if you are a fan of the TV reality cooking show Hell's Kitchen, they use a brick pizza oven to fire up their famous flatbreads.
Before brick pizza ovens became a thing, pizza needed to be introduced to America. According to our History of Pizza, America's foodie pastime didn't find us until the early 1900s. Lombardi's in New York City was the first and the rest was history.
THE BRICK OVEN HISTORY
It may not shock you to know that brick pizza ovens have been around for well over 4,000 years. Back in the day, they were known as Masonry ovens whose influence came from Spanish, Turkish, and Peruvian cultures. As the oven became more popular within the Roman Empire, they took on the name of black ovens, not because of how the food looked when it came out of the oven, but because of the black smoke that came from the wood they used to cook their food.
As the Masonry oven developed over the centuries, it became the central cooking method across Europe. When they found their way to America, they took on the name of beehive ovens, based on their shape. But they were very popular once introduced in the States and enjoyed a long life until gas and electric ovens took over. These beehive ovens were not small by any means. Designed to cook a lot of food at one time, their inside chamber was typically around 13 feet wide and eight and a half feet high. The roofs had holes in them to make it easier to drop in whatever fuel they were using. The beehive oven discharging hole (where the smoke escaped) was typically near the lower portion of the oven.
DOES BRICK OVEN PIZZA TASTE BETTER?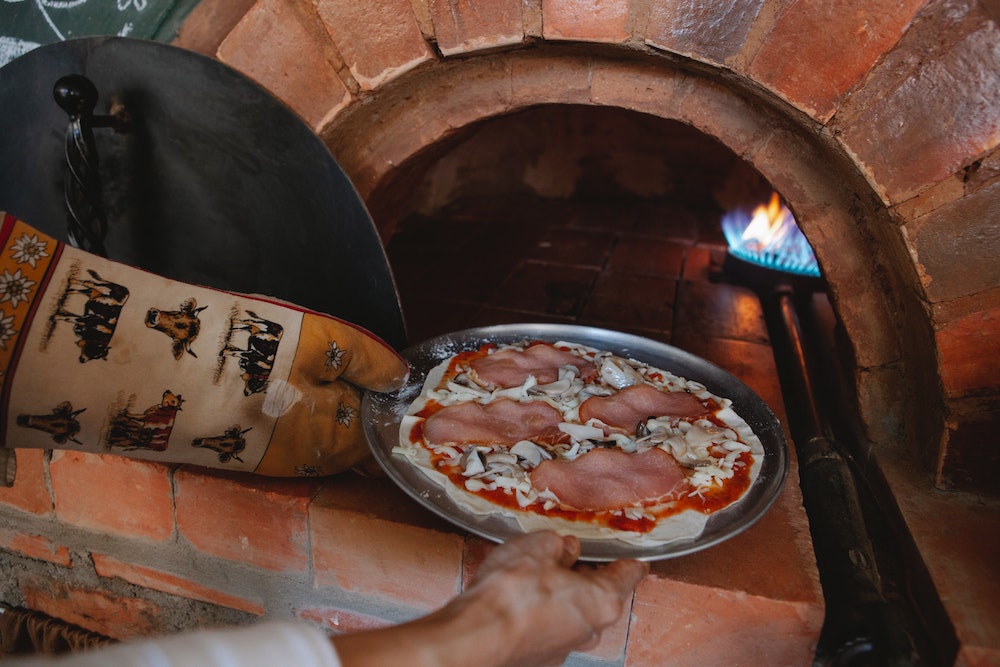 Jim Pflipsen is the co-owner of JJ's Wood Fired Pizza in Northern Colorado and not only loves the old way of cooking up a pizza pie but the delicious end result. "It's an old (world) way of doing things," he said to the Coloradan. "But it creates a product that's second to none." And that, the "second to none" product, should be the takeaway.
Brick oven pizza brings to the customer flavors they won't find in a normal pizza oven. First things first, the brick oven hits temperatures as high as 700 degrees. This means the pizzas cook fast. What it also means is that not only does the pizza dough come out of the oven crispy and charred in spots, the toppings cook fast and thoroughly.
Not to get overly technical, but the main difference between brick pizza ovens and the normal fare is just how they heat and cook the pizza. A brick oven that hits around 625 degrees will heat up the crust to around 390 degrees. The top, therefore, will remain at a constant 210 or so degrees allowing for near pizza perfection.
When you compare that to a normal pizza oven, you get vastly different results. If you are able to get your oven to the same temperature, the pizza dough will instead hit 570 degrees simply because the metal moves heat much faster than brick. This temperature is way too high for pizza dough in conventional ovens, so the crust simply burns.
"Even if you prepare [the pizza] the same way, you cannot get the same result with just your oven at home," says Andreas Glatz, a physicist at Northern Illinois University, to NPR. Glatz is also a self-described pizza enthusiast. But Glatz adds, "But most electric ovens cannot get to those temperatures," making it virtually impossible to replicate the taste you'd get from a brick pizza over. "If you want the flavors of the smoke and the wood and the dry heat of a brick oven, there's no good emulation for this effect."
CONSISTENTLY CONSISTENT
One thing about a brick pizza oven is the consistency it gives, not only for the cook but for the patrons as well. Brian Tessari is the owner of Otto Pint, Vincent's, and Domenic's, all three in northern Colorado and he says, "I love how brick ovens always put out an incredibly consistent pizza." And if you are one who wants to continue to bring in customers, consistency is the name of the game.
Jason Shaeffer, the owner of Hearth Restaurant, which also employs a brick pizza oven, says. "You get a more consistent temperature. With a conventional oven, you end up losing so much heat with all of the opening and closing you do." Consistency – it's what makes cooking in a brick pizza oven so special.
HOW LONG DOES A PIZZA TAKE TO COOK IN A BRICK OVEN?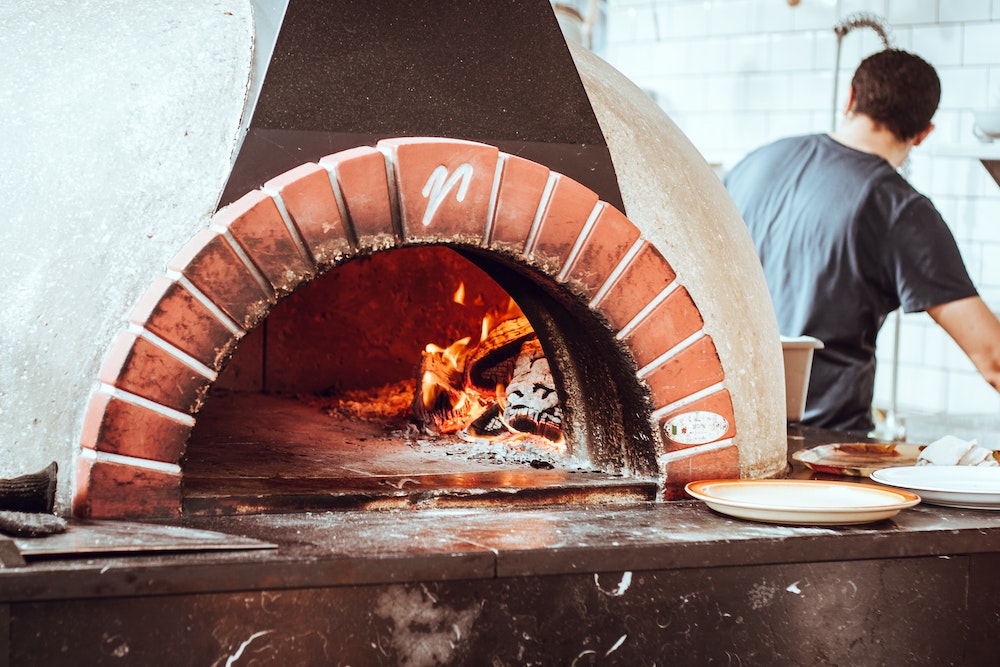 Just as you may think, the super-hot temperatures produced by a brick pizza oven make cooking times virtually nil. But to get these ovens to their proper cooking temperature takes a little time. You can't simply fire them up as you would a conventional oven and expect 700 degrees in 10 minutes. No, it can sometimes take as long as 60 minutes or more to get the hot temperatures you desire. Even with long use, a brick pizza oven will very rarely dip below 400 degrees. But the beauty of this is how fast it comes out of the oven.
Because of the high heat, a typical pizza pie can be done in as little as 2-3 minutes. You may be asking yourself, just how an extra-large pizza with combination toppings can be done so fast? Well, for the most part, cooking pizza in a brick pizza oven means you are pretty much cooking individual-size pizzas. These are smaller than your normal small pizza, so there is much less dough as well as much fewer toppings. You toss that individual pizza in a 700-degree brick pizza oven and your pizza is coming out fast.
HOW DO YOU BUILD A BRICK PIZZA OVEN IN YOUR BACKYARD?
So, you're taking a look around your backyard because you're in the mood for a new project to get started on. You already have a nice BBQ grill set up to go along with the bar for those fun nights of family and friends' entertainment. But you know Friday nights are your pizza nights and you are getting tired of ordering out for the same old, soggy, lukewarm pizza. Here comes your "ah-hah" moment. A brick pizza oven!
It can be done, you say to yourself and you set off to make it happen. You know exactly where you want to put your brick pizza oven, at least a 3-foot distance from your house. Now you just need to find the materials it will take to get the job done.
You ask yourself, "am I able to use regular bricks for this job?" Well, traditional clay bricks are not out of the question. You can use them and it may be smart to do so if you only plan on using your brick pizza oven a few times out of the year. One type of brick you definitely want to avoid is concrete brick. The most popular brick to use, though, if you are considering building yourself a brick pizza oven, would be fire bricks. These are the best as they are built to withstand very high heat.
Once you have settled on your bricks, the rest is all about design and putting it together. Making your base sturdy, level, and square is obviously an important first step. Building up your base to the height you wish to cook at is also an important step in creating your perfect backyard brick pizza oven.
Your next step after building your base is to build the actual oven itself. The oven floor comes first, then the oven. You will need an oven support that you can remove once the oven is built around it. We are making this entire process seem so simple, but there is much in building your own brick pizza oven. For fantastic directions on how to build one, you can go here.
I'M NOT TOO HANDY WITH TOOLS
We know, there are plenty of you out there who are much more comfortable around a keyboard (ahem) than with tools in your hands. Not all brick pizza ovens are do-it-yourself jobs. You can find some that have already been built to bring to your backyard. You may find some of these prices a bit on the pricey end, but if it's brick oven pizza you desire, then one of these beauties may be worth the price of admission.
PIZZAIOLI COUNTERTOP PIZZA OVEN
PRICE – $2,550.00
This countertop brick pizza oven is large enough to cook two 12-inch pizzas at one time. It offers triple the insulation to go along with its high-quality construction to give you the brick oven pizza you crave. It has the traditional brick dome shape that allows the heat to flow over and around the food to balance the cook. It also has a built-in thermometer so you will always know at what temperature you're cooking your pies.
VENTURA "SIERRA" PREMIUM PIZZA OVEN
PRICE – $2,795.00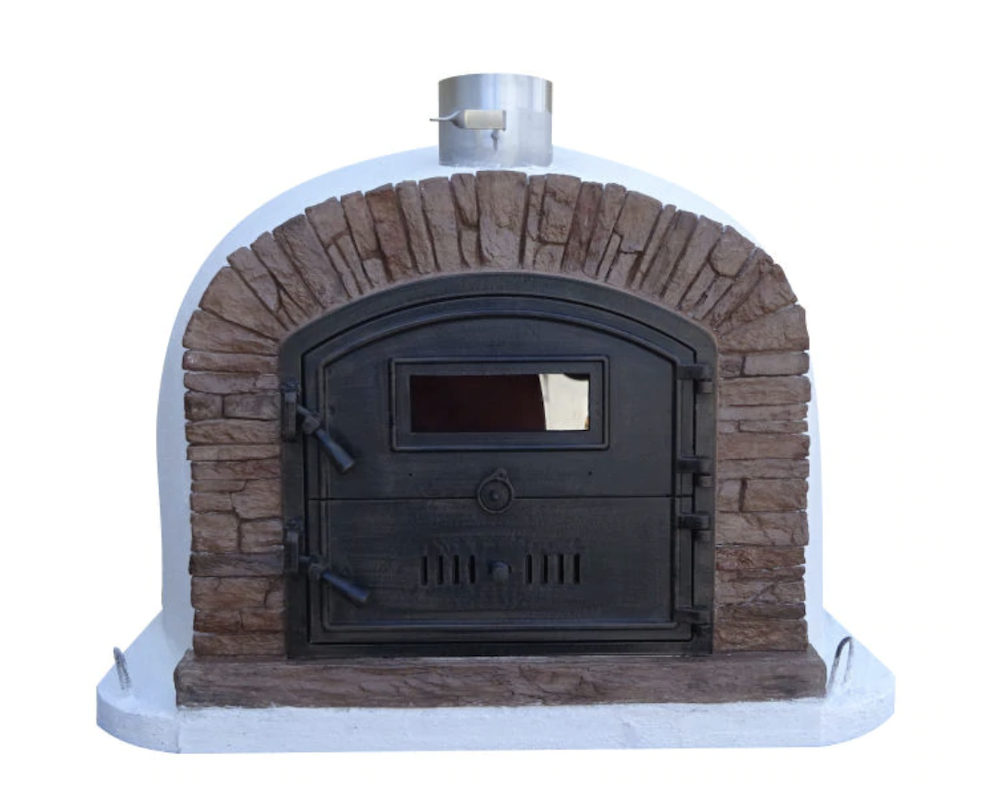 Another triple-insulated brick pizza oven that finds itself handmade in Portugal. This triple insulation means that while the inside of the oven is blazing hot, ready to cook up your pizza in mere minutes, the outside is cool to the touch. No accidental burning there.
STONE AGE MANUFACTURING MEZZO MASONRY PIZZA OVEN AND COMBINATION FIREPLACE
PRICE – $5,462.88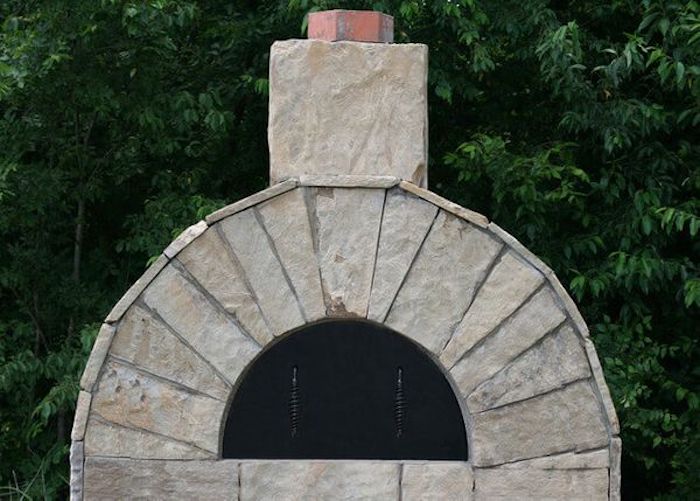 If you want the best of both worlds in your backyard, you'll find it with the combo brick pizza oven and fireplace. This baby is a beast, measuring in at 78" tall by 46" wide. The pizza oven is large enough for a single pie while the fireplace beneath it offers 36" of warmth. If you are looking for a more conventional brick pizza oven without having to build it yourself, this may be the closest you will get.
PRO FORNO MEDITERRANEAN PRO WOOD FIRED PIZZA OVEN
PRICE – $6,491.50
Another well-made brick pizza oven that is large enough to cook two 12-inch pizzas at one time. What makes this oven possibly a little more attractive is that it's a hybrid. This means you can use wood to do the cooking or, if you are so inclined, you can also attach a gas burner. Perfect for your outdoor cooking, especially when you are in the mood for a quick pizza.
CHICAGO BRICK OVEN CBO-1000 BUILT-IN WOOD-FIRED COMMERCIAL OUTDOOR PIZZA OVEN DIY KIT
PRICE – $6,799.00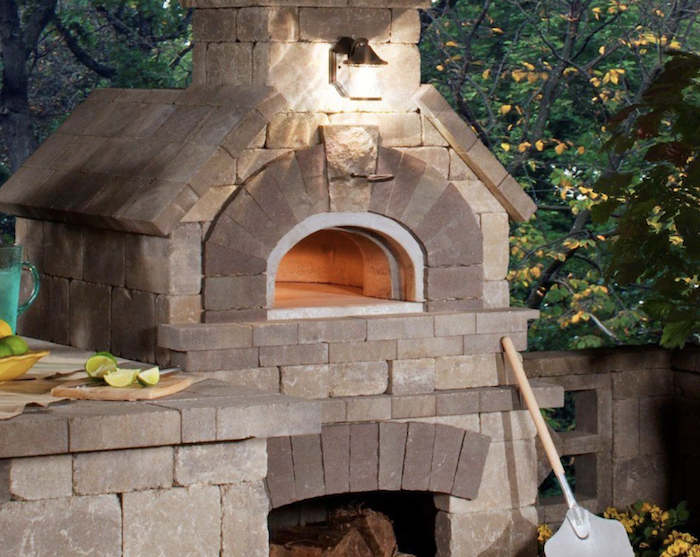 While we know some of you don't like getting your hands dirty by building things, we also know that some of you do. This is why we are including the Chicago Brick Oven, a do-it-yourself brick pizza oven that will make your backyard the envy of your neighborhood. Will it rival the best deep dish pizza in Chicago? It might.
The brick oven has nice dimensions with a 53 x 39-inch cooking area. Its oven design creates a nice Flame Roll, that allows for cooking temps to reach 1,000 degrees, to give you a very quick cook time. Yes, you will have to assemble it yourself, but if you are handy with tools, it shouldn't be a problem.
FINALLY
Brick pizza ovens are an amazing part of our history. Not only did they cook a lot of food at one time, but they did so quickly. Their cooking technology is decidedly old-school, but as many restaurateurs have noted, the old-school way of cooking still has a place in today's cooking landscape. Those who have had the pleasure of munching on a brick oven-cooked pizza will attest to that.
If you are looking to bring one home for yourself, you may be hit with a bit of sticker shock. There are definitely some out there that carry a much less price tag, so some research could lessen the chunk taken out of your wallet. Whatever you decide, if you are in the mood to build it yourself, or if you simply want one to be brought in with little to no effort on your part, chances are you won't be disappointed with the final results. There is nothing like pizza coming from a great brick pizza oven.
---