What is the best deep dish pizza in Chicago? If going to the Windy City you might want to check in a couple of these places.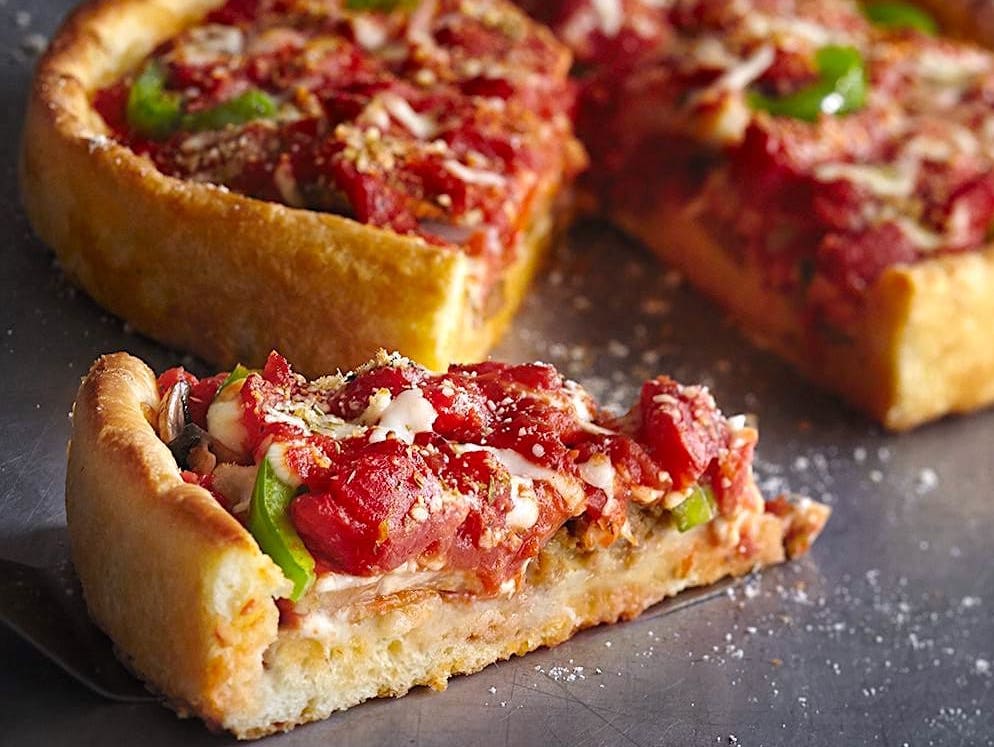 When you are considering the history of pizza, which we have done extensively, you aren't just thinking about the start it got in America, but when and how it got started around the globe. The advent of pizza goes back as far as the ancient Romans, Egyptians, and Greeks, though it didn't get its foothold until it came to Italy in the 1700s. Pizza arrived much later in America and with it, a style of food that would satisfy all. This was even more so when the pizza came to the Windy City. This is where deep-dish pizza was invented, so it left us wondering, what is the best deep-dish pizza in Chicago?
WHAT IS TRUE CHICAGO-STYLE PIZZA?
It's not hard to understand the fascination with a good pizza pie. Heck, with the really great stuff you aren't even thinking about how many slices are in a large pizza. You've got your pizza dough, delicious sauce, savory cheeses, and just about whatever kind of topping you are willing to add. A typical pizza is of the flat variety. The crust isn't overly thick and depending on what your toppings of choice will be, the pizza itself is also not very thick. But then there is the true Chicago-style pizza.
According to most within the confines of the Windy City, true Chicago-style pizza is the deep-dish. The best deep-dish pizza can be found in Chicago and they have plenty of options to whet one's appetite. True Chicago-style pizza is not for the faint of heart. Instead of being presented flat, the true Chicago-style pizza is a much thicker version that requires a knife and fork to help with consumption.
Unlike the normal pizza, the best deep-dish pizza in Chicago is baked in a deep pan. This gives the pizza more of a cake-like appearance than its thinner version which is more like a flatbread. Now while the appearance of the deep dish makes it seem as though the dough is extremely thick, in reality, the dough is actually thin to medium in its thickness.
The best deep-dish pizzas in Chicago are baked in an iron skillet or a round, deep, steel pan. Before the dough is laid out in the skillet or pan, it is coated with oil for easy removal after being cooked, but the oil is also to give the deep-dish pizza its fried effect on the outside of the crust.
Where they get you is with the fillings. Because of the deep nature of the crust and the tall sides of the pizza pan, the best deep-dish pizza in Chicago is filled with layers and layers of goodies. These goodies, though, are in the reverse order that you would see in a regular pizza. They start with cheese, which covers the pizza crust. From there, the next thing to be applied is the meat options. These can include pepperoni and ham, but the main meat ingredient is sausage. These items are layered thick. Next up are the veggie choices that include mushrooms, bell peppers, and onions.
After all the items have been added, a sauce is put on top. It is usually an uncooked sauce filled with chunky tomatoes, also laid on thick. You can imagine that the thickness of the best deep-dish pizza in Chicago calls for a much longer baking time than a regular pizza would, and you would be correct. A typical deep-dish pizza takes anywhere from 30-45 minutes once it hits the oven. When Chicagoans order their deep-dish pizza for delivery, it arrives uncut. The reason for this is that if you were to cut into it before delivery like you'd see with a normal pizza, or brick pizza oven, the moisture from the toppings and the sauce would cause the pizza to become soaked, resulting in a soggy pizza. No one likes a soggy pizza.
WHAT IS THE ORIGINAL DEEP-DISH PIZZA OF CHICAGO?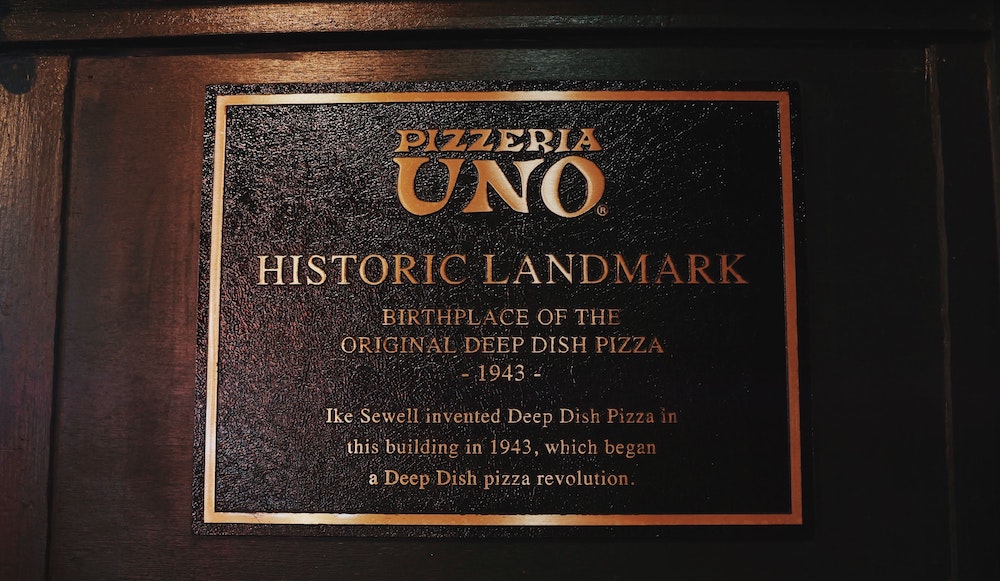 It was 1943 and Ike Sewell was looking for a decent Mexican restaurant in the Windy City. So, the former University of Texas star football player teamed up with Ric Riccardo, a World War II GI and friend, to make such a thing happen. The goal was to build their own. But what started out as a Mexican Restaurant dream turned into a pizzeria reality as Pizzeria Uno became the earliest pizza restaurant in the city. With that, it also became the first "best" deep-dish pizza in Chicago.
There is little to no debate that Pizzeria Uno was the very first establishment to offer deep-dish pizza. It was an immediate hit around the city and rightfully so. There is, though, much debate as to whether it was Sewell and Riccardo were the inventors of the best deep-dish pizza in Chicago or was there another name that should be looked at.
The debate involves Sewell, Riccardo, and a one-time employee of Pizzeria Uno, Adolpho "Rudy" Malnati, Sr. who was part of one of Chicago's most famous pizza families, the Malnati's. According to Malnati lore, it was Rudy whose "genius" came up with the deep dish. It was also Rudy, along with Riccardo, who started handing out these deep slices on street corners, hoping the new style of pizza would bring more customers into the restaurant. The Family Malnati claims that Sewell came along later.
The Malnatis also claim that after Riccardo's passing, Rudy and his son Lou took over the reins at Pizzeria Uno. They managed the restaurant until Rudy passed. When Lou was told he was an employee and not the manager, he became frustrated and left to start on his own. In 1971, Lou Malnati opened another of the best deep-dish pizza joints in Chicago with Lou Malnati's Pizzeria.
As time went on, Lou's pizza joint enjoyed a lot of success. As one of the best deep-dish pizzas in Chicago, Lou was able to expand. He opened several popular pizza joints across the city and its suburbs. Lou also wanted to separate his pies from Pizzeria Uno's. He backed off on the pie's density by using fewer cheeses. He uses a tangier tomato and when they fill the pie, they go barely the top edge of the crust to allow more room for their trademarked Buttercrust.
There were others who came along at that time to try and challenge those two as the best deep-dish pizza in Chicago. None really stepped up until 1991, when Lou Malnati's half-brother Rudy Jr. opened up his own pizza joint he called Pizano's. Rudy Jr. began using his father's dough recipe and hasn't looked back. Pizano's is now considered to be one of the best deep-dish pizzas in Chicago.
WHAT IS THE MOST FAMOUS CHICAGO DEEP-DISH PIZZA?
As far as eateries go, today there are plenty of establishments that claim to be the best deep-dish pizza joint in Chicago. These same joints have legitimate reasons to call themselves that. The three above, Pizzeria Uno (which now goes by the name of Uno Pizzeria & Grill), Pizano's Pizza & Pasta, and Lou Malnati's all can lay claim to being the best deep-dish pizza place in Chicago and it would be hard to argue that point. But over the years, the deep-dish has been perfected by other pizza joints, some truly stepping up their game. Here are a few.
BURT'S PLACE – It was back in 2009 that renowned chef Anthony Bourdain visited and gave the local pizza place the boost it needed. Although Burt Katz, a legend in the pizza-making business, passed away a few years ago, Burt's Place is still cranking out the deep-dish pizza to happy patrons.
GEORGE'S DEEP DISH – What's unique about George's is that it's a takeout counter-only type of pizza place. Where George's differs is in its crust, which is more pastry-like than pizza crust-like. Customers seem to love it as the lines are always long to grab a slice of George.
THE ART OF PIZZA – Anyone who has found themselves staring down the likes of a true and best deep-dish pizza in Chicago knows exactly how daunting it can be trying to finish one of those pies. Thankfully, The Art of Pizza sells theirs by the slice. And what a slice it is. Yummy tomato sauce, tons of Wisconsin cheeses, and whatever else floats your deep-dish pizza boat. It's truly an art form at The Art of Pizza.
PEQUODS – Know as one of Windy City's essential restaurants, Pequods has made its case as one of the best deep-dish pizza places in Chicago. They are best known for their caramelized crust. They bake their dough with a thin layer of cheese, which results in have both a crispy edge to go along with some chewiness. This amazing mixture is the perfect base for ingredients such as sausage, giardiniera, Italian beef, and meatballs.
GINO'S EAST – Always high up on the list as best deep-dish pizza places in Chicago, Geno's East got its start all the way back in 1966. Their cornmeal crust is a secret recipe and with it, you will always get a heavy dose of mozzarella cheese and their tangy tomato sauce. Two of their more talked-about menu items include the Chicago Fire, a blend of spicy sausage, roasted red peppers, and red onions, and the Diavola, which is spicy pepperoni, basil, and white truffle oil.
BARTOLI'S – If you are going to talk about Gino's East as one of the best deep-dish pizzas in Chicago, then you must also talk about Bartoli's. This gem of a restaurant is owned by Brian Tondryk, who comes from a long line of esteemed pizza experts. It was his grandfather who founded Gino's East, so you know you are in the right place at Bartoli's. Similar to Gino's, Bartoli's signature pie is the special spinach and cheese pizza.
MILLY'S PIZZA IN THE PAN – This is one of the hottest joints in town and could easily be the best deep-dish pizza in Chicago. It is run by Chef Robert Maleski whose Burt Katz-inspired caramelized crust gets a twist. Not only does Chef Maleski cover it with mozzarella cheese, but he bakes it three times over. The good chef offers deep-dish pizzas such as the Covfefe, which is peppadew peppers, sausage, mushrooms, red onions, toy box tomatoes, spinach, and ricotta. Another signature pizza is the Que Suerte, which comes with pineapple, cherry tomatoes, jalapenos, and brown sugar bacon.
WHAT IS THE MOST POPULAR PIZZA IN CHICAGO?
Well, are we talking about the most popular pizza joint or the most popular pizza pie? Either way, the Windy City has a lot to choose from, both from an establishment point of view and from an actual pie. If we are talking about the best deep-dish pizza place in Chicago, you can't go wrong with any of the above. But if you are looking for history along with a good pie, then Pizzeria Uno would be your best bet. They are the originators of the deep dish and the fact that they are still in business all these years later only goes to show they still have what it takes to produce an amazing deep-dish pie.
If we are talking about a single pie that carries talk of the town, we may have to lean toward The Maltini Chicago Classic. It is by far their most iconic dish and it has been proved to be one of their top sellers. Single locations have been known to sell over 300 Maltini Chicago Classic pies in one night. Malnati's has 30 locations.
WHAT IS THE DIFFERENCE BETWEEN DETROIT-STYLE PIZZA AND CHICAGO DEEP-DISH PIZZA?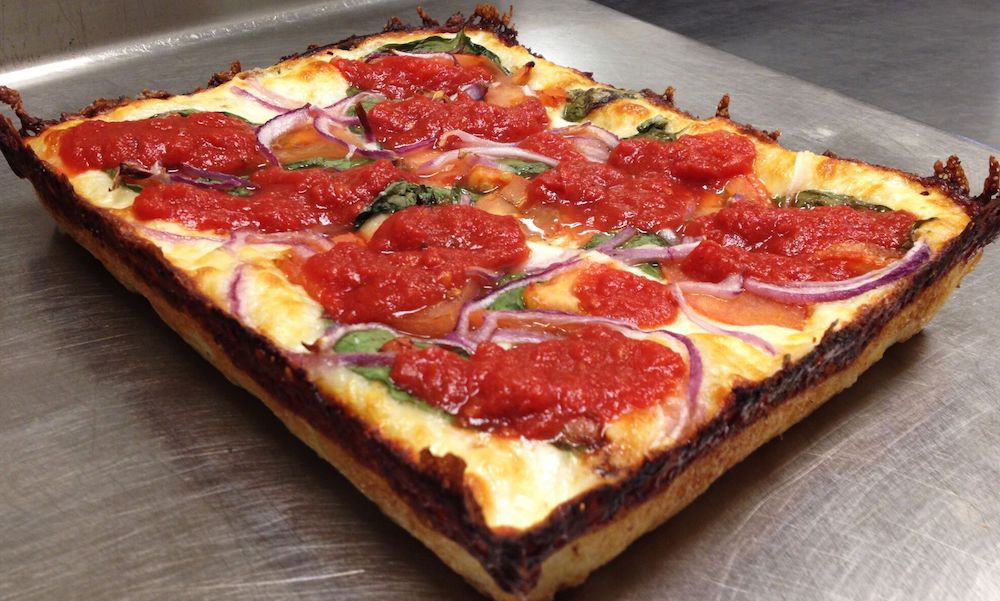 Over the past ten years, Detroit-style pizza has been on the rise. Esquire magazine, in 2019, called the Detroit-style pizza one of the hottest food trends in the United States. That is some high praise for a pizza that has to contend with the likes of the Chicago deep-dish.
So, what makes them different? We all know how the Chicago deep-dish got its name. The medium to thin crust is cooked with some oil and filled to the brim with good stuff, in a reverse fashion that normal pizza pies are built. They are also cooked in a round pan. And this is where Detroit-style differs.
Instead of cooking in a round pan, the Detroit-style pizza is cooked in a square pan. Its crust is thick and airy, making it very similar to Sicilian pizza. It is also similar to the Chicago deep-dish in that it is cooked in oil, so it too comes out light and crispy. If you are looking for a classic Detroit-style pizza then you would find one that has Brick cheese, tomato sauce, pepperoni, and the always favorite caramelized cheese edges.
FINALLY
What makes the best deep-dish pizza in Chicago? Well, it's a combination of things. The crust is one of the key components and how it's cooked is another. The rest comes down to what you like in your pizza and what you don't. Chances are, though, that finding a great slice of deep-dish in the Windy City is not going to be a tough find. They have plenty of tasty and historic places that you will surely enjoy.
---