Rao's Soup has been recalled in over 30 states due to a labeling issue where its Minestrone Variety was mislabeled as Chicken Gnocchi.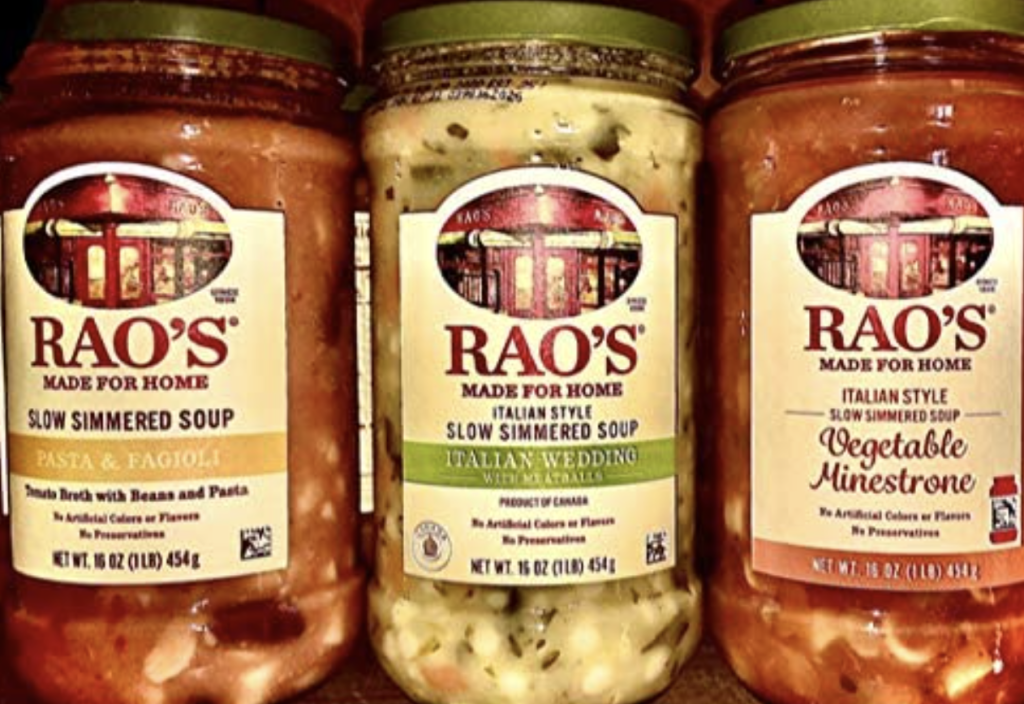 If you have never tried Rao's soup, you are in for a treat. The high-end brand makes top-quality soups and sauces that are well worth the price point. But consider waiting a few weeks before snagging some while stores sort through the news of a brand-new recall.
It turns out that there was a labeling snafu on certain jars of Rao's soup. That may not sound like the end of the world. But it could mean serious consequences for those with food allergies.
According to Food & Wine, "Sovos Brands Intermediate, Inc, which owns the Rao's brand, has issued a voluntary recall of some jars of its Chicken & Gnocchi soup because — despite what's printed on the label — it could contain Vegetable Minestrone soup." It is natural to assume that most shoppers who purchased one of the impacted soup jars would notice something was off. After all, the minestrone is deep red, and Chicken & Gnocchi has a creamy consistency.
But the problem is more serious than just a seemingly funny labeling error. Minestrone from Rao's soup line contains eggs. And the Chicken & Gnocchi does not, which means its nutrition label does not list egg as an allergen.
According to the recall notice, "People who have an allergy or severe sensitivity to egg run the risk of serious or life-threatening allergic reaction if they consume the product." So the company wanted to act quickly when issuing the recall. Please note that the recall only affects the Chicken & Gnocchi variety, not the Vegetable Minestrone.
The affected jars got sold in 30 states from December 8, 2022, through January 27, 2023. Those states are "Alabama, Arkansas, Arizona, California, Colorado, Connecticut, Florida, Georgia, Iowa, Illinois, Indiana, Kansas, Kentucky, Louisiana, Maryland, Maine, Michigan, Minnesota, Missouri, Mississippi, North Carolina, New Hampshire, New Jersey, New York, Ohio, Oregon, Pennsylvania, Tennessee, Texas, Utah, Virginia, and Wisconsin." Additionally, Walmart has a list on its website of the locations where the recalled Rao's soup got sold.
If you think you may have purchased a jar of Rao's soup under the recall, please look at its lid. The 16oz clear jars will have the following details printed on them: Best By NOV 15 2024 EST 251 Code Date 2320 MDV 046030Z009, UPC 747479400015. Please return your affected Rao's soup to the retailer to receive your refund.
The good news is that there are no reported injuries or illnesses. And hopefully, it stays that way. However, should you have any concerns, call the company at 1-800-466-3623.
Rao's gourmet food line began in 1992 with the company's signature pasta sauce. It became such a resounding success that Rao's quickly expanded and introduced new flavor profiles over the next twelve years. In 2018, the company added dry pasta to its lineup.
Then, the following year, Rao's soups entered the market, which was good news for countless loyal customers. So, if you have not had a chance to try one of their soups, you may want to. And if you happen to have an affected jar sitting in your pantry, definitely follow the recall steps to receive a full refund.
---