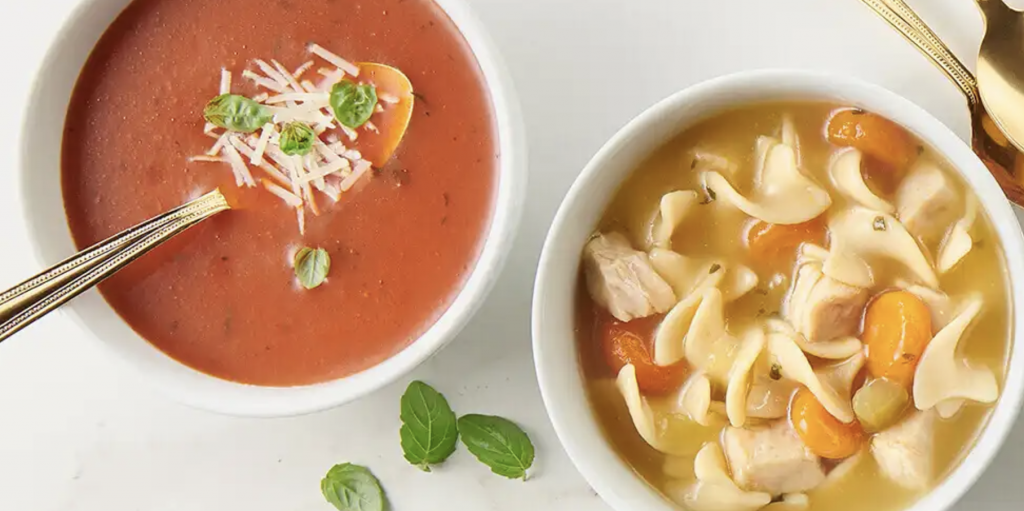 Canned soup is the epitome of convenient pantry staples. They may not be the healthiest of meal options, but they can serve as lifesavers when you're down and out with a fierce cold and lack the energy to whip up a homemade version. They are also great when you are in a rush and need to down some sustenance in a hurry. That being said, two unrivaled kings of all things canned soup are Campell's and Progresso.
Campell's and Progresso are undoubtedly household names when it comes to canned soup. They both have the ability to bring forth feelings of nostalgia, perhaps from the simpler days of your youth as you slurped up each salty spoonful. From classic Chicken Noodle to more advantageous varieties like Tuscan White Bean, both Campell's and Progresso have evolved to become titans of quick-serve soup. However, when put head to head, how do these two measure up against one another? Does one really outshine its counterpart? In a quest to find the answer, we compared each pantry pioneer to determine whether Campell's or Progresso deserves to be crowned the true king of canned soup.
START OF THE SOUP SAGAS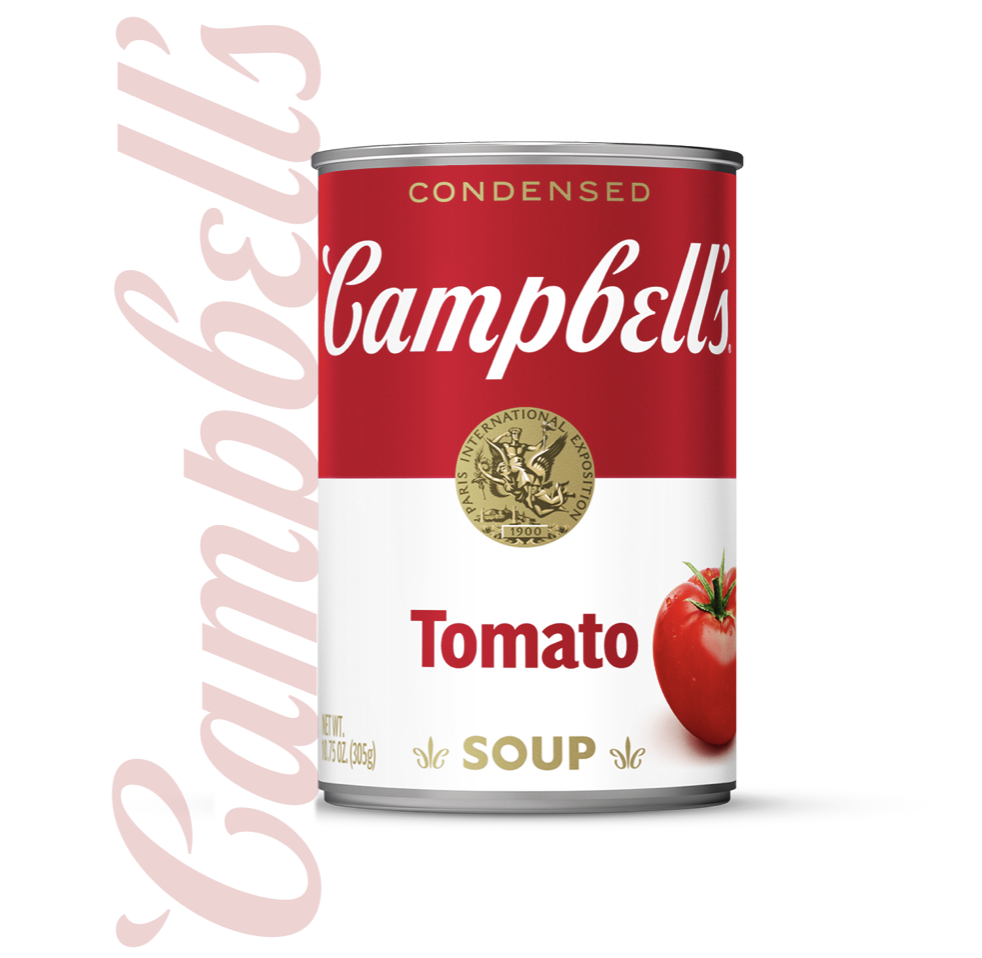 The Campbell Soup Company, as it is officially known, first came into existence a little over a century and a half ago. It was founded in 1869 by New Jersey residents Joseph A. Campbell and Abraham Anderson. They combined their trades to produce a variety of canned products including soups. In 1876, after Anderson left the company it became the Joseph A. Campbell Preserve Company. However, Anderson's son Campbell Speelman, whose name was something of a happy accident, stayed working for the company as their very first creative director. Speelman served as the very first label designer for the cans. However, it wasn't until Herbert Williams introduced his design in 1898 that the cans would feature the signature Campbell's design that still remains largely unchanged today.
In 1896 the company's name was revised again to be called Joseph Campbell & Co. The following year in 1897, a key figure in the history of Campbell's joined the staff, his name was Joseph T. Dorrance. Dorrance was a chemist who studied at MIT and Gottingen University in Germany. Dorrance is responsible for creating the method to make condensed soup. When he first signed on he was paid $7.50 per week, which is the equivalent to $257.16 today when adjusted for inflation. He would go on to serve as president of Campbell's from 1914 to 1930.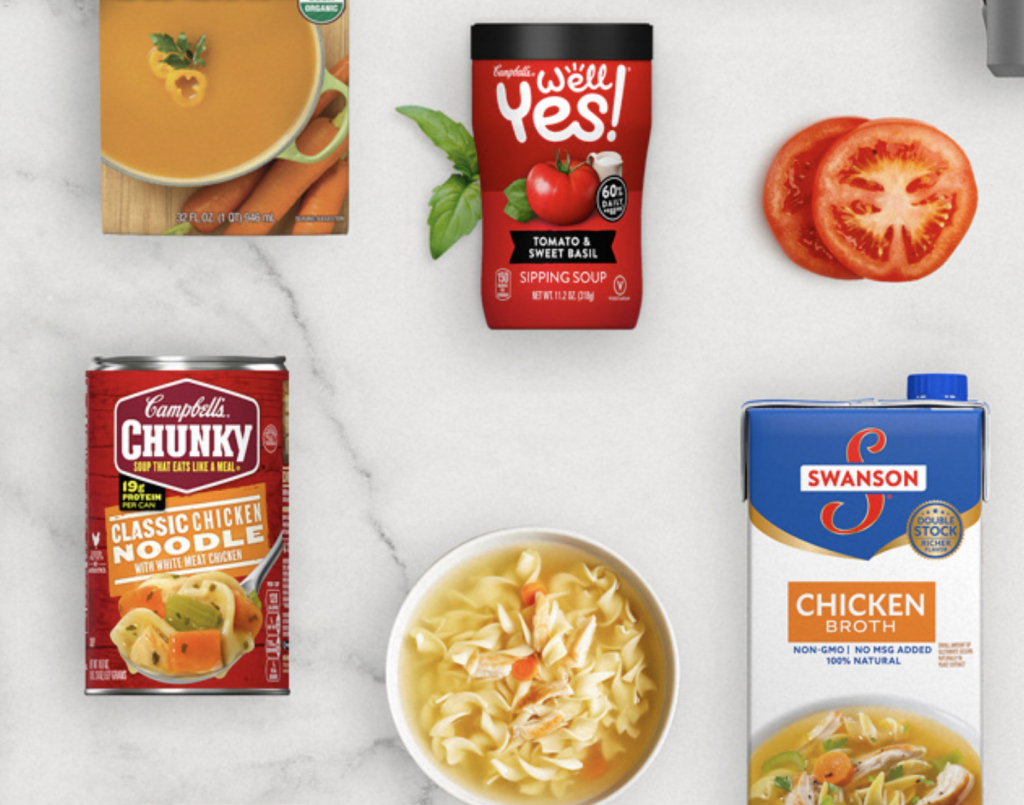 Campbell's achieved measurable success in the decades following its inception. However, when William Beverly Murphy stepped into the role of CEO the brand went from being successful to being one of the largest and most well-known food companies in the world. Throughout his nearly 20-year tenure as CEO from 1953 to 1972, Murphy expanded the Campbell's portfolio of brands by adding companies like Pepperidge Farm, V8, Swanson, and Godiva.
Campbell's success and industry presence has continued to endure through to today, largely due in part to their continued focus on advertising and commitment to remaining relevant by pivoting their acquisitions to meet the ever-evolving tastes of society. And, above all, they have accomplished this by remaining dedicated to the essence of what makes the Campbell's brand – their classic canned soups.
PROGRESSO WAS A PIONEER, TOO!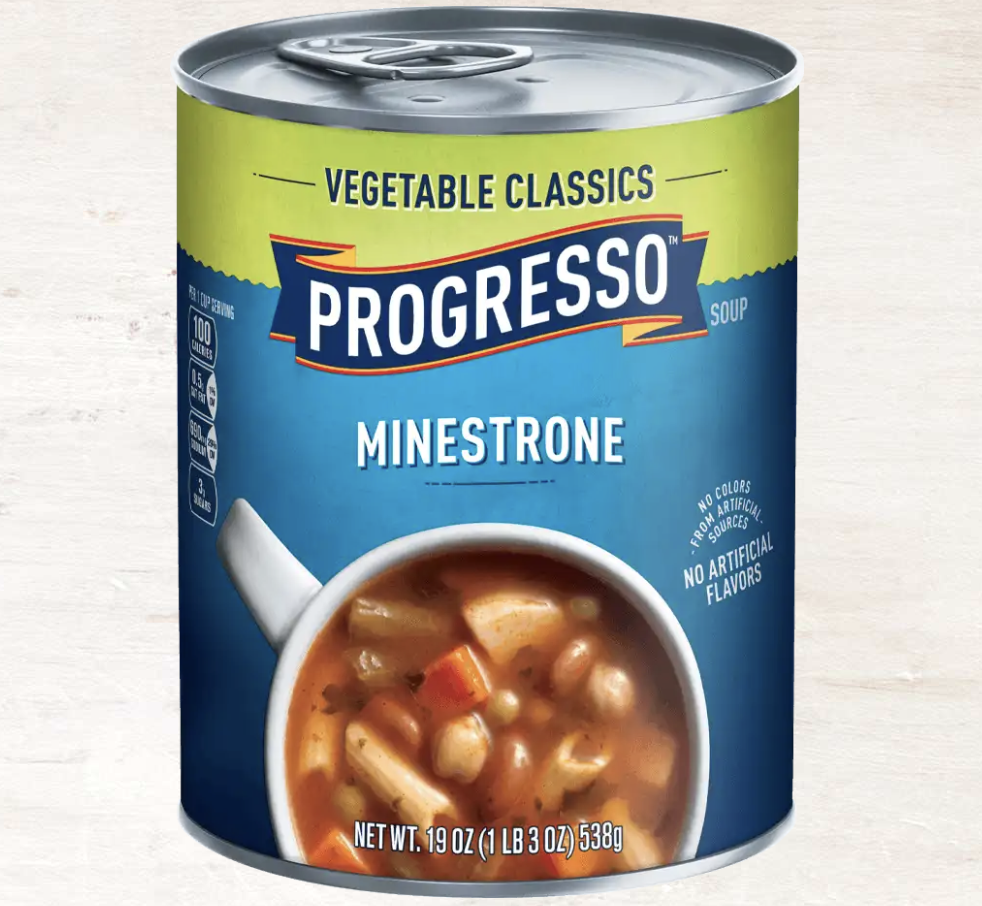 Progresso's, while its history doesn't go quite as far back as Campbell's, has still been around for an impressive 97 years and has deep ties to the essence of the "American Dream." It began in 1925 when two Italian immigrants decided to merge their existing businesses together. Vincent Taormina owned Taormina Brothers Grocery in New Orleans, Louisiana and Giuseppe Uddo had been running a profitable canning company. In 1925 Taormina and Uddo fused their two already successful operations together and became The Uddo and Taormina Corporation.
Under their new corporation, both Uddo and Taormina made a commitment to only make their products using the highest quality of ingredients, many of which were imported directly from Italy. The Uddo and Taormina Corporation rose quickly to prosperity through selling a range of top-notch canned products, including their notably popular canned soups. By 1927 the company's name had officially evolved to become the Progresso Italian Food Corporation and they began selling their products with their brand new Progresso label. 
Progresso was acquired by Pillsbury in 1988 and then in 2001 they officially became part of General Mills' portfolio of brands. In recent decades, particularly within the last 30 years, Progresso has come to be known as one of Campbell's most prominent rivals mainly because of the appeal that their "ready-to-heat" soups have over Campbell's condensed varieties that require one to add water.
CANNED SOUP COMPARISON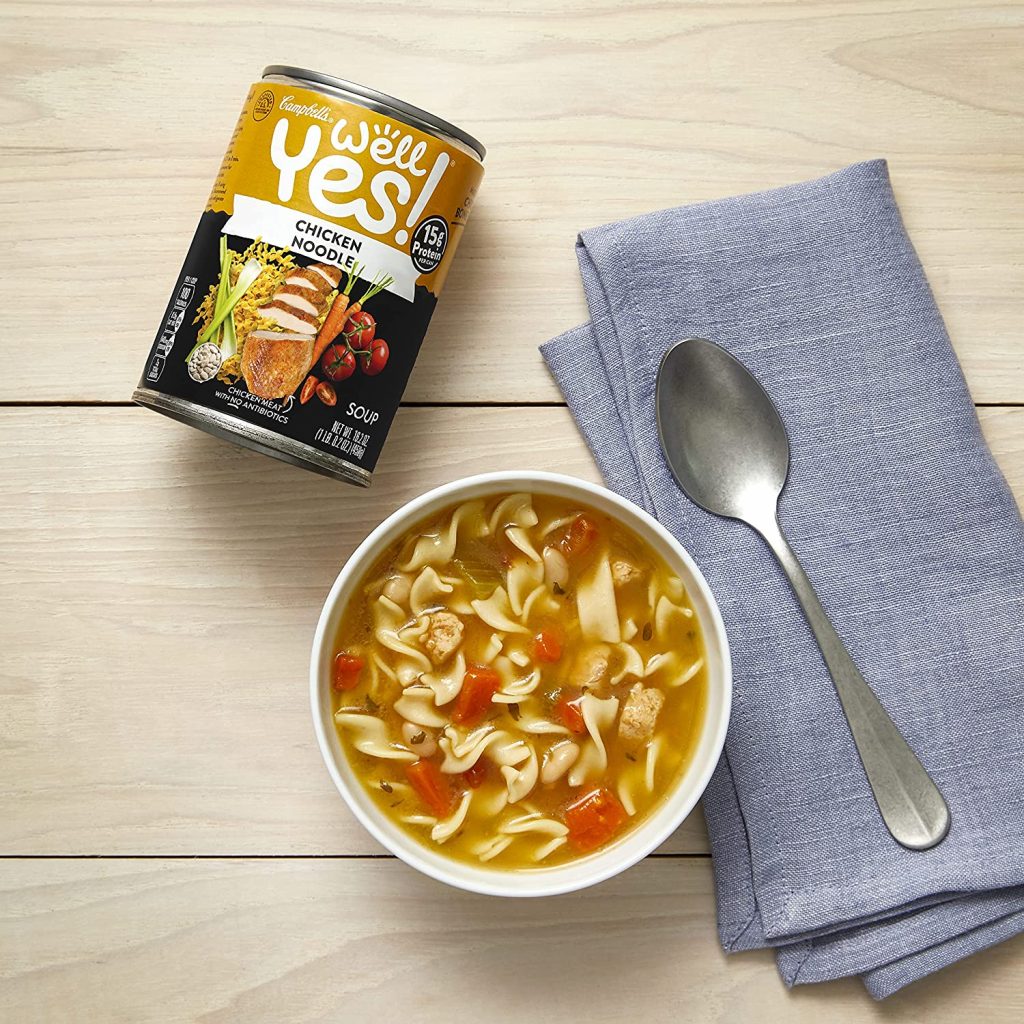 It's abundantly clear, given both Campbell's and Progresso's long histories, that each company has rock-solid industry staying power. And over the years, both have continued to evolve and improve upon their brands. Progresso's soups come in a slew of different flavors as well as dietary categories such as reduced-sodium or lower-calorie options. Similarly, Campbell's has expanded its condensed soup line up by adding to the flavors it offers, and it has introduced its Chunky line as a direct competitor to Progresso, as well as its Well Yes! brand in an attempt to attract more health-conscious consumers.
Campbell's top-selling soup flavors include staples such as their iconic Chicken Noodle, Tomato, and Cream of Chicken Soups. Those classic varieties are truly the trifecta in the way of condensed soup. Progresso's "soup-er" stars include its Vegetable, Minestrone, Chicken Noodle, and Macaroni & Bean varieties. Its key performers are also soup-industry staples.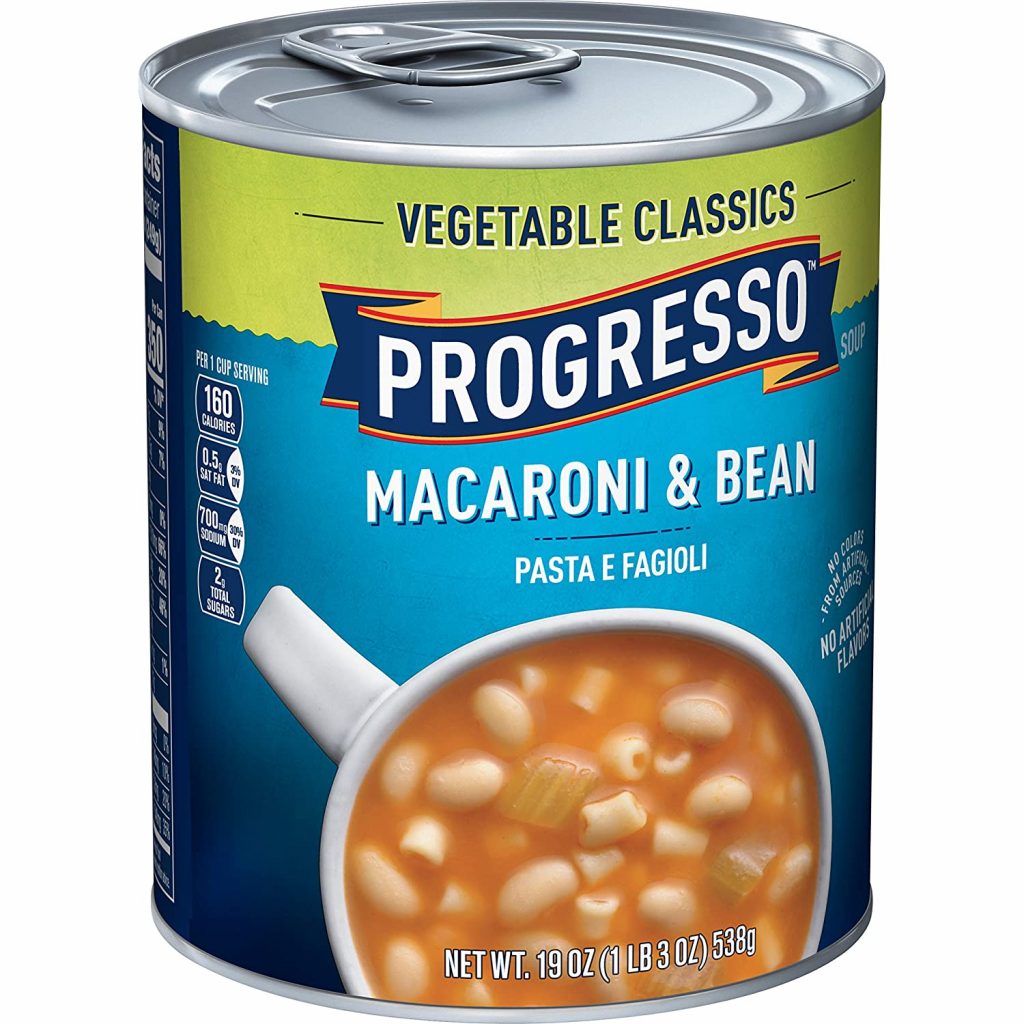 With so much variety across both brands that were developed to meet the tastes, and in some cases dietary preferences, of consumers, it would be easy to call these two soup titans tied. However, in an effort to truly accomplish our quest of determining if Campbell's or Progresso can lay claim to offering the best canned soup, we decided to take it back to basics and compare the soup that has also been a cornerstone for both companies, Chicken Noodle. We chose Campbell's classic condensed Chicken Noodle and put it up against Progresso's Traditional Chicken Noodle.
First and foremost, we broke down the facts, and by facts, we mean nutrition facts. The following numbers are based on the recommended single serving size. Campbell's suggests a 1/2 cup serving. That serving contains 60 calories, 2g of fat, 15mg of cholesterol, 890mg of sodium, 8g of carbs, and 3g of protein. Progresso recommends a serving size of one cup for its soup. One cup of Progresso's Traditional Chicken Noodle contains 100 calories, 2.5g of fat, 25mg of cholesterol, 680mg of sodium, 13g of carbs, and 7g of protein.
THE TASTE OF SOUP SOOTHES THE SOUL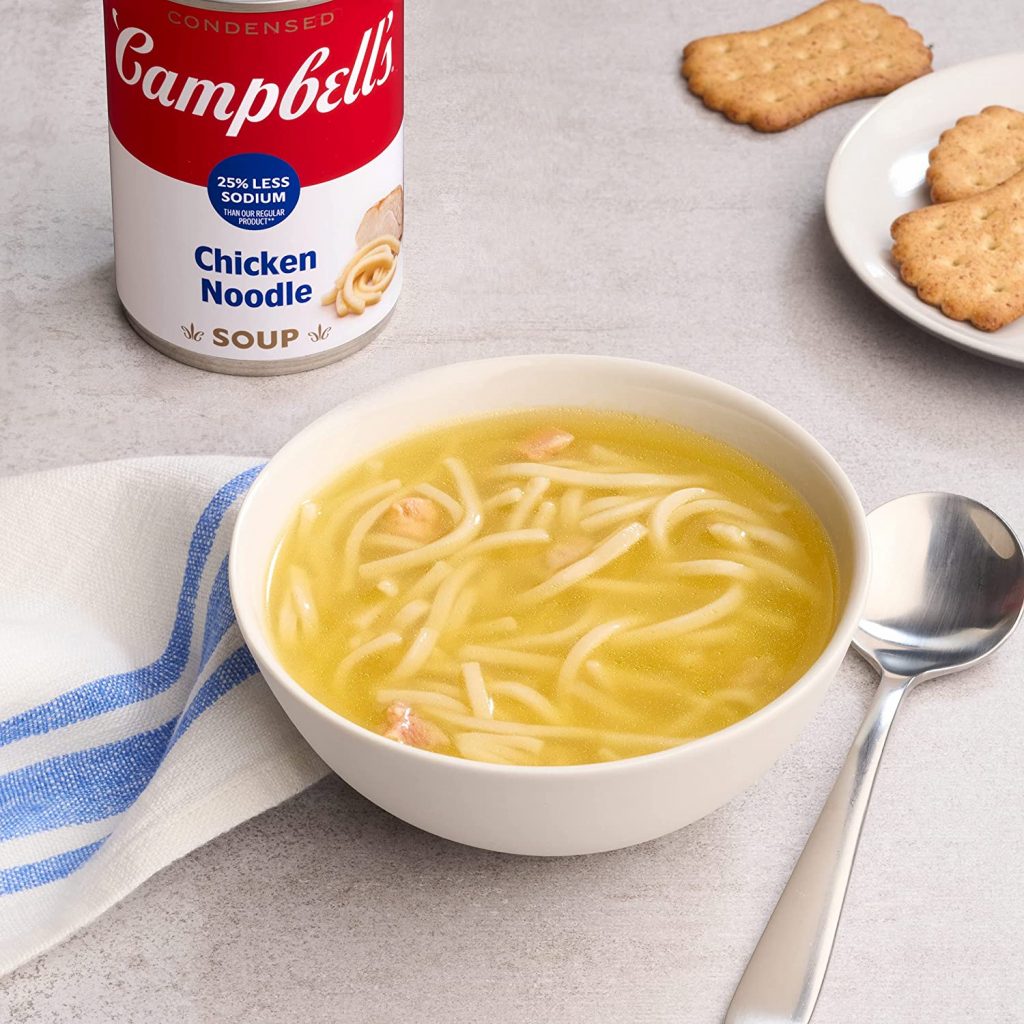 While nutritional content is always an important factor to consider, the taste is the key to drawing in and retaining consumers. So how did Progresso and Campbell's compare in terms of their flavor profiles? Sipping Campbell's soup immediately invoked an aura reminiscent of childhood. There is just something so innately comforting about its classic, albeit salty, flavor that is only inexplicably complemented by soft heaping spoonfuls of long egg noodles. However, where it was lackluster, was in the chicken it contained, if you could call it that. The "chicken" in the soup is essentially little bits of mystery meat. Still, in a way, it added to overall feelings of childhood sentiment that the taste of the soup itself evoked.
Progresso's Chicken Noodle Soup, in contrast to Campbell's, had a much more complex and richer flavor profile. Instead of it feeling like you were downing huge helpings of salt ( no matter how nostalgic those huge helpings may be), there were actually different spices and seasonings that were easily discernible in the broth. The soup was also chock full of wide egg noodles, a good amount of carrots, and chunks of chicken that looked like chicken. Simply put, Progresso's Chicken Noodle was more akin to what a homemade version would be.
THE CROWNED KING OF CANNED SOUP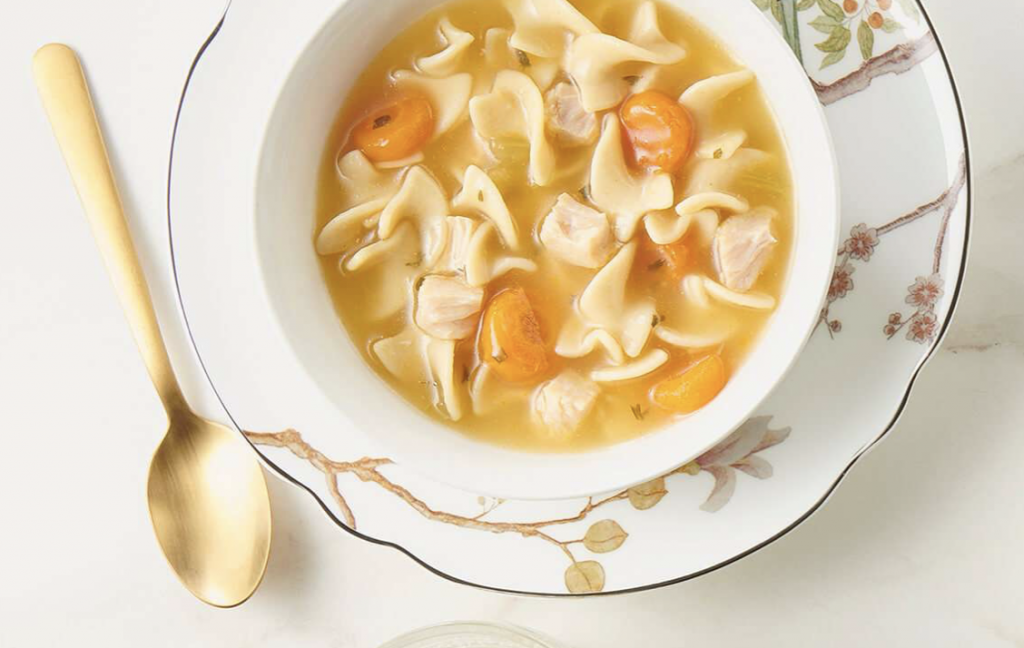 Both Campbell's and Progresso have clearly earned their places in the canned soup hall of fame. That being said, looking at the nitty-gritty in terms of nutrition, Progresso is preferable, as it contains much less sodium and a healthy dose of protein in a serving size that is double than what Campbell's recommends. Additionally, our taste test revealed a vast disparity between Campbell's more one-dimensional flavor profile versus Progresso's starkly more complex, which was further highlighted by the inclusion of large chunks of chicken, noodles, and veggies.
Where Campbell's did win out, however, was in the sheer feelings of pure nostalgia that it was seemingly effortlessly able to evoke. Still, when it comes down to it, it was not enough to rival Progresso's other noteworthy advantages. Thus, first place in our canned-soup contest goes to none other than Progresso and their time-honored Traditional Chicken Noodle Soup.