According to Senior Food Editor Emi Boscamp, Progresso Macaroni & Bean Soup is the best-tasting canned soup.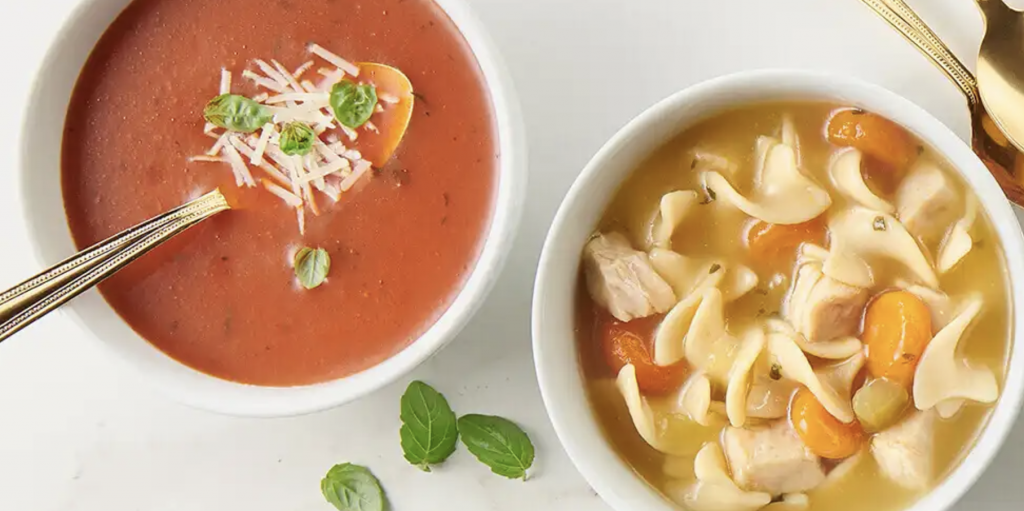 Canned soup has come a long way since Campbell's introduced its first cans of beefsteak tomato soup in 1897. Over 125 years later, tomato soup remains one of the ultimate comfort foods, especially when paired with a toasty grilled cheese sandwich. Canned soups can be hit-or-miss, but many provide that cozy warmth we seek on cold winter nights, with some even rivaling their homemade counterparts.
Progresso's Macaroni & Bean (Pasta E Fagioli) canned soup so totally hits the mark that Emi Boscamp, the senior food editor at TODAY, wrote an entire article dedicated to it. This particular brand of soup gave her comfort during the midst of the Covid-19 pandemic because it was what her mother served her when she was a child. When Boscamp caught Covid, she lost her senses of smell and taste and feared that she would never enjoy her favorite soup again.
Thankfully, her senses returned after about a month. But when she went shopping to find the one thing she craved, her beloved Pasta E Fagioli was nowhere to be found. "Are people hoarding it?" she asked herself. "Is there a Macaroni and Bean shortage?"
Her parents were able to secure a few cans for Boscamp. She researched the supply issue and discovered that many food manufacturers had scaled down production during the pandemic, focusing only on their strongest-selling products. She was dismayed to discover that her favorite hadn't made the top 50 canned soup list at Progresso.
However, the limited production was only for a short while and soon, Macaroni and Bean canned soup was back on the shelves. It is one of Progresso's oldest soups, established in 1955 and based on family recipes from the Uddo and Taormina families. "These original recipes were literally 'written on the wall' next to the cooking kettles of the first Progresso plant and were less structured than our recipes are today," said Chris Borges, senior brand manager of Progresso.
Progresso and other brands of canned soup are available in hundreds of flavors created to mimic the soups we enjoy in our grandma's kitchen and favorite restaurants. Even if the canned minestrone you bought falls short of your Nonna's, one of the beautiful things about canned soup is that it's easy to add your own touches without having to resort to cooking a whole pot of soup from scratch. Sprinkle in a dash of garlic powder and add a generous squeeze of fresh lemon juice to brighten the flavor.
Low-sodium canned soup almost always needs some help in the flavor department. Although it's good to buy it (canned soups are notoriously high in sodium), you might really miss the extra salt. Add a salt substitute, such as Morton's Lite Salt, or a generous sprinkling of Mrs. Dash or another salt-free seasoning blend.
Not only does Trader Joe's have some great frozen dinners, but their premade soups are also completely satisfying. Their best flavors are not the typical canned soup but are sold in the refrigerator section in plastic containers. Tomato Feta, White Chicken Chili, or Pumpkin Butternut Squash Bisque are all fantastic ways to warm up on a cold night.
Any brand of chicken noodle canned soup will help if you're suffering from a cold or flu this winter, but few match Trader Joe's Kettle Cooked Chicken Soup. If you can't make a special trip to Trader Joe's, Campbell's Chunky Classic Chicken Noodle is surprisingly tasty. If you're especially congested, try Chunky Spicy Chicken Noodle instead.
---