M&M's introduced a new purple character, however, the new purple color won't be showing up in its candy bags, fans will only be able to purchase purple-colored M&M's online.
M&M is making another change to its beloved sweets. A more considerable change than when it swapped out their character's boots for sneakers. A change that could potentially cause mayhem with the snack connoisseurs out there. Meet Purple: She's peanut, sings, and wears lace-up boots.
Yes, that is correct; M&M has welcomed a new color to their colorful rainbow of characters. According to the brand, the purple peanut is the first character to be introduced in 10 years, but you won't be able to find her in stores. M&M has been working on the addition of their newest character for several years as they wanted its "spokescandies," as they refer to them, to reflect the world we live in today.

Along with a bright color, vocal talents, and cool boots, Purple has a quirky, confident, and just a little bit awkward personality. Her debut song, "I'm Just Gonna Be Me," can be seen online and streamed on platforms such as Spotify or Apple Music.
So is the new Purple M&M going to be in the regular bags of M&M or the peanut-flavored ones? Neither actually. The new character will appear in M&M stores nationwide, on their official website, and in some limited edition packaging.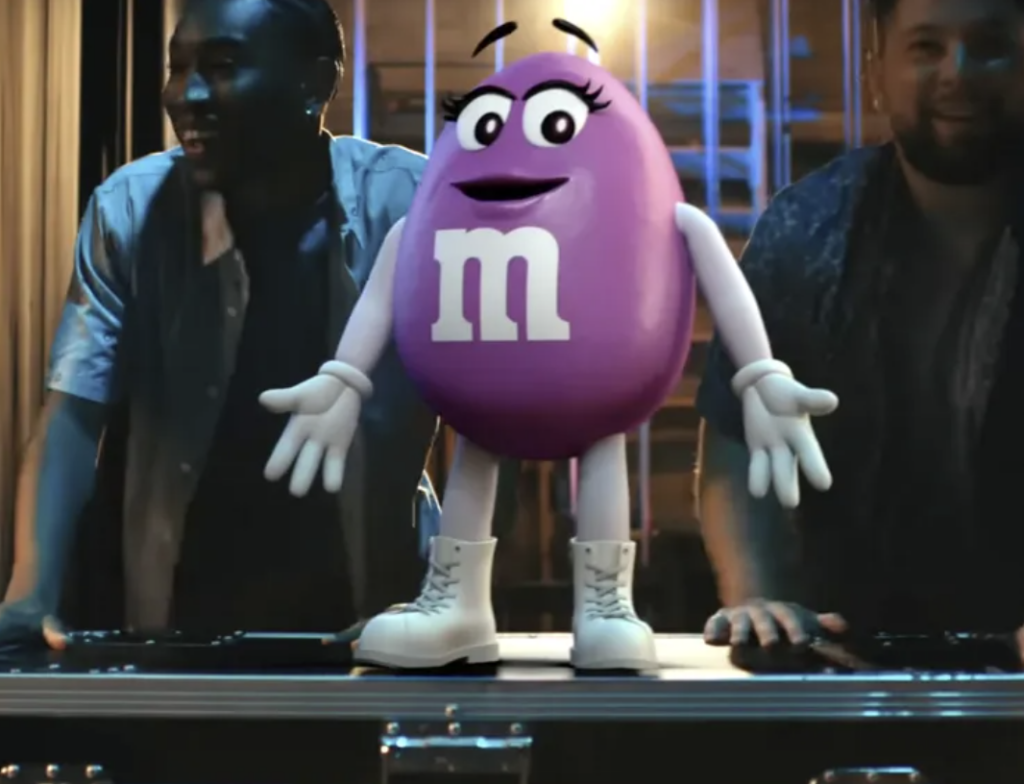 Customers will be able to buy individual bags of purple M&Ms online, but they will not be available in regular or peanut-flavored bags or any retail stores. Customer rage ensues.
Loyal customers frequently ask why there are no purple M&Ms, a fact that is known to the company. "We've heard for a long time that purple is certainly a customer favorite," said Jane Hwang, Global Vice-President of the company. But branding has been focused more on the characters than the actual candy in the past few years.
Other Additions to M&M's Characters
Like with the addition of the new purple character, M&M decided to change their character's footwear earlier this year, with the hope that it made the characters more relevant. That led to more rage.
In the Washington Post, it was declared that "The M&M's changes aren't progressive. Give Green her boots back," with thousands of customers signing a petition to "keep the green M&M sexy." For M&M, people's reaction was unprecedented, with Hwang stating, "Now we know for certain that M&M's is a cultural icon."
People on the internet are known to have strong feelings about things changing, particularly beloved childhood characters. For instance, when Halle Bailey was cast for the new The Little Mermaid film, some people were upset.
So when it came to the new purple character, they hoped that consumers would get to know their characters for much more than their footwear. While that is all excellent branding from the global company, they still did not listen to the consumers and left purple out of the regular bags of sweets, which is what the customers wanted more than a singing peanut.
Branding these characters seems more important than the chocolate to M&M's future prospects as a company. It looks like they're missing the point, really.