The best bumper pool table options come from Octagon, Atomic, Renegade, and Heritage.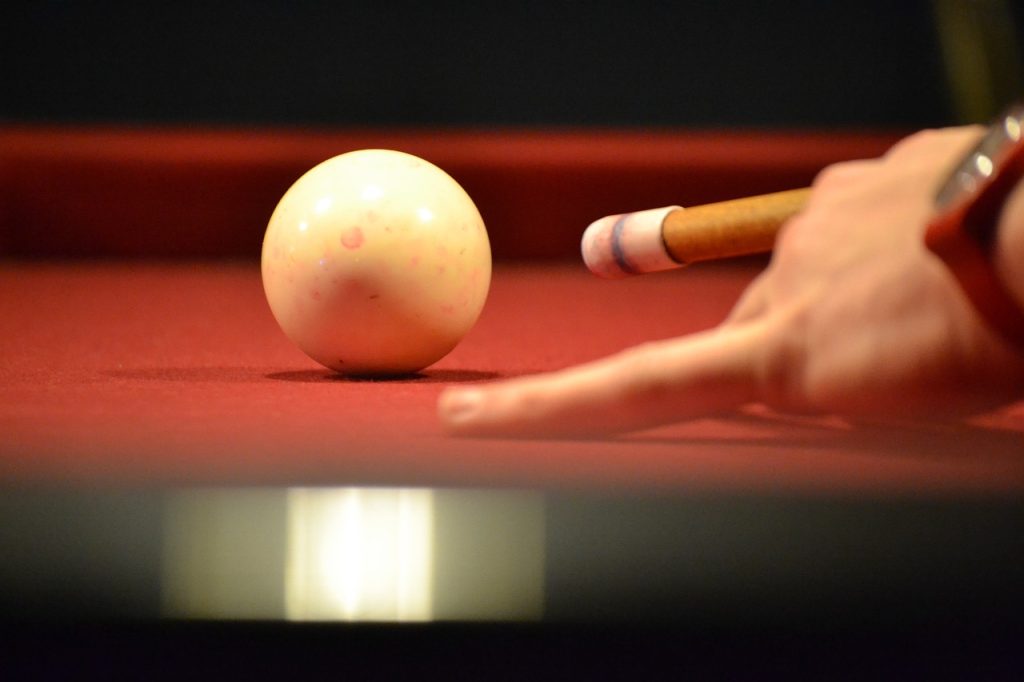 Bumper pool is a fun game and an excellent alternative for anyone who may want a pool table but just doesn't have the room. Compared to a traditional pool table, a bumper pool table is much smaller and comes in two different shapes. Additionally, this style is played with a shorter cue stick and only has two pockets.
HOW HEAVY A BUMPER POOL TABLE IS DEPENDS ON THE MODEL BUT RANGES BETWEEN 250 TO 350 POUNDS
The weight of these tables varies based on the materials used to build them, exact size, and other variable factors. Size varies among tables, but larger tables will generally weigh more than smaller ones.
However, a bumper pool table on average weighs anywhere from 250 pounds to 350 pounds. Heavier tables will likely be made from slate, which is the same material used to create a traditional pool table. 
BUMPER POOL IS SIMILAR TO REGULAR POOL BUT HAS FIVE BALLS AND OBSTACLES
The goal of the bumper pool is to be the first player to sink all five balls. Balls are hit into the opposing players' pockets. It may sound easy, but 12 different bumpers are strategically placed on the table to make things challenging.
The balls are hit directly with a cue rather than being hit with a cue ball. The game can be played between two people or between two teams consisting of two people each. 
BUMPER POOL CAN BE A BETTER GAME FOR BEGINNER PLAYERS
Bumper pool is an exciting game, and whether it's more fun than regular pool is subjective. Most people who enjoy a traditional game of pool will enjoy this version as well. People who struggle to play pool efficiently and those who have never played regular pool will often find bumper pool to be relatively simple and, overall, an enjoyable game.
A traditional pool table may not be in everyone's budget or be able to fit into their homes, so a bumper pool table is a great alternative. For anyone in the market for this kind of table, we have compiled a list of some of the best tables available. Both table-shape varieties are included in the list.
3-in-1 Table – Octagon 48″ Urban Bumper Pool Table with Slate Bed – $2,399.99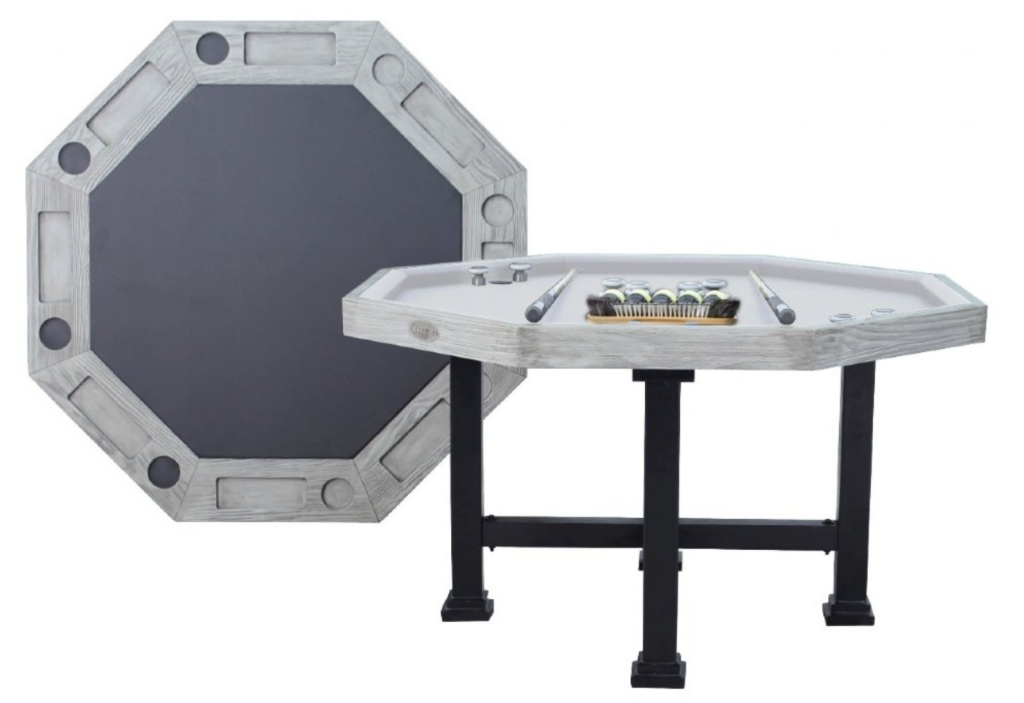 Just like the other tables on our list, this one converts from a dining table to a poker table to a bumper pool table with the simple flip or removal of a top. This table features a slate and an old-world finish in a beautiful silver mist color. The table is 48 inches and weighs 360 pounds.
Customers can choose between black or light gray cloth to finish the bumper pool table. The legs of the table are crafted from black steel and provide solid stability to the structure. The poker portion of the table is complete with genuine black leather. The pockets are also retractable.
Players can kick back and relax when playing poker on this three-in-one table with drink holders plus holders for their playing chips. It comes complete with balls and cue sticks. A total of eight people can play poker at this versatile table.
Heritage 3-in-1 Game Table With Bumper Pool – $1,399.99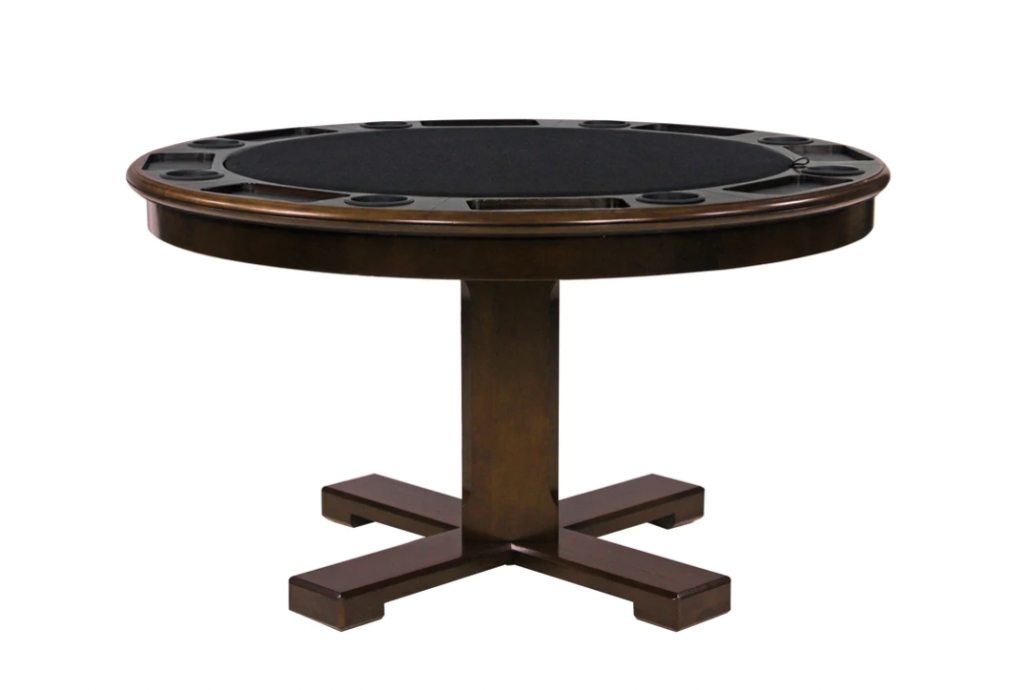 This bumper pool table is a three-in-one combo that operates as an eight-person poker table and a dining table as well. The tables come with a removable top that serves as the dining top and, when lifted, reveals the bumper pool table. Everything is included to play, with two cues, balls, and chalk in the set.
This three-in-one table makes going from dinner to fun simple and easy. The top of the table easily flips over to reveal a poker-playing spread, perfect for any game night. This table is the ideal table to make memories with family and friends that will last forever.
This wood gaming table was built to last, includes a fine-quality finish, and adheres to strict quality control standards. The Heritage 3-in-1 table goes through a 14-step process to ensure it is made with the highest possible standards. These standards and rigorous procedures ensure that this playing table will be able to be enjoyed for generations to come.
Renegade II 54-inch Bumper Pool Table – $988.53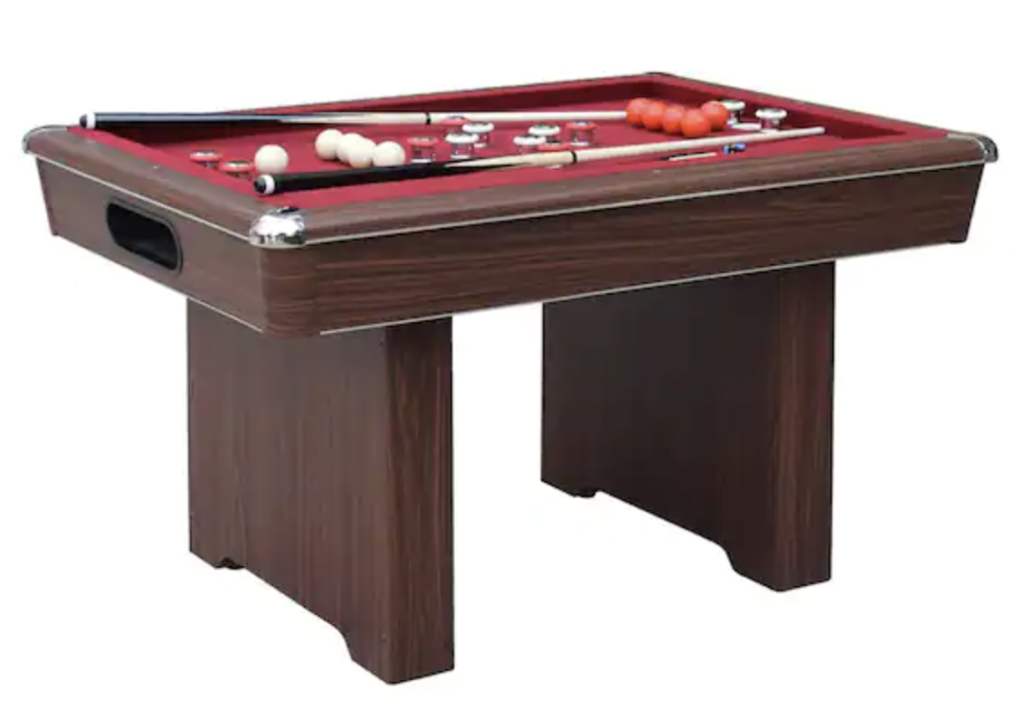 This compact, rectangular-shaped bumper pool table is the perfect addition to any family game room or decked-out basement. The bumpers are crafted from gum rubber, which provides accuracy and an ideal bounce back when playing bumper ball. The table is constructed from engineered wood.
The table has a reversible top, and reveals a burgundy playing cloth that allows for a true play of the game. The Renegade II features a uniquely crafted ball return system. The gaming system comes equipped with two cue sticks, 10 bumper pool balls, a table brush, and chalk. 
The Renegade II Table, with its versatility between a dining table and a playing table, its compact size, high-quality finish, and affordable price, makes this table one of the best out there. This version is ideal for general recreational playing or for more serious bumper ball competitors.
Atomic Classic Bumper Pool Game – $419.99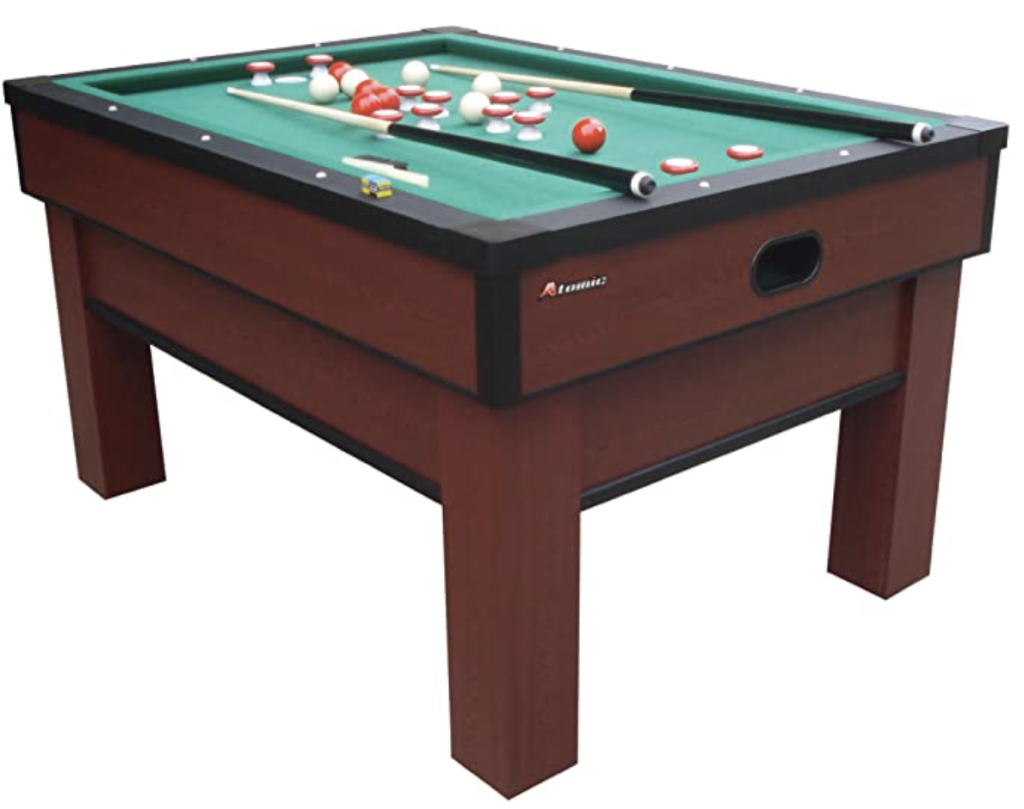 This is an excellent option for anyone looking to add a fun game to their home while sticking to a modest budget. The Atomic Classic Bumper Pool Table features an MDF playing surface and 5-inch square legs, built to withstand long playing times. Additionally, the MDF material from which this table is crafted is warp resistant.
The Atomic has a classic look with beautiful green playing cloth and a rich brown wooden color to the body of the table. The table in total is 32 inches in height, 57.5 inches long, and 41.5 inches wide. Players can enjoy 49.5 x 33.5 inches of the playing surface.
The Atomic Classic Bumper Pool Game Table is designed with an internal-ball return system that provides efficiency and a quiet return. The aesthetic of this bumper pool table brings in a recognizable energy for players of all ages.
---