Stay warm and dry with one of the best rain jackets available.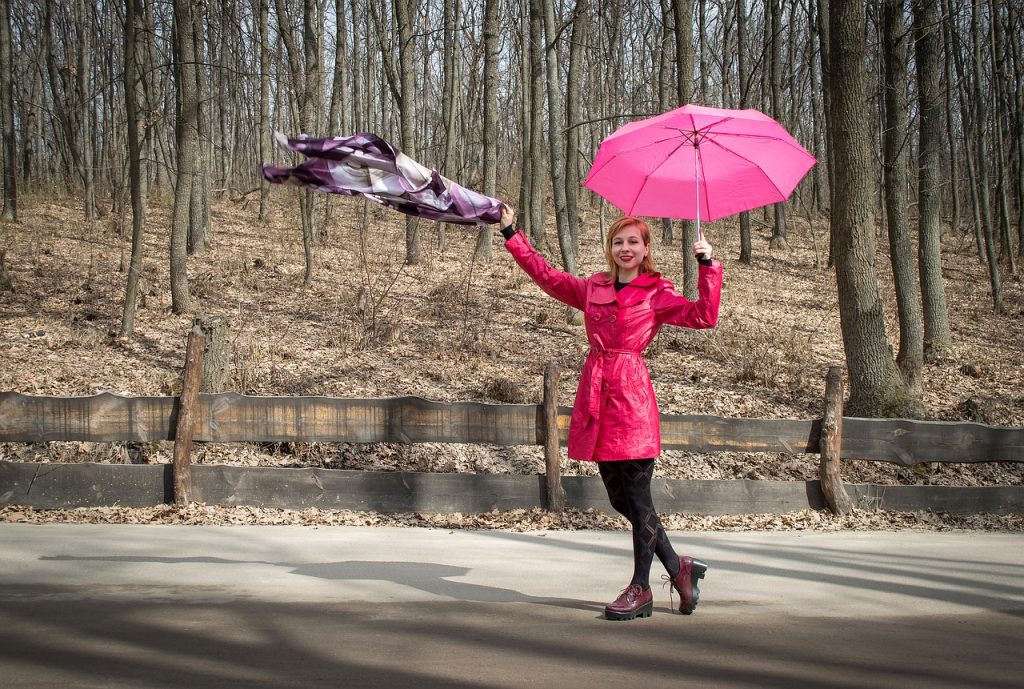 Springtime is an illustrious season. Every spring it is as though mother nature has been re-inspired to artfully paint her canvas in a stunning semblance of rebirth. Flowers bloom with vibrancy. Trees sway in blissful delight as their foliage once again erupts from their hibernating branches. And then there is the rain. The rain comes is fell swoops kissing and sometimes smothering the dormant life below that has been patiently awaiting its return. Humanity is a witness to this brilliant rebirth and revival. However to truly appreciate the melancholy droplets that sing softly their rhythm as they hit the ground it's best to equip yourself with the proper attire – namely a rain jacket. Because let's face it, it's hard to appreciate the splendor of the rain when you are drenched from head to toe.
A rain jacket is not only the perfect companion to a solid umbrella, but they are absolutely essential components to staying warm and dry if you know you are going to be out in the rain for some extended period of time. For instance, perhaps you work in an urban metro area where you frequently have to traverse many city blocks in order to arrive at your destination. If that's the case, wearing a rain jacket on rainy days can be an absolute lifesaver. 
Or maybe you are an avid hiker that loves to tackle the trails in any kind of weather. Equipping yourself with the proper rain jacket can make your hike or outdoor adventure that much more enjoyable because you won't have to worry about the potential of getting utterly soaked. All in all, always having a rain jacket at the ready is exceedingly advantageous. Hence, we gathered up the best ones to ensure you'll always be warm and dry even when it's raining cats and dogs.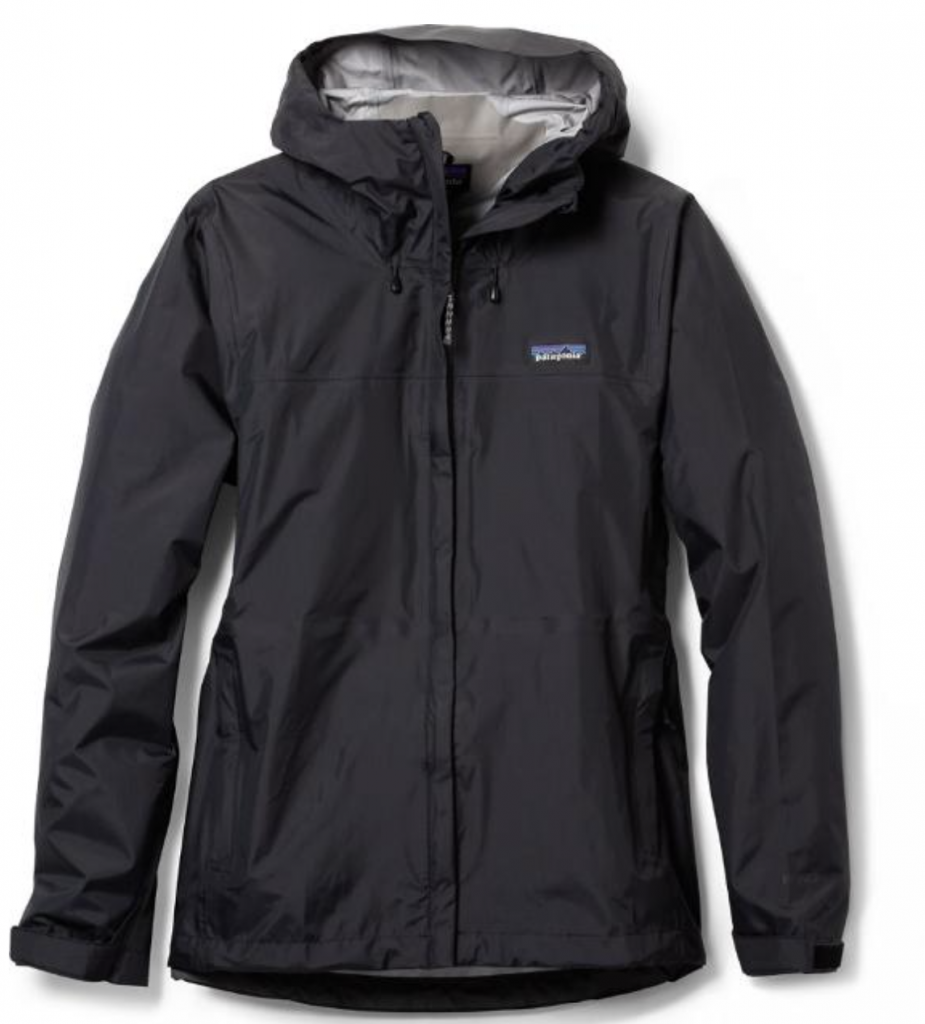 WHY IT'S THE BEST – The Patagonia Torrentshell is a dependable and durable 3-layer rain jacket. If you've ever had the opportunity to traverse parts of Patagonia then you know how stunning yet unforgiving the landscape there can be, especially when your throw some rain into the mix. This coat was most definitely modeled to handle the type of weather you're likely to encounter in Patagonia, which means this is one solid rain jacket. 
The Patagonia Torrentshell is comprised of three separate polyester layers, with the outer shell being made of a heavily waterproof material. It was also coated in a water-repellant so as the rain falls it is simply is wicked away from the jacket. There are convenient zippered vents placed around the jacket, including underneath the arms, to ensure you never overheat. What's more, is that there is an adjustable hood that includes a visor. This is an ideal feature to have if you find yourself without an umbrella. 
PRICE – $149 for Men or Women at REI Co-Op Shop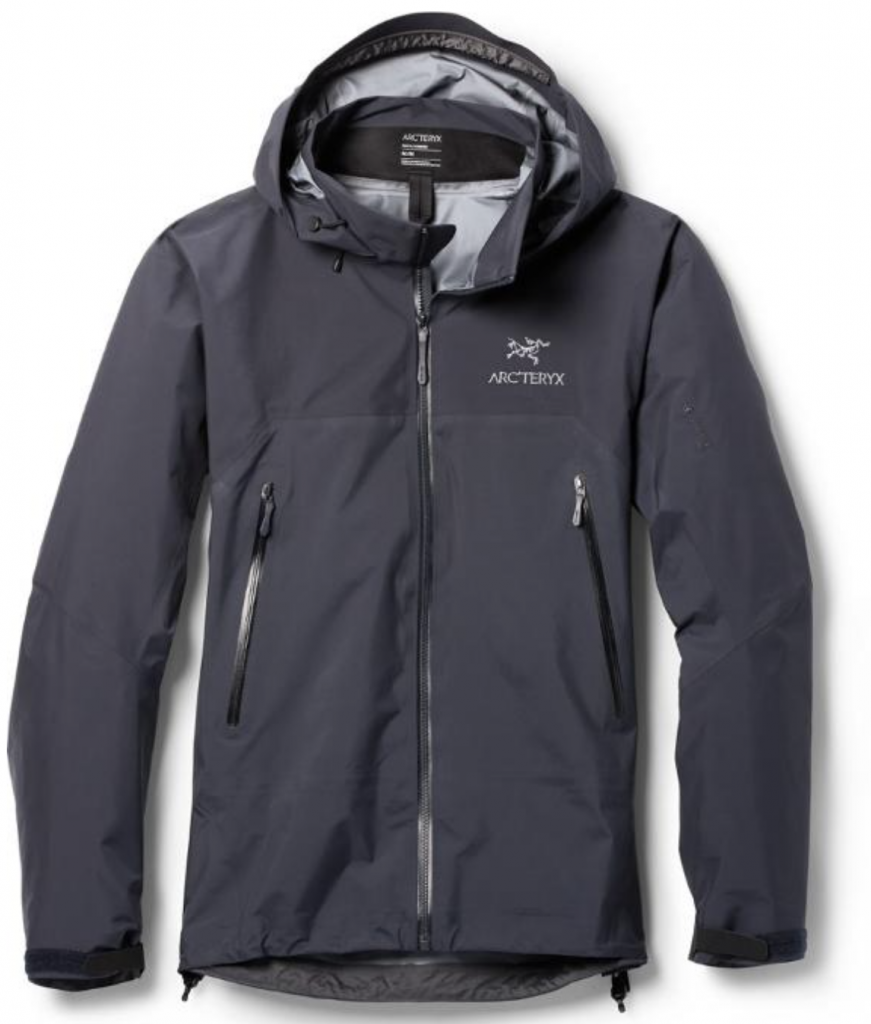 WHY IT'S THE BEST – If you are looking for the ultimate in outdoor protection and frequently go up against gale-force winds that blast pellets of percolating rain in your direction, then the Arc'Teryx rain jacket would make for an exceedingly wise investment. This rain jacket was built for the backpacker, it was made for the outdoor enthusiast, and is meant to stand up to the fiercest rain storms one could imagine. 
This rain jacket is made of triple layers comprised of waterproof, windproof, breathable laminate material. Some key quality of life features with this jacket include its brimmed hood to ensure you can always maintain a good field of vision even when the rain is whipping past you. There are armpit vents for easy temperature regulation. The jackets were also anatomically crafted to promote easy and natural movement. This is exceptionally helpful if you are trying to scale hills, mountains, and trails in slippery wet weather. Overall, this rain jacket is truly meant to stand the test of time and rugged wear.
PRICE – $599 for Men or Women at REI Co-Op Shop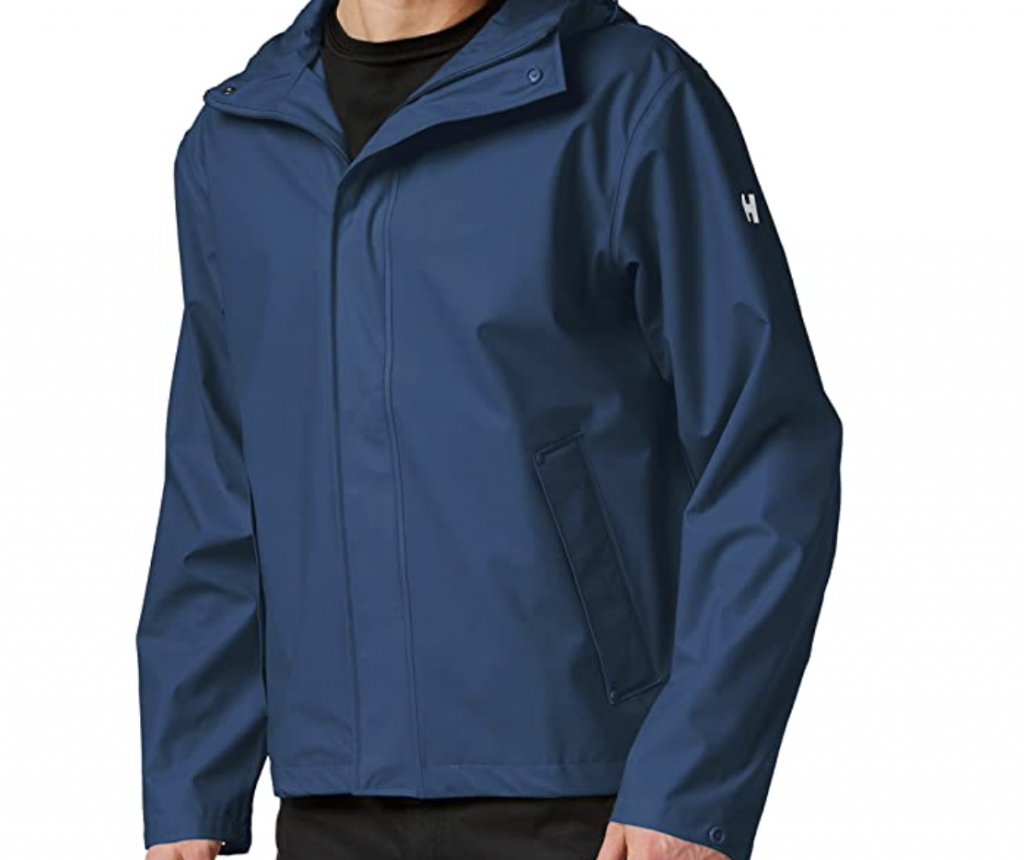 WHY IT'S THE BEST – If you simply want a basic yet solid rain jacket capable of keeping you warm and dry during those sparatic April showers prior to the brilliant bloom of those highly anticipated May flowers, then the Helly Henson Moss Raincoat is ideally suited to you. This jacket was especially made with city dwellers in mind. It is crafted with a Helox+ fabric that is both highly water and wind-resistant. It has a tall neck guard to further keep the wind and rain at bay. The fabric is comfortable and designed to move with you. However, it is not meant for those actively hiking or vigorously exercising outdoors in the rain because the fabric has very low breathability. This jacket is better suited to keep someone warm while they walking to work. 
PRICE – $65 for Men or $56 for Women on Amazon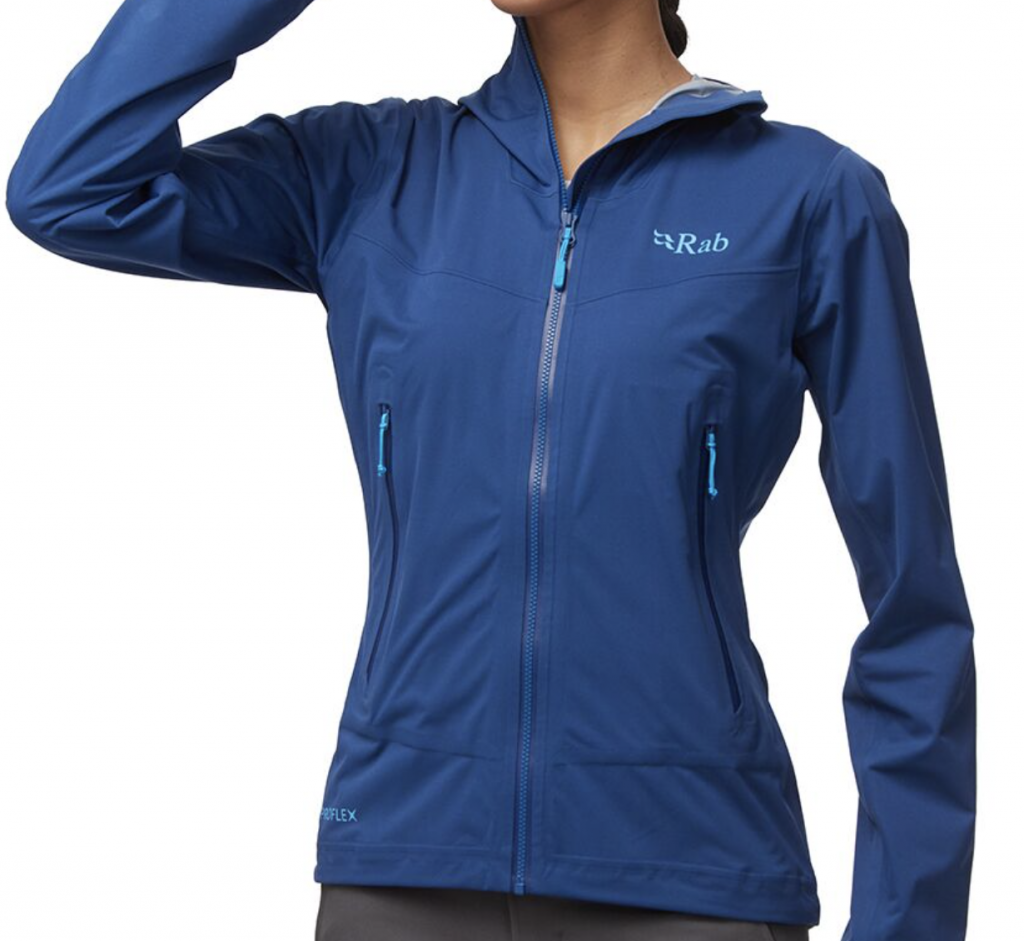 WHY IT'S THE BEST – As the name would suggest the Rab Kinetic rain jacket was designed with mobility in mind. This is a comfortable and super lightweight jacket ideal for those who are very active outdoors. For instance, this rain jacket would be well suited to a runner who prefers to run out in the elements versus getting in their steps on a monotonous treadmill. 
There are three different layers to this jacket. The exterior layer is waterproof and malleable so it will keep you dry while adapting to your movements. The interior layers promote optimum breathability when you are exerting yourself outdoors. Also, since this jacket is so lightweight it doesn't feel cumbersome to wear while working out or even while just taking an easy stroll.
PRICE – $229.95 for Men or Women at Backcountry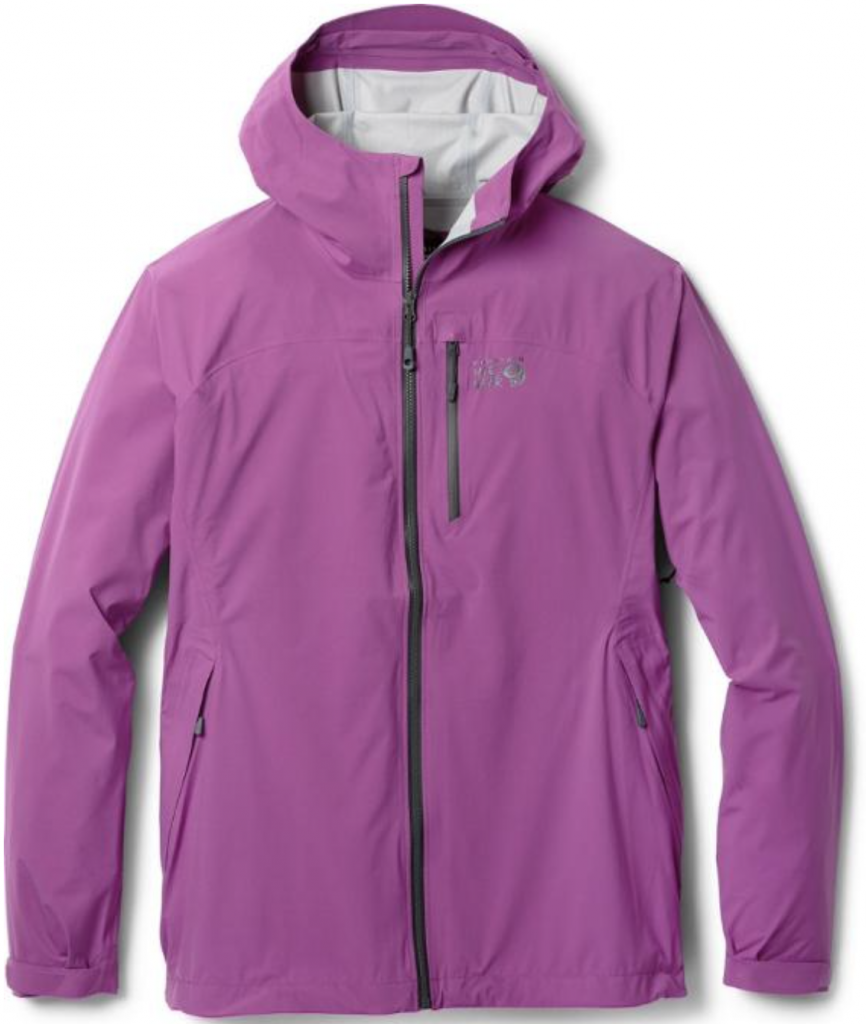 WHY IT'S THE BEST – If you are one who is not a big fan of that swish-swish noise that waterproof fabrics often make but still want a rain jacket that is up to the task of keeping you from getting sopping wet, then the Mountain Hardware Stretch Ozonic Jacket is the optimum rain jacket for you. The material is soft to the touch and won't irk you with any swishing noises. In fact that fabric is so quiet, you'll likely forget you're wearing a raincoat at all. Other nice features with this jacket include underarm vents for maximum breathability and an adjustable hood for when the droplets really start coming down. 
PRICE – $149.93 for Women or $200 for Men at REI Co-Op Shop
THE CONCLUSION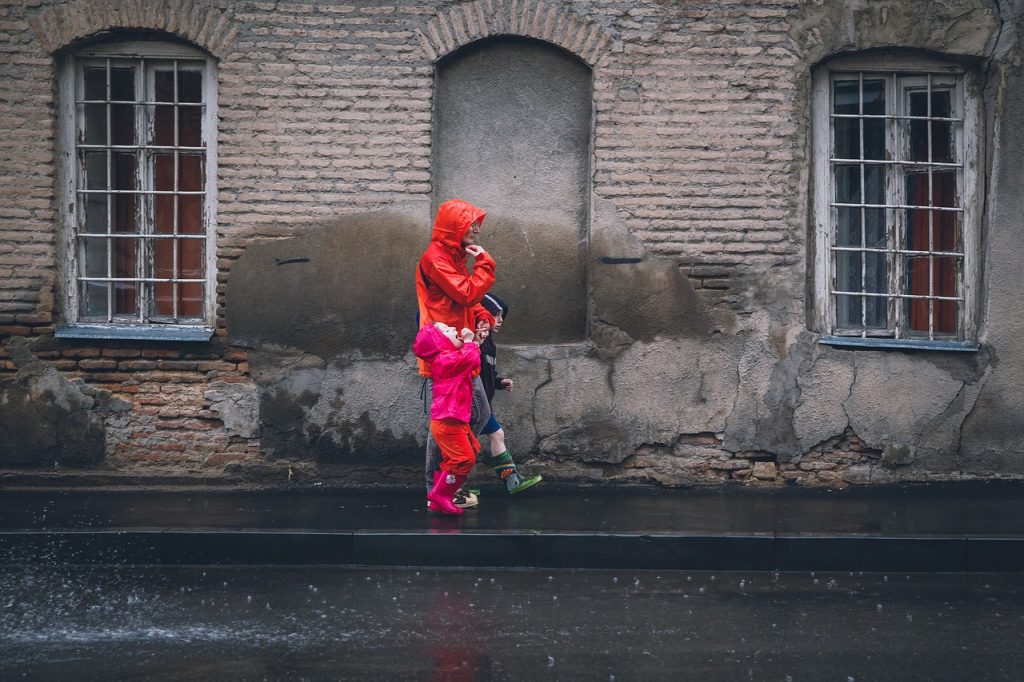 There is no reason for the rain to get you down when you have a solid rain jacket in your wardrobe. Whether you like to best the steepest of trails while braving the elements or simply need a sturdy jacket to wear on your long walk to work, our recommendations have got you covered. Zip up, zoom out the door and think nothing of what a little rain might throw your way.