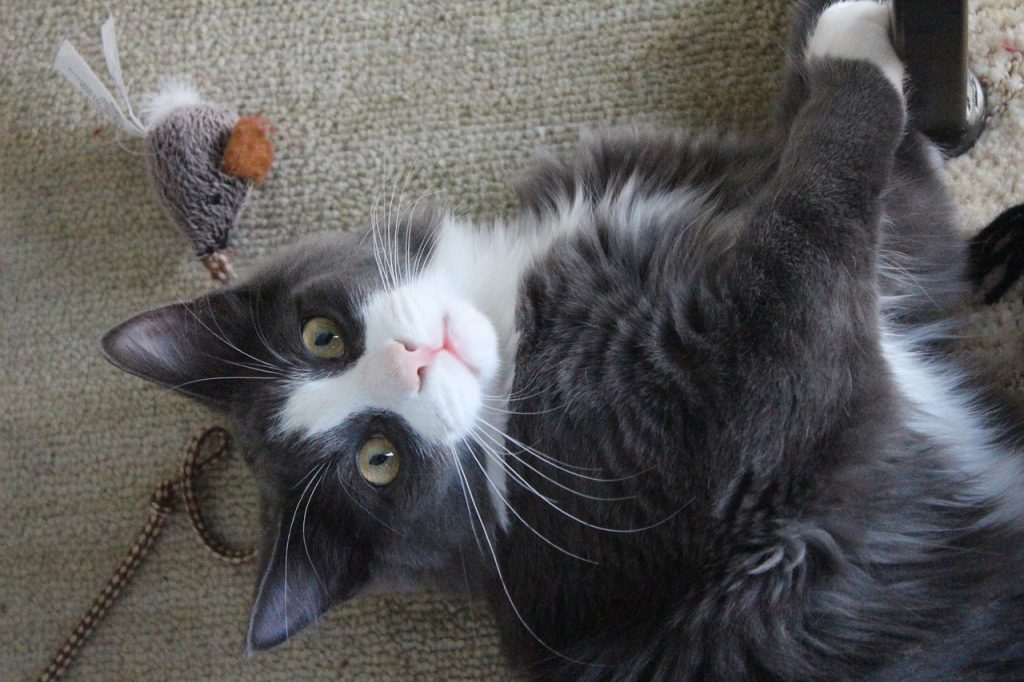 Kitty cats are natural-born hunters and need a lot of mental and physical stimulation in order to keep their brains sharp and their bodies in check. While your feline friend may seem like they are perfectly content cat napping all day and while it is important that they get in enough Zzzs, it's equally as important to make sure they engage in play, too. 
Hailing back to their roots as wild hunters, cats love to play with toys that allow them to access that innate part of themselves. Some kitties love toys that will give them a good game a chase. Others prefer to solve brain-stimulating puzzles and still others like to whack around a feather or mouse toy filled with catnip. Since every kitty is so different, we rounded up the very best cat toys sure to please even the most discerning felines.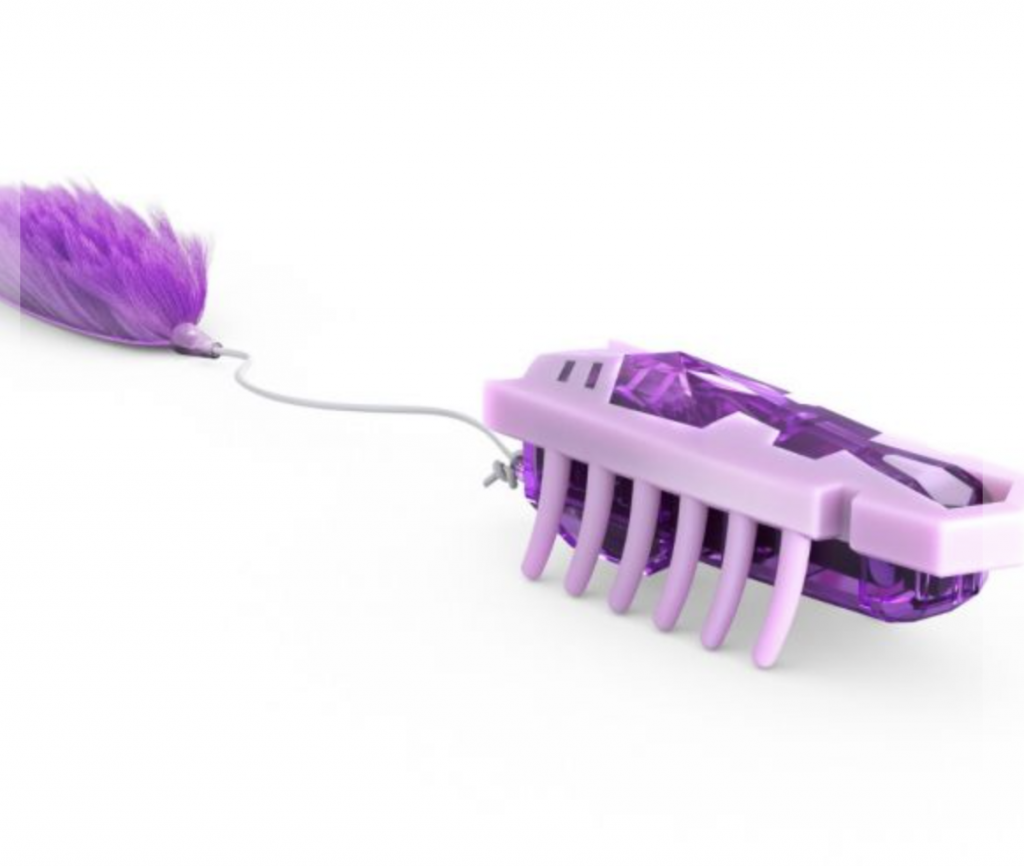 WHY IT'S THE BEST – The Hexbug cat toy was built to entertain. This battery-operated bugger flips, spins, and scurries across any hard surface you put it on. Its motions are meant to mimic that of an actual bug, which makes it ideal for activating your kitty's hunting instincts.
Your cat will have a blast chasing after and catching the Hexbug cat toy. Whether they are pawing at it to see what it does or where it will go next, or pouncing on it to stop it in its tracks, hours of fun are sure to ensue. You'll likely get a good laugh watching your kitty have fun, too. 
PRICE – $9.99 at Hexbug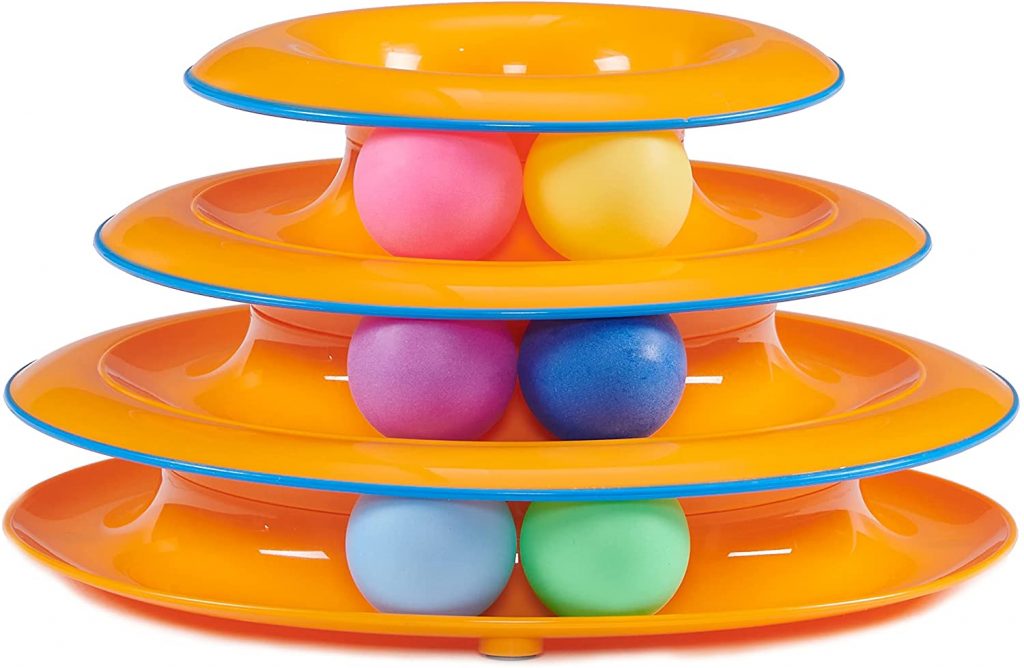 WHY IT'S THE BEST – The Petstages Tower of Tracks Cat Toy is ideal for kitties who love to chase balls but often lose them underneath your couch, entertainment center, fridge, bed, or any other place a ball might find itself rolling under. This three-tiered tower contains the balls on leveled tracks so your cat can have hours of fun hitting and chasing the balls round and round. This toy is also great for older kitties who perhaps lack the energy to chase a ball all over the house.
What's more, is investing in this tiered toy will also save you the extra effort of trying to track down all of your kitty's toys that have ended up wedged in various places throughout your home. That's a win-win both for your furry feline and you. As an added bonus, This toy is also exceptionally budget-friendly.
PRICE – $8.99 on Amazon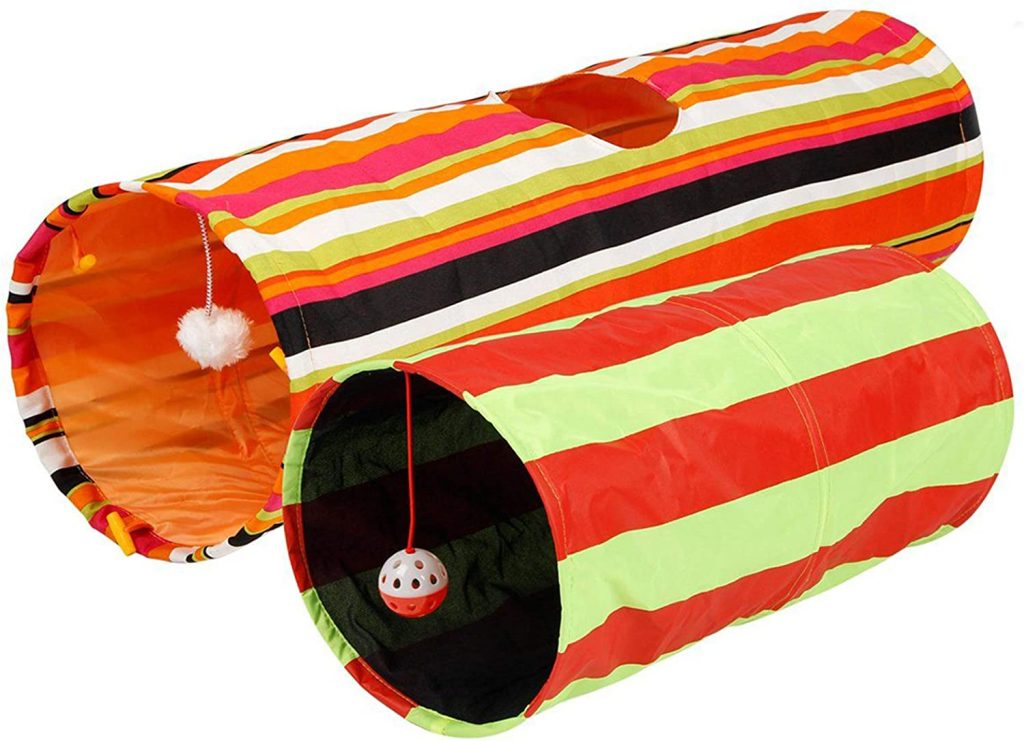 WHY IT'S THE BEST – Does your kitty love to play with the plastic bags you get from the grocery store? Have you always wanted to give them something a bit more permanent than a plastic bag to play with? Or perhaps you've forgone using plastic bags altogether in an effort to be more environmentally conscious and feel bad about taking your furry baby's favorite activity away. If any of that is the case and you are looking to elevate your cat's plastic bag playtime, then the Pet Magasin Collapsable Cat Tunnels are a great option to consider.
The tunnels are made of a crinkly fabric that kitties absolutely love, and the end is equipped with a swat toy to further engage your cat's curiosity. Your cat will love whooshing and whizzing through the tunnel as they occupy themselves with hours of quality playtime. What's nice about these tunnels is that they collapse easily for super convenient storage.
PRICE – $18.49 on Amazon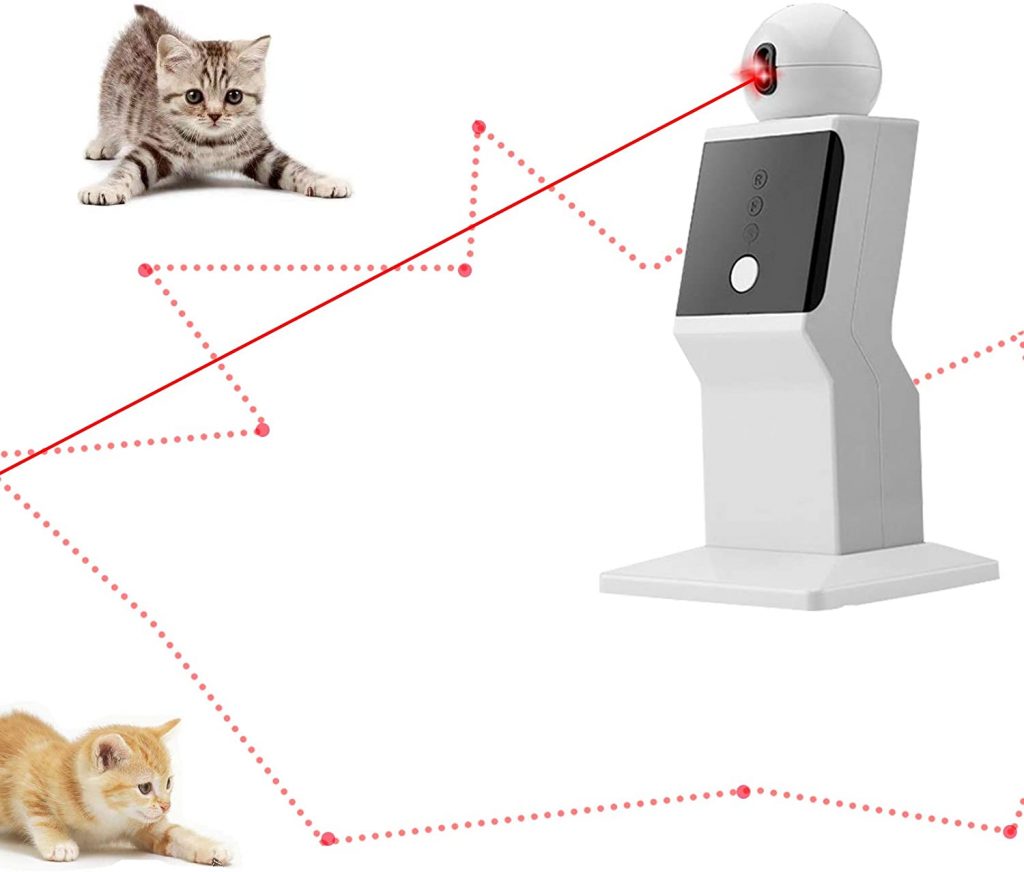 WHY IT'S THE BEST – If your cat loves to pounce and chase, and we are betting he or she does, then LASOCUHOO's Automatic Laser Cat Toy is ideal for keeping them occupied. Once you turn it on, this laser toy will randomly shoot a razor dot in 360-degree rotation in revolving patterns. This is not only great for keeping your kitty on its toes, but it's wonderful to have if your kitty spends a lot of time alone during the day. It's even a great toy to utilize if you happen to work from home, but feel bad you can't give your cat the playtime that they crave during the day.
Additionally, if you happen to have a canine companion they might also enjoy trying to catch the laser dot alongside their feline sibling, too. Since you can keep this laser cat toy on for extended periods of time, it's great for getting your cat some exercise, as well. Especially if they are young and need to expel some of that excess kitten energy.
PRICE – $26.90 on Amazon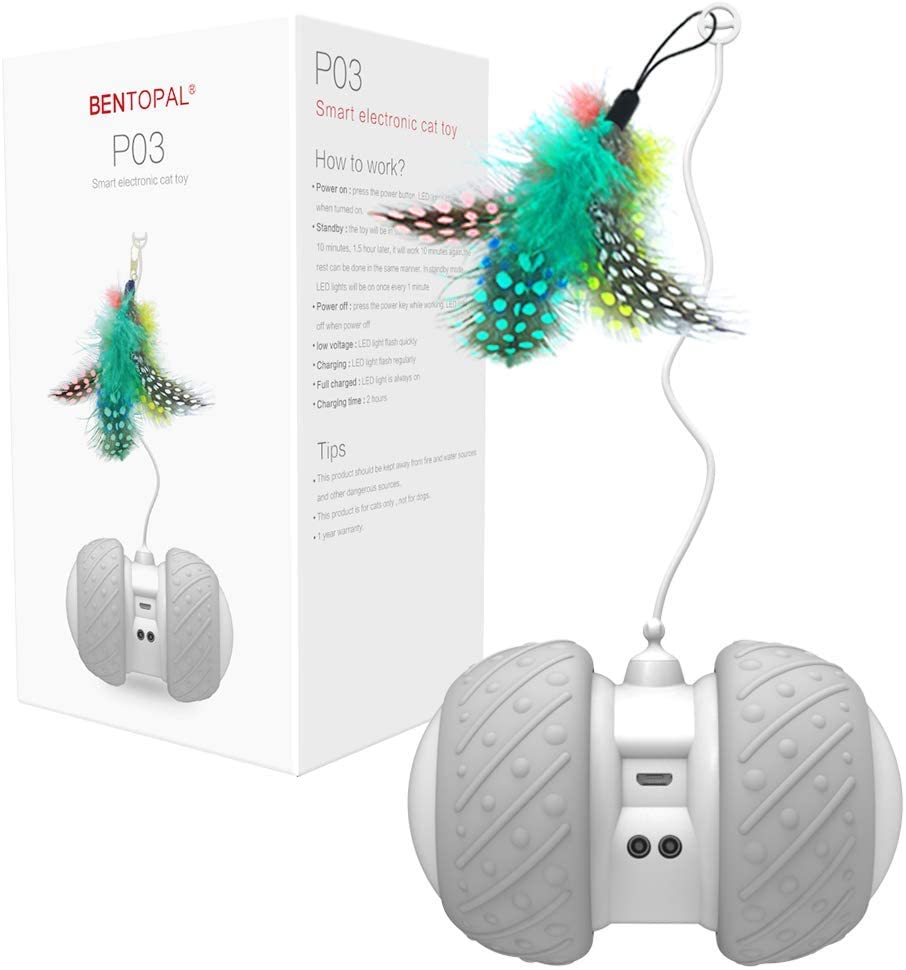 WHY IT'S THE BEST – The Bentopal Automatic Cat Toy is another great toy to get your feline fur baby if you are looking for an ideal way to provide them some independent playtime while also helping them to get in some exercise. This toy operates using two independent motors. The separate motors allow the toy to move in unexpected directions to keep your cat curious and engaged as they chase after it and try to swat the attached feather toy. 
Conveniently, this toy works well on multiple kinds of surfaces, including carpets. Since this cat toy is ideally suited to provide an independent play solution, this is great to turn on for your cat while you are busy around the house or perhaps working from home. As an added convenience, this cat toy is self-programmed to turn off and restart every 10 minutes. This serves to allow your kitty moments to recharge as well as keep them surprised and engaged for extended periods of time. 
PRICE – $29.95 on Amazon
THE CONCLUSION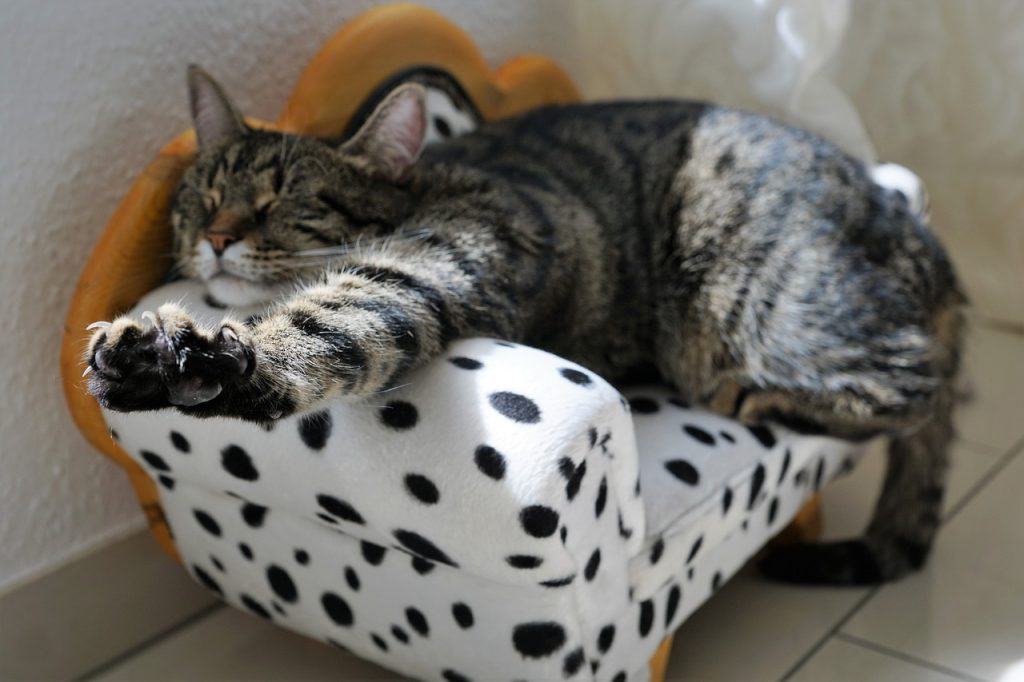 Whether you are looking for a way to occupy your kitty cat while you're at work, searching for the perfect way to keep them active, or wishing there was a way to ensure that they were mentally engaged, you'll find your solution in any of the cat toys above. From lasers to feathers to bug mimicking bouncers, your kitty will have a blast chasing and pouncing all day long. And by the time they've had their fill of playtime, they'll be ready to curl up with you on the couch and purr until their little kitty hearts are content.