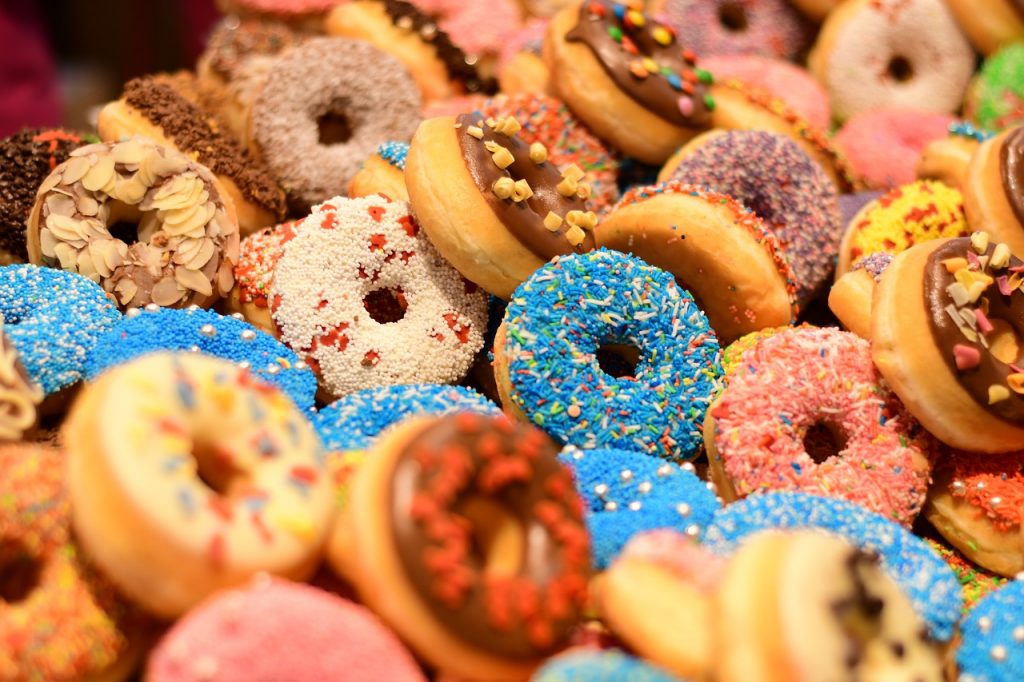 We are a country of donut connoisseurs. Almost nothing beats enjoying a freshly made donut alongside a steaming hot cup of joe from your local bakery or coffee shop. There is something intrinsically comforting about indulging in a delectable cylinder of fried dough. Even the mass-produced Dunkin' Donuts or Entenmann's varieties will do in a pinch, and whether it's a good old-fashioned style, apple cider, glazed, crumb cake, or the ever-reliable jelly donut, everyone has their go-to flavor.
However, it's not always practical to run to the store just to buy that ever so decadent treat. So what about those times when you're looking to satisfy that oh-so-powerful donut craving without an obvious way of doing so? Alas, in times of desperate donut need, there is hope! We have scoured the internet in search of the very best donut makers to use at home, and after extensive market research have comprised a comprehensive list of top contenders while keeping the quality, cost, and ease of use of each product in mind. Have a look at five clear winners.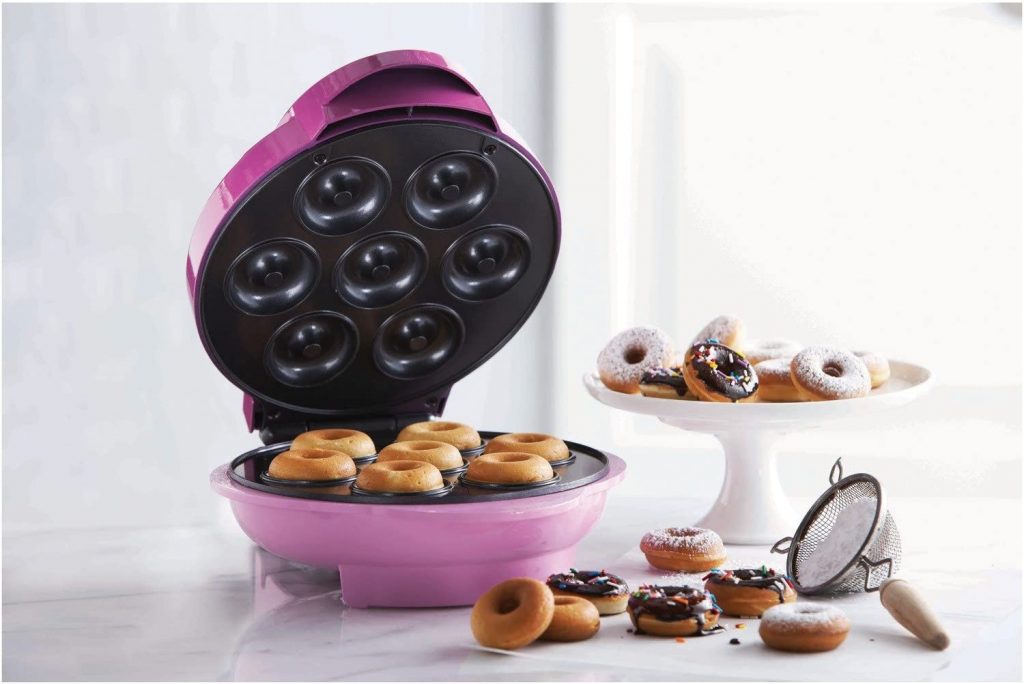 PROS – Weighing in at only three pounds and consisting of only ten inches in length, the Brentwood Mini Donut Maker is small but mighty. Its convenient size makes it easy to work with on virtually any size counter space and its compact design makes it a breeze to store, as well. Its size will be particularly beneficial for those living in smaller apartments with limited space for both cooking preparation and storage. It is also budget-friendly and won't break the bank.
Its runs at 750 watts and has the capability to cook seven mini-sized donuts at a time and features a non-stick surface for easy donut removal and fast clean-up. It is also characterized by safety features like cool-touch handles and heat indicators.
CONS – The Brentwood Mini Donut Maker is not a good option for those looking to make full-size donuts and it only comes in one color option, which some might find off-putting, especially if you like to coordinate your appliances with your kitchen's colors and are intending to leave the donut maker out on the counter.
Overall the Brentwood Mini Donut maker gets 4 out of 5 donuts.
Price – $22.94 on Amazon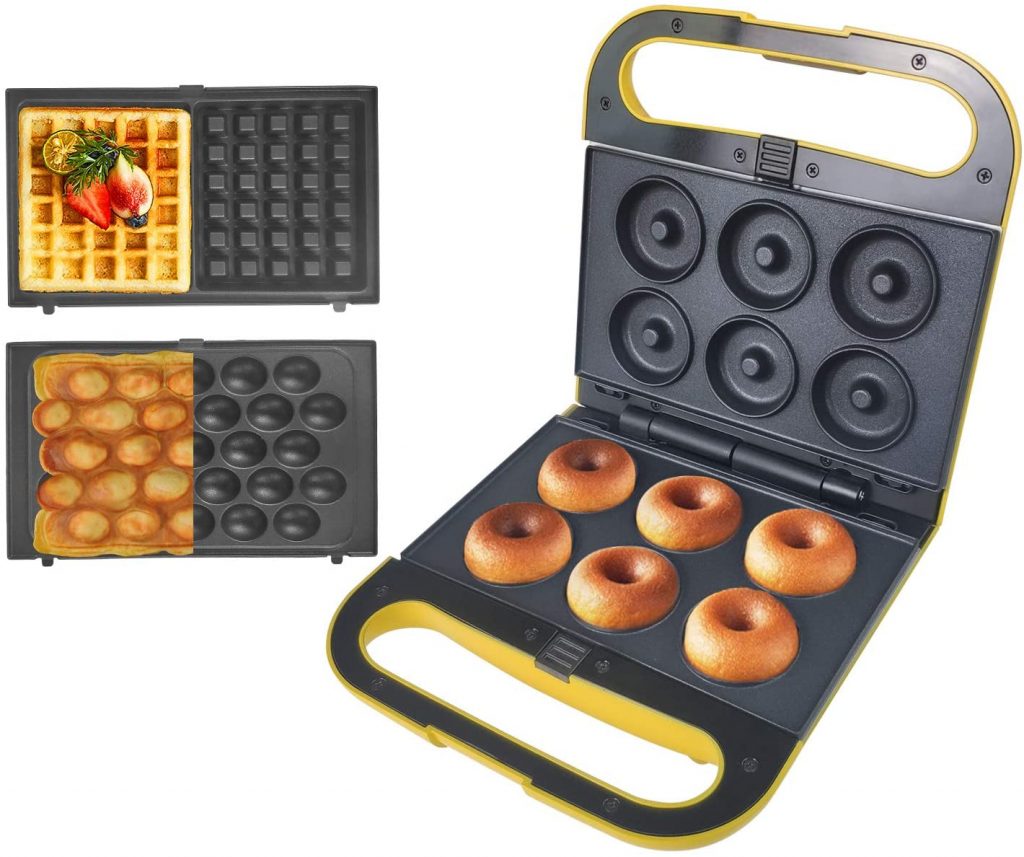 PROS – The Health & Home Donut Maker is a great option for those looking for versatility. This multi-purpose donut maker also comes with interchangeable plates so, in addition to being able to crank out a half-dozen mini-sized donuts, you can also make waffles, eggettes, or get creative by experimenting with a variety of other desserts. All of its interchangeable plates are outfitted with a nonstick coating and the appliance also comes equipped with heat indicator lights for safety.
CONS – This donut maker is not as compact as some of the others and weighs in at a total of 6 pounds, thus it might not be a good fit for someone working with less counter space or if you have a tiny aspiring baker at your house, it's definitely not the lightest option for those looking to help out the head chef. It will also run you just a little bit more than some of the other more cost-effective models.
The Verdict? The Health and Home Donut Maker gets 3.5 out of 5 donuts.
Price – $43.99 on Amazon
Article continues below headlines
---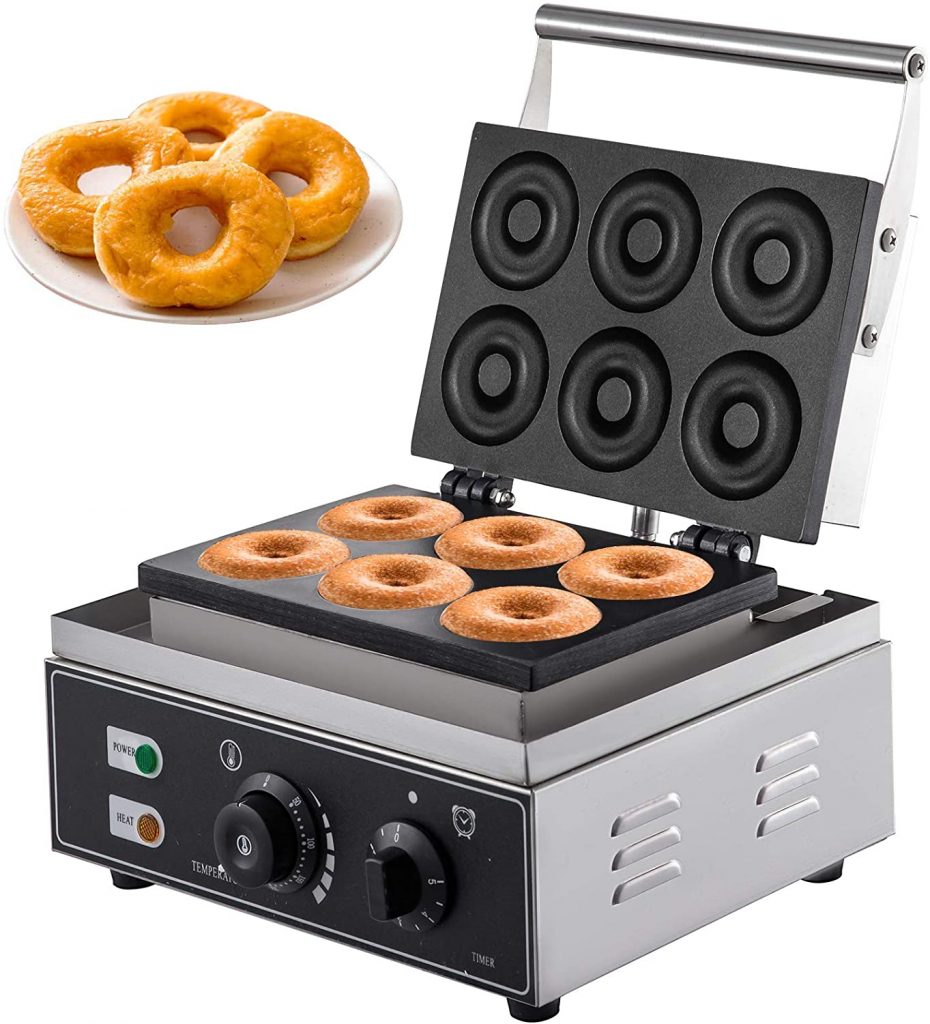 PROS – For those consumers looking for a more commercial style option that is still small enough to fit in your typical household kitchen the VBENLEM 110V Commercial Waffle Donut Machine could be a good option. It features many nice upgrades that the more budget-friendly models do not have. It is characterized by a sleek and modern stainless steel casing and comes with rubber grippers on its feet to prevent slipping. It also comes with a drip pan to cut down on possible messes and its plates are coated in a high-end Teflon to ensure that sticking doesn't occur as the donuts cook at high temperatures. It has advanced settings for heating and cooling which allows for the kind of precision not attainable in the cheaper models. This is the model for those looking to replicate that local bakery taste at home.
CONS – The only real cons that this machine has are its price, size, and weight. This guy is heavy, topping out the scales at 22 pounds. It will also take up some sizable space on your counter with dimensions for its height, length, and width all nearing or exceeding one foot. It is also the most expensive option on this list.
However, if you're willing and able to shell out the extra dough for this donut dynamo then you will definitely get your money's worth. The VBENLEM 110V Commercial Waffle Donut Machine tips the scales at 4 out of 5 donuts.
Price $154.99-159.98 on Amazon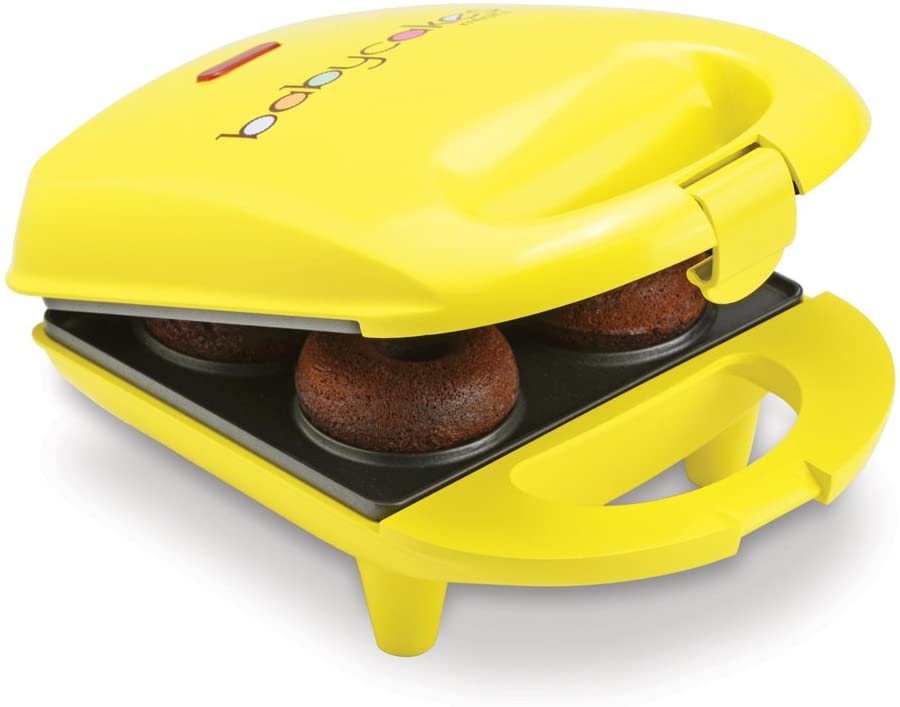 PROS – The Babycakes Donut Maker is a cute, convenient, and quick way to satisfy your donut cravings. It makes four at a time, which is the perfect size for a single serving, right? This is especially helpful if you live alone or are up late making yourself a midnight snack. It completely eliminates the possibility of leftovers, not that there would ever be leftover donuts. It has a compact design with a latch to ensure the lid stays closed when being stored or transported and weighs less than 2 pounds. It is also an optimal choice for the budget-conscious donut fiend.
CONS – If your looking to make donuts for a crowd then the Babycakes Donut maker might not be your best option, given that it is limited to only making four donuts at a time. It also only comes in a single color choice that might not appeal to the masses and can only crank out 110 watts of cooking power.
Overall, this is a great option for someone with less space or typically only makes donuts for themselves. The Babycakes Donut Maker pours in at 3 out of 5 donuts.
Price 13.99 on Amazon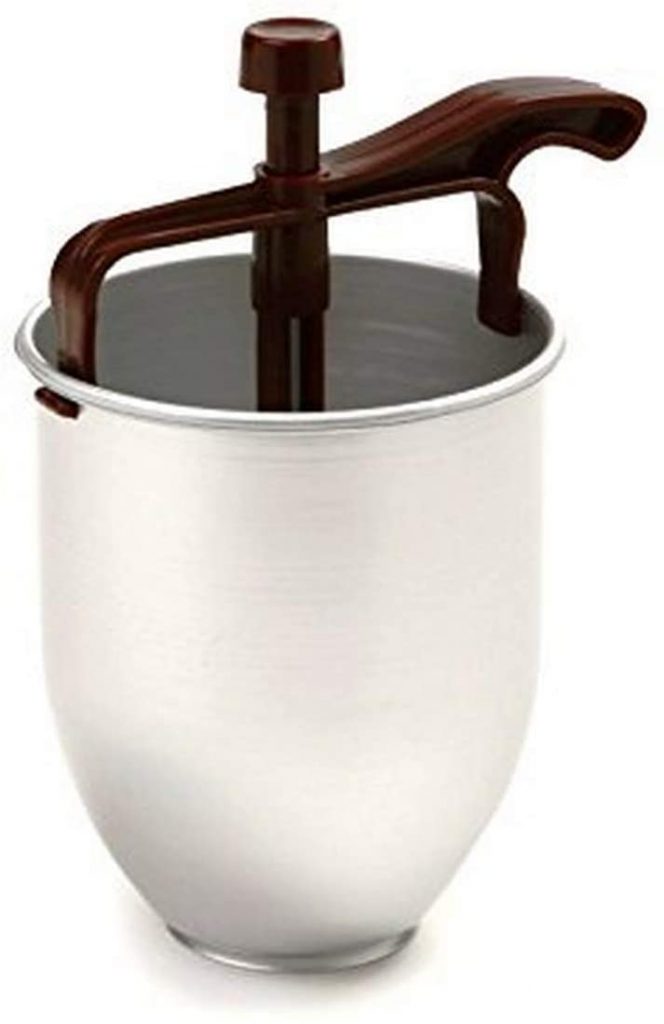 PROS – The Norpro Donut Maker is an option different from any other on this list, and might be perfect for those looking to experience a more old-fashioned way to make donuts. It is the cheapest option on the list, the most compact, and the lightest. In fact, it is feather-light weighing in at only 13 ounces. It is also packaged with directions for a variety of recipes to try right out of the box.
CONS – Even though the Norpro Donut Maker is the cheapest option on the list, it doesn't actually cook the donuts, just assists in the process of making them, additional baking tools might need to be purchased if you don't already have them on hand. Like this donut pan made for use in conventional ovens.
The Norpro is best for those with more time on their hands, and perhaps those looking for a more traditional donut-making experience, and you definitely can't beat the price. The Norpro clocks in a 3.5 out of 5 donuts.
Price $12.12 on Amazon
The Takeaway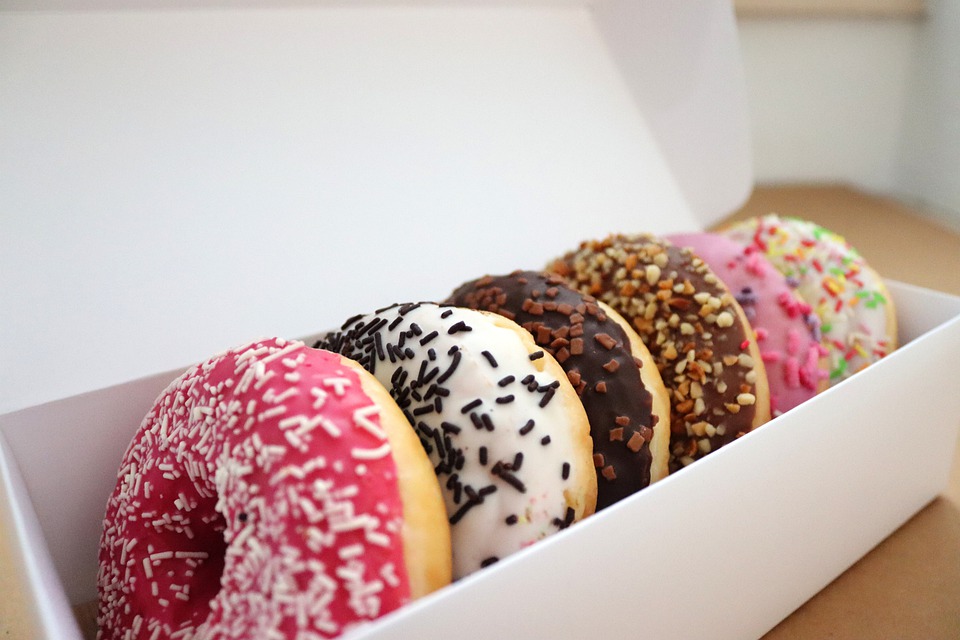 Whether you are looking for a quick counter option to quell your desire to devour some donuts, want to savor in the taste of a more "professional" grade donut, or are looking to go old school to get the full-on donut making experience there are clearly a nice array of solid options to choose from.
If you're wanting to satisfy a craving for another sweet indulgence check out our review of the best Halloween candy deals that you can find online. Or perhaps you may be in the market to find the best toaster to heat up some of your other favorite dough-based products.
.