Squad Mobility is launching a solar-powered city car in the United States for just $6,250. The two-seater vehicle is designed to be lightweight and efficient. Its compact size makes it easy to maneuver and it charges via a pre-installed solar panel. While this might be attractive for single urban dwellers, the company sees it as a potential competitor to shared electric scooters or bike fleets.
The U.S. launch of the Squad Mobility will take place at the CES tech industry event in Las Vegas early next year. Speaking to Electrek about the solar-powered city car, co-founder Robert Hoevers said his company has seen tremendous interest from Americans. The interest is especially high in gated communities, campuses, seaside resorts, tourism, company terrains, hotel resorts, amusement parks, and inner-city services.
Created by Hoevers and Chris Klok in 2019, Squad Mobility is a Dutch-based company whose founders previously worked at Lightyear. Their solar-powered city car made its European debut in May. "The squad is optimized for sharing platforms," the company said at the time via EcoWatch. "It is designed to withstand the wear and tear of heavy use. The small-size vehicle is also easy to access, operate and park."
The Squad Mobility electric vehicle retails for €6,250 in Europe, ARSTechnica reports. The solar-powered city car consists of a pair of two-kilowatt rear in-wheel motors powering four 1.6 kWh battery packs that are rapidly swappable. The compact vehicle can travel up to 62 miles (100 km) on a single charge with all four battery packs, reaching a top speed of 28mph (45 km/h).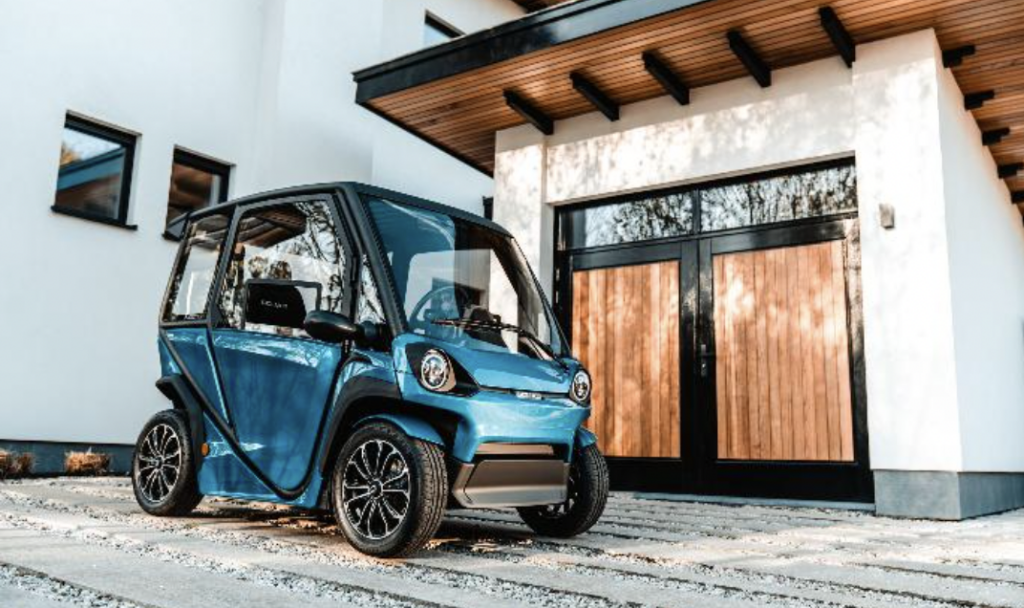 Designed for practicality by Squad Mobility, the inside has three-point seatbelts and cup holders. And for its small footprint, the solar-powered city car is surprisingly utilitarian with space for a laptop on the dashboard, a small trunk, and a foldable passenger seat that can easily fit a stroller or a golf bag. In the United States, it will be classified as a low-speed vehicle, though it has more capability than a traditional golf cart.
Due to its classification, drivers don't need a license to operate the Squad Mobility vehicle in most countries. Approximately 6.6 feet (two meters) long, three cars can fit into the average parking space. It remains to be seen how the vehicle will fare at the United States CES where it will make its first appearance on January 5, 2023. The solar-powered city car will officially go on sale in 2024.
But there is a trade-off to owning an ultra-lightweight solar-powered vehicle. Built with as little drag as possible, the Squad Mobility solar-powered city car as a day-to-day transport would make vintage-car owners wince at the lack of creature comforts people are used to. Additionally, while solar panels are a great way to get energy, they need a lot of surface area to harvest enough to run a power-hungry automobile.
Still, those wanting to do their part for the environment might see the Squad Mobility solar-powered city car as a great way to reduce their emissions. It will also be pretty easy on their bank balances.
---