Watches are a great way to accessorize and add a little flair to your outfit but if you are getting a smartwatch, you might feel as if your style options are going to be limited. Well, that is not the case with today's line-up of smartwatches.
Both tech and fashion brands are aware that more women are getting themselves a smartwatch for their health and convenience. That is why these brands are constantly innovating and improving their smartwatch series to include more fashion-forward options. There are so many to choose from, but we have selected a few of our favourites that will surely attract your attention.
Apple Watch
You have been familiar with the Apple Watch, and you probably already own one. This smartwatch series from the tech brand is one the best in the industry and many adore all the features that you can get with this smartwatch. Once you have connected the watch to your iPhone, you can have access to a variety of apps, all from the convenience of your wrist.
The highlight of the Apple Watch is that you can substitute the existing band for something even more fashionable. There are also fashion houses like Coach and Kate Spade that have released their own line of Apple Watch bands and straps so you can find one that suits your style the best.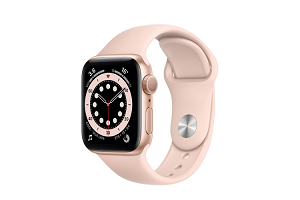 Fossil Gen 5E
Fossil is one of the best watch brands in the industry and they also have an equally amazing smartwatch line. The brand has smartwatches for both men and women, and they are all stunning and very practical. These smartwatches utilise the Wear OS system by Google, so it is compatible with both iOS and Android phones.
The one we recommend is the Fossil Gen 5E smartwatch because this model comes with a plethora of features, like multi-day battery mode and always-on display. Also, if Google Pay is available in your region, you can use this watch to make contactless payments. The model comes in several colours and there is the option to choose from a silicon strap, a stainless-steel band, and a stainless-steel mesh band.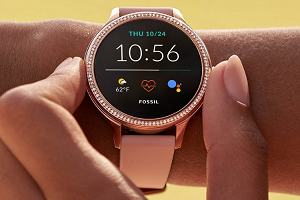 Fitbit Versa 5
Fitbit is known to most people as a fitness tracker, but the brand has also come out with its own line of smartwatches that allows you to connect the watch to your phone. Not only that but the smartwatches are also brilliantly designed so you can stay stylish while keeping up with your workout.
The Fitbit Versa 5 is the one we recommend because it comes with incredible features like a heart rate tracker, an app for menstrual cycle tracking, and fast charging capabilities so you can get a full day's worth of battery with just a 15-minute charge. When you get the Fitbit Versa 5, you can choose from a variety of colours for the band including a soft pink, but if you want to switch it up, you can get a separate band or strap on its own to substitute your existing one.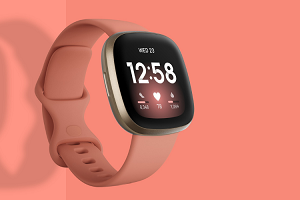 Samsung Galaxy Watch
Here is another smartwatch from a major tech brand and this time, it is the Samsung Galaxy Watch. This smartwatch is developed to be compatible with your Samsung devices but can support other Android phones as well as iOS phones. One brilliant feature of the Samsung Galaxy Watch is the sleep tracker that can also monitor your stress level to help assist you in lowering them through guided breathing methods.
The smartwatch is very durable and can be worn when you are doing some more vigorous exercise because it is water-resistant. You can also get the compatible wireless charging dock so that you do not have to deal with flimsy cable and wires.
Michael Kors Gen 5 Lexington
Our next smartwatch is from a luxury brand, and it is very obvious from the way it looks. Michael Kors jumped onto the wearable tech trend in 2016 and has since released several models of smartwatches. The brand incorporates the latest smartwatch technology with its luxurious designs to create some of the most stunning smartwatches in the industry.
One model from the brand that caught our eye is the Gen 5 Lexington Tri-Tone smartwatch and it is absolutely beautiful. The design is reminiscent of a classic women's watch and the combination of the rose-gold tone, gold-tone, and silver-tone steel will suit users of all skin tones. But this is still a smartwatch, and it is one that is powered by Google's Wear OS so it can be used by both iOS and Android users. This smartwatch is not only gorgeous but is also water-resistant so you can even wear it while you are swimming in the pool.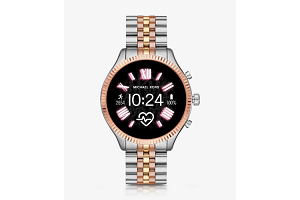 ---