Red Lobster has brought back RedLobsterShop.com, offering holiday gifts for the holiday season based on the popular restaurant franchise.
For the first time since 2019, seafood chain Red Lobster is reopening its online merchandise shop. RedLobsterShop.com was only live for one holiday season before the COVID-19 pandemic shut everything down, but now it's back in all its kitschy glory. To quote the restaurant's old slogan, it's full of merch "For the seafood lover in you"—or your favorite pescatarian friend.
Red Lobster only plans to keep its pop-up shop open through December 31, so be sure to order your favorites before they sell out. Seafood lovers can choose from nine unique gifts, ranging from Christmas ornaments to hats. Naturally, every item in the shop features the iconic lobster logo in bright red.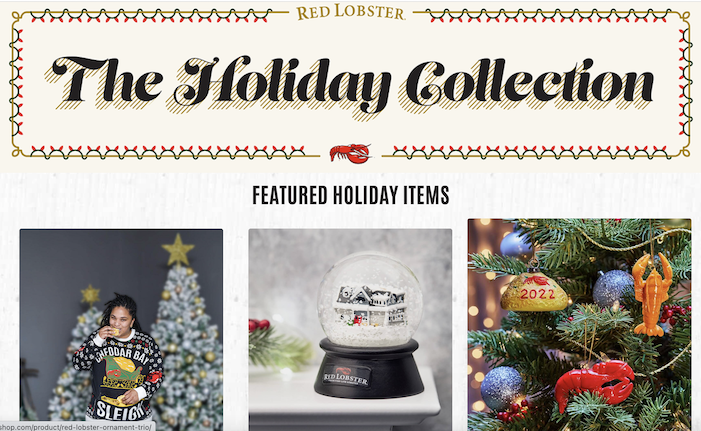 The Cheddar Bay Sleigh Ugly Sweater is a great piece to nab, as chances are good that you'll be the only one wearing it at the ugly sweater party. The black, white, green, yellow, and red top includes an insulated pocket to keep a stash of Cheddar Bay biscuits warm. At $45, this tribute to the iconic cheesy bread comes in unisex sizes Small to 2XL.
Other attire includes two styles of $25 tee shirts in sizes up to 3XL. One is black and has a red heart imprinted with "Cheddar Bae" while the other is in the company's signature shade of red, emblazoned with "What's Crackin'?" in white. A $45 Red Lobster Claw Hoodie cleverly wraps up the shirt category, with two lobster claws screen printed on the front patch pocket and sizes up to 3XL.
Hats usually fit everyone, so choosing a themed cap might be best if you don't know what size shirt your fish-loving friend wears. A black vintage snapback ballcap has a lobster-embellished patch on the front with "Established 1968" beneath and sells for $25. The Red Lobster Critter Beanie is a better deal at just $15 and its royal blue color nicely offsets the small Red Lobster patch sewed on its front.
The Red Lobster? Totes! bag is another $15 gift featuring our tiny lobster friend. It's made of 100% natural cotton canvas and would be a great addition to a seafood lover's reusable shopping bag collection. If you'd like some shoes to round out your lobster-esque outfit, head over to Amazon for some hilariously comfy lobster slippers in red, orange, or green.
The merch store's $20 Red Lobster Ornament Trio is a fun addition to any whimsical Christmas tree. It includes three, 3" ornaments in three iconic styles. There's a 2022-dated Cheddar Bay biscuit, the classic Red Lobster critter, and Cheddar, the famous orange lobster rescued earlier this year by workers at a Hollywood, Florida Red Lobster location.
Restaurant workers discovered the one-in-30 million crustacean when they opened a box of live lobsters and her rare, neon-orange shell stood out from the rest. They named her Cheddar in honor of their iconic biscuits and decided to share her with the world. She now lives in Ripley's Aquarium in Myrtle Beach, South Carolina.
The last item in the merch store is perhaps the most elegant. Pay homage to the architecture of the original Red Lobster restaurants with a mini snow globe. White snow swirls around a restaurant replica that sits upon a logo-emblazoned black base.