A rare orange-colored lobster recently got a second chance at life thanks to the staff at a Red Lobster restaurant.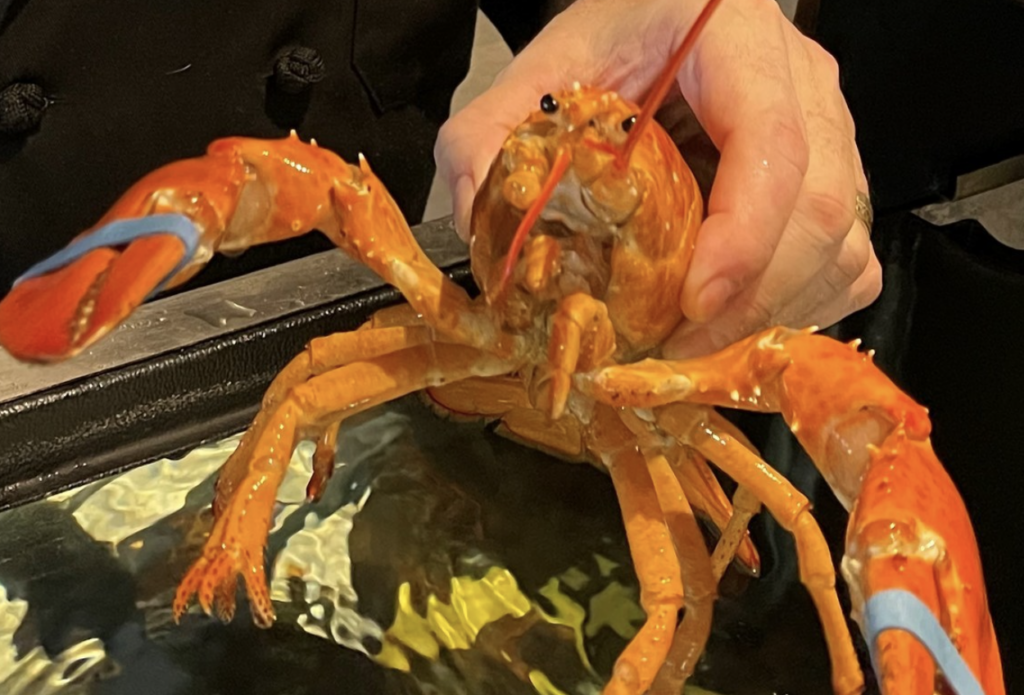 It's not every day that you hear of lobsters getting rescued. However, one lucky crustacean was spared the boiler thanks to the staff at a Red Lobster in Hollywood, Florida. Food & Wine reported that after opening a shipment of live lobsters, Red Lobster employees noticed a rare orange lobster among the group and subsequently sought to prevent it from suffering an untimely fate.
The lobster, which the staff christened Cheddar after Red Lobster's signature biscuits, stood out immediately to those who unboxed the shipment that she came in. Cheddar sports a shell with a bright orange hue. Her unique shell anomaly is thought to be so rare that it is estimated to be seen in only 1 out of 30 million lobsters. Much of the rarity is attributed to that the fact that lobsters with these colored shells are often eaten first. Predators notice them right away because they don't blend as well with their surroundings compared to their darker-colored comrades.
Mario Roque, the Red Lobster manager who played a big part in Cheddar's rescue, referred to the occurrence as an "ordinary miracle" and detailed that he was happy he could be involved in finding Cheddar a comfortable place to live out her little lobster life. "A group of incredible people helped us make this possible. We are so honored to have been able to save Cheddar and find her a good home," Roque said in a statement. 
Wondering where Cheddar's new digs are? You can find her living the equivalent of the lobster high life at Ripley's Aquarium in Myrtle Beach, South Carolina. A video of the aquarium's team picking up Cheddar from the Red Lobster in Florida can be viewed on the aquarium's Instagram here. In the caption, Ripley's Aquarium notes that it couldn't have been a more perfect time for Cheddar to join their aquatic family, as the facility is currently celebrating being open for 25 years.
Interestingly enough, Red Lobster has a reputation for saving the rare crustaceans it receives in shipments. Two years ago in July of 2020, a super rare blue lobster showed up at a Red Lobster in Cuyahoga Falls, Ohio. The staff there named the little guy Clawde and got in contact with a nearby zoo. Clawde is now living out his claw-some life at the Akron Zoo in Akron, Ohio. And, as it turns out, Clawde became the zoo's first ever cold water lobster. Similarly, a calico lobster, now called Freckles, found at a Red Lobster in Manassas, Virginia was saved by staff and now resides at the Virginia Living Museum in Newport News. 
It's certainly nice to hear about happy endings. Nicole Bott, Red Lobster's Senior Director of Communications, agreed with that sentiment. Bott spoke of her pride in the staff at the Hollywood, Florida location. "We are incredibly proud of Mario and the team for recognizing what a special and rare creature Cheddar is and for working relentlessly to find someone to rescue her," expressed Bott. She also noted that she couldn't be happier for Cheddar and is glad that so many people will be able to marvel at her while she lives life blissfully from "the safety of her tank."