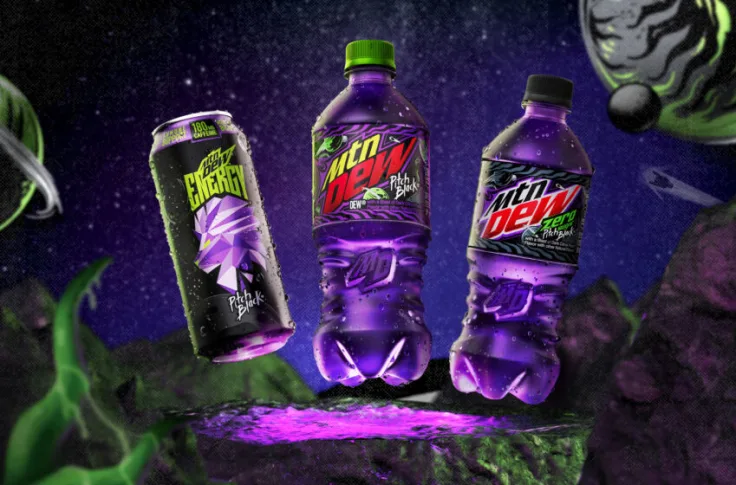 Mountain Dew, or Mtn Dew as it's also called, has a massive fan following. Part of the ongoing excitement over the soda brand is fueled by how frequently they release new flavors and bring back old favorites. Long-time Mountain Dew aficionados will be happy to learn that Mtn Dew Pitch Black is being resurrected for a limited time in January 2023.
Mtn Dew Pitch Black is described as a dark, fruity version of the soda's primary citrus flavor. The deep purple soda first hit the market for Halloween 2004 and was popular enough to spark Pitch Black II in 2005. Both were limited-time-only varieties.
Even so, Mtn Dew Pitch Black reemerged from the vault for short runs in 2011 and 2015. In 2016, fans voted to make it a permanent flavor, thinking they had secured its spot on grocery shelves nationwide. It wasn't to be, however, as the hugely popular flavor vanished again in 2019.
The January 2023 Mtn Dew Pitch Black will be sold in regular and zero-sugar varieties. Pitch Black will also join Baja Blast as a flavor popular enough to earn a spot in the company's Mtn Dew Energy drink line. The energy drink will be sold in cans only, while the regular and zero-sugar Pitch Black will be packaged in cans and bottles.
2022 was a big year for the soda brand, even before the announcement of the return of Mtn Dew Pitch Black. Earlier this year, the Mountain Dew Outpost opened at Doe Mountain, Tennessee as a tribute to the area where the soda originated. The neon-green building allowed visitors to sample six unreleased Mtn Dew flavors, including Apple Cinnamon and Dill Pickle.
And now for the holidays, we have Mtn Dew Fruit Quake. Inspired by the flavor profile of traditional Christmas fruitcake, the citrus soda adds hints of nutty spiciness to its citrusy, fruit-punch-like base. Like most Mtn Dew flavors, it's a limited edition so don't wait to grab a few for your holiday parties.
Last holiday season, we got to sample Mtn Dew Gingerbread Snap'd—another variety that brought a spicy edge to the fruity beverage. Other holiday flavors have included red cherry Mtn Dew Holiday Brew and Mtn Dew Merry Mash-Up, a cranberry and pomegranate flavored soda. There's also an unconfirmed rumor circulating that 2023's holiday soda will taste like candy canes and be aptly named Mtn Dew Cobra Cane.
Mtn Dew Pitch Black and all its other flavors are products of soda giant PepsiCo, which generated more than $79 billion in net revenue in 2021. Pepsi released its own new flavors in 2022, including regular and zero-sugar versions of Pepsi Mango. It also debuted Nitro Pepsi, a "softer soft drink" infused with nitrogen so that it pours up with a Guinness-like foamy white head.
Mountain Dew is the number one flavored carbonated soft drink in the United States. In addition to its original citrus flavor, the permanent Mtn Dew line includes Code Red, Kickstart, Voltage and Major Melon. Hardcore Mtn Dew Pitch Black fans can visit The Dew Store to grab unique swag including a $40 Mtn Dew cookbook or a $100 bottle-shaped body pillow.
---