Mtn Dew has released a Limited-Edition holiday flavor called Fruit Quake that some folks are describing as vomit-inducing and likening the taste to "the inside of an art-and-crafts store."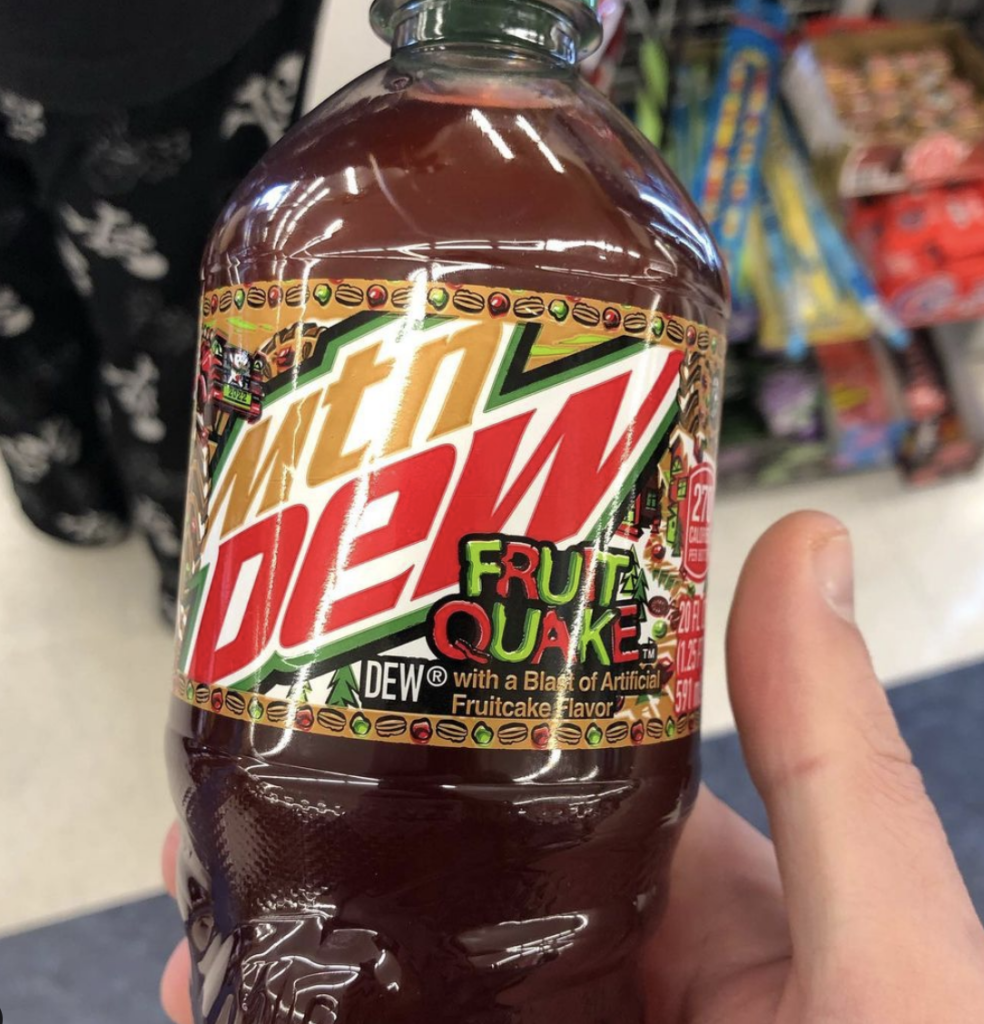 Limited edition flavors inspired by the holiday season are always popular with food lovers. So it's not surprising that Mtn Dew is continuing that tradition with a brand new drink. While it's not technically supposed to be available till November, shoppers have seen Fruit Quake bottles popping up in grocery stores around the country. Renderings of the drink's packaging have also been floating around online for quite a while.
Fruit Quake is actually the fourth holiday flavor Mtn Dew has released in the past few years. The first limited-edition offering, called Holiday Brew, debuted in 2017. But the flavor wasn't anything special. It was just regular Mountain Dew mixed with Mountain Dew Code Red. Because putting anything green and red together equals Christmas. A cranberry-pomegranate soda called Merry Mash-Up followed and became wildly popular with fans.
Following its three-year run, Mtn Dew executives decided to swap it with Gingerbread Snap'd. At the time, it was described as a cola-based flavor with notes of gingerbread cookies. Unlike Merry Mash-Up, it seems like Fruit Quake will only be available for a year. The artificial fruitcake-flavored drink will supposedly be replaced with Cobra Cane.
Set for release in 2023, its flavor is described as regular Mtn Dew mixed with a candy cane flavor. So far, Fruit Quake has received a mixed reaction from foodies. One super-fan described (via ComicBook) it as being worse than the gingerbread flavor while likening its taste to the "inside of an arts-and-crafts store." Another person gave it a more favorable rating, saying there were some holiday spices in the flavor.
Fruit Quake has yet to receive an official announcement from Mtn Dew or PepsiCo. But the soft drink maker should start marketing the limited edition holiday drink very soon. Interestingly, the original Mountain Dew was created as a mixer for whiskey. Since then, the flavor has spun off into dozens of unique concoctions and combinations. Some, like Baja Blast, have become mainstay flavors for the company and have even rivaled the original in popularity.
Others Mtn Dew flavors have come and quickly disappeared without a trace. Caffeine-Free Mountain Dew was one of them. This drink had a formula that was almost identical to regular Mountain Dew but without caffeine. Even the packaging looked a lot like the original. The drink officially hit the market in the mid-1970s, and the formula was very similar to the original flavor.
Mountain Dew Red also failed to make an impression on fans. Released in 1988, the drink boasted a red color and featured a tagline that said, "Fruit-flavored Mtn Dew." The exact fruit it was meant to taste like was never publicly advertised. However, it was rumored to have tasted a little like Code Red or Mountain Dew Citrus Cherry.
There was also a Diet Mountain Dew Red which was launched at the same time. But the drink didn't last long either. Fortunately, the company did make a commercial to commemorate its existence. The drink was discontinued the year of its release.
---