Eggo waffles teamed up with Sugarland Distillery to create an adult beverage just in time for Christmas called Eggo Nog, a rum-based alcoholic drink with notes of cinnamon and nutmeg that perfectly encapsulates that irresistible essence of Eggo waffles.
Kellogg's, known for its breakfast cereals and frozen waffles, has created an Eggo-inspired adult beverage just in time for the holidays. The drink, called Eggo Nog, was created in partnership with Sugarlands Distilling Co, a distillery located in Gatlinburg, Tennessee. Although Halloween is still more than two weeks away, retailers are already preparing for the next major holiday around the corner: Christmas.  
Eggo Nog is a cream liqueur that will come in a mason jar wrapped in waffle-themed plastic. The traditional Eggo logo, which is red and yellow, will adorn the front of the jar. The drink can be enjoyed alone or alongside a hot and toasted Eggo waffle.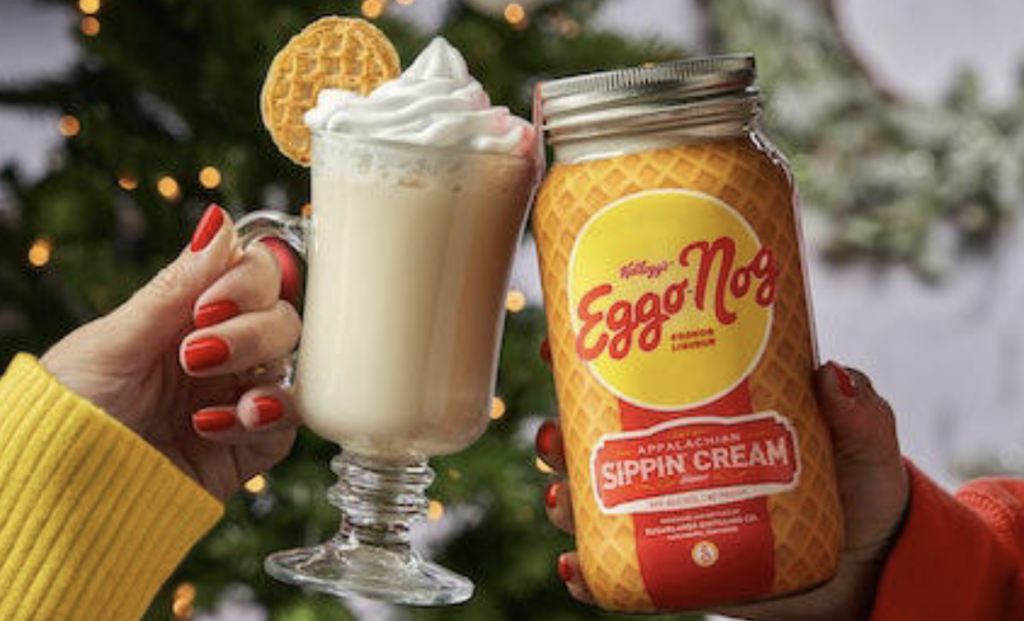 Eggos are the frozen waffles that Kellogg's is known for, and they've long been considered a household name. Eggos are also an on-the-go breakfast option for busy families. Eggo Nog is a 40-proof rum-based beverage that's supposed to taste like the famous waffles with a grown-up twist.
The name Eggo Nog is Kellogg's play on words for another popular holiday drink, eggnog, which many view as an over-21 drink. However, most commercials and advertisements for Eggos depict children staring at a pile of warm waffles drowning in maple syrup. According to Food and Wine, the drink was inspired partly by what the company "heard from parents about this 'Me Time'," where mom and dad would often enjoy a midnight waffle snack by themselves.
Kellogg's learned that parents secretly loved to eat Eggos with ice cream and chocolate sauce in the middle of the night, which prompted the company to create something for adults to enjoy. The team at Kellogg's began to look for ways to bring the breakfast treat straight to adults in the form of an alcoholic drink. The idea for Eggo Nog came after Kellogg executives found Sugarlands' Appalachian Sippin' Creams, which offered a flavorful and rich selection of liqueurs.
The distillery was the perfect company for Kellogg's to team up with to create the rum-based Eggo Nog drink. The combination of a beloved holiday drink, eggnog, combined with another popular breakfast staple, Eggos, gave way to a sweet and creamy 40-proof adult beverage. The drink tastes of cream, cinnamon, and nutmeg, making it a perfect pairing with a fresh, hot waffle.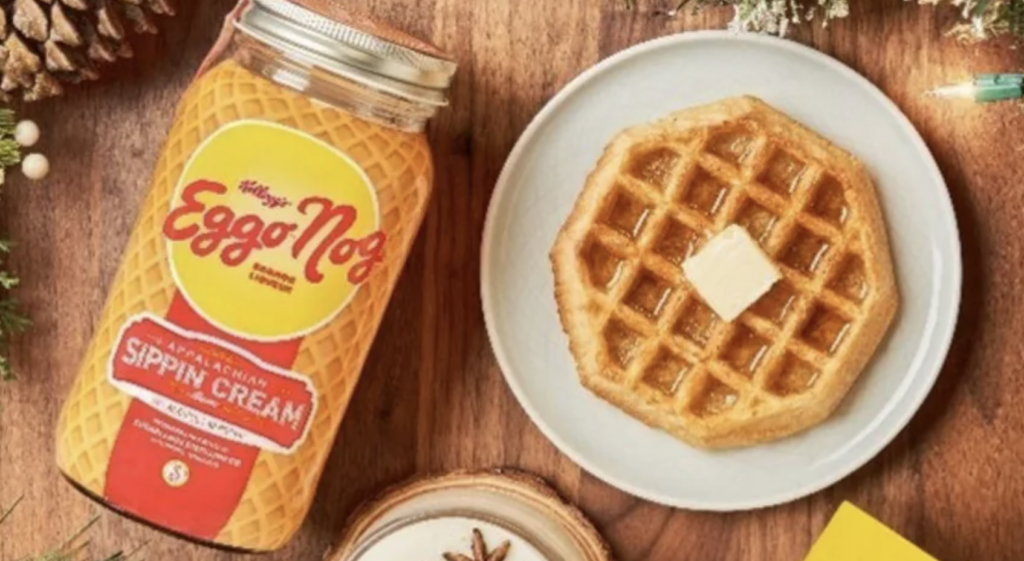 Marketing Director for Eggo, Joe Beauprez, has high hopes for Eggo Nog. Not only is he confident that the decadent drink's richness will appeal to consumers' taste buds, but he also believes it has the potential to become a part of many families' holiday traditions in the same way that eggnog has. For Sugarlands' Master Distiller, Greg Eidam, eggnog brings back many memories.
Eidam said that Eggnog "makes [him] think of [his] grandparents," reported Food and Wine. Eggo, which has been a part of American breakfasts' for nearly 70 years, reminds many people of their childhood. The nostalgic feelings that eggnog and Eggos bring to adults was a main focus during the development of Eggo Nog.
The love for tradition and longing for warm memories of the past is exactly what Kellogg's and Sugarlands hope will make Eggo Nog a success. The drink has just the right ingredients that adults already associate with the holidays. The company is planning on making the drink available this upcoming holiday season.