Arriving today, exclusively only at Circle K convenience stores, is the newest Mountain Dew flavor, Purple Thunder. It only can be described as a mouth-watering, delicious combination of plum and blackberry flavoring. For the ultimate berry mix mashup! Mountain Dew enthusiasts across the nation are going to want to snag up this new purple concoction while supplies last at all participating Circle K convenience stores. 
Those who live near Circle K shouldn't have a problem snagging a bottle of Mountain Dew's latest flavor. However, getting ahold of Purple Thunder could prove to be more difficult for those not within a reasonable distance of a Circle K. A large portion of Circle K's locations are concentrated in the south and midwest. And there are no Circle K stores to be found in Nebraska, Utah, and Wisconsin.
Those who are able to snag themselves a bottle, however, are in for a treat. According to Food and Wine.com, the newest of the long line of Mountain Dew flavors, Purple Thunder will be available in 20-ounce bottles and on tap for fountain soda drinkers. If you are a true 'Dew-Head' the 20-ounce bottle is the option that will most be preferred as it features some pretty cool artwork on the label. Mountain Dew Purple Thunder's label has fantastic aesthetic appeal. It depicts adventure with blackberry and plum cartoon bikers on the sweetest ride of their berry lives. Take a gander at the enticing new Mountain Dew flavor concoction below.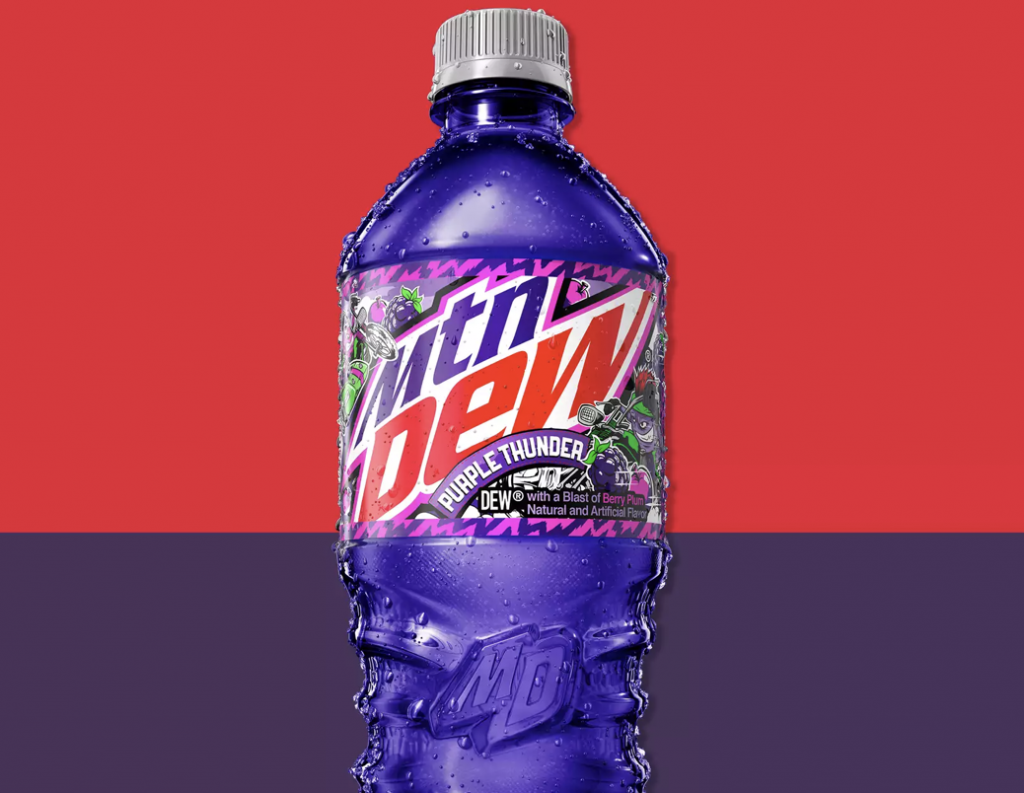 Purple Thunder joins an impressive lineup of existing flavors. Mountain Dew has over thirty-five flavors within its inventory list. The worst mash-up and flavor combination goes to Sweet Lightning which is an exclusive flavor for Kentucky Fried Chicken. The Mountain Dew Flavor was created to pair with KFC menu items and be comparable to a soda sweet tea with an off-orange color. Based on the total sales of the Mountain Dew Sweet Lightning – they totally missed their mark. 
In contrast, the number one Mountain Dew flavor, currently, goes to the Taco Bell exclusive Baja Blast. This delicious soda has an amazing tropical flavor mixed with the perfect amount of lime to send your taste buds on the ultimate roller-coaster ride. The aquamarine color of Mountain Dew Baja Blast gives you a hint of what's to come, but you will be surprised by just how good it tastes.
Kevin Lewis the Chief Marketing Officer for Circle K stated, "We are thrilled to offer Mountain Dew Purple Thunder as an exclusive flavor." Lewis also stated, in regards to the collaboration of the new product and label design, "Everything from the berry flavor to the design was specifically created by Moutain Dew and Circle K to provide a unique beverage that is sure to bring a new level of fun and flavor to our customers."
Circle K may not be one of your typical regional go-to convenience stores, such as Wawa or Sheetz, but that is making Circle K corporate execs all the more proud to be the only destination for Mountain Dew Purple Thunder. Moreover, With the current economy's increasing prices, you won't mind all the additional savings offered by Circle K with such reward programs (like their Sip & Save program). If you are a fountain soda drinker, you can grab a Mountain Dew Purple Thunder, (or any of their other soda flavors) once daily from the fountain machine for only $5.99 a month. You don't have to be a math whiz to calculate that is a whopping savings of over $40 a month if you are a daily fountain soda drinker.