The very first Girl Scout cookies were baked and sold in Oklahoma way back in 1917. Ever since then, each and every year millions of people across America look forward to when Girl Scouts begin their annual cookie sell-offs. From Tagalongs to Do-si-dos to Thin Mints, everyone has their favorite variety of these little morsels of goodness. However, according to The Takeout, despite all of them being delicious, one stands out as far and away as the most popular.
In the weeks leading up to the start of the 2022 Girl Scout Cookie selling season, Google found that the most commonly searched cookie was none other than the much-beloved Thin Mints. According to Google's findings, the ever-popular girl scout cookie not only happens to be America's favorite Girl Scout cookie, but it is the favorite by a wide majority. In fact, residents across 38 states prefer the Thin Mint variety over any other girl scout cookies. It seems like people just can't resist the minty flavor that does so well to complement its crunchy center and dark chocolate coating.

The cookie that came in as a distant second to Thin Mints were Tagalongs. Alabama, Alaska, Delaware, Illinois, Mississippi, New Hampshire, West Virginia, and Wyoming all proudly differentiated themselves as Tagalong-lovers. There are undoubtedly always a few in the crowd who to just have to be different.
The remaining four states that really chose to upset the Girl Scout cookie status quo were Arkansas, Iowa, Kansas, and South Dakota. The first three were more curious about the launch of the newest Girl Scout Cookie Adventurfuls, which are caramel creme flavored brownie-esque cookies. And yes, they look just as indulgent as they sound. Perhaps they even have the potential to give Thin Mints a run for their money. The one state that was the real outlier happened to be South Dakota. Those who reside in that northern midwest state are all about Do-si-dos.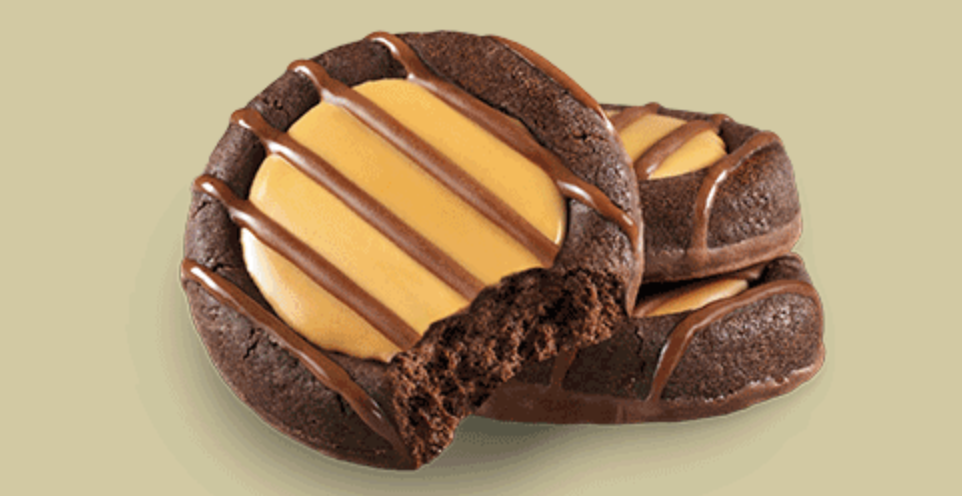 If all of this Girl Scout Cookie talk has got your mouth watering and your stomach grumbling, fear not, you can head over to the official Girl Scouts website to find who will be selling cookies in your area. And, beginning in February, if you have a real hankering for some Thin Mints but can't get to your local supplier to pick them up, DoorDash will have you covered. You'll be able to order Thin Mints and all your other favorite varieties directly through the food delivery service app and have them dropped off right in front of your door. That's is nothing short of the ultimate cookie convenience.

The 2022 Girl Scout Cookie season comes right alongside another beloved fan-favorite cookie. Oreo just announced the release of a new flavor in honor of the icon's 110th Birthday. They are calling it Chocolate Confetti Cake. The special edition cookies will feature a dual filling infused with sprinkles and a new chocolate flavoring. If you haven't already gotten a jump on your New Year's resolution, perhaps it's best to wait until you've had your fill of each and every one of these delectable treats.