How does an air fryer work? They use convection heat to cook food in wire baskets
How does an air fryer work? You've probably wondered this seeing as how they've become as popular a kitchen device as we've seen in some time. As many home chefs know, the air fryer is one of the must-have countertop kitchen appliances (and a very popular meme as well).
They arrive with the absolute promise of ease and health, allowing users to cook up restaurant-style fare with very minimal effort, very little (if any) oil, and much less mess than if frying foods the old-fashioned way. Heck just look at the Power XL model. So, let's take a look at this popular kitchen appliance to see how it works.
HOW DOES AN AIR FRYER WORK IN A KITCHEN? THEY ARE NOW IN MORE THAN 40% OF HOMES
As we have moved away (or tried to) from the heavy and unhealthy oil-based fried foods, the air fryer has risen in popularity. How does an air fryer work into this? Well, over the past few years, numbers have shown this to be true as in 2020, it was estimated that nearly 40% of home kitchens had one. Today, we are sure that number is well past the 40% mark.
So, what is an air fryer? Think of them as a countertop convection oven on steroids. And while they have "fryer" in their name, they don't actually fry food. Instead, they use a heating element and a powerful fan to push air around food, much like with a convection oven: the results are a nice crispy outside and a tender, moist inside without actually having to fry.
HOW DOES AN AIR FRYER WORK? THEY USE CONVECTION HEAT TO COOK THE FOOD.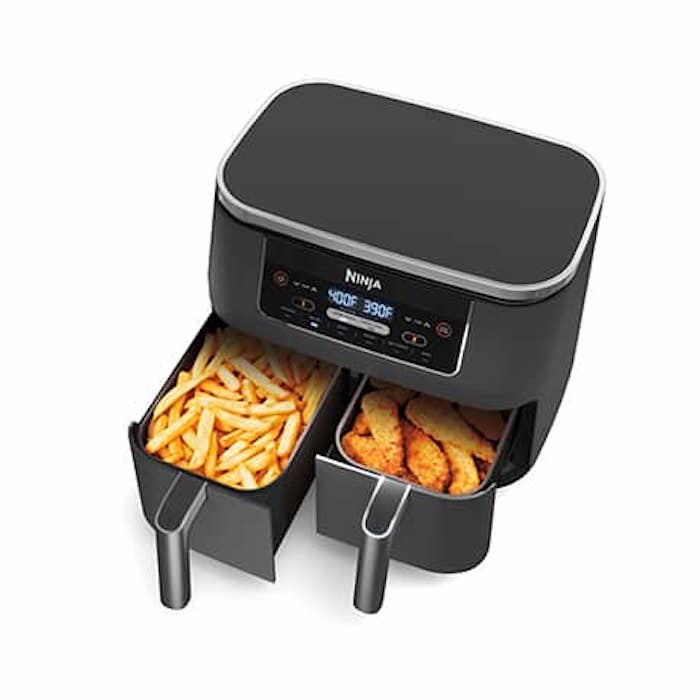 How does an air fryer work if it isn't actually frying anything? See, the first thing to know is that even though there is the word "fryer" in it, an air fryer doesn't actually fry foods. They instead use convection heat to give food a most tender inside with a crispy finish to it. The beauty of all this air frying is that it takes much less time to cook up food than if using a conventional oven.
To get this convection heat to work, air fryers use wire racks, ceramic plates with holes, or perforated baskets that allow the heated air to circulate around your food of choice. This allows for the outside to cook first while keeping the moisture sealed inside. Air fryers make this cooking easy as some (most) models have preset programs that allow the kitchen chef to cook common foods with a simple touch of a button.
One thing to keep in mind when cooking with an air fryer is space. You are going to want some space in between the food items placed inside the air fryer so they can get the proper air circulation for cooking. If too much food is put inside the basket or onto the air frying racks, it will defeat the purpose of the air fryer and you may end up with a soggy or uneven cook instead of that crisp finish.
For that reason, when in the market for an air fryer, keep an eye on the size of the unit to purchase. Determine how often you may use this appliance as well as family size and choose the air fryer that best fits those needs.
PLACE FOOD IN THE BASKET, CHOOSE THE HEAT, AND SET THE TIME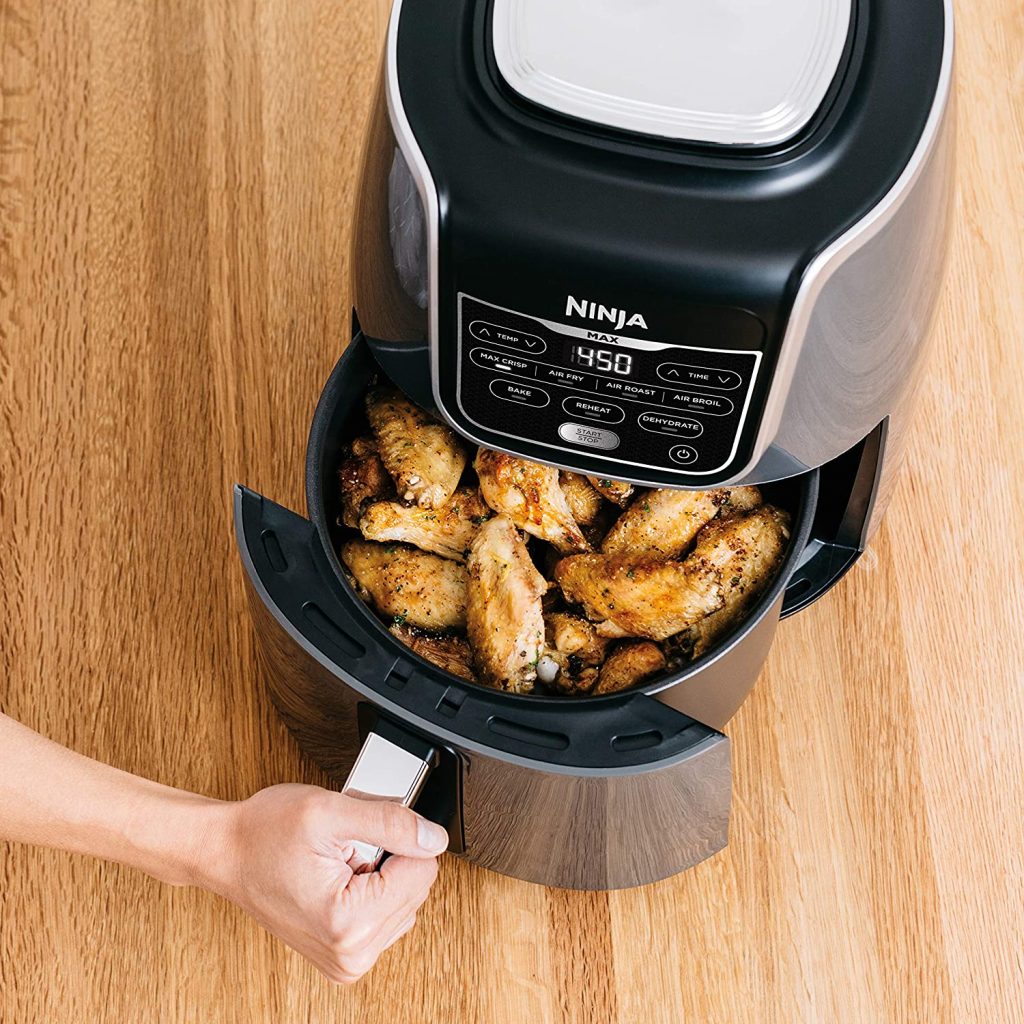 They truly are as easy as they sound. First of all, determine the size of the air fryer basket as to how much food it can air fry. Place the food in the basket and, if needed, add a teaspoon of oil to help get that crispy outside. This, of course, is not necessary.
Next, set the air fryer's temperature and time. Typical temps are anywhere from 350° to 400°. Typical cooking times range from 5 minutes up to 25 minutes, depending on the food.
Now just let the food cook. In some instances, again depending on the food of choice, you may find that you will need to turn over the food halfway through its cooking time to get an even crisp. Once that timer runs out, the food should have a crispy look and a juicy inside.
HOW DOES AN AIR FRYER WORK? THE ADVANTAGES INCLUDE TIME AND HEALTH
There are plenty of advantages to owning an air fryer. Much of it has to do with time and some of it has to do with health. Let's take a look at some of the advantages of an air fryer.
Time – We are all pressed for time these days. Coming home from a long day at work or simply finishing up a long day of work from home makes the thought of standing in front of a stove not a fun thought. Air fryers can significantly reduce the amount of time needed to cook.
Health – Yes, air fryers can be a healthy way to go. They use much less oil, which is a good thing, but ultimately it all depends on what types of foods you are cooking in the air fryer. A study done in 2015 found that the harmful chemicals produced by cooking potatoes or any starchy foods at a high temperature are reduced.
THE DISADVANTAGES OF AN AIR FRYER INCLUDE PORTION SIZES AND SPACE
Of course, there can't be air fryer advantages without also having a couple of drawbacks. One of the first questions you are going to want to ask yourself when perusing the air fryer aisle is if you really need another appliance in the kitchen. Once that big question is answered, you can either start selecting or move on to another aisle.
Liquid Batter is a No-No – This is one big drawback for those who love batter-dipped foods such as beer batter mushrooms or onion rings. Batter is frowned upon because the batter will simply drop through the basket holes, making a huge mess. With that in mind, cooking doughy foods such as beignets or doughnuts will also not work in the air fryer.
Portion Size – Even with the largest air fryer on the market, there will still be limits in how much you can air fry at one time. Choose the appliance wisely by knowing and understanding family size and eating habits. There is nothing worse than having an undersized air fryer.
Countertop Space – This is something you may want to eye before heading out to the store to get an air fryer. Do you have enough space for one? Again, it will come down to family size and intention, but just know that some of these air fryers are not dainty in size and will require a significant amount of space.
---
Although there may be some disadvantages to the air fryer, the advantages may outweigh them. Speed and convenience are winners in our book. If looking to bring one of these popular appliances into the kitchen, start here in your purchase process.
---