Dino Swords is the popular infinite runner game featuring a lonely T-Rex, and it's also a hidden easter egg available to play on Google Chrome browsers when the internet is down.
It's pretty much a given that at one point or another, we have all experienced the frustration with a lost internet connection. It can be both maddening and advantageous. Instead of using your mobile phone to create yourself a hot spot to continue working at a snail's pace, you can instead just say "I have a better idea" and head over to Google Chrome to play Dino Swords, a game that pops up when the internet goes down.
DINO SWORDS IS AN INFINITE RUNNER GAME WITH WEAPONS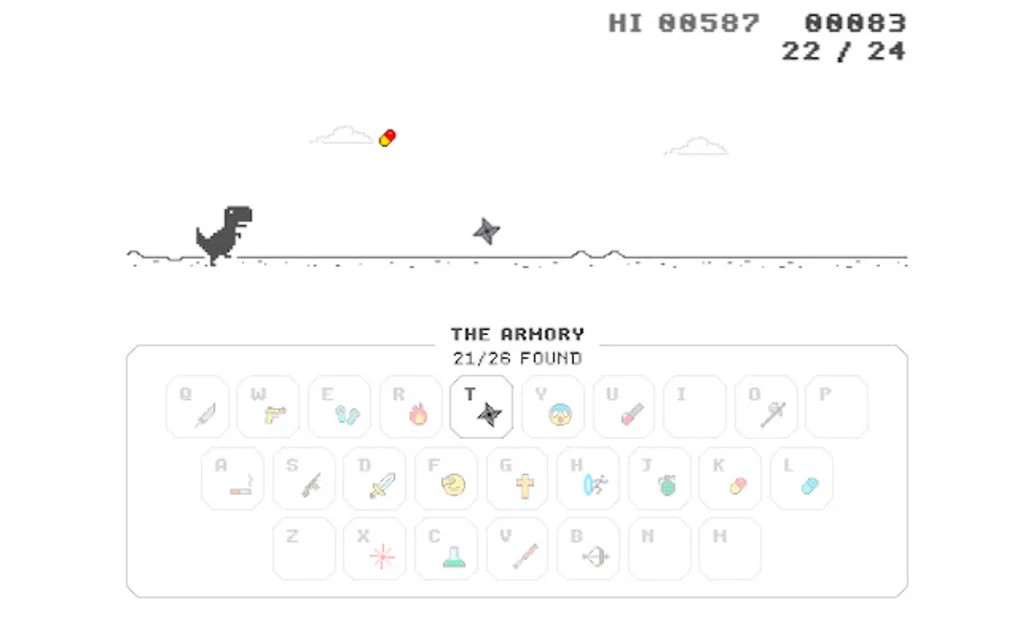 First off, Dino Swords may look very familiar to those who have played T-Rex Run or even Chrome Dino. These games are simple and somehow quite addicting. You get your T-Rex and with it, you can run, jump, duck, and hopefully get yourself a high score.
So, if that all sounds like a fun way to kill some time just think about how much more fun you will have with Dino Swords' wild assortment of weapons that will maybe even have you scratching your head with confusion. You see, neither Chrome Dino nor T-Rex Run includes weapons that could help your tiny-armed dinosaur compete, so this addition to the original game is a fun one. Not all, though, are going to help.
How wild are the weapons? Well, for starters there is a tank and a helicopter. You will also have access, should you move forward in the game, to other weapons such as a sword, a ninja star, a chainsaw, a battle axe, and a gun.
One thing you will want to have is ammunition if you do happen to stomp up onto a gun. Each gun has an ammo count that can go pretty fast if you are playing hard and loose. Make sure you don't get caught without any bullets.
Other than these insanely useful or useless new weapons, the game has the same look and feel as the original. You control the game the same way (keyboard), and the scoreboard appears to be the same as well and if you score well enough, you can land on the weekly global leaderboard. If you happen to be the weekly top scorer, you will get a prize, though they have not come out with what these prizes consist of.
THE GAME'S CREATORS WANTED A VIOLENT DINO RUN GAME
The Dino Swords makers, MSCH, described the original Chrome Dino as not being violent enough when they started to reinvent the game. "Anything we can take from a big company (like Google) and mess with we will," a spokesperson from MSCH told Forbes. "The Dino Game is the final holdover from the golden age of things like Addicting Games and Miniclip games. We're just making it truer to form."
MSCH is not alone in the creation of Dino Swords. They combined their know-how with 100 Thieves to come up with this violent edition of the classic dinosaur run game. "We found out they [MSCHF] were fans of 100 Thieves and our teams started talking about working together earlier this year. We set out to do something that fully represents MSCHF's creativity and 100 Thieves' place in gaming culture," 100 Thieves found Matthew Haag wrote to Forbes.
"Dino Swords is our take on the classic Chrome dinosaur runner game, made extravagant with 26 weapons to help your runs. Many of them pay homage to classic video game weapons, some of them are totally OP, and some are completely useless. There's even a few Easter eggs that are pretty hard to unlock. We've also got some awesome prizes for the people who are able to show they're the best Dino Swords players in the world."
SOME DINO SWORDS WEAPONS WILL INFLICT HARM ON YOUR T-REX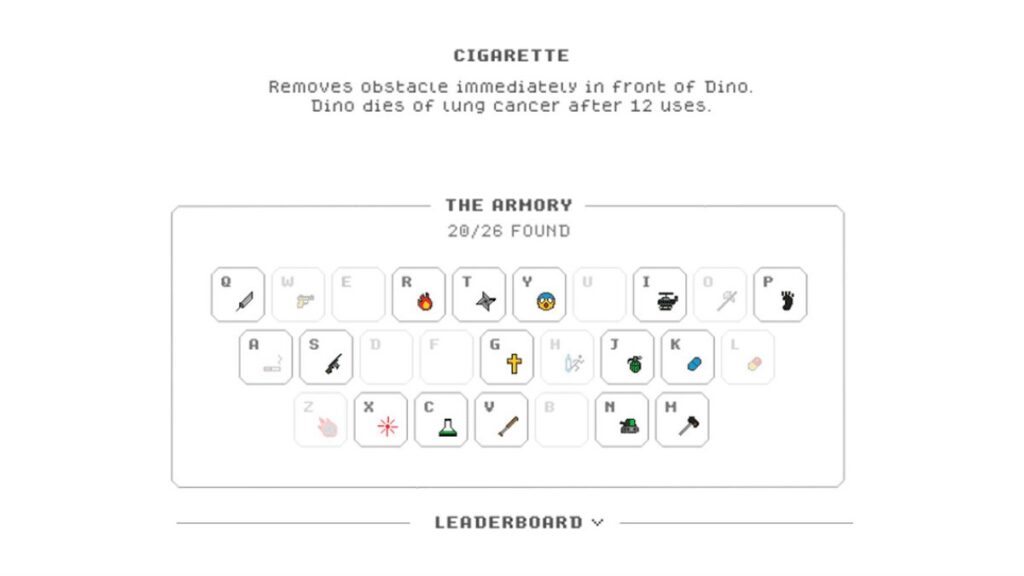 As you will soon find out once you begin playing Dino Swords, the addition of weapons can be a lifesaver. Then again, some of these weapons won't be. As you collect your weapons, they will be assigned various keys on your keyboard. You will need to watch out because some of the weapons you grab could cause self-inflicted damage.
THE DINO SWORDS COLLECTIBLE IS A HOT ITEM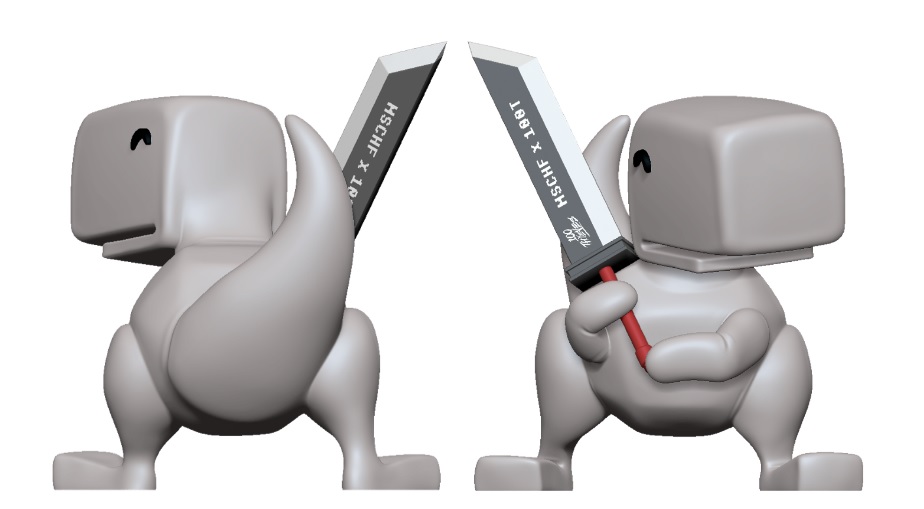 Nothing says big time more than having your very own toy. This is where MSCH and 100 Thieves have brought Dino Swords. The Dino Swords figurine is an immediate collectible and can be found, when available, on the Dino Swords website right here.
It sounds like the makers of this collectible were not prepared for the desire for this toy because it was sold out in 51 minutes. As of now, it is unavailable to purchase. But we are hopeful it will be back in stock in time for the upcoming Holiday season.
MORE BROWSER-BASED GAMES LIKE DINO SWORDS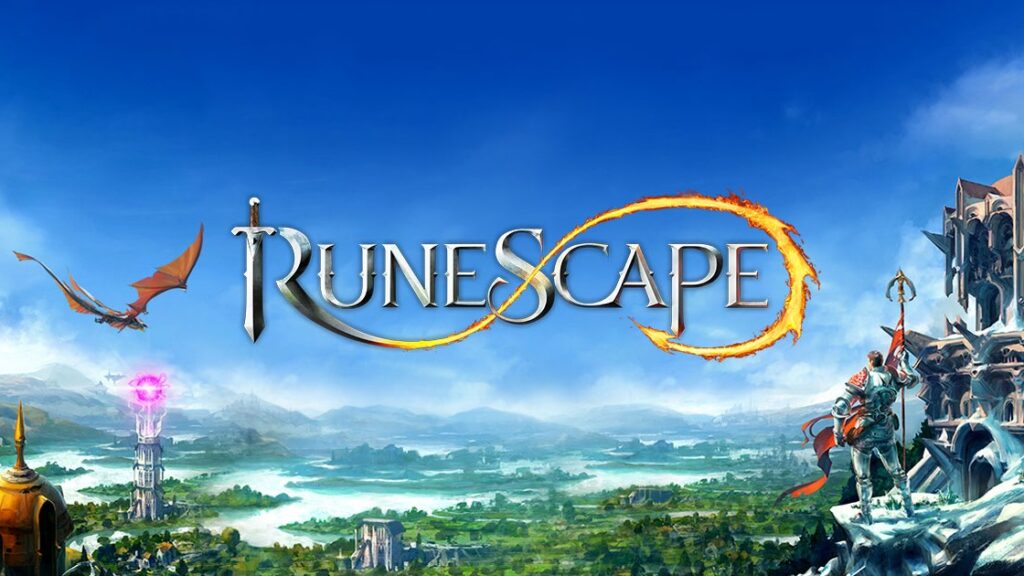 It probably doesn't say much for your internet connection if you are finding that you're constantly playing Dino Swords. We also know, though, that after a little bit of time, Dino Swords can get a little monotonous. So, there are a few other browser-based games that might tickle your fancy.
Spelunky – This one rates high not just as a browser game, but as one of the all-time greats (it is that addicting). This game is an exploration game where you are plumbing through the depths of different caves in order to discover treasures and secrets. You will find that there is plenty of treasure in Spelunky.
Fallen London – This browser-based game recently celebrated its tenth anniversary. This game is a text-based mystery adventure game that is unique for each player who fires it up. The location is Lovecraftian London, and it offers plenty of intrigue.
Runescape – This game has also been around for some time. It is a multiplayer RPG that allows gamers to shape their characters and the quests that they go on. Great way to kill some time.
10 More Bullets – You have ten bullets and a tank turret at your disposal. As the flying ships pass overhead, you have limited ammo to fire and see just how much damage you can do. Patience and planning are key in this one.
A GREAT WAY TO KILL TIME DURING INTERNET OUTAGES
What's not to love about a T-Rex armed with weapons? This is what you will get with Dino Swords (found here), an addictive game that should keep you entertained when your internet takes a dump. If not Dino Swords, there are a few others worth trying as well.
---