Buy Nothing is a movement that started as a non-profit in which communities offer up their unused goods, like food, for free.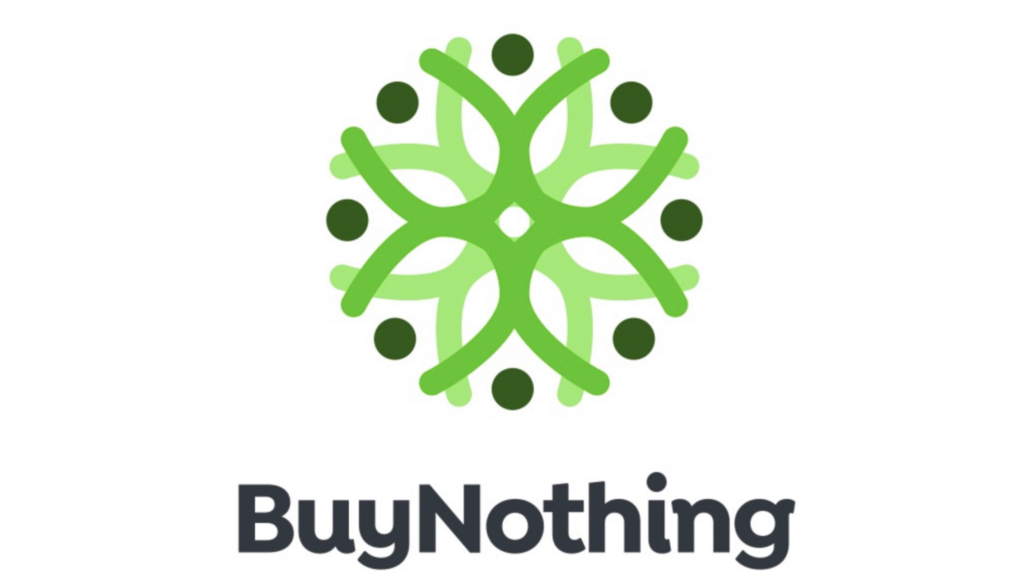 Is it possible to buy nothing ever again? One app and movement sure wants to make that the case. Look, it should not come as a surprise to anyone when they hear that the United States, while only comprising around 4 percent of the total world's population, is responsible for more than 30% percent of the planet's waste. Yes, we are more than simply a wasteful group of people.
In an attempt to cut into this unbelievable waste, groups have begun to pop up all across the country where instead of going out on the daily and purchasing wasteful products or materials, they decide to trade or give away items. Enter the Buy Nothing movement.
BUY NOTHING IS A NON-PROFIT AIMED AT CURBING WASTE AND REUSING GOODS
It's truly that easy. At least, that is the intent behind Buy Nothing, a non-profit aimed at not only distributing unwanted goods for no cost but also as a way of hopefully saving the planet from excess waste. Let's explain.
Buy Nothing was founded almost a decade ago in 2013 on a small island in western Washington State called Bainbridge Island, whose population sits right below the 25,000 mark, and whose location is a 35-minute ferry ride from the big city of Seattle. Liesl Clark and Rebecca Rockefeller co-founded Buy Nothing after their many walks along the island beaches.
As they attended their daily walks, they became stunned by the sheer amount of plastics that would wash up on the island daily. "I don't mean just a few plastics," Clark said to Huffington Post. "Every square foot of the high tide line was covered with anything from plastic bottle caps and straws, to cigarette lighters, to car bumpers."
At the time, both Clark and Rockefeller were home-schooling their children and decided they wanted to turn their daily observations into a learning lesson. The lesson became a project, a citizen science one, where they tried to solve the expanding mystery of just where all these plastics were hailing from.
This project would last them a number of years as they continued to collect, document, and finally categorize all the plastic waste they could find.
What they ended up with, though, was a realization that was both shocking and very troubling. "The plastics are coming from us," Clark said. "They're not just from people spending time on the beaches or on boats ― they're coming from our homes, they're coming from our cars, they're coming from our workplaces, and they're washing down with every rain event."
So, the duo decided that as a way to try to stem the waste problem, not only as individuals but also as a community, their answer would be to share what they already had under their roofs. The key to this would be to figure out how to connect and build relationships with neighbors where none have previously existed.
"If we look at what we already have in our homes, while we may personally be done with it, there's probably somebody else who needs it or wants it," Rockefeller said. "And if I give them mine that I no longer need or want, they don't have to buy a brand-new one, a factory doesn't have to produce it and it doesn't end up in the trash."
And that's it. Buy Nothing in a nutshell. But what first started as a small endeavor to lessen the mess seen around Bainbridge Island has since turned into something much bigger.
BUY NOTHING GROUPS AND COMMUNITIES ARE HUGE ON FACEBOOK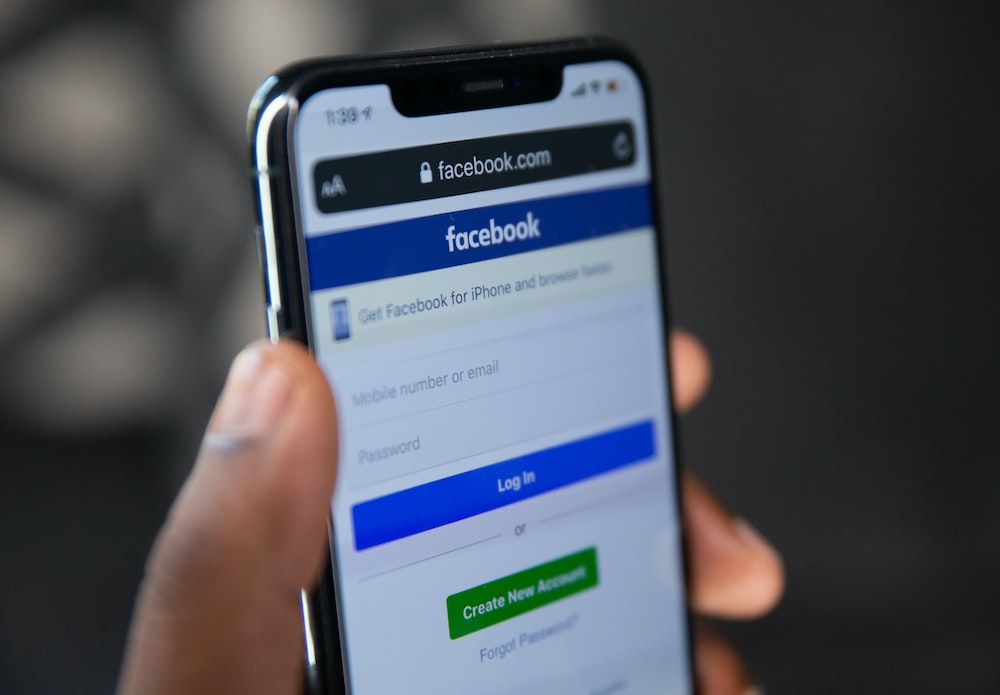 As the idea behind Buy Nothing began to take root, getting the word out became imperative. Enter Facebook. This is how Clark and Rockefeller got noticed and from there, Buy Nothing Facebook groups began to crop up.
It was a simple and easy way to get the movement started, by creating a group for local communities. While the local communities run their own version of Buy Nothing, the movement still holds on to its core values which include:
1) One can ask for things they either need or want;
2) One can offer things that they wish to give away or no longer need;
3) Group users can lend or borrow items;
4) Those who use this service are encouraged to express their gratitude.
IT WORKS BY OFFERING UP UNWANTED GOODS FOR FREE
As one Buy Nothing member noted, "One man's trash is another man's treasure" and that is the simple fact with Buy Nothing. As the name of the project suggests, those who join their local group cannot purchase or sell any items to the group. They also cannot trade or barter for items either.
Referring members of the group to a purchasing solution to an inquiry is not allowed. For instance, if someone in the Buy Nothing group posts that they are looking for a binder or two for their child's class, members can't direct them to a store where they saw a great deal on binders.
The whole purpose of Buy Nothing is exactly that. "This is a social experiment, and so we are truly trying to not refer people to where they can buy something cheaply," Clark said.
One other aspect of Buy Nothing is that Clark and Rockefeller are encouraging participation as individuals and not as someone representing a business. "There's no marketing," claims Rockefeller, meaning businesses are not allowed to advertise through the groups. So, what does this mean as far as items that can be moved within the groups?
THE BIGGEST BUY NOTHING GOOD IS FOOD
One item (or items) that is a constant across Buy Nothing communities is food. It is the most commonly shared thing among group members, something that Rockefeller is all too familiar with.
She shared with Huffington Post the time her family had to rely on food stamps that ended up not being enough to keep her family fed. She also explained how the process of trying to obtain food stamps made her feel ashamed.
"It made me feel horrible, like I was somehow a criminal because I was in a situation that had a lot of aspects that were completely outside of my control, and I needed help," she said. "I wanted to offer people a different experience." So, food is an item that is high on the Buy Nothing list.
Pretty much anything that is legal is fair game on Buy Nothing. This also includes gifts of services (time and talent) to others. Some people may offer their time to elderly neighbors while others may offer music lessons or help with taxes.
"There are all sorts of things that we see people offer and request from each other that are not products," Rockefeller said. "They're not an item, but they are a connector. They build relationships."
BUY NOTHING NOW HAS AN APP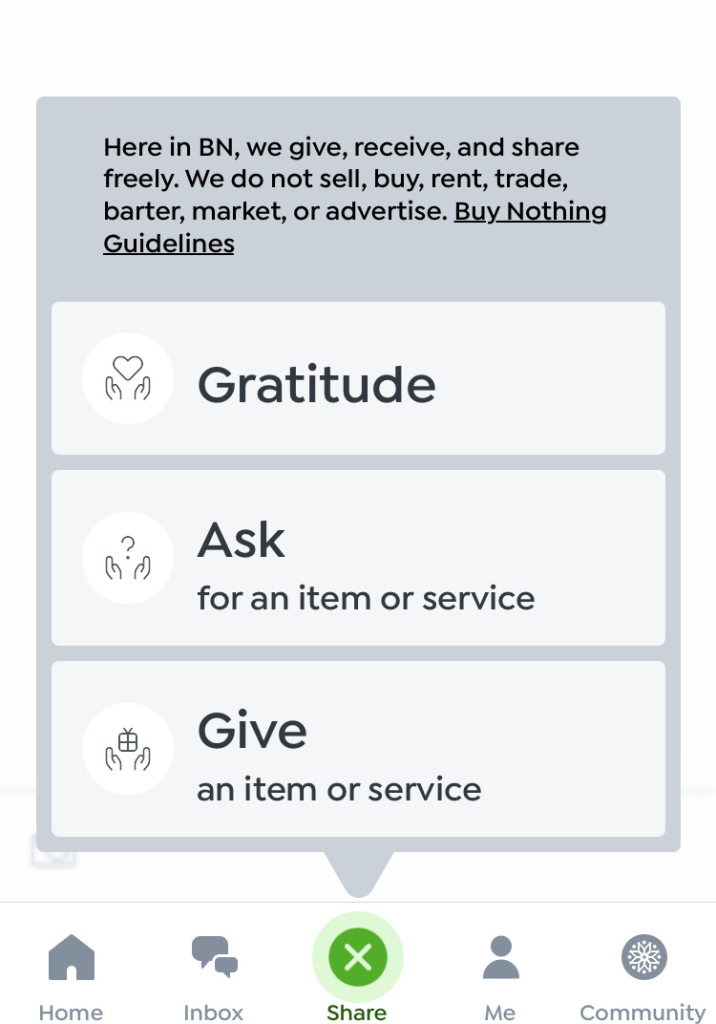 For the longest time (and still going today), Buy Nothing has leaned on Facebook to get its word out and to create community groups. Along with that though, Buy Nothing does have its own website and they also have a book that Clark and Rockefeller have put together called, The Buy Nothing, Get Everything Plan: Discover the Joy of Spending Less, Sharing More, and Living Generously.
The success of Buy Nothing has shown Clark and Rockefeller that maybe Facebook isn't their only answer. As a way of combatting disconnected communities and trying to reach those outside of the social network norms, they have created their own Buy Nothing app.
To make this happen, Clark and Rockefeller, who have been resisting bringing in business partners, finally acquiesced and now call Tunji Williams and Lucas Rix their partners.
Together, the four first formed ShareThing, a public benefit corporation, and from that, they began to build their own platform by leaning on friends and family to help fund the new app. The hope with the new app is that it will help solve all the headaches group moderators and leaders have been dealing with while using Facebook. One example is simply trying to keep up with how many members there are.
To make this happen, they lean on volunteers to hand count the groups' numbers and enter them into spreadsheets. To understand just how difficult a task this is, Buy Nothing estimates there are over 7,000 individual Buy Nothing communities that stretch across 44 countries. The new app will easily put these numbers together.
---
The idea behind Buy Nothing is stellar, working twofold. The first is the hope that by lessening the purchase of items, less will go into the garbage, which eventually finds its way into our oceans. The second is simply to help make life easier for those who might be struggling by offering goods or services that will benefit someone within your community.
It is a noble position, one that more of us need to undertake. If you are curious about how to get involved, you can start at the Buy Nothing website or simply head on over to Facebook and search for the local Buy Nothing group. Once there, the gift of giving can truly start.
---