Walmart is launching a virtual fitting room tool on its website that uses algorithmic mapping to show shoppers how clothes would look on them.
In the past several months, soaring inflation and price hikes have forced people to drastically reduce their spending. As a result, sales of anything that could be considered non-essential have slumped. Now, in an effort to get people to buy more apparel, Walmart is launching a new system that will hopefully convince shoppers to hit the "buy" button. Starting this week, folks can use a virtual try-on tool to see how a specific clothes item would look on their own bodies.
Walmart's new tool is called "Be Your Own Model," an updated version of "Choose My Model." With the old version, shoppers could choose from a selection of 120 body types to see how various clothes would fit. But the concept had some limitations. Since the available avatars weren't always a perfect match, people had to adopt some guesswork throughout the entire process as they searched for a model that resembled their own body type.
But due to its acquisition of virtual fitting room startup Zeekit, Walmart has made virtual clothes fitting much easier and more accurate. "Be Your Own Model" uses algorithms and machine learning technology that was originally used to develop more accurate topographic maps. Folks can use it to virtually try on more than 270,000 items across the retailer's private brands, select items from national brands, and some items from its third-party marketplace, CNBC reports.
With the upgrade to its virtual fitting rooms, Walmart customers can now choose to use their own image or an available model. To use the Be Your Own Model feature, folks will be prompted to take a picture of themselves within the store's app. The website then uses the scan to provide a more realistic sense of how the fabric drapes. Shoppers also get a better idea of how different colors would look, as well as the precise position of a sleeve or hem, without stepping inside a store.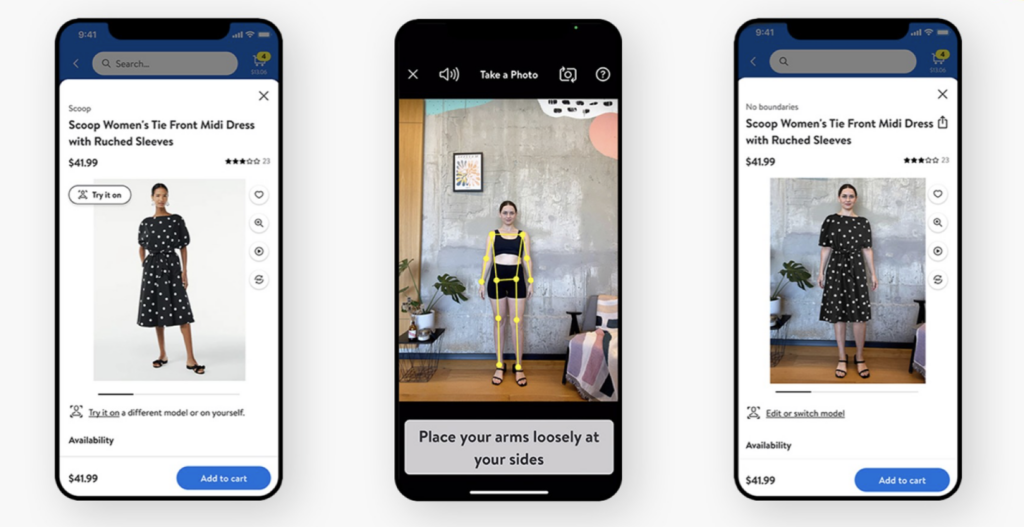 Once an image is saved, the customers can view themselves as the model every time they use Walmart's virtual try-on experience. Be Your Own Model is currently being rolled out to iOS app users who will soon be able to transfer their image to the company's desktop site. The service will be available on Android in the coming weeks. "Launching this iteration of virtual try-on technology delivers on our goal of making online shopping an inclusive and personalized experience that replicates in-store shopping," the company said in a press release.
The virtual fitting tool comes at a time when clothes sales have become a lot more difficult. The big-box retailer recently joined a growing list of companies, like Target and Best Buy, which were forced to slash their full-year profit outlook as people spent less on discretionary items. The retail giant now expects its adjusted earnings per share to decline between 9% and 11% for the full year. Unfortunately, the Be Your Own Model announcement doesn't mention how Walmart plans to safeguard the semi-nude images customers are prompted to upload to use the feature.