The parent company of Texas Pete Hot Sauce, T.W. Garner, has become embroiled in a lawsuit due to one man being upset over the fact that the sauce is made in North Carolina and not Texas.
Frivolous lawsuits are nothing new. Many major corporations have dealt with upset customers who took their complaints too far. And now, Texas Pete Hot Sauce received news that it is their turn.
Phillip White, a California man, was so smitten with the labeling on the Texas Pete Hot Sauce bottles that he decided to give it a go. He purchased a bottle at Ralph's supermarket for $3. When he discovered that the hot sauce is not actually produced in Texas, he decided to sue.
And his target is Winston-Salem's T.W. Garner Food Company, which has owned Texas Pete Hot Sauce since its incorporation in 1946. However, his lawsuit is not merely for his gain. Instead, he filed a class-action lawsuit against T.W. Garner.
According to Food&Wine Magazine, one accusation is that the company concocted "this false marketing and labeling scheme specifically because it knows the state of Texas enjoys a certain mysticism and appeal […] and is known for its quality cuisine, spicy food, and hot sauce in particular." White is seeking a complete overhaul of the name, labels, and branding. He also seeks monetary damages.
Additionally, White claims that Texas Pete Hot Sauce "cheated its way to a market-leading position in the $3 billion-dollar hot-sauce industry at the expense of law-abiding competitors." He believes that most customers mistakenly thought the hot sauce comes from Texas. But is that truly the case?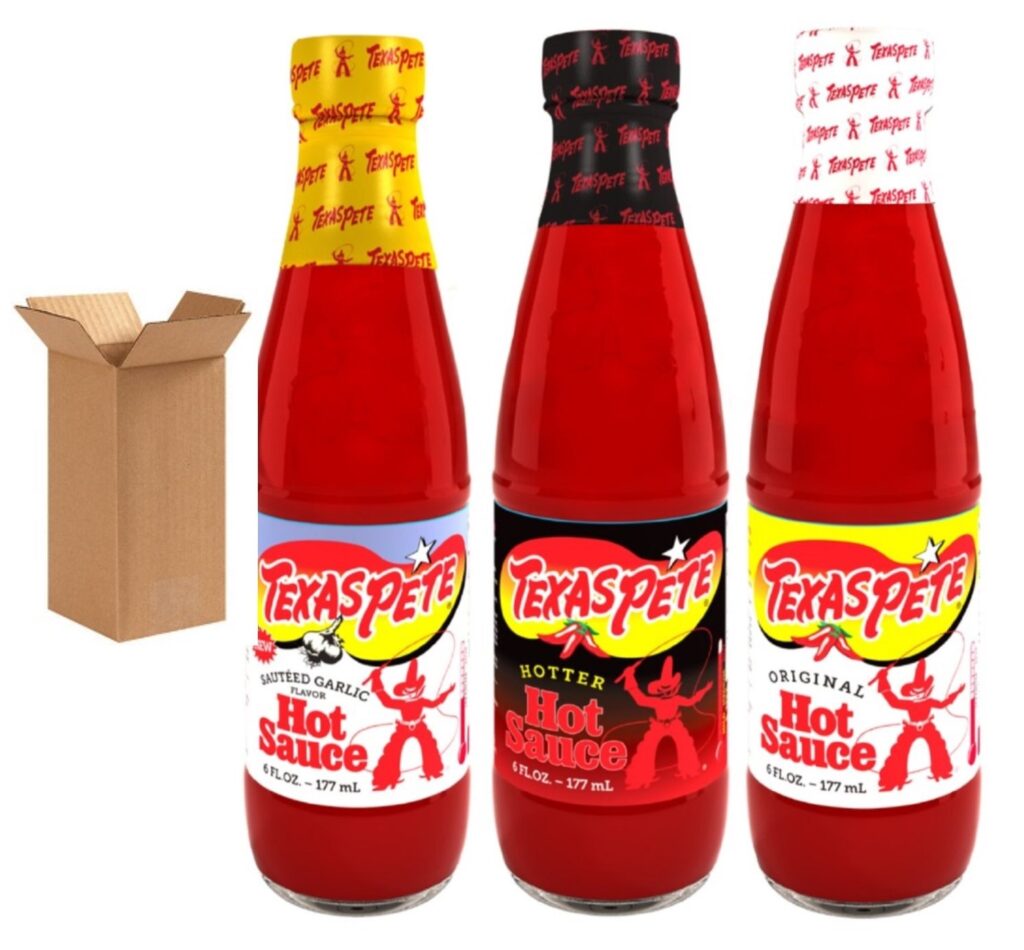 Unfortunately for White, that assumption likely won't pan out. The legendary hot sauce has never hidden its origins. And does not claim to be from Texas.
On its own website, the origins of Texas Pete trace back to a North Carolina family. Sam and Ila Jane Garner's son owned a restaurant that struggled mightily during the Great Depression. While the family did their best to keep it afloat, the restaurant eventually shut down.
However, they had a homemade barbeque sauce that people still sought out. They decided to kick up the spice factor in 1929 and developed a second version. Of course, that next iteration needed a catchy name.
So, Sam Garner and his three sons put their heads together. One of the sons was named Harold, but his nickname was Pete. They settled on that for part of the name.
But for the rest, they wanted something that truly captured a sense of Americana. At the time, Hollywood cowboys were extremely popular. And what area often gets associated with the quintessential cowboy?
Yup, Texas. They added an image of a cowboy holding a lasso on the label. And the rest is history.
That is until White filed his lawsuit. Fans of the long-adored hot sauce are unhappy with the news. But they will have to wait a while to learn the outcome.
T.W. Garner must submit its response by November 10. According to a company spokesperson, they "…are currently investigating these assertions with our legal counsel to find the clearest and most effective way to respond." So now, we await news of what the next steps will be.
---