For the 25th anniversary of its Holiday Red Cup, Starbucks will be giving away a reusable version for free on November 17th while supplies last.
According to Food Network, Starbucks is bringing back our favorite day of the year, Red Cup Day! During Red Cup Day, you can get a free limited edition red cup with white ornament designs with any purchase of a hand-crafted hot or cold holiday beverage.
Many people are excited about this upcoming holiday tomorrow, November 17th. It is a limited-time offer because supplies are limited. This is the 25th anniversary of the red cups. As such, it is expected that they will go fast.
What's more, these cups come with a bonus if you bring them back to any participating Starbucks. You will receive a 10-cent discount on any purchase. The Starbucks Rewards members weren't forgotten either, as they will receive 25 bonus stars.
There are many returning hot and cold beverages coming with the holidays. A popular and personal favorite is the Peppermint Mocha as well as the Caramel Brulée Latte, just to name a few. All of these will be available starting November 17th, along with the new cups.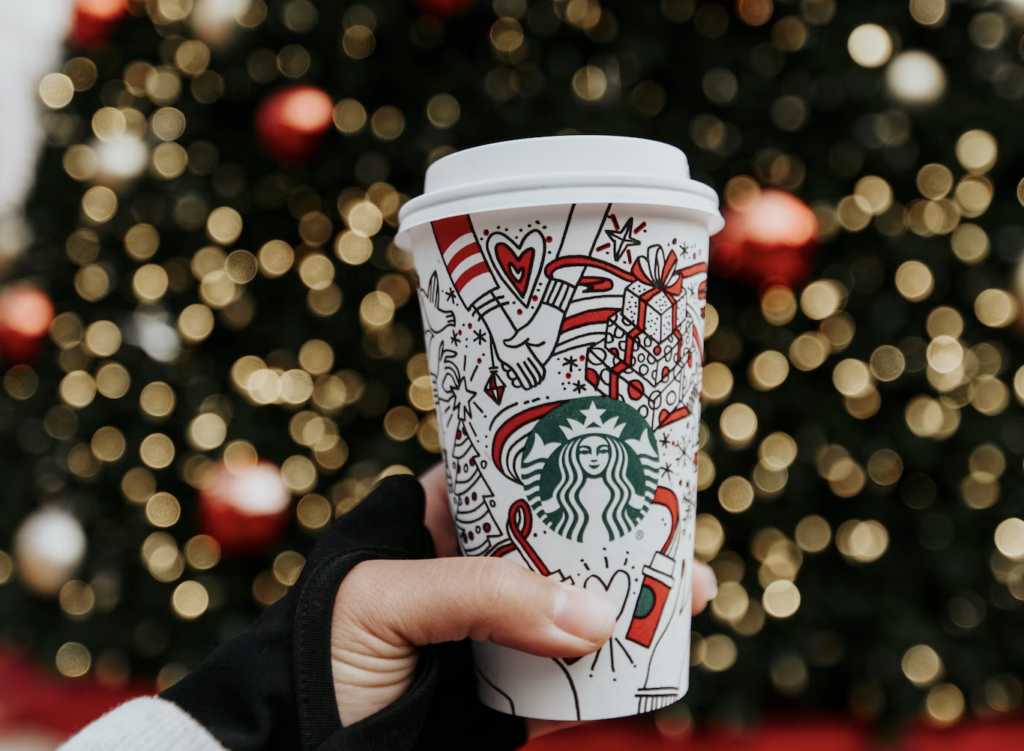 There is another amazing update coming down from Starbucks. They have declared that by 2030 they plan to have reduced their waste by 50%. They are starting with their cups, as the new collectible is made with recyclables. A total of 50% of the Red Cups are made with recycled content.
It doesn't end there, however. Starbucks plans to make reusable cups a mainstay in their business as part of their company restructuring. They want to be more environmentally friendly. They have many ways they are working to achieve this.
A few examples that they have been thinking about is an option to borrow a reusable cup that is meant to be returned. Other options that may be coming to your local Starbucks are discounts for bringing your own reusable cup. This is a step in the right direction, as 40% of their waste is in their cups.
There is an issue with all these changes for Starbucks. They are going green, and this will cause changes to all their production lines. They are already under a lot of pressure. With Red Cup Day around the corner, they are already facing supply chain problems.
Many of these changes will be spearheaded by their new CEO Laxman Narasimhim, replacing Schultz. With his background in health and hygiene, he wants to bring change to Starbucks and the world. His first step is surveying the inner workings of his new position.
This could likely save the current closing down of many of the Starbucks locations around the country. As is to be expected when new leadership takes the helm, many other changes are coming to Starbucks. This will range from location changes, Policy changes, and business practices. 
In the foreseeable future, reusable cups seem to remain the primary focus of these changes. Going green and cutting down on their waste is part of their foremost plans. The various inflation rates and transportation issues are going likely going to limit the number of Red Cups this year. Possibly even delay the release of the Red Cups Tomorrow at some store locations.
---