Sony is opening a Thailand-based theme park dedicated to its major motion picture hits like Ghostbusters and Hotel Transylvania.
Sony Pictures Entertainment is launching a theme park based on popular characters from movies produced by Columbia Pictures. The Thailand-based attraction, which includes a water park, comes as the media company seeks to cash in on a rebound in tourism. In partnership with local developer Amazon Falls Co, The Aquaverse will open on October 11th in Bangsaray – a beachside tourist location about 90 minutes from Thailand's capital, Bangkok.
Among the rides that will be featured at Sony's theme park are water coasters based on Men in Black and Ghostbusters, as well as go-kart tracks based on Bad Boys for Life. The designated kids' areas are based on Sony animated films like Hotel Transylvania and Cloudy with a Chance of Meatballs. The park's grand opening, which was originally scheduled to begin operations in phases last year, coincides with a revival in global tourism and the scrapping of most pandemic-related travel restrictions.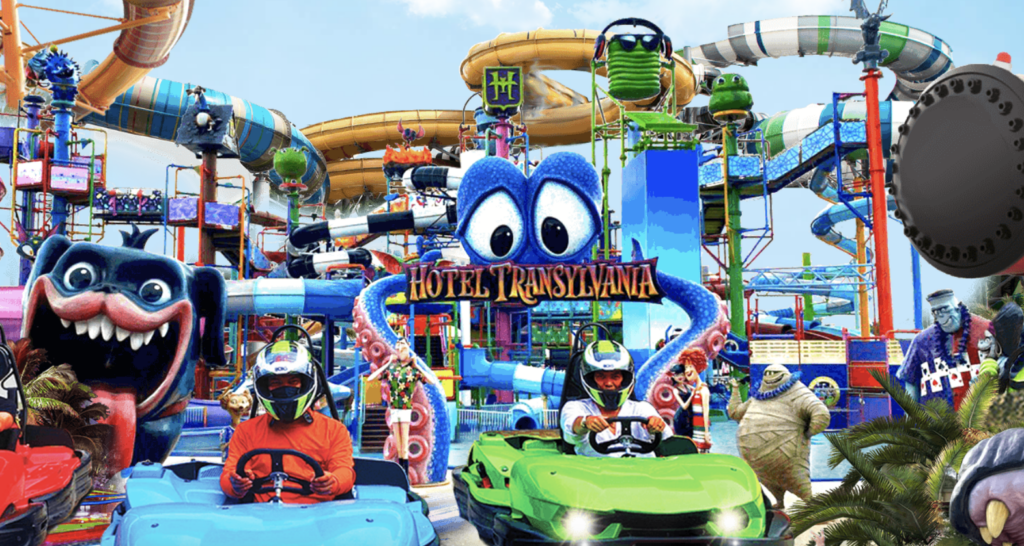 The Southeast Asian nation expects to attract as many as 10 million visitors this year and about 30 million tourists next year, Bloomberg reports. The licensing partnership for the theme park is a low-risk way for Tokyo-based Sony Corporation to use popular characters from its library of movies and television shows, which include megahits like Men in Black. In a statement, Executive Vice President at Sony Pictures Jeffrey Godsick said Columbia Pictures' Aquaverse is the next step in the company's larger global strategy to grow and expand location-based entertainment by utilizing its globally known products and brands.
Sony's 14-acre theme park is located in an area that already houses five-star beach resorts and restaurants popular with tourists. The multimedia firm plans to open more new attractions in the future, with new rides steadily being introduced through 2022. "We are delighted to be teaming up with Liakat Dhanji and Amazon Falls on launching Sony Pictures' first theme park," Godsick said in a statement last year. He added that the company is also excited to create an immersive entertainment destination for Thailand.
Outside Thailand, Sony Pictures Entertainment has also partnered with theme park firm Merlin Entertainment to create branded attraction rides and hotel rooms. Based on the studio's popular Jumanji film franchise, the attractions are being launched across Merlin's theme parks and water parks in Europe, the UK, and North America. According to The Hollywood Reporter, the agreement kicked off with Jumanji – The Adventure which opened at Merlin's Gardaland resort in Italy earlier this year, along with themed hotel rooms.
Additionally, a second activation is in development at a different Sony theme park which will launch in 2023. "Merlin is the ideal company to bring the world of Jumanji to life," Godsick told the publication. He added that the company will maintain its commitment to strong storytelling and quality of craftsmanship to ensure a fantastic guest experience. "Fans will be completely immersed in the worlds of our films and have an unforgettable experience," the Head of Location Based Entertainment at Sony Pictures said.
Merlin currently operates the Legoland, Madame Tussauds, and Sea Life attractions and worked with Oceaneering and Framestore to create the first Jumanji ride for Sony's Gardaland theme park. The company is joining other Hollywood studios by expanding its location-based entertainment business by adapting movies and series to create out-of-home consumer experiences.