Roomba i7 is the ideal robot vacuum for a busy professional who is always on the go, but not might be as perfect for families with pets and small children due to its difficulty with cleaning larger messes.
---
Over the years Roomba has become a household name in the world of robot vacuums. With the Roomba, iRobot revolutionized what it means to vacuum your house and pioneered a new way to align with technology to decrease how much time individuals have to spend doing laborious household tasks.
The Roomba i7 is one of the newest iterations in the company's stellar lineup of robot vacuums.
Not all Roombas are made equal, so we put the little household helper to the test. We found out if the Roomba i7 continues to uphold the brand's long-standing reputation.
About The Reviewer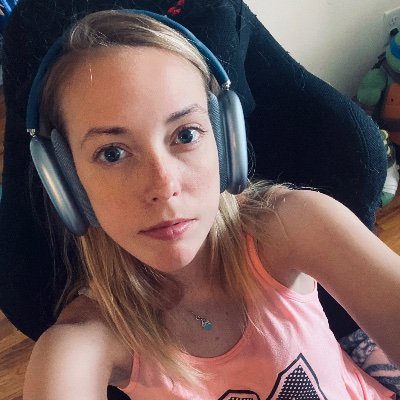 Kristi is a self-described gadget enthusiast and has years of experience working closely with technology, including a long stint at a flagship Apple Store on 5th Avenue in New York City. She is also a busy professional, with three fur babies to care for, who understands the value in utilizing technology to help make life's hectic moments just a little bit easier.
---
Multi-Story Smart Mapping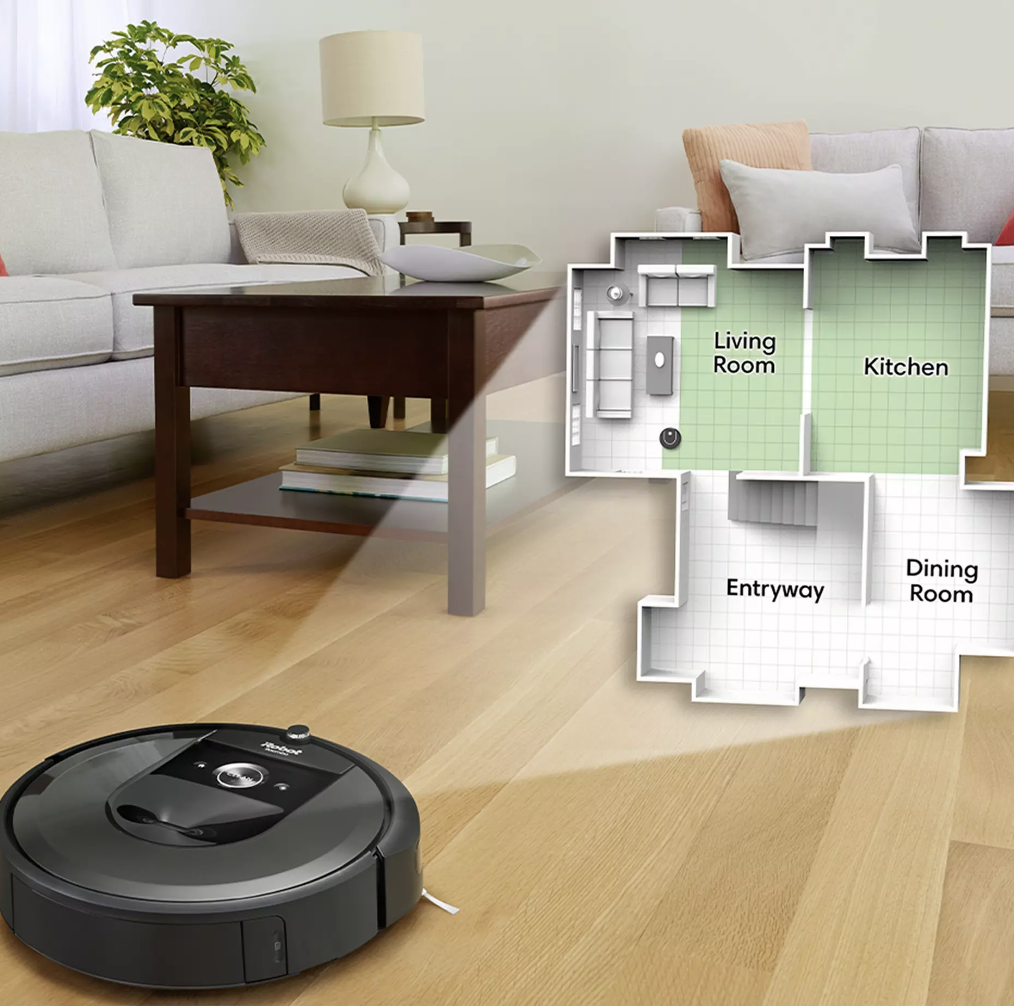 The multi-story smart mapping feature is what really separates this iteration of the Roomba from the version that came before. Smart mapping is initiated through the Roomba app, where up to 10 rooms can be easily added or deleted from the Roomba i7's repertoire.
The i7 then uses its cameras to scan an entire area to ensure a full-room clean every time.
Smart Home Connectivity and Amazon Alexa Voice Command Integration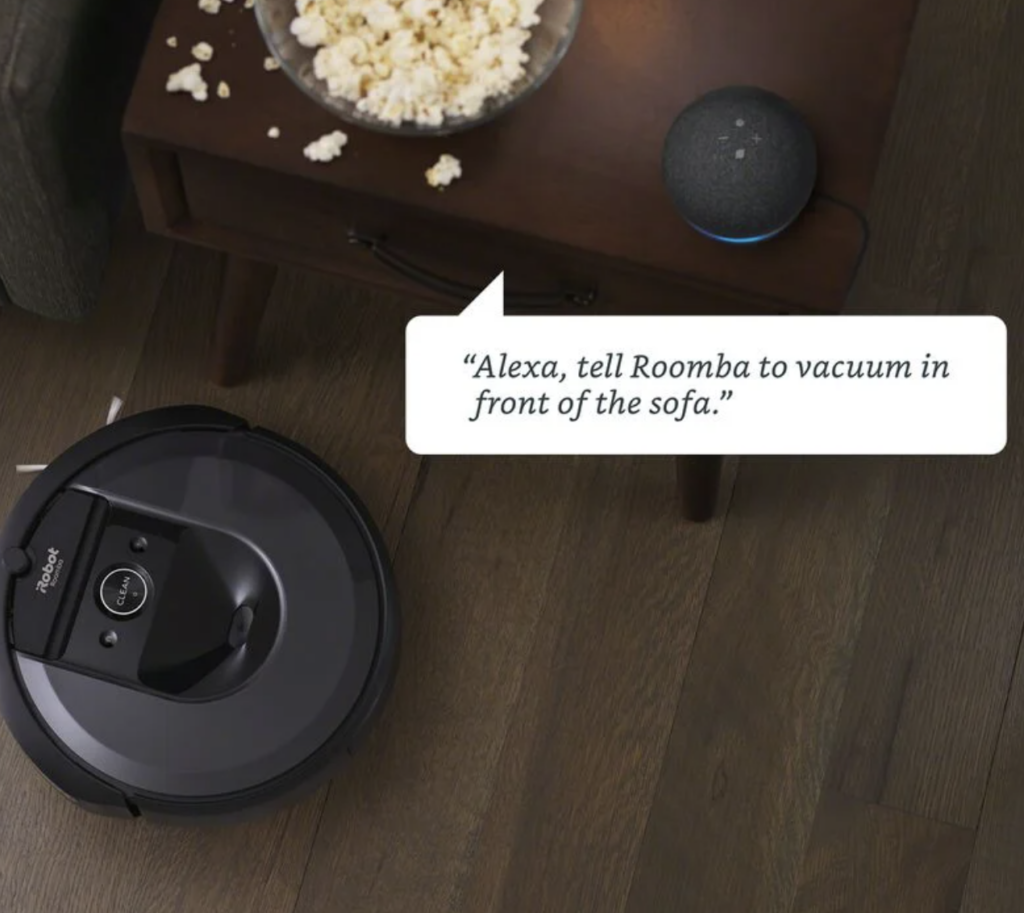 Another fantastic function of this robot vacuum's app is the option to utilize voice commands via the Alexa virtual assistant. Once set up, to initiate a clean all you have to do is simply tell Alexa to have the vacuum clean whichever room you like. For instance, "Alexa, tell Roomba to vacuum the kitchen."
It's also worth noting that for those not wanting to use the app, the Roomba i7 can easily be controlled manually, too. Once charged simply press the "Clean" button located at the top of the robot and off it will go. It's as simple as that.
Base Option with Self-Emptying Dustbin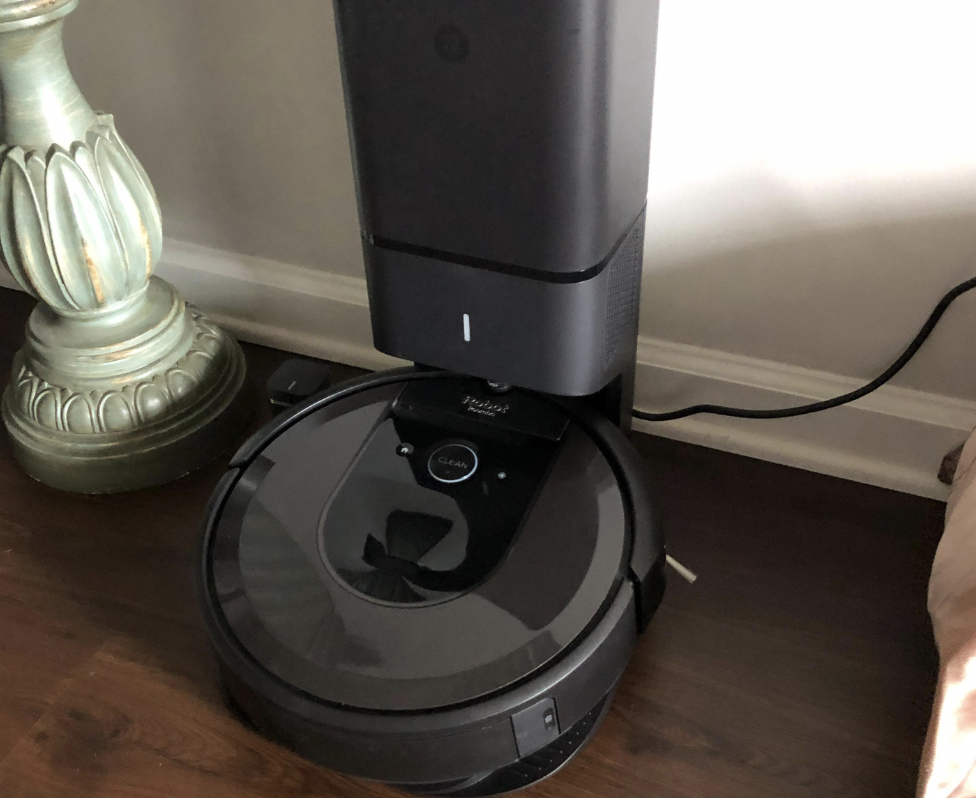 The base option is another feature that really takes the Roomba i7 to the next level. The base doubles as both a charging station and a vessel that collects all the dust and dirt from a previous vacuum automatically. The base is outfitted with disposable bags that can hold several weeks to several months of debris depending on the size of your home and lifestyle.
What's more, is that when the Roomba's i7's internal bin is full, it will return to its base by itself to empty it. It will also return to its base after finishing a vacuum and when its battery is low.
Works Well on Hard Surfaces And Carpets
Most homes have multiple types of flooring and the Roomba i7 is well-equipped to clean all of them. From hardwood floors to high pile carpets, this robot vacuum is made to remove about 99.7% of all dirt and debris from any type of flooring with each clean.
This is a big step up from the previous iterations that performed phenomenally on hard surfaces, but fell slightly short when it came to denser carpet types. 
Optional Self-Emptying Base
---
What I Love About The Roomba i7
There is a lot to love about the Roomba i7. What really stood out most to me is the self-sufficiency of this robot vacuum. Once, it is set up it does all the work for you with a simple tap of an app, voice command, or touch of a button.
Whilst it's working hard on keeping your floors spic and span you then have free time to catch up on life's other chores or free time to spend doing the things you love with the important people in your life. 
The Downsides
The Roomba is not without its shortcomings. The Roomba underperforms in its ability to tackle pet hair. Depending on the type of fur your dog or cat has, it can easily clog or get tangled in the rubberized brushes in the vacuum's undercarriage. When this happens it has to be manually untangled and cleaned, which negates the entire hands-free/carefree experience of this vacuum.
The other two major downsides are general maintenance and the cost of the base option. The spinning brush underneath the Roomba i7 is one part that has to be replaced pretty frequently. Additionally, this robot vacuum is not cheap, the Roomba i7 by itself will set you back $411 and adding the base option brings the entire cost to $730. Suffice it to say, this vacuum is not ideal for someone who is on a tight budget.
What Others Are Saying…
---
The Good
One Amazon reviewer says, "I've bought a few Roombas over the years. All of them were huge time wasters. You pretty well had to clean up after every use. 10 years ago Karcher made a much better robot vacuum and that's what I used for most of the last 10 years. Now, however, after using this Roomba for the past 10 months I can honestly say iRobot has created something that surpasses my Karcher in every way."
A reviewer who purchased the i7 from Best Buy described their experience as "Totally worth it!" And "I think I'm in love!" Then described in detail, "The app shows where the trouble 'dirtier' spots are and it will spend more time on those areas. I have hardwood and it is able to easily go on from the floor to the carpets, even over the high bathroom threshold and the bath mat, she fits under my sectional, and on the first run there were only a few spots she missed, but she has learned the apartment layout and now gets those spots."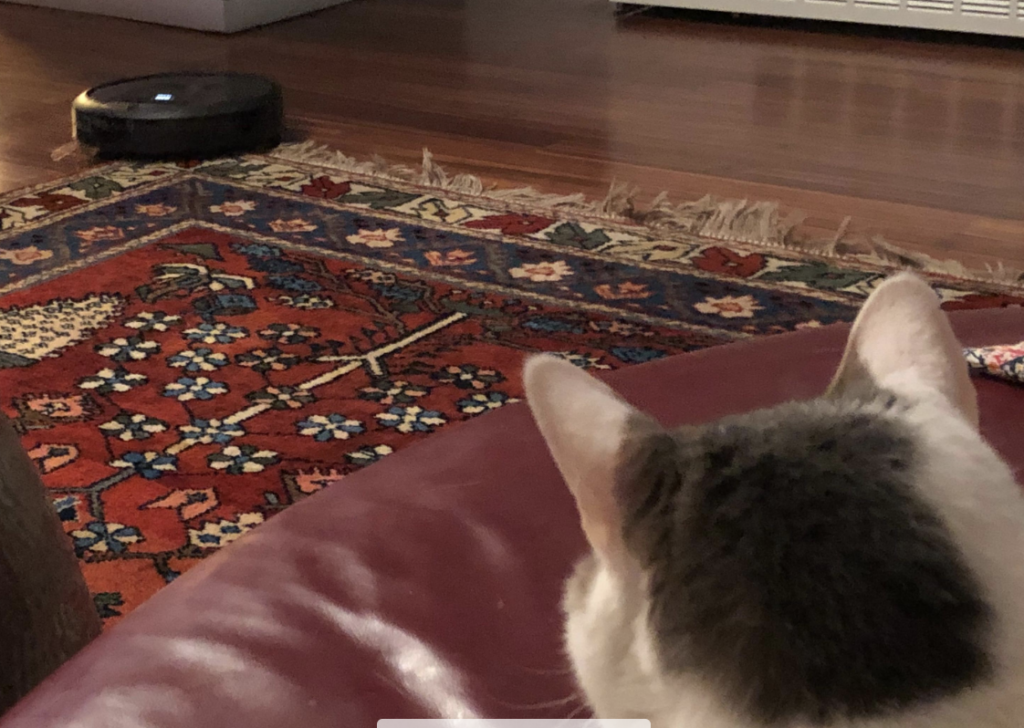 The Bad
One reviewer on Roomba's website was really disappointed with the Roomba i7's performance, especially when it came to pet hair. "I've had the i7 Robot Vacuum for a year and I am so disappointed with this product. I ordered it thinking it would be an upgrade from my previous Eufy and boy was I wrong. The main reason I wanted this product was to help keep my house free of pet hair. I have 2 dogs, a Pitbull and a Doberman, so their hair is short. I never had issues with my previous Eufy as far as dog hair, it was just an older model and needed to upgrade. The i7 is a lot louder, dog fur gets stuck between the silicone brushes and it is left in piles everywhere, the bin is never full because it's all stuck between the brushes."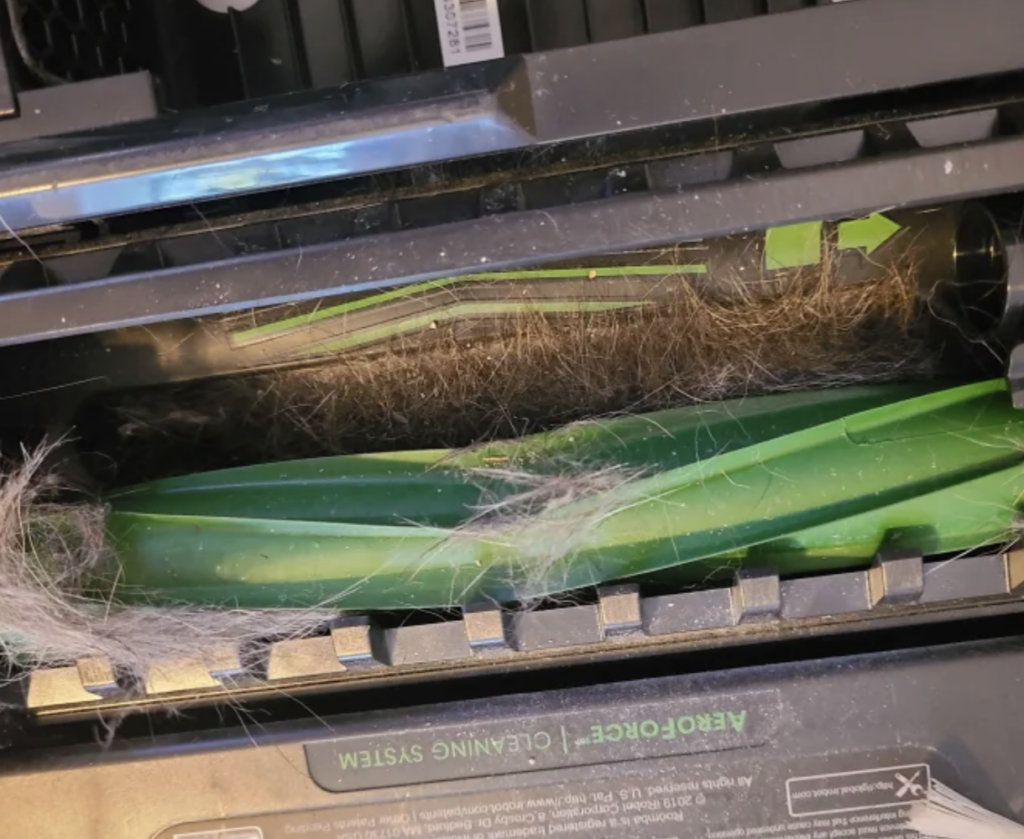 Another disgruntled reviewer had a similar experience with shed hair from her Golden Retriever. They exclaimed, "I would give this 0 stars if I could!" And then explained 'I am so disappointed in this product! I wish I would have returned it immediately because it is a waste of money. I have a golden retriever so I have to vacuum daily – I got this in hopes that I could use it on the off days I don't vacuum but it leaves clumps of hair everywhere. It does not pick up crumbs either – it literally does nothing but leave more of a mess and I end up vacuuming after to clean up."
Couples Without Kids Or Pets
---
You Should Buy The Roomba i7 If...
There are a lot of fantastic features that the Roomba i7 offers and for the right person/family this robot vacuum could be ideal. Ultimately, we think that his vacuum is perfectly suited to the young professional without small children or pets. The robot is proven to easily handle life's little messes, however, it falls short with some of the heavier-duty cleanups.
Thus, if you have kids coming home all dirty and muddy from their latest soccer game or a furry baby that is a heavy shedder you should look elsewhere for your ideal vacuum.
However, if you are a young professional that is barely home and wants to always make sure your space is presentable when you come back from a long day at the office, then the Roomba i7 could be the vacuum you need in your life.