Soon you'll be able to pay for your groceries with a simple wave of your palm at Whole Foods, find out how.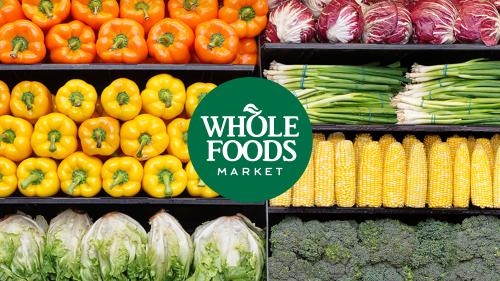 After being introduced to several Whole Foods in Seattle a year ago, the Amazon One contactless payment system is being rolled out to the grocery giant's stores in Texas. The system uses custom-built algorithms and hardware to scan a person's unique palm signature and provide a fast, contactless means of enabling everyday activities like payments at a store, presentation of loyalty cards, and secure entry at stadiums or workplaces.
At first, the new Whole Foods tech will require customers to register a debit or credit card with their palmprint. Customers can do this at a designated kiosk in participating stores. The process is said to take less than a minute. After inserting their card into a special device, folks simply need to follow the prompts to pair it with their palm signature. This is built-in real-time via computer vision technology. Once linked with the scanner, shoppers can pay for items by waving their palms over the device.
The optional payment system will debut at the Whole Foods store in the Shops of Arbor Trails shopping center in southwestern Austin. The company plans to add six more stores in the region soon after. This includes downtown Austin, East Austin, Domain Northside, and Gateway Shopping Centers, as well as one apiece Bee Cave and Cedar Park, Texas.
Speaking about Whole Foods' new palm scanning checkout system, Product Management Leader for Amazon's physical retail technology in Seattle, Thi Luu said the tech company built Amazon One to offer a quick, reliable, and secure way for people to identify themselves. Or authorize a transaction while moving seamlessly through their day. "Amazon One is all about making everyday activities, like paying at a store, easier and more convenient for customers," Luu said via Supermarket News.
According to cnet, Amazon One is already available at several Whole Foods, Amazon Fresh, and Amazon Go stores in California, Colorado, New York, Texas, and Washington, DC. The Texas rollout will make it the second region where every store has the option to use the palm scanner, after the Seattle area, Amazon said. The new system doesn't include Amazon's Just Walk Out cashier-less technology, which has been rolled out at some Whole Foods, Amazon Fresh, and Amazon Go stores.
As reported by CNBC in 2021, Amazon acquired the Whole Foods grocery chain in 2017 for just over $13 billion. At the time, the e-commerce behemoth said it hopes to sell the palm-scanning system to other companies very soon. They were also in active discussions with several potential customers. However, it's unclear if Amazon has signed any agreements with third parties at this time. But the company told CNBC that thousands of people signed up to use it at Amazon stores.
Meanwhile, as Amazon expands its palm scanning tech to Whole Foods, privacy and security experts have raised concerns about the danger of people handing over biometric data to companies. In response, the Seattle-based firm maintained that the system is designed to be highly secure. Additionally, it considers palm-scanning technology to be more private than other biometric alternatives like facial recognition.
---