Mcdonald's made four of its own limited edition gaming chairs dubbed the McCrispy, all of which will be raffled off in a UK-based Facebook drawing.
McDonald's is heating up this year. In fact, the brand is burning up the popularity charts in a fantastic way as it launched new Adult Happy Meals, nostalgic trick-or-treat bucket Happy Meals around spooky season, and just launched the McRib (for a wink, wink, nudge nudge, "limited time.")
However, we haven't seen a new sandwich or many alterations to the franchise's menu since it promised breakfast would be available all day (and… it wasn't). But after that little um, "misunderstanding," McDonald's was relatively silent on menu items.
Until this year, with much delight, McDonald's launched its Smokey BLT Quarter Pounder and its McCrispy Chicken Sandwich. Yes, McDonald's has officially entered the chicken sandwich race that Popeye's started a while back. How it will do, the jury is still out on that.
But, what we do know, is that McDonald's has just launched a gaming chair in conjunction with its lauded McCrispy. Yes, a gaming chair. So you can sit in your swaggy chair, do some online gaming with your bros, nom on some nugs, and your McCrispy. And, when you need to put your munchies down, you put them in your warming box–right in the chair. Brah! Dope.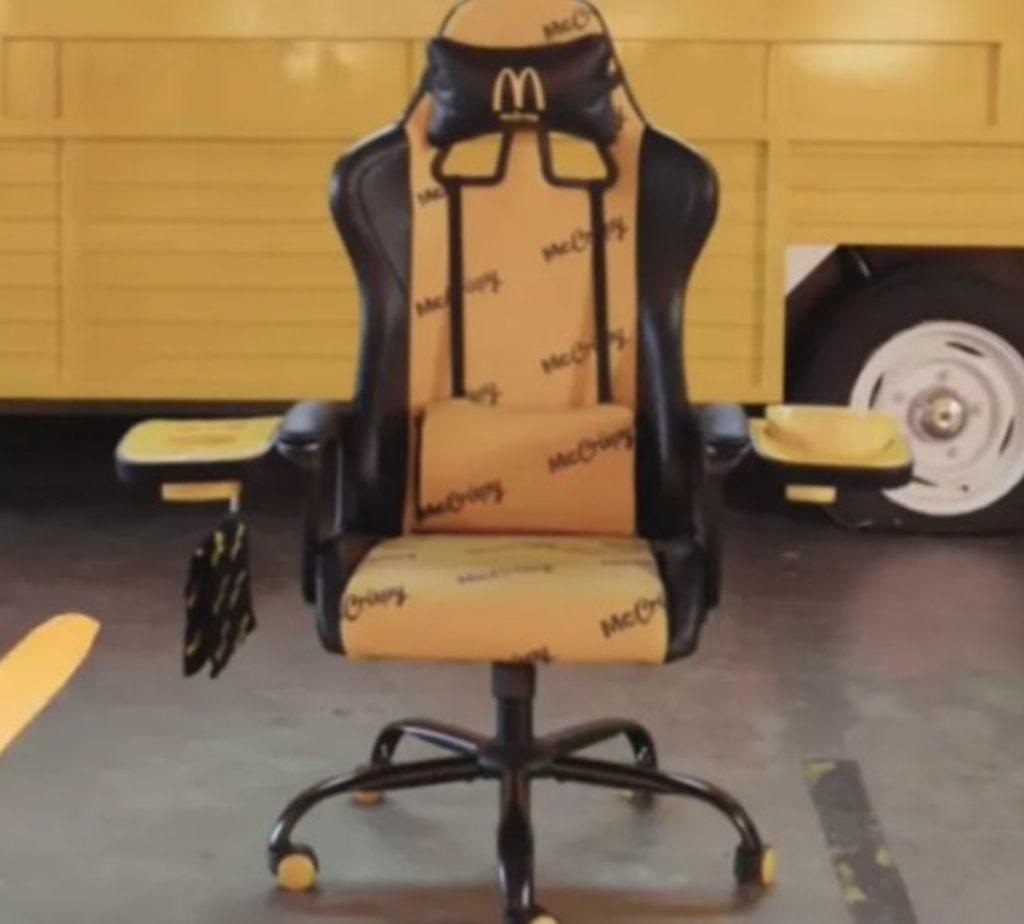 According to PC Gamer, the chair, (also called the McCrispy), will be given away in a Facebook giveaway in the UK. There are only four of these eye migraines in the world. I mean, McDonald's gaming chairs. There are four of which you can win won. If you really want.
ScreenRant explains that the yellow set is leather and is easily wiped down for when you get food, grease, and condiments, on your chair. This incredible chair also has cup holders (of course – did you even doubt it?) and a gorgeous McDonald's logoed headrest.
In addition (as if all that wasn't enough), you can customize the chair's arms depending on if you are right- or left-handed (you know, for easy gameplay). Don't get up from your game to get your food. You just stay right there. Now, you never have to see your kids. Ever. Or, your kids never have to see you. 
Back to this chair. Typically, gaming chairs feature cooling systems to keep you from getting overheated as you game. That's totally reasonable. eSports is a sweaty world. So, one wonders how this heating unit to keep your food warm actually works. Time will only tell.
Who are we to question this, anyway? As costs go up and more people stop eating in restaurants, McDonald's is bucking the trend. With strong earnings, the company is seeing increased traffic from more high-income clientele while families and those from the lower end of the income spectrum are choosing to eat dinner at home. 

As time marches on, will we see an actual mac and cheese Big Mac? Kraft's marketing team had fun trying to get McDonald's to add the cheesy comfort food to its sandwich. But, sometimes, you can't mess with a legend. But, you can give that legend a hot gaming chair (literally) so they don't ever leave their computer screen. Hey, in some games you just can't hit the pause button
---