The LEGO Lighthouse is a 2,000+ piece set that works just like the real thing.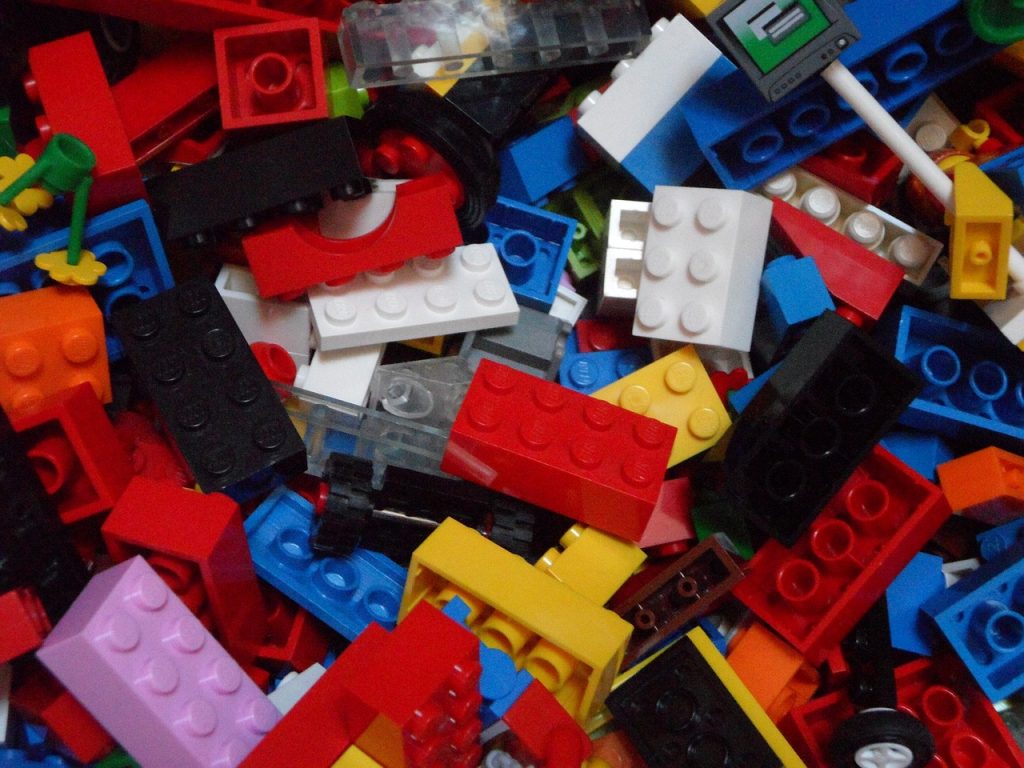 Despite what some people may try to say, LEGOs are not just for kids. That would hold true even if the company did not market a collection specifically to adults. But lucky for us, they do. And some of LEGO's adult-centered building sets are, shall we say, impressive. However, even though the innovation at LEGO was already ahead of the game, the company really knocked it out of the park with the new LEGO Lighthouse.
Anyone unfamiliar with this new set is in for a treat. Below, we will look at all the details and specifications about the LEGO Lighthouse. Dive in to learn everything you wanted to know about it!
THE LEGO LIGHTHOUSE IS ONE OF THE MOST IMPRESSIVE SETS
The LEGO LIGHTHOUSE on Amazon – $299.95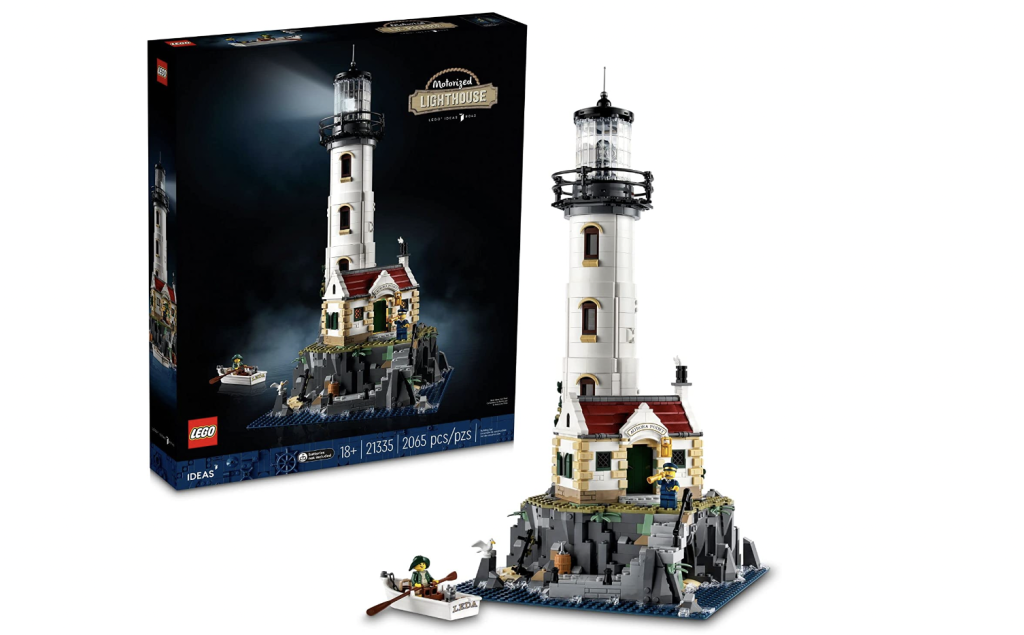 The LEGO Lighthouse (21335) is truly impressive. The building set officially got released on September 1, 2022. It is part of the LEGO Ideas program, a fan-based platform that helps support independent designers. The mind behind the LEGO Lighthouse is Sandro Quattrini.
IT WORKS JUST LIKE A REAL LIGHTHOUSE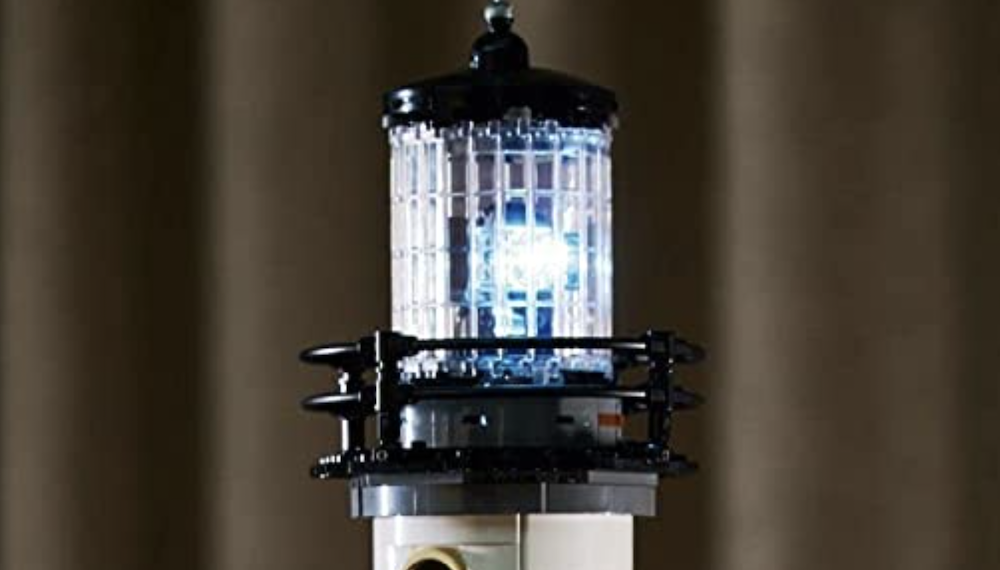 What features does this new set not have? The most impressive part about the LEGO Lighthouse set is that the company added a brand new element to the kit. It comes with a Fresnel lens that works, just like what you would expect from a real lighthouse. But the motorized lighting effects do not end at the top of the lighthouse.
There is a small cottage at the base of the lighthouse. And there is an actual light-up fireplace inside the cozy house. The roof of the house lifts off so builders can see the vivid detail inside, down to the dishes and a clock on the wall. Additionally, a winding staircase leads up to the top of the lighthouse.
Steps lead down from the cottage toward the rocky shoreline, where there is a special treat. The LEGO Lighthouse rocks come with a pirate cave complete with a treasure chest.
But as everyone knows, a lighthouse is not going to work itself. So, the intricately designed set has a lighthouse keeper figurine and a gray cat. Plus, there are even a few added visitors. The LEGO Lighthouse also has a sailor with a buildable rowboat (that floats) and a seagull.
THERE ARE 2,065 PIECES IN THE LEGO LIGHTHOUSE
The new LEGO Lighthouse is not little by any stretch of the imagination. It consists of 2,065 building blocks. And upon completion, it sits 10 inches wide (at the bottom) and a whopping 21 inches tall.
Additionally, the set includes a built-in motor to help it light up spectacularly. As with all LEGO sets, the LEGO Lighthouse includes detailed instructions to help eager builders get all the pieces in the right places.
When it first launched last year, the set was only available at LEGO stores or on the company's website. Thankfully, excited fans can now pick one up at many major retailers. The LEGO Lighthouse set runs $299.99. So beware of sellers hiking the price.
THERE ARE OTHER LEGO SETS IF THE LIGHTHOUSE IS TOO PRICEY
If that price point is a little too spendy at the moment (don't worry, we get it), some other options do not require the purchase of a kid's age set. LEGO has multiple plant, tree, and flower sets starting at $49.99. And bonus … even non-gardeners can use these to add "life" to a space! Or go super small and build city postcards for around $14.99.
Those willing to spend a bit more may consider a LEGO® NASA Apollo Saturn V or Taj Mahal for $119.99.
But for master builders, collectors, and connoisseurs who feel that price is not an obstacle, the world is your oyster. Sets like the Daily Bugle, Hogwarts™ Castle, Eiffel tower, and AT-AT™, will set you back a pretty penny. That said, the impressiveness of these items is well worth the investment.
The company itself designed some LEGO sets for adults. However, others (like the LEGO Lighthouse) came out of the unique LEGO Ideas studio.
LEGO IDEAS IS A COMMUNITY-DRIVEN PROGRAM
The new LEGO Lighthouse is a separate collection of fan-designed building sets, which makes them a bit extra special. LEGO Group launched the program in 2014 to capture community inspiration and innovation. And it has taken off rapidly since then.
The LEGO Ideas website tells fans to "Share your cool creations and creativity, enter challenges, showcase your proposals for new LEGO Ideas sets and vote for awesome models dreamt up by your fellow fan designers."
Anyone interested in designing a LEGO set can take part, just know it takes time. Start by building your idea with existing blocks. If what you need does not exist yet, take advantage of a virtual designing program that is perfect for this task!
Next, submit your design to the LEGO Ideas community. LEGO considers not just design innovation but also public support. The more likes a design idea gets, the better chance it has of getting realized. Once an idea gets 10,000 supporters (which could take many years), it will receive a review from LEGO experts.
---
If you love the LEGO Lighthouse and want to expand your LEGO Ideas set collection, it's an easy feat. There are already some spectacular building sets available to purchase from previous years, including Table Football (21337), which got released at the end of 2022. Other LEGO Ideas sets include a Medieval Blacksmith, LEGO® Ideas Fender® Stratocaster™, typewriter, and International Space Station.
However, some big ideas are in the pipeline for 2023 and beyond. Some LEGO-approved designs include a Viking Village, Dungeons and Dragons, Tribute to Galileo Galilei (GWP), and The Orient Express, a Legendary Train.
The sets initially get released on the LEGO website and at official LEGO stores. But eventually, some of them make it to major retail centers.
---