Crystal Cruise Line is now offering a 5-month-long (141-night) cruise that will take travelers to 70 different ports in 35 countries around the world.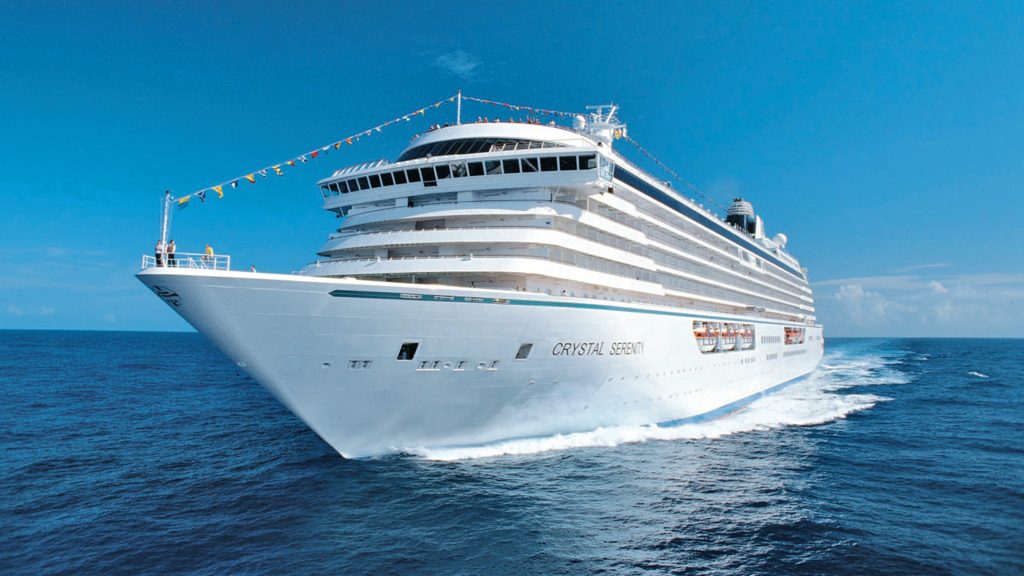 Luxury cruise line Crystal has been revived, and its ships are setting sail again this summer. The high-end cruise provider just announced that one of its new offerings is a trip around the world in 2024. Designed for die-hard cruisers who do not mind being on a ship for 141 nights, the world voyage will visit 70 ports in 35 countries.
The journey lasts just over 20 weeks, or nearly five months, and leaves Miami on January 18, 2024. It will stop at Grand Cayman Island and Cartagena, Columbia, then sail through the Panama Canal. The next leg of the journey involves stops at several Central American ports on the way to San Diego, where some passengers will originate the cruise before it leaves for Hawaii.
There are at least six stops at South Pacific islands, including Tahiti and Bora Bora. Passengers can disembark at ten beautiful ports in New Zealand and Australia before heading north to Bali, Singapore, and Sri Lanka. Passengers will cruise the Indian Ocean to visit the Maldives and Mumbai, India, then sail west to Oman and Luxor, Egypt.
A stop at the historic city of Petra in Jordan is next, followed by a pass through the Suez Canal. An extensive journey through the Mediterranean begins with a visit to Israel. Passengers will then enjoy a month of port-hopping between two dozen of the best Mediterranean cities, including Istanbul, Athens, Rome, Monte Carlo, Toulon, Barcelona, and Gibraltar.
The cruise has just two stops—and many sea days—after leaving the Mediterranean. It stops at the Portuguese island of Madeira and seven days later, visits its last port at Nassau, Bahamas. The cruise ship returns to Miami on June 8, 2024.
The 20-week cruise is on the newly refurbished Crystal Serenity ship. After Abercrombie & Kent (A&K) bought the cruise line in 2022, it refreshed the vessel with elegant, contemporary decor and artisanal finishes. They did the same for the cruise line's only other ship, the Crystal Symphony.
Crystal caters to wealthier cruise enthusiasts and the Serenity only holds 740 guests. This means that there is nearly one staff member per guest, a ratio not often seen in the world of cruising. In addition to upgraded staterooms and service, the Serenity now boasts an updated spa, gym, and pickleball court.
World travelers who wish to set sail next January will have to pay at least $68,000 per guest, for an ocean-view room without a balcony. Rates increase as rooms get larger and offer more amenities, topping out with the ship's most expensive suite. Anyone wishing to sail the world in the exquisite Crystal Penthouse Suite will find fares starting at $245,600 per person.
If the thought of cruising around the world appeals to you, but you're on a more realistic budget, don't despair. Many other cruise lines offer world cruises at much lower rates. Just keep in mind that while many of the ports are the same, the staterooms and dining options are a bit less refined than Crystal's offerings.
Travel+Leisure shared a list of ten of the best around-the-world cruise options for 2023 and 2024. Prices begin at $17,199 per person for MSC's 120-day cruise starting in Rome, Italy. Princess and Holland America also offer world journeys for under $20,000 per person.
---