Pickleball is gaining widespread popularity, particularity in the wake of the pandemic, due to its simple rules and social aspects.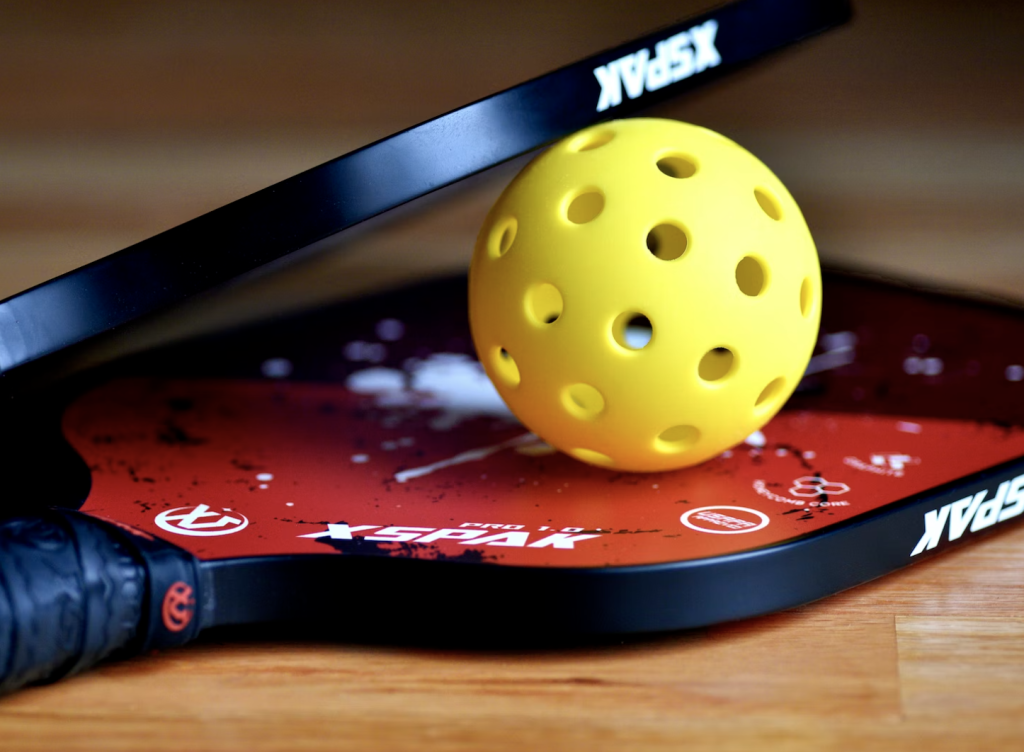 Thanks to the COVID pandemic of 2020 (yes, that was really almost three years ago), we all really missed, well, everything. Everything from working out in gyms, to shopping, to going out to eat. But getting our bodies moving and socializing seemed to be high on the "terribly missed" list. This is probably one of the reasons that pickleball–a new social game–is growing by leaps and bounds. 
According to CNBC, Pickleball has grown by literal leaps and bounds over the past year. Now, it is estimated about 36 million folks play the game regularly. If you've been living under a rock for the past two years, let's define pickleball. 
Pickleball is a friendly combo of tennis, badminton, and ping pong. The hype about pickleball is apparently true because regardless of how long you've been playing or how good you are (or not) it can accommodate any level. Allegedly, pickleball lore tells of three dads who invented the game because they were bored with traditional ball games. 
Pickleball is played with oversized ping pong paddles and a whiffle ball. The game is played until a team reaches 11 points. There is a bunch of rules, but it's fairly easy to play and understand. Pickleball is so popular, we are able to pinpoint that, at this point, about 4% of Americans have played the game in the past. So, since clearly during COVID, we missed being around people, moving our bodies in group sports, and food. So why not, at this point, combine them all together? 
Across the nation, pickleball courts combined with restaurant concepts are popping up all over. So you can eat some chicken or enjoy brunch while you also play Pickleball. The game is played on a court that is about the same size as a tennis court. But gameplay takes place closer to the net. 
So now, look for all types of local Pickleball restaurants to pop up near you. One concept, in particular, Camp Pickle, will roll out 10 locations this year. Entrepreneurs are investing millions of dollars in new restaurant/Pickleball combo entertainment spots. And celebs like Tom Brady and LeBron James are bringing much attention to the new sport as owners of professional teams. 
Teams are going for as low as the seven-figure range and are proving to be cherry investments for professional athletes who are either retired or close to it. With owners buying professional teams, sponsors have also popped up.
Familiar names like Sketchers, Holland America, and Anheuser Busch are in the game. In addition, tennis courts are being replaced by pickleball courts across the country. What's more, the CEO of Lifetime Fitness Clubs is an avid pickleball player. He has invested half a billion in assets into the game within his clubs. By the end of this year, the gym will have 600-700 pickleball locations across the country. 
In addition to locations at gyms, pickleball leagues are popping up all over, from your local church to your local YMCA. Companies are also investing in pickleball accessories and equipment and partnering with large retailers, like Walmart, for sale. Although the game is extremely popular because it's fairly easy to understand and play, one thing, in particular, has divided towns and neighborhoods. 

It's the pop-pop sound that the whiffle ball makes when it hits the paddle. Reports are that the sound is driving people bonkers. But, players chalk it up to growing pains. Maybe more people should take up yoga. It's silent and fun too. But you can't really eat chicken while you're doing it.
---