The best charcuterie board ideas include salamis and other cured meats, soft and spreadable cheeses, and fruits and nuts.
It's the holiday season, folks! Holiday parties are on their way, so what better time than now to get your charcuterie board ideas together? There are plenty of ways to go with your charcuterie board, so let's see if we can help out.
CHARCUTERIE IS FRENCH COOKED AND CURED FOR MEATS
If one was to go by the official definition of "charcuterie" one would see that it is just a fancy French word for cooked, cured, or smoked meats that include ham, bacon, sausage, terrines, galantines, ballotines, and pâtés. So, the best charcuterie board ideas are essentially meat platters.
But charcuterie boards have become very popular over the years and those who now make them have branched out from offering tasty meats to expanding to a whole lot more.
CHARCUTERIE BOARD IDEAS
MEATS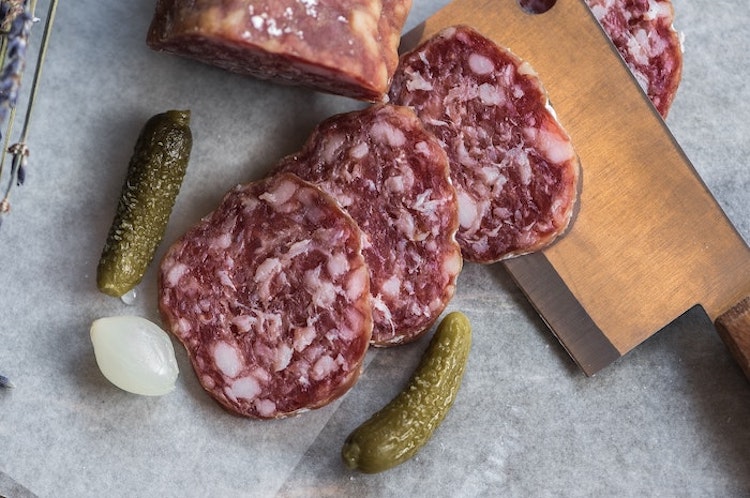 Salami – It is almost impossible to start some charcuterie board ideas and not include salami. Most folks love salami and it can be paired with just about anything from cheeses to other meats, all stacked on a tiny piece of French bread. There are plenty of different types of salami one can offer from Genoa to soppressata and finocchiona and served thick or thin, salami is always a great addition.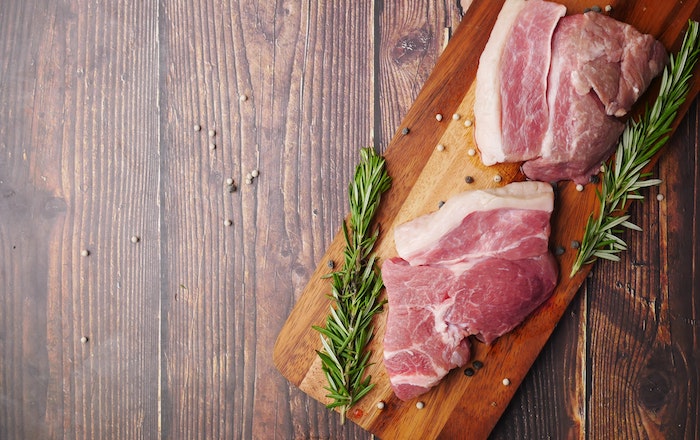 Dry-Cured Pork – From a charcuterie board ideas standpoint, the leader in the dry-cured pork clubhouse is none other than prosciutto. While that is the choice of many, don't count out the hams such as Iberico and country. Capicola is also a nice choice, and all of these can be found in the grocery store prepackaged or fresh from the deli.
Bresaola – In some ways, bresaola is like prosciutto in that is it both dried and cured. Where they differ, though, is that while prosciutto is pork, bresaola is cured from the beef top round. Not only will partygoers love the thicker texture with these charcuterie board ideas, but they will also like the deeper flavor they get from bresaola.
Other Meats – There are meats that are nice additions to a charcuterie board ideas list. If you are looking to include something more than just sliced meat, there are also meat spreads, rillettes, and patés. Rillettes are meats that are slow-cooked in fat until they become a spread. Patés are finely ground meat that is typically mixed with truffles, sauterne, and spices.
A wise charcuterie board idea would be to choose meats from each category. A nice section could include prosciutto, capicola, bresaola, soppressata, and mortadella, though why salami hasn't found its way into that selection is confusing. Grab equal portions of each and see which ends up being the most popular.
CHEESES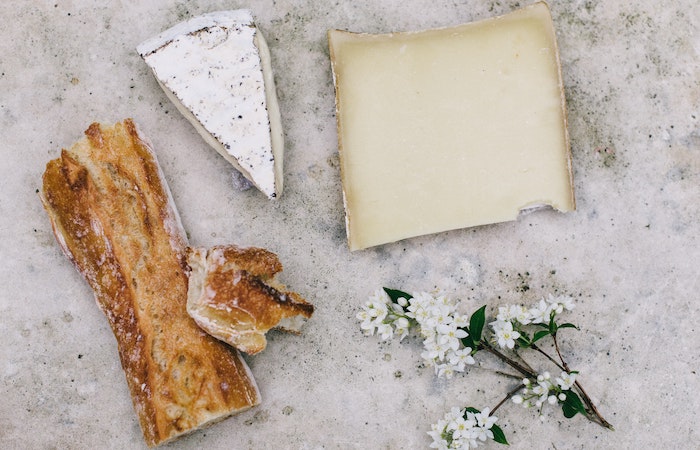 Another must-have as part of the charcuterie board ideas list is cheese. It is a compliment to the meat and just like the meat, there are many different ways (firmness) one can go with their cheeses. Let's take a look.
Soft-Cheeses – These cheeses are the spreadable type. Here one will find Brie, burrata, goat cheese, Camembert, and fresh ricotta. Don't feel like you need to go overboard with the soft cheeses when it comes to charcuterie board ideas. There are plenty more to choose from.
Semi-Soft Cheeses – These cheeses hit the charcuterie board right between the soft and firm cheeses. They include fontina, Havarti, Roquefort, Muenster, and Drunken goat. Creamy, yet not gooey.
Firm Cheeses – These types of charcuterie board cheeses are the ones that are firm enough that one can put something on top of the cheese and eat it. They include Gouda, Stilton, Cheddar, Gruyère, Manchego, and Jarlsberg. These cheeses are always fun to build with.
Hard Cheeses – The hard cheeses include Asiago, Mimolette, Parmigiano-Reggiano, and Pecorino-Romano. Best laid out on the charcuterie board in small chunks or already pre-sliced. They mix well with meats like bresaola or soppressata.
STACKERS AND SPREADERS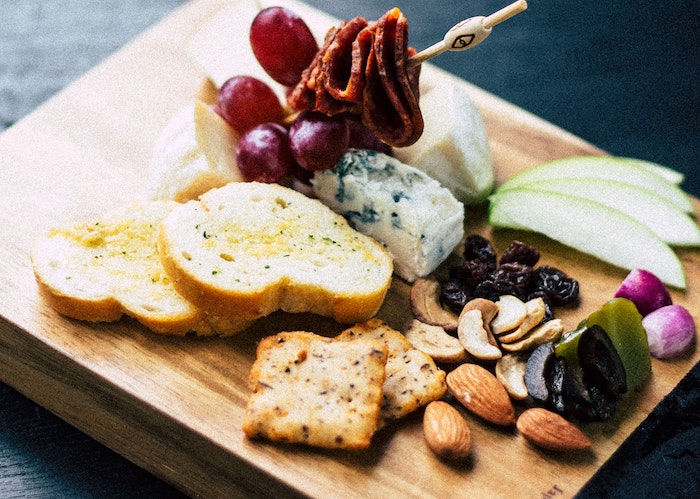 You can't have a charcuterie board if there isn't something to put the meats, cheeses, and spreads on. With that in mind, a charcuterie board needs some heft, as in pieces of bread, crackers, crisps, and even fresh vegetables. Let's see what we've got.
Bread – Here is where the charcuterie board ideas really start to shine. True, the meats and cheeses are the highlights, but a nice piece of bread is what sets them all off. The best boards will offer bread such as toast points, flatbreads, baguettes, Melba toast, crostini, or toasted pita and none of them is a wrong choice.
Crips and Crackers – The options here are endless. From gluten-free to salt-them-up. The charcuterie board can also include fruit or nut crisps.
Fresh Vegetables – Everyone loves fresh vegetables and here the selection is just as endless. Broccoli, celery, bell peppers, carrots, mushrooms, and radishes are easy targets that can populate the charcuterie board.
CHARCUTERIE BOARD EXTRAS INCLUDE NUTS AND FRUITS
We all know the charcuterie board all-stars are the meat and cheeses, but there are many other items that can be included. There are nuts, fruits, and spreads such as honey and fig jam. Here are a few more charcuterie board ideas.
Nuts – Let's go nuts here. You can include spiced or candied nuts, almonds, and roasted nuts, or even nut brittle. It's a great crunchy addition that is sure to liven up any charcuterie board.
Fruits – Grapes are typically the fruit highlight on a charcuterie board and a fan favorite. But there are also apple slices, strawberries, dried apricots, and dried cranberries. Fruit is always a winner.
Spreads – These are always fun to experiment with as you can include spreads like mustard, honey, pepper jelly, and fig jam are just a few of the popular spreads. If guests are into the sweet and hot type of spread, simply add some pepper flakes and honey. That should get some tongues wagging.
CHARCUTERIE BOARDS HAVE NO HARD AND FAST RULES
First off, building a charcuterie board can actually be a timesaver since they require very little, if any, cooking. They can also be a statement piece for your next get-together. They truly don't take much effort and even those who don't conder themselves creative people can make a charcuterie board look very special.
Another beauty about putting together a charcuterie board is that even though it can take mere minutes to set one up, you can put one together well ahead of the time your party is about to blast off and set in the refrigerator. It can wait for your company to arrive, then it can be removed from the refrigerator and left out for folks to graze and snack for up to two hours (nothing worse than a lukewarm charcuterie board.)
The final beauty of stepping up to the plate with a charcuterie board is the simple fact that there is no rhyme or reason. There are no set hard and fast rules as to what you can include on the board. Put as many favorite ingredients as you wish or whatever you think your guests may enjoy.
There are no wrong answers when it comes to a charcuterie board. But if you are not feeling too inventive and need some ideas, we might be able to help out with that. We are at least going to try.
---
Charcuterie boards ideas do not have to be wallet-busting and they certainly don't have to be overly fancy. Meats and cheeses with a selection or two of bread is a nice way to get started but one can always find discount items if one looks around. But it is the holiday season, and we know how some of you like to go all out, so hopefully some of the above ideas have helped.