The best soldering iron is a handy tool for anyone who is involved in stained glass projects. In all stained glass project, you will need a soldering iron that can heat up quickly and has the ability to retain the heat for a long period. But picking the soldering iron, sometimes, can be confusing and requires loads of time and effort. That's why we came up with these reviews of the best soldering iron for stained glass available as of today.
Below you will find something for all, suitable products for various range of budgets. We will have a closer look at the characteristics that make the best-suited irons for stained glass work.
We'll wrap up the things by listing some vital considerations before buying soldering iron for stained glass work and will also answer your FAQs. So, let's start with the individual product reviews of soldering iron for stained glass.
Best soldering irons for stained glass- Product Reviews
Hakko FX601-02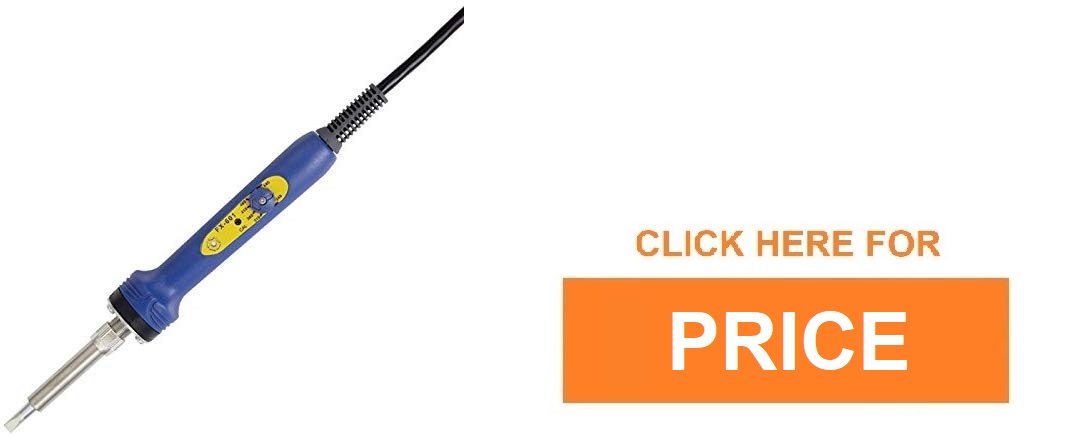 Our list starts with Hakko FX601-02 67 watts soldering iron. We find the iron very light-weight and efficiency is also great. It is well-rounded soldering iron that can retain the heat for long, small and medium projects.
Being a 67-watt soldering iron, it has everything that you will find in 100-watt iron. So, being a 67-watt product does not affect its performance at all.
On small and medium projects, Hakko FX601-02 is perfect to use. The adjustment of temperature is simple and most importantly precise, as most soldering irons are weak in retaining the adjusted temperature but we didn't find anything wrong with this soldering iron.
The heat-retaining capabilities make it ideal for stained glass work and add value to user experience. During testing our experts found the cleaning process excellent, so another plus.
The highest temperature of this iron is 540 degrees Celsius in no time. It comes with a regular-sized tip, and you can replace the tip with any T19 series tip. It is the best iron for regular use.
Among all these plus points, we came across a few minus points as well that we would like to mention here. The biggest drawback remains its inability to work on commercial-grade projects. As for the durability, the feedbacks are also not that good, but we didn't find any problem in using this thing. So keep that in mind.
Article continues below headlines
---
As compared with other soldering irons in this list such as Weller 100Watts and Studio Pro, this is just the best for small and medium projects of stained glass. With the matchless heat-retaining capabilities and temperature adjustments, we would definitely recommend this product.
Weller WLC200

The Weller 200 80-Watt is a stained glass soldering station. Since long it is offering excellent performance and value. Let's see how:
Weller is a well-known and reputable in this industry. This WLC200 is not much different in most regards.
The quality of this soldiering station is quite impressive. This soldering iron features a power output between 5 to 80 watts. Enough I guess?
The tips are of copper core and iron with a nickel and chrome coating. As per our experts, these are well-made and suitable for various projects. Around 3/8 and a featuring a chisel shape, the tip is anti-rust as well. As for the temperature, it can reach up to 900°F.
Weller's soldering station is quite practical and handy. Cleaning the tip of the iron is effortless, and the stand works perfectly and you can place the iron into its holder quickly. We found the built-in sponge useful as well.
It comes with two tips, a pencil tip, and a chisel tip. Weller gives a very firm 7-year warranty that strengthens the fact that this machine will last for long.
During our use, we found the chisel tip can be a little large for some fine stained glass projects. So, if you are using it on any detailed oriented project, you may have to look for a replacement. But this is only a minor drawback. Another thing that we found little odd is that both the iron and stand itself need the power to work. Other than that is a perfect and quite affordable soldering iron.
As compared to others, this soldering iron station is perfect for stained glass work. Heat retention capabilities are not great as we saw in Hakko FX601-02 but far better than other products mentioned on this list. Even if compared to Hakko, it is quite quick and you will not have any difficulty in your stained glass work.
Weller W100PG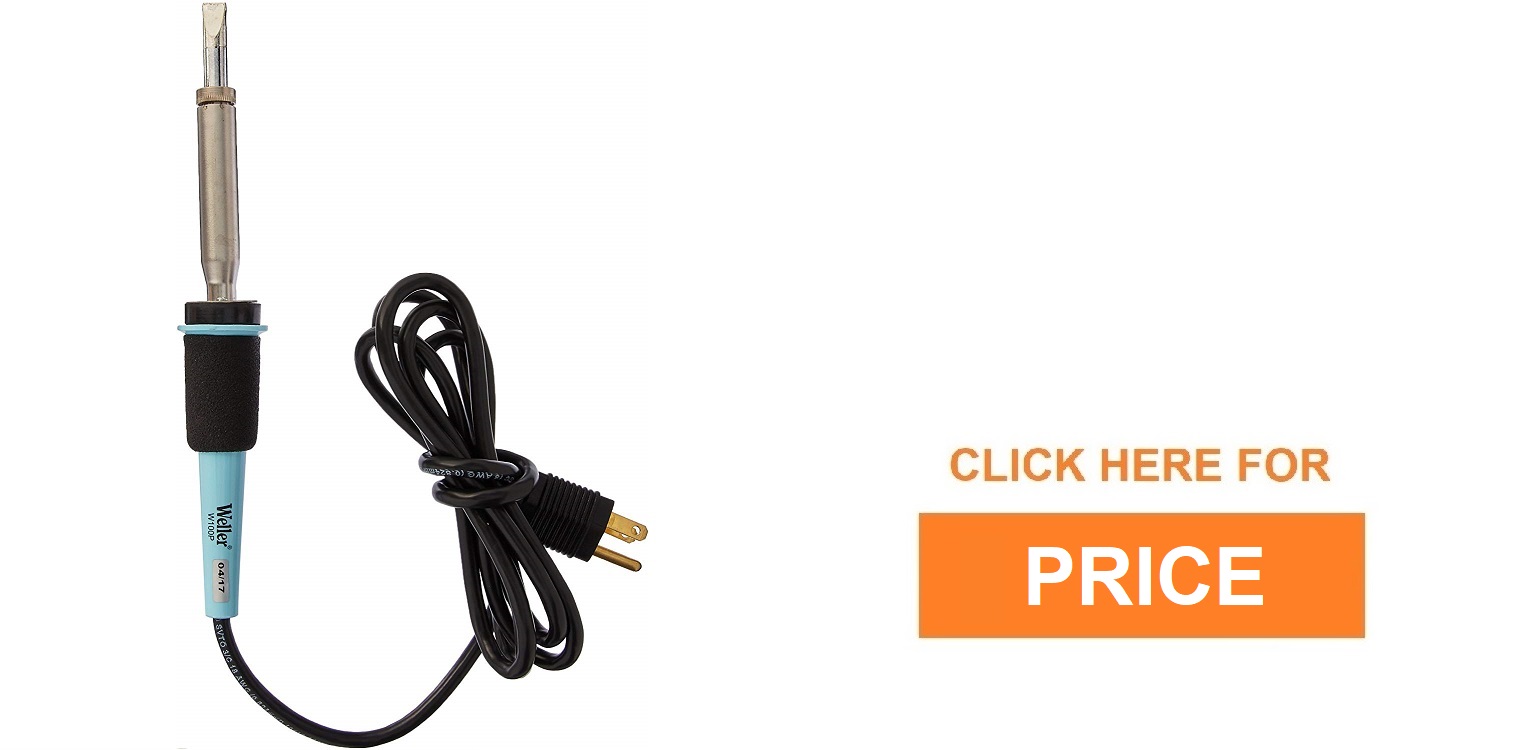 Next, we have another Weller product this time it is the W100PG. So, without praising Weller much let's get straight to point.
This heavy-duty soldering iron can handle anything and is suitable for all types of stained glass projects. It features a 100Watts Nichrome heater, and with the adjustable temperature control system. You can set the temperature between 600 degrees Fahrenheit to 800 degrees Fahrenheit. The adjustment of temperature is easy and quick and suitable for glass use.
This Weller soldering iron is easy to use and the weight is quite light so you will not have any problem while using this thing. As for the design it features metal element design, which works without any base station. The quality of parts is great and it will serve you for quite a long time even if used ruggedly.
The heating is fast and it can reach 700 degrees Fahrenheit in only 110 seconds and allows you to complete work timely.
As for the downsides, the major issue that we would like to mention here is the smoke problem in long working. When you are using it for hours let's say more than three hours it can smoke a bit. But this also depends on your usage.
As compared with Hakko and Weller's own WLC200 it is a little below in terms of long working and also for the tip cleaning. Cleaning of the tip is not quite as good as you will find in both these products. But as compared to Weller's SPG80 and Studio Pro it is a lot better.
Weller SPG80L Marksman

Weller SPG80L Marksman Stained Glass Soldering Iron is an 80 watt unit with a max temperature of 900 degrees Fahrenheit. It comes with 1/4″ and 3/8″ chisel-shaped copper tip. So that makes it perfect for stained glass work.
This Weller's soldering iron includes three heat-resistant lights as a power indicator. The grip of the handle is quite comfortable and you can use it for hours without any problem. Not only this, we found the control and stability of soldering iron perfect as well. The included power cord is handy and with an overall length of around 5 feet, you can easily reach your projects.
As for the drawbacks, its major downside is that it lacks a temperature adjustment control. It works only at 900 degrees Fahrenheit, no option to choose. Another thing that's needs improvement is that this soldering iron is not suitable to use for long projects as it has no temperature adjustment mode. The durability also needs some improvement. This can be good for small projects only and some minor jewelry work but not for heavy-duty use.
In comparison to other products in this list, it is far behind because it is a simple soldering iron without any added feature and most suited for beginners. If you are new to stained glass soldering this can be a good choice.
Studio Pro Hobby 100 Soldering Iron

Our last pick is the Studio Pro Hobby soldering iron. Working on 100Watts, this Studio pro soldering iron is Amazon's Choice so let's check out is this enough to recommend.
The first thing that we would like to mention is that it is the most affordable option not only in our list but also in the market. So, for that full marks. The studio Pro Hobby soldering iron features 1/4″ iron chisel style iron tip and is suitable for stained glass.
The grip of this soldering iron is quite comfortable and we did not find any issues while using it. So, as for the control and long working use, it is perfect.
This Studio pro is light-weight and you can use this soldering iron with temperature control devices. That's a major plus, a feature that you will find only inexpensive ones.
With 100Watts, it can reach up to 1000 degrees Fahrenheit in no time. But that's your only option, you can change or adjust the temperature. Lastly, the product is backed by a 1-year warranty. That's peace of mind and you can buy with confidence.
As for the drawbacks, there are a few major issues. First, the durability is not up to the mark and needs improvement. Second, no temperature means it is not suitable for heavy-duty uses whether it is a stained glass project or any other project.
The grip of the handle is good but the handle itself is not long enough. This can any major issue while you are using it. Heat retention is also not as good as compared to other irons that we have reviewed above.
As compared to what we have seen above this Studio Pro lacks almost everything other than that it is most suitable for beginners and for light uses. The main difference between Studio Pro, Weller and the Hakko FX-601-02 is temperature adjustments and efficiency.
HOW TO CHOOSE THE BEST SOLDERING IRON FOR STAINED GLASS
Before purchasing your new soldering iron for stained glass work, here are some vital considerations:
The efficiency of a Soldering Iron (temperature & Watts)
This pertains to the power capacity of a soldering iron and the degrees it can heat up to. An efficient unit means that it should be perfect when you are using it. To check out the efficiency of soldering iron, take into account the wattage and the voltage, and compare the soldering with others in the same range.
The power of iron is measured in wattage. Most soldering irons are between 60 to 100 watts hence perfect for stained glass use. Commercial soldering irons have the power of 200 watts or more.
For stained glass projects, you must consider the Heat retention and recovery time as well. In Stained glass projects, a soldering iron that can retain its heat is the best.
Weight of a Soldering Iron
Another vital consideration is the weight of soldering iron. Light-weight soldering irons for stained glass are the best because you can easily carry them and won't tire out quickly while crafting. Being a light-weight unit does not mean that iron should compromise on qualities and features. So, out before purchasing.
How comfortable is your New Soldering iron?
Comfortability refers to the handling and ease of use of the unit. Soldering Iron that is comfortable to handle and simple to use will allow you to complete your projects without any trouble. Not only this, if the iron is comfortable you can work on your projects for extended hours. So, look out the iron that is effortless and straightforward to use. It's always better to opt for the soldering iron that is simple rather than going for the unit that you can't understand or use comfortably.
Temperature adjustment feature
In stained glass projects, you will have to change the temperature frequently. So, for this purpose, the ease of modifying the temperature of your soldering iron is vital in stained glass projects. So ensure that the soldering iron you are about to buy includes this feature.
Accessories
When about to buy your new and the best soldering iron for stained glass, it is essential to have a few additional accessories. Such as a sponge or a brass coil to keep the tip of iron clean. Similarly, an iron stand is essential to keep your soldering iron in easy reach.
Tips of iron
There are various tips available for soldering irons. There is an angle chisel, conical, chisel tip, and point tips. All of these have various sizes. As for the stained glass work, the chisel tip is the most common and perfect tip to use.
Element Material
There are two types of elements in soldering irons. The first type is, Nichrome which features a compressed wound and resistance wire giving you the output due to the electrical resistance.
Second is the ceramic element that almost works in the same manner, but it heats much closer to the tip of the iron.
The nichrome element can retain the high temperatures for a longer period, whereas ceramic elements lose heat faster.
Ceramic element-based irons heat faster than Nichrome elements but they can't retain the heat for long. Usually, Nichrome irons are expensive as compared to ceramic irons.
Brand
Branded products are always safer and reliable than any local product. The branded soldering irons are made of high-quality and will serve you for years. Whether you are an expert or beginner, we will recommend opting for the branded soldering iron.
Safety
Soldering a stained glass requires concentration, full involvement and is a very sensitive task. So, all the safety measures should be fulfilled to keep you safe. That's why it is good that apart from your safety precautions, the device also guarantees some safety.
Price
Finally, price or your budget is also a key consideration and will help in determining whether the soldering iron offers a great value for your money or your needs. The best soldering iron for stained glass work is very much affordable.
Though there are substandard and cheap soldering irons available as well we will not recommend using them because they are not suited for stained glass projects.
FAQS
How watts affect stained glass soldering?
The ideal temperature for soldering stained glass is between 360C and 410C or 680F to 770F. For beginners, 360C is perfect as it allows you to work steadily.
Watts and temperature can have major impacts on stained glass soldering. If you are working fast but the temperature or Watts is low your pieces will not bond perfectly. Similarly, if the Watts is high and your pace is also high you can end up burning or anything similar to that. So, we can say stained glass soldering requires a perfect balance of timing and temperature.
Another notable point here is that one temperature doesn't work for all stained glass projects. You will have to adjust the temperature frequently when soldering stained glass.
How to clean the stained glass after soldering
Cleaning stained glass after soldering is a must for the finishing of your project. By cleaning, we didn't mean just removing the flux. It means with flux you should also remove any rust or corrosion that might build-up.
To clean flux and other residues from a stained glass you can use special cleaners or detergents such as Neutra 5000 or Neutraline that will not only remove flux but other all residue that has build-up. For this purpose, some other cleaners are ammonia, dish soap, and whiting.
How to polish stained glass solder?
For the final touches and smooth finishing of stained glass work, polishing is a must. It will not only provide the glossy look but will also remove any remains (if any) of tarnish from the solder seams.
For proper polishing, you can use finishing compound and polish. Finishing compound is used to eradicate residue from seams whereas Polish will enhance the look of your project.
Steps for Finishing Compound
Pour finishing compound on your craft. Ensure that you use finishing compound on the dry project. Use sufficient quantity so that whole glass, frame and solder seams get covered.
With a piece of soft fabric, spread it on your stained glass work.
Once it dries and turns into a white film, use any soft bristle brush or fabric to buff off the finishing compound.
Steps for Applying Polish
Apply polish on frame and solder seams.
Let it dry, when it is dried, you can buff to get an amazing luster with any soft fabric.
Repeat in the same way on the backside of your project.
What are some stained glass soldering techniques?
Stained glass soldering is controlling the heat, angle of iron tip and timing. Below please find some basic but valuable techniques of stained glass soldering.
Stained Glass Soldering Techniques
When soldering focus just above the tip, not on the tip. This is much similar to driving a car, we focus on the road ahead of us not on the road.
Don't hesitate to change the position or angle when soldering. In fact, in most cases, you will have to work from different angles and directions. This is also important because if you are continuously working in the wrong position you can't work effectively and make the process more difficult.
This one is a little difficult but you can try. Try to hold the soldering iron just like a pen and try to draw towards yourself. This method gives exceptional control once you have mastered it, but not all people are comfortable with this.
To make a smooth seam, drop blobs beside the seam and join them together. This way you will not have to feed the solder regularly. This can be helpful if you are new to soldering.
You may not get the desired results at the start but keep practicing and surely your soldering techniques will progress with the time.
How to patina stained glass solder
After proper cleaning of the solder seams. We will recommend you to wash your glass piece with Patina Remover and warm water. Let it dry, and apply a patina.
It's always safe to wear gloves when performing the patina work that will save you from any unforeseen damages.
Now, by using a cotton ball or gauze, spread the patina on the solder seams. After it is dried, rinse it with warm water, then dry it with a soft cloth.
Check the solder seams. If you achieved the desired results stop here or you add a little salt to the patina and spread again on the seams.
Next, polish it with carnauba wax to protect the solder seams. It will create a protective barrier and will slow down the oxidation process.