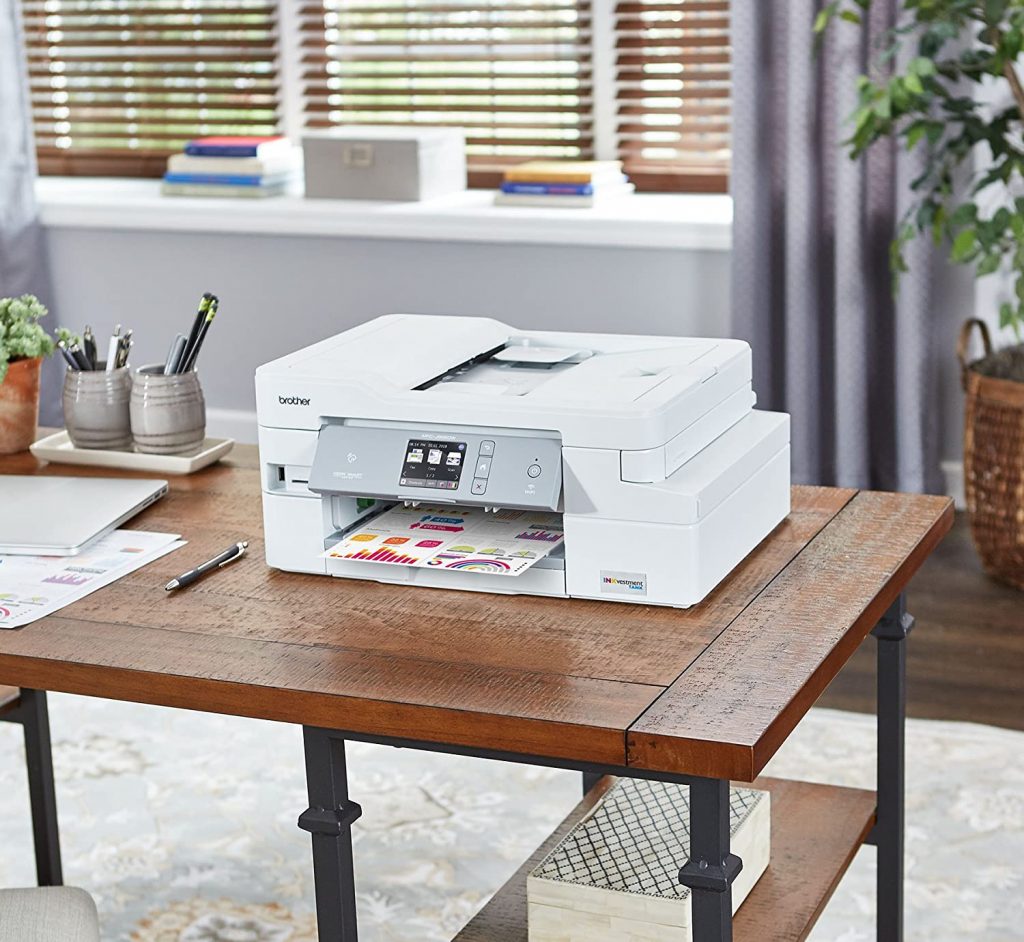 As the world continues to reconfigure itself under the guise of the COVID pandemic, businesses and how they conduct themselves are also in flux. Numerous companies, big and small, have been forced to scale back mightily, sending many of their workers home to set up shop. There are certain pieces of equipment necessary to make your home workplace efficient, from a solid desktop computer or laptop, a nice monitor, a good desk and chair, and yes, even a good printer.
Now you may be asking yourself if I am no longer in the office and now working from home, why would I need a printer? Well, depending on the work you do, hard copies may still be in need. Just because you are at home working does not mean the occasional in-person meet-up isn't possible. Hard copies may be part of that meeting.
Many people work better with hard copies. A good, solid printer helps. Besides, just because you may not use your printer as much for work, there are other reasons to have a good one at home. You may have a student who needs to deliver homework. You may have a side gig with photography and need a printer that can deliver outstanding pictures.
Printers also have other functions. They can scan, copy, and even fax, making whatever business you have a much easier task. Some printers are built for high performance. Maybe you need a simple black-and-white laser printer for document printing.
There are plenty of great printers out on the market today, so we are going to try to steer you in the right direction. We are looking for printers that offer everything you might need in one.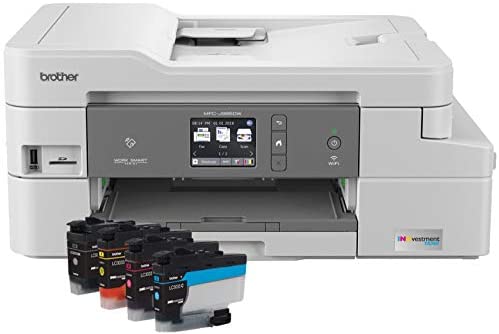 WHY WE LIKE IT – There is "all-in-one" and then there is the Brother INKvestmenttank all-in-one. This one is a beauty. It handles all the basics – print, scan, copy, and fax – while also allowing you to print from just about any mobile device. You can use AirPrint, Google Cloud, WiFi Direct, or even Brother's own app to print any document, spreadsheet, or picture.
The inkvestment system uses re-engineered ink cartridges that hold more ink to lessen the refill blow. This system also has an internal ink storage tank for uninterrupted printing. Brother's intelligent Page Gauge informs you of home much ink you've used and how much you have remaining, taking all the guesswork and surprise out of the equation.
This Brother printer might not be the fastest on the market, cranking out only 12 pages per minute, but they are 12 glorious pages.
PRICE – $399.99 on Amazon. You may find it less expensive on Brother's website when in stock.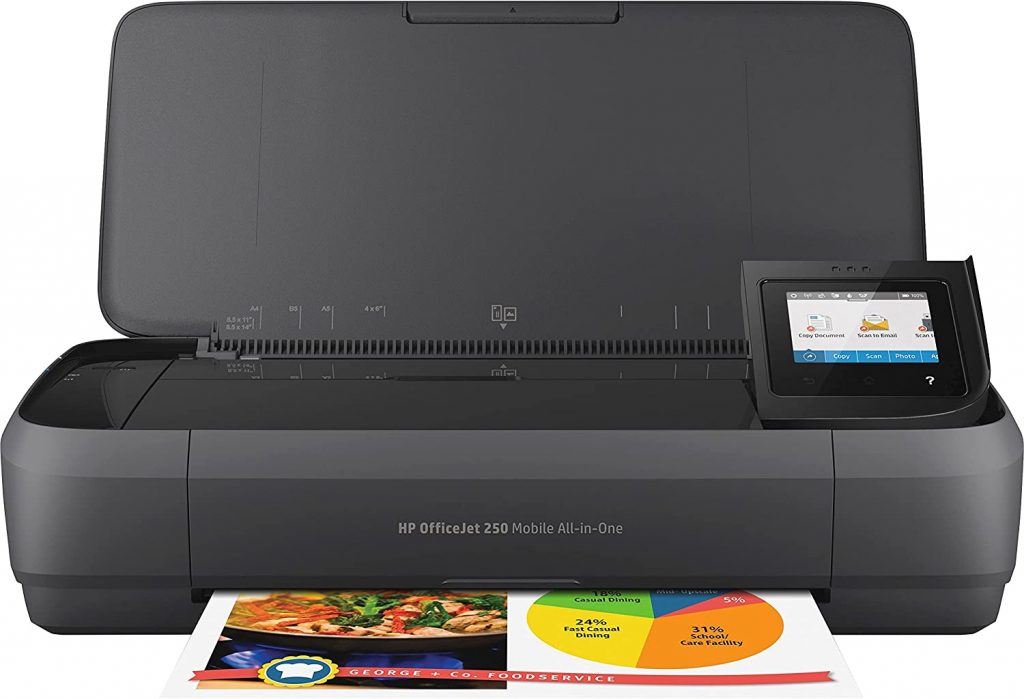 WHY WE LIKE IT – The title says it all. This HP is portable. Yes, you can take it anywhere but don't let its diminutive size fool you.
The HP Officejet 250 is one hard-working printer. It can scan, copy, fax, and print with the best of them as since it's a mobile printer, you can print from virtually anywhere. Connect with the model's Bluetooth technology and you are off to the races.
If you are on the go and need to print, fear not. The long-lasting battery makes for minimal charging interruptions. When you do need a recharge, plug it in and in 90 minutes you will be back fully charged and ready to print.
This printer comes with a 2.65 color touchscreen to easily help you with any task you are trying to perform.
PRICE – $419.99 on Amazon.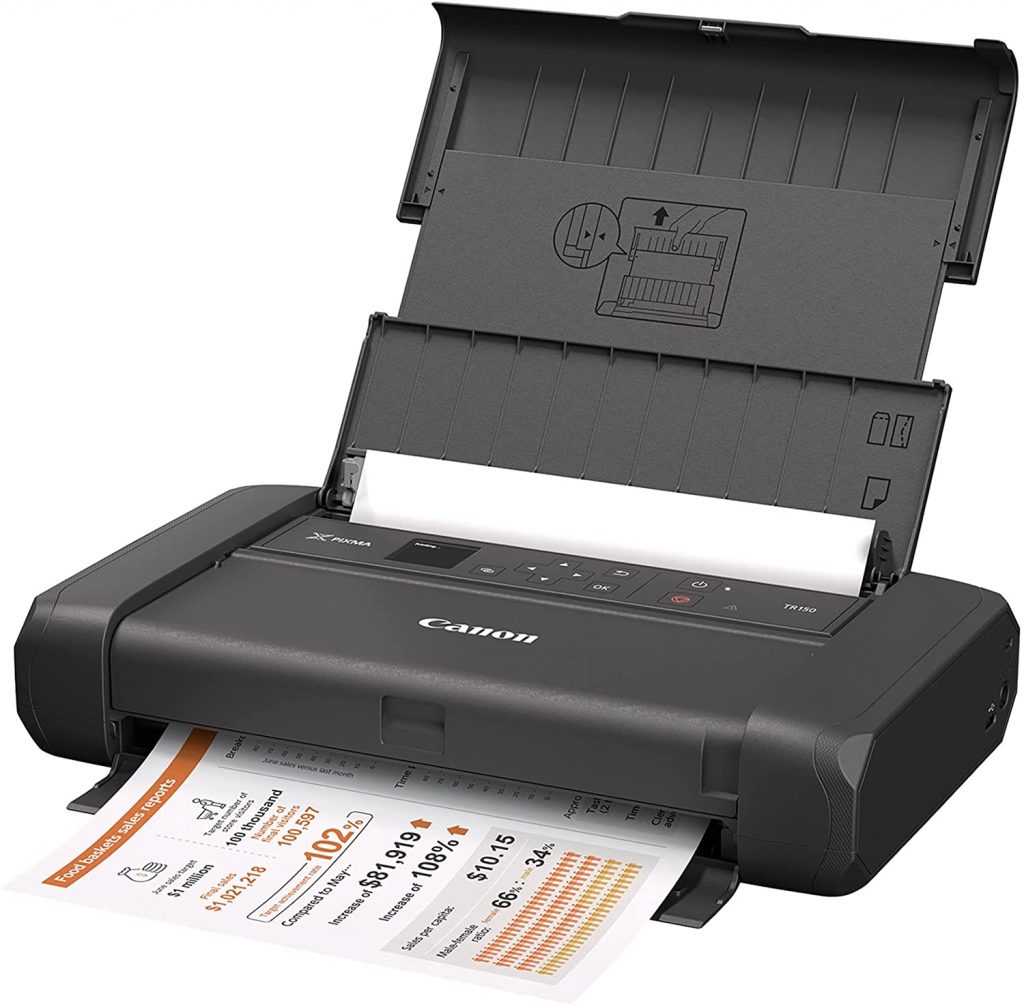 WHY WE LIKE IT – The Canon Pixma TR150 is another portable option that won't disappoint. Especially if your business has you on the run. Very compact and lightweight, the TR150 is a breeze to use.
The model comes with a sharp 1.44" OLED display to guide you through any printing process. You will have numerous wireless options to print from that include Canon's Print app, Apple's AirPrint, the Mopria Print Service, and Google Cloud Print.
The Pixma also offers an optional battery that is sold separately, but if you are on the go with your business, it would be a smart investment.
PRICE – $344.33 on Amazon.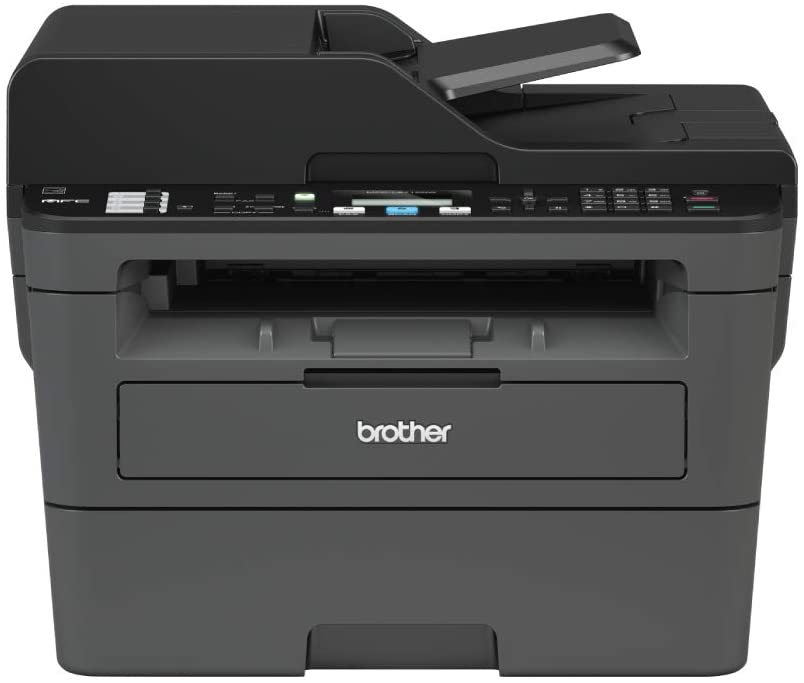 WHY WE LIKE IT – Sometimes color printing is not necessary. In fact, there are plenty of businesses that only require black and white documents, so this Brother Laser Printer would be perfect.
Just because this laser printer only prints in monochrome doesn't mean it doesn't have the other necessary functions that make for a good device. You will still be able to print, scan, copy, and even fax with this beast.
Speaking of a beast, one of the main attractions to this Brother is that it is one of the fastest on the market, printing up to 36 pages per minute. This model is also flexible in the variety of paper and sizes it can accommodate.
PRICE – $219.99 on Amazon.
Article continues below headlines
---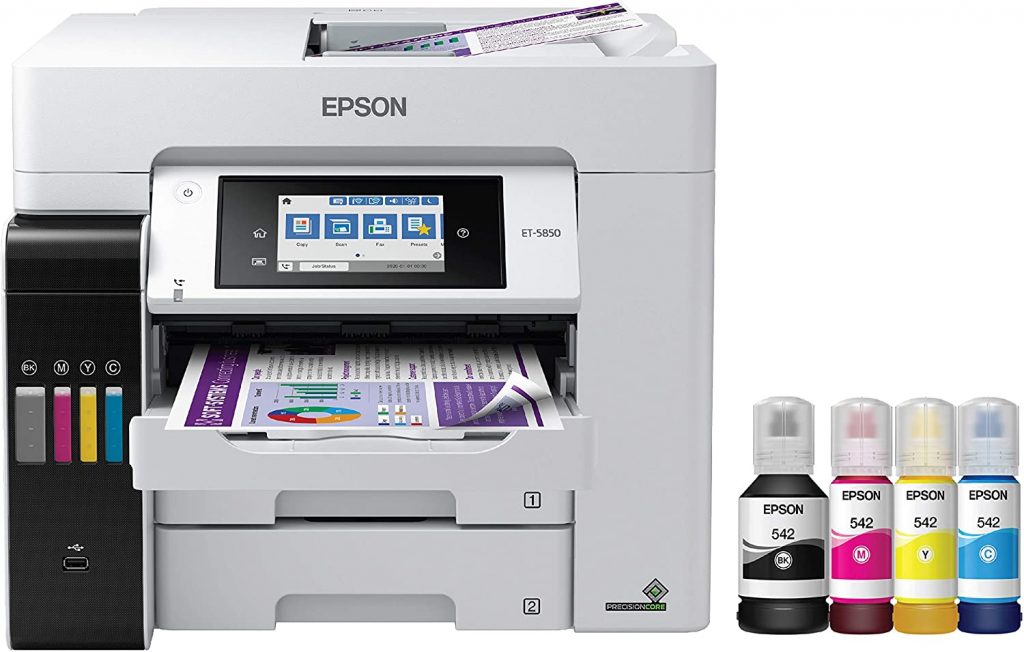 WHY WE LIKE IT – We saved the Cadillac for last and like a Cadillac, if you can afford one, they are great to have. Where do we start?
Let's start with the basics. The EcoTank Pro 5850 can print, scan, copy, and fax. It will allow you to do this wirelessly or for an even faster result, you can hook this printer up by ethernet.
Now, let's look at what makes this model so special. First off, if you want your documents quickly, the EcoTank will crank them out at up to 25 pages per minute. Not bad for a non-laser jet. You will also be pleased with the finished product as the EcoTank promises print-shop quality.
They are able to get this print-shop quality by using Epson's DURABrite ink and here is the real beauty of this option. It comes with replacement ink that will allow you to get up to 7,500 pages in black and white or 6,000 pages in color. What this also means is that you will save up to 80% of normal ink cost with EcoTank's replacement ink.
Yes, the EcoTank is pricey, but in the long run, when you look at how much money you'd spend on replacement ink, this may be one of the best investments you could make.
PRICE – $1,049.88 on Amazon. You may also find it less expensive on the Epson website when they are in stock.
FINALLY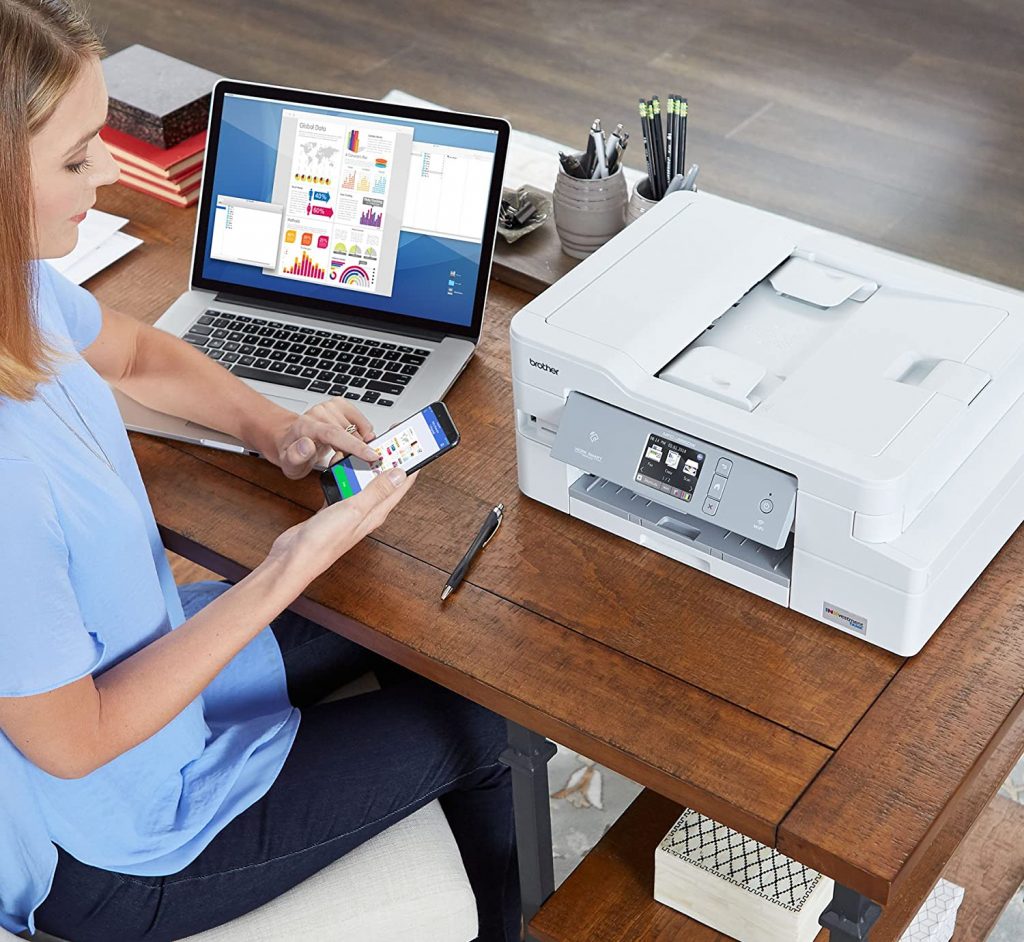 The one thing we don't like about a number of today's printers is the ungodly cost we see with ink cartridges. They seem to be smaller and smaller as the prices rise higher and higher. You don't get much out of a cartridge and after what seems to be minimal printing, you are in the market for more ink.
Printer manufacturers are starting to catch on to consumers' unhappiness. Now, instead of constantly purchasing replacement cartridges, you can pay a monthly fee that will see plenty of savings on ink. You can set up how much you pay monthly by your monthly output. Some of the higher-end options will keep track of your monthly use and also adjust the price accordingly. Comparatively speaking, especially if you're into high output printing, paying monthly can save you a bundle.
Whether it is for work or for personal use, a printer can be an important part of your life. You want to make sure you have a solid one that won't cost you a lot of money on the back end. The above suggestions may fit those needs.