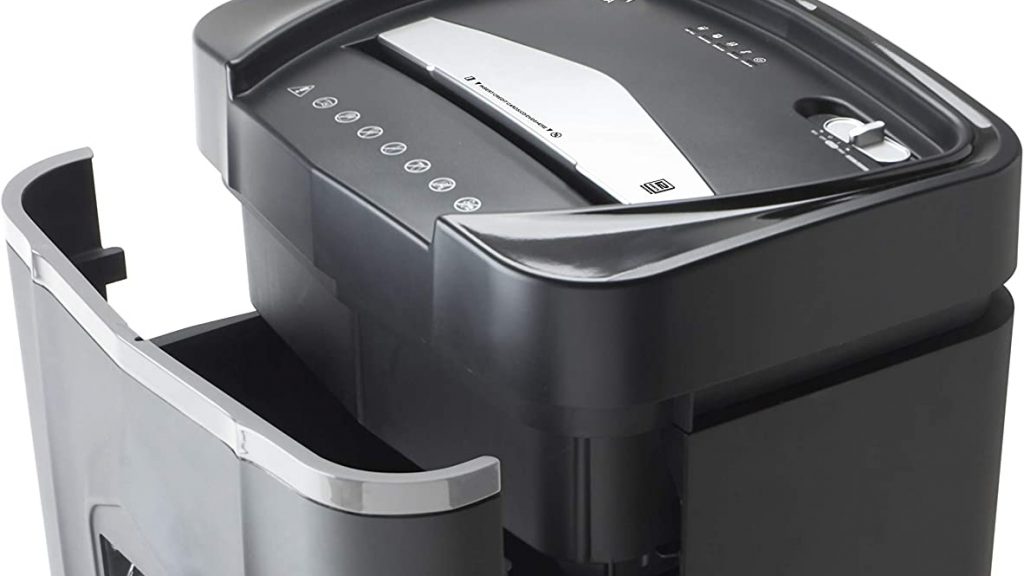 You've finally got your home office set up. At first, the COVID pandemic made sure that returning to a normal way of work was going to be a long time coming, so adjustments had to be made. You got that best standing desk, you got a much-needed printer, you even went as far as finding that top ergonomic desk chair to save the wear and tear on your back. Everything was set. Almost. You just don't have the best paper shredder.
Paper shredders are becoming an important way of life, whether you need them for your home office or just for personal use. With identity theft on the rise, the importance of shredding private and/or sensitive documents is at an all-time high. We all know that paper shredders are not a glamorous piece of equipment, but they are incredibly important. There is now a large ranger of makers and models in the paper shredding business, so sifting through the best of the best may be a time-consuming issue. This is why we are here.
So, what makes for the best paper shredder? In the past, the best paper shredder often was a big, bulky, and noisy device that could take up more room than necessary. Now, the best paper shredder can be compact and quiet, fitting neatly into any home office. Even better news than size and noise is the fact that the best paper shredder can be found much more affordable. The affordability is a selling point, as are the features many of the best paper shredders employ. The good ones offer advanced shredding techniques that include the ability to do their thing to credit cards.
Let's take a look at some of the best paper shredders on the market.
---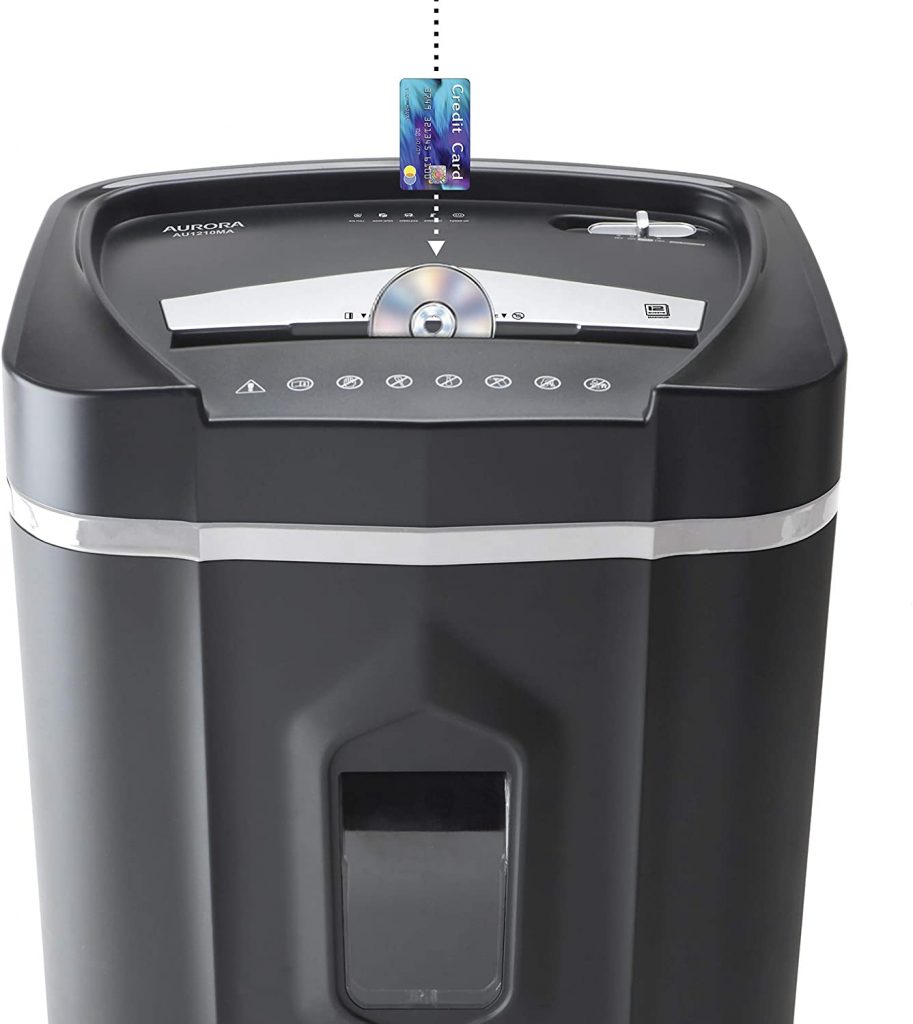 WHAT'S TO LIKE – There is no better brand to deal with your shredding needs than Aurora. The Aurora AU1210MA offers a high-security micro-cut with a 12-sheet capacity. Not only can it handle 12 sheets at one time, but the AU1210MA can also shred CDs, DVDs, credit cards, and if you happen to toss in papers and accidentally leave the small paper clip on it, this shredder will chew that up as well.
As an added bonus for those with tons of paper to shred, the Aurora gets its name as one of the best paper shredders on the market because it allows for 60 minutes of continuous shredding. It comes equipped with a 5-gallon bucket with an LED indicator light that lets you know the bucket needs dumping.
REVIEWERS SAY – With an overwhelming majority giving this Aurora model a five-star salute, the overall sentiment was summed up easily with, "I'm glad I bought this model."
PRICE – $113.98 on Amazon
---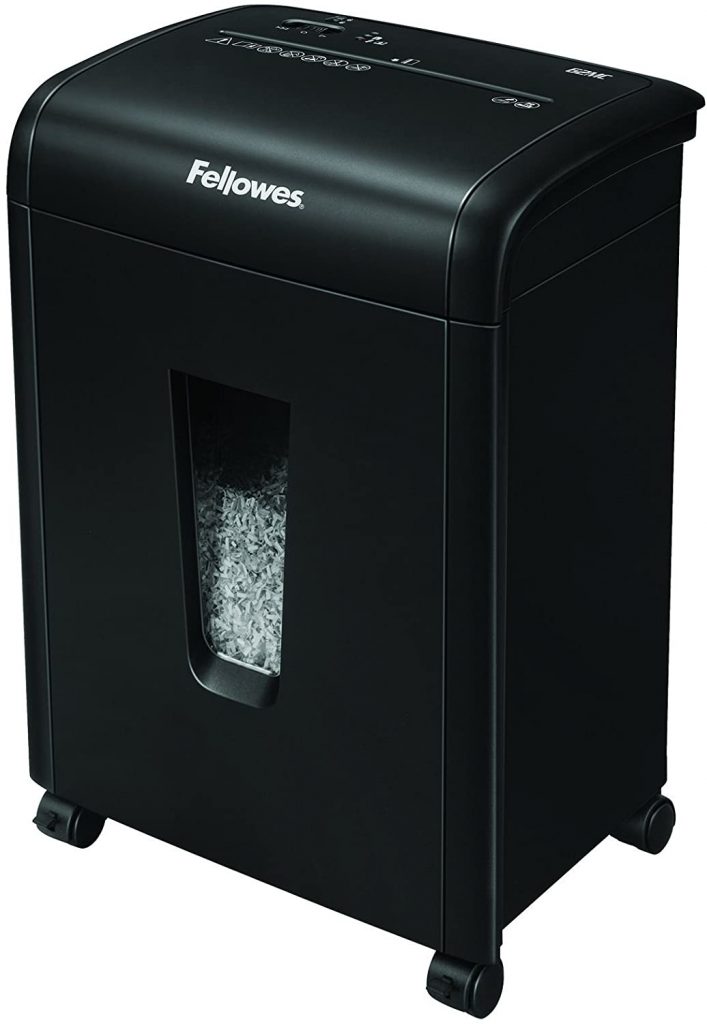 WHAT'S TO LIKE – Fellowes is another dependable brand when it comes to best paper shredders and its Fellowes 10MC is one that won't disappoint. The 10MC offers high security cut with a 10-sheet capacity. It is a quiet unit that will also take care of those credit cards and staples if you don't wish to take them out yourself.
It has a continuous run time of 7 minutes and a 5-gallon capacity.
REVIEWERS SAY – Another five-star entry in the best paper shredder mix. Users loved its shredding time, which seemed to go much further than the 7-minutes noted above. They also loved the tiny shred size this unit produces.
Article continues below headlines
---
PRICE – $155.62 on Amazon
---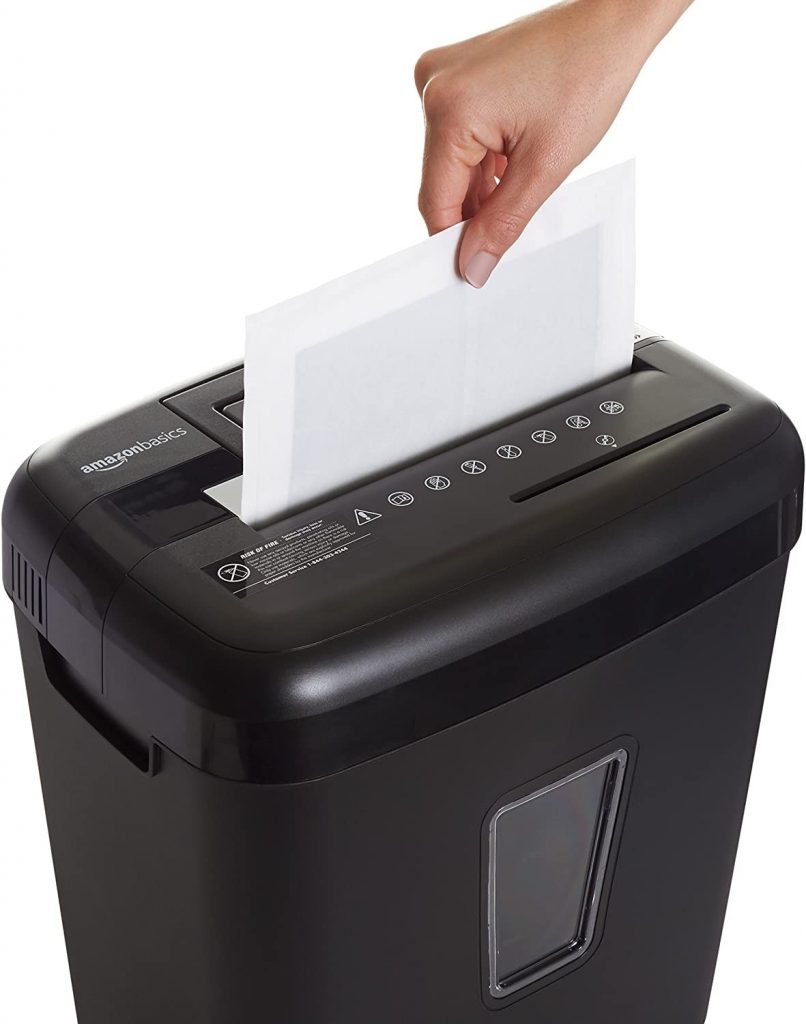 WHAT'S TO LIKE – If you're looking for a model that has a little bit larger sheet-shredding capacity, then AmazonBasics 15-sheet shredder lines up with the best paper shredders on the block. Along with the ability to take on 15-sheets per, this unit also can cut up CDs and credit cards as well.
The AmazonBasic shredder can run for 20 continuous minutes and not break a sweat and if you order this unit, it also comes with a 24-pack of lubrication sheets. Instead of having to oil the machine, you just shred the lubrication sheet, and it does the work for you.
REVIEWERS SAY – Another five-star paper-shredding monster. Fans love it as one summed up their experience with, "We love this as it is built to last!"
PRICE – $129.26 on Amazon
---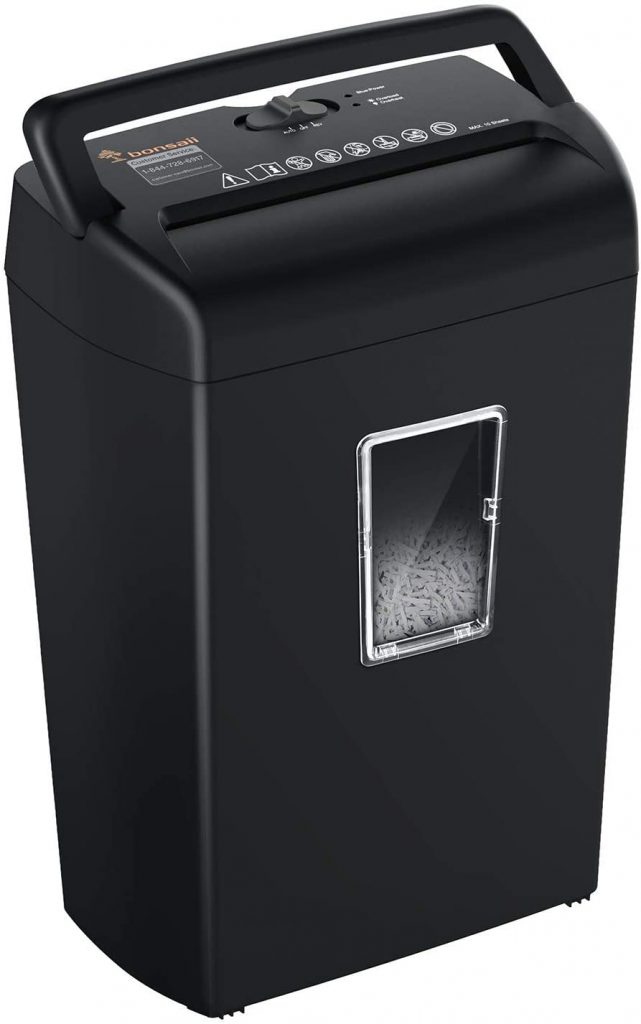 WHAT'S TO LIKE – Your paper shredding security needs will be very happy with the Bonsaii C209-D. It joined the ranks of best paper shredders with its ability to shred 10 sheets at once that can also handle staples and credit cards.
One big bonus with the C209-D is the fact that its holding capacity is larger than any other on this list. Totaling 5.5 gallons, this unit allows for more shredding and less dumping. As you get close to being full, the LED indicator light will tip you off.
REVIEWERS SAY – Most reviewers find the Bonsaii to be the perfect unit for their home offices and offer one piece of advice – make sure to lubricate the machine on a regular basis.
PRICE – $59.99 on Amazon
---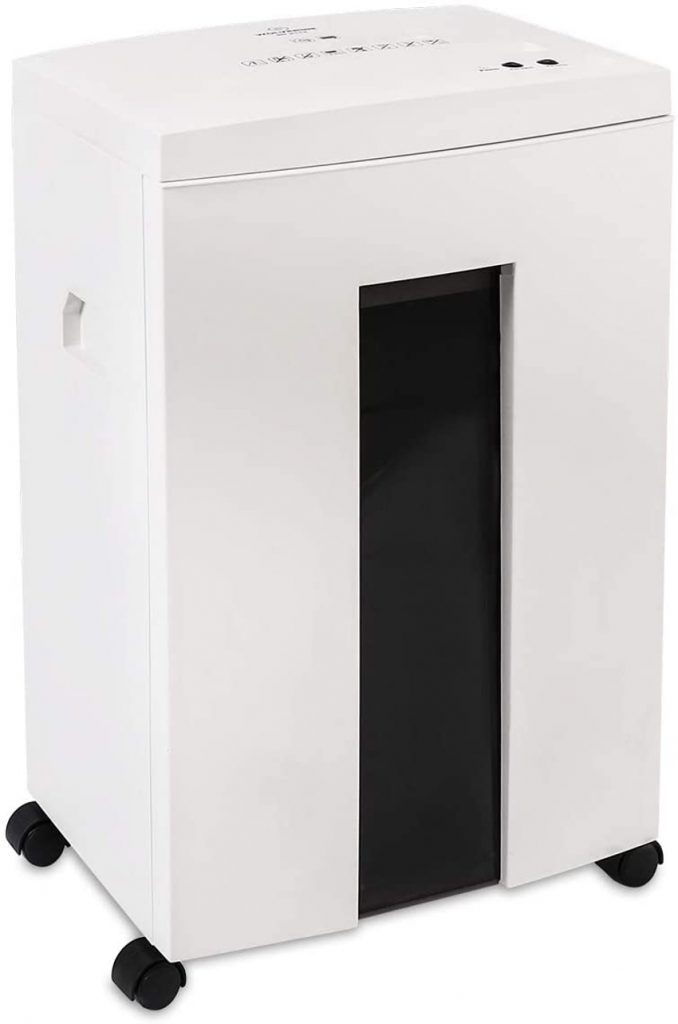 WHAT'S TO LIKE – Wolverine comes in hard as one of the best paper shredders on the market. This unit is spectacular in its ability to offer high security with its super micro-cut. It has a 10-sheet capacity and can also take care of CDs and credit cards.
The Wolverine has a continuous running time of up to 40 minutes while offering little in the noise department.
REVIEWERS SAY – Solid, dependable, built to shred. The lack of noise is a major positive for users.
PRICE – $269.78 on Amazon
---
START SHREDDING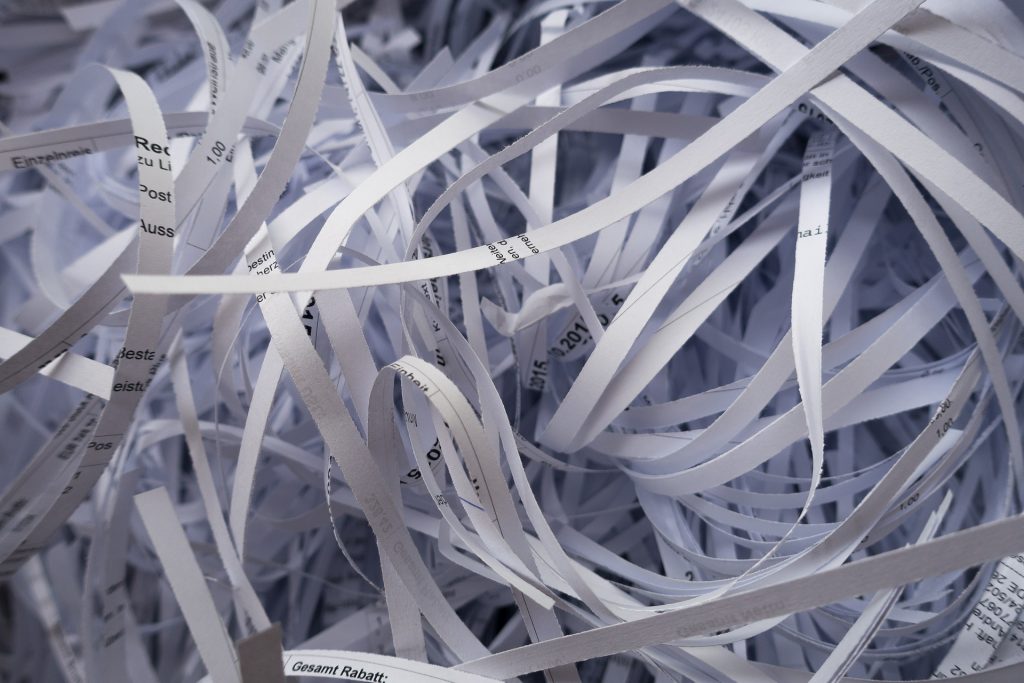 Just when you think you don't need one, you do. So, you may as well go out and find the best paper shredder that will fit your needs. You may not have a ton of professional paperwork that needs security shredding, but there are always those personal papers that need protecting.
While there are numerous models on the market, the top brands seem to be Fellowes and Aurora. Those two have the most models on the shelves, so do your research and choose wisely. If you're looking for the best paper shredder, prices are going to vary.