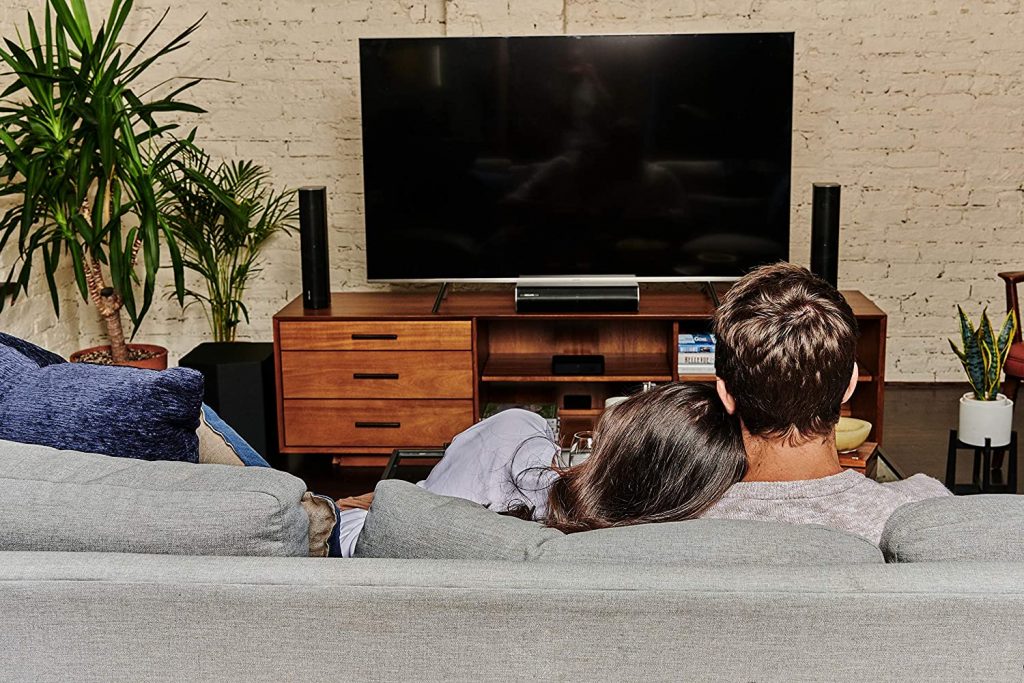 If you are looking to get that movie theater-quality sound from that sleek-looking new 4K television in your living room, then a home theater sound system is the direction you need to go. While soundbars offer a less expensive way to get decent sound, a good home theater system is what will bring you closest to movie theater quality enjoyment.
If you are looking to get the best sound performance possible, nothing can top an AV receiver that controls a multi-speaker Dolby Atmos connection. You can piecemeal together a sound system by purchasing a separate receiver then finding your favorite subwoofer and speakers, or you can find systems that come complete with everything.
Now, it isn't necessary to come out of the gate with a surround system, there are plenty of two-speaker home theater systems that get the job done. But if you are looking for that true sound emersion, a good 5.1 or 7.2 (depending on how much you wish to spend) sound system will have you feeling like you're sitting in the cineplex.
Today we are going to eschew the soundbar and go straight for the audio jugular with the home theater sound system. There are, unsurprisingly, a plethora of home theater systems to choose from, but we tried to pull out some of the best ones. We are not necessarily looking at a specific budget with our choices though we did try to offer selections from just about every price range.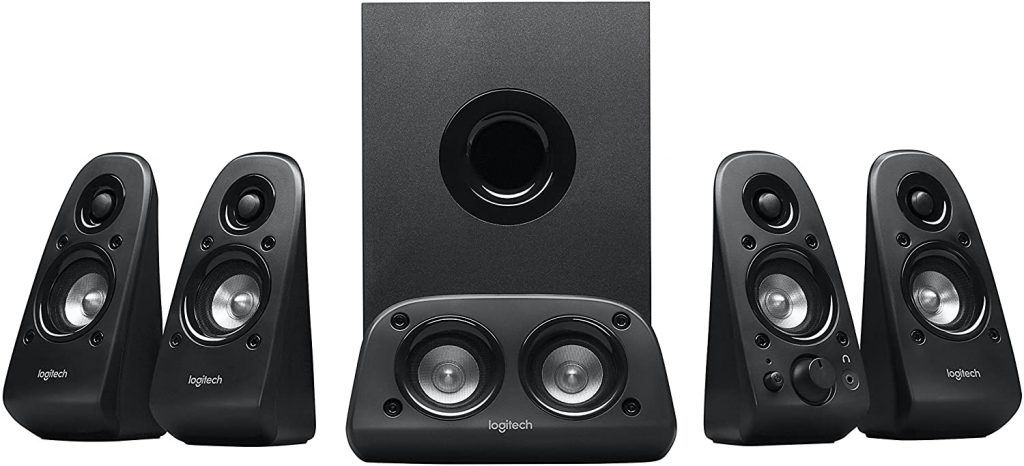 WHY WE LIKE IT – The Logitech Z506 not only offers a nice 5.1 channel surround sound, but it also comes with a nice price tag. You can sit yourself down right in the middle of great sound and action as this home theater setup comes with left, right, and center speakers, two rear satellite speakers, and one subwoofer.
Connect to a separate AV receiver (not included) and these speakers are compatible with many devices to include your television, computer, smartphone, PlayStation and Xbox consoles, and music players. The price is hard to beat with this great 5.1 channel sound system.
PRICE – $367.99 on Amazon.

WHY WE LIKE IT – If you know the Klipsch name, then you know how impressive the product is. What's shocking about this home theater system is the price.
The Klipsch Theater Pack is a wireless sound system. It boasts Klipsch's Tractrix Horn technology and aluminum Tweeters to give the cleanest and most natural sound you can ask for. Its down-firing subwoofer will fill the room with impressive, deep frequencies.
If you decide to go with this Klipsch 5.1 channel surround sound system, you are going to get premium sound at an amazing price. The Klipsch brand is hard to beat.
PRICE – $339.89 on Amazon.
Article continues below headlines
---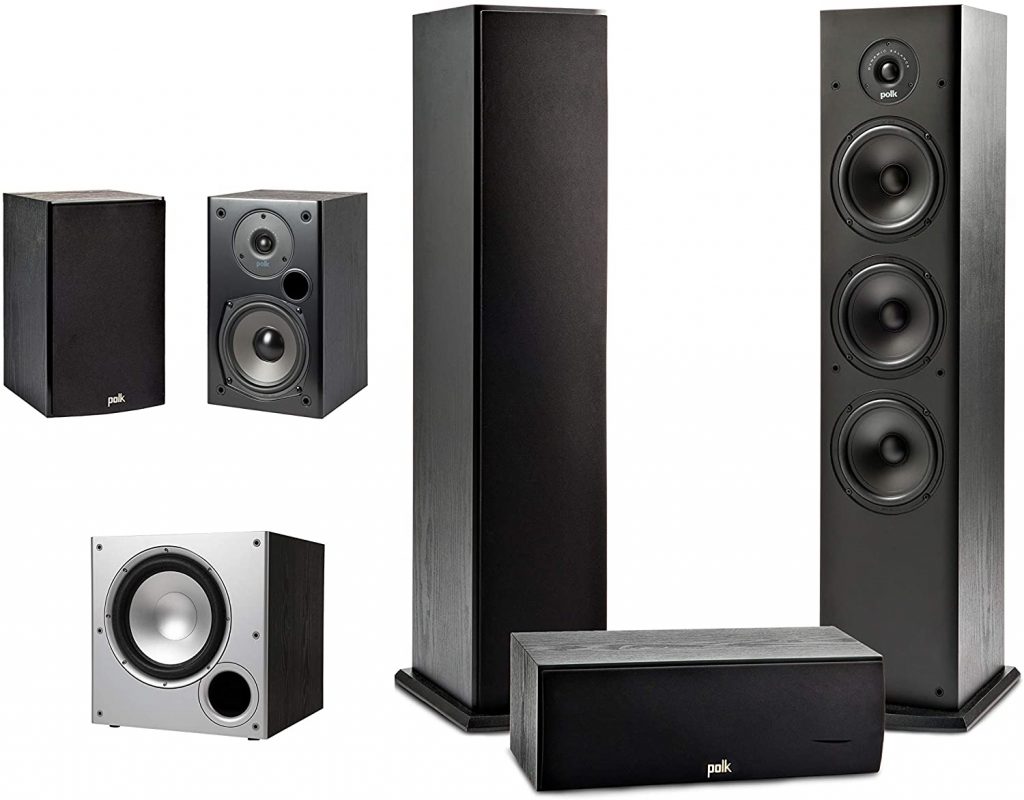 WHY WE LIKE IT – Polk is another trusted brand when it comes to home audio equipment and this home theater system is no exception. Polk's 5.1 channel sound system comes with two bookshelf speakers, two tower speakers, a center speaker, and a powerful subwoofer.
All speakers come equipped with Polk's proprietary Dynamic Balance technology that offers clear and clean sound across any room. The Polk speakers are compatible with virtually any AV receiver, though to get the most out of them, you may opt to go with a Polk receiver as well.
Falling in the middle price range, you won't be displeased with choosing this Polk.
PRICE – $675.99 on Amazon.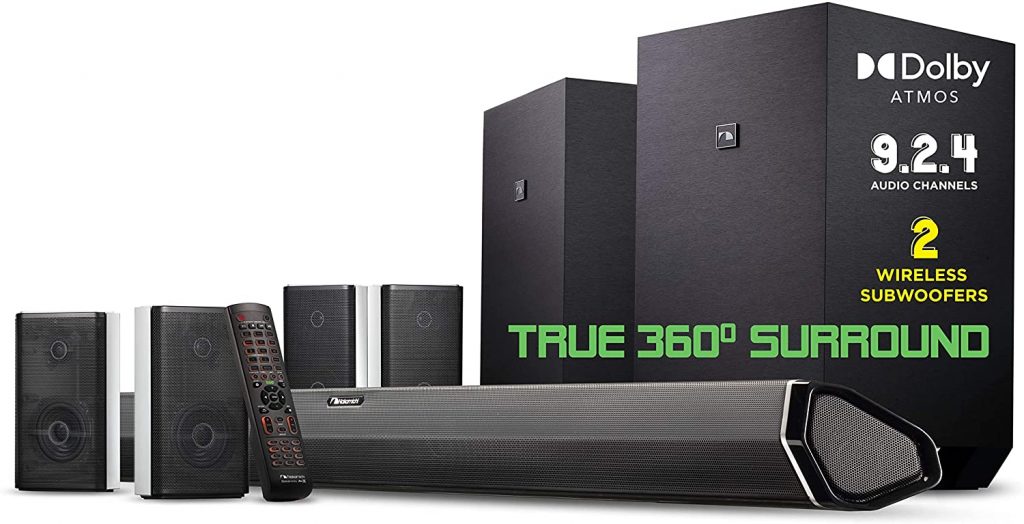 WHY WE LIKE IT – If you decide to go with this Nakamichi home theater sound system, just know you are going to get a lot for your money, though you will be spending a lot to get it.
Right off the bat, this sound system is a beast. If you are looking to truly immerse yourself in audio bliss, this Nakamichi is the answer. It comes with Dolby Atmos technology, which will give you the most advanced sound available. To make this happen, the sound system comes with 4 surround speakers, as compared to most systems that come with only 2. Having four will allow an even more precise, detailed, and directional sound.
The soundbar that leads the way has dual center channels, so missing that important piece of dialog is no longer a worry. What is also doubly impressive are the two wireless subwoofers that complete your sound experience.
This is a big sound system. It comes with a big price. Trust us, though, it is worth every penny if you are one who loves movie theater sound.
PRICE – $1,399 on Amazon.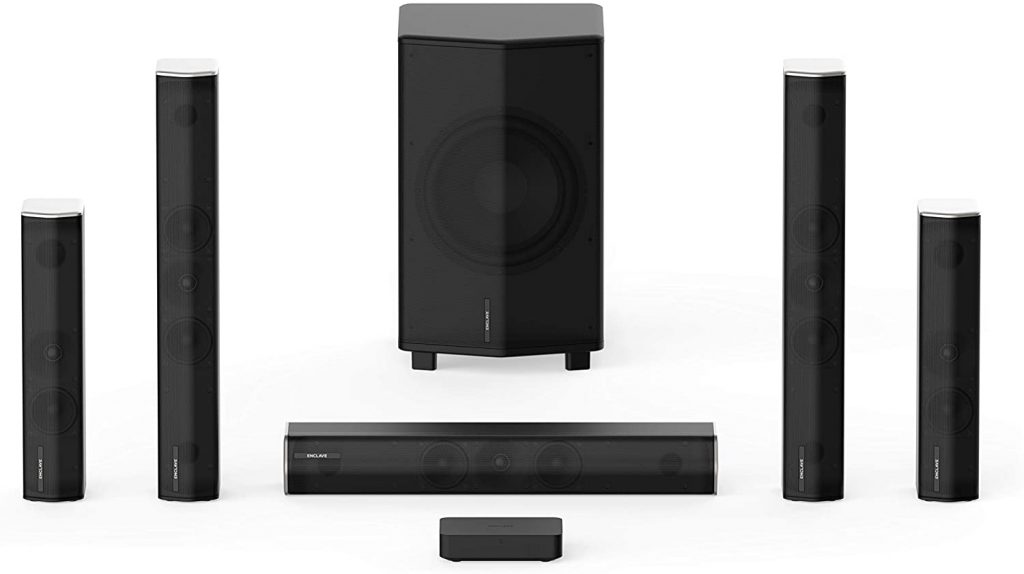 WHY WE LIKE IT – Perhaps not as impressive at the Nakamichi, but the Enclave Cinehome Pro runs a close second. It is a 5.1 channel home theater system that doesn't disappoint. Wireless and THX certified, the Enclave comes with a soundbar, two front speakers, two rear speakers, and a subwoofer.
To get it all to work, Enclave has a CineHub that easily plugs into your TV and then connects wirelessly to the speakers. The system supports Dolby Digital Plus, Dolby Digital, DTS Digital surround, and Dolby Pro Logic II.
Pricey, yes, but the quality results are what you're paying for.
PRICE – $1,598.98 on Amazon.
FINALLY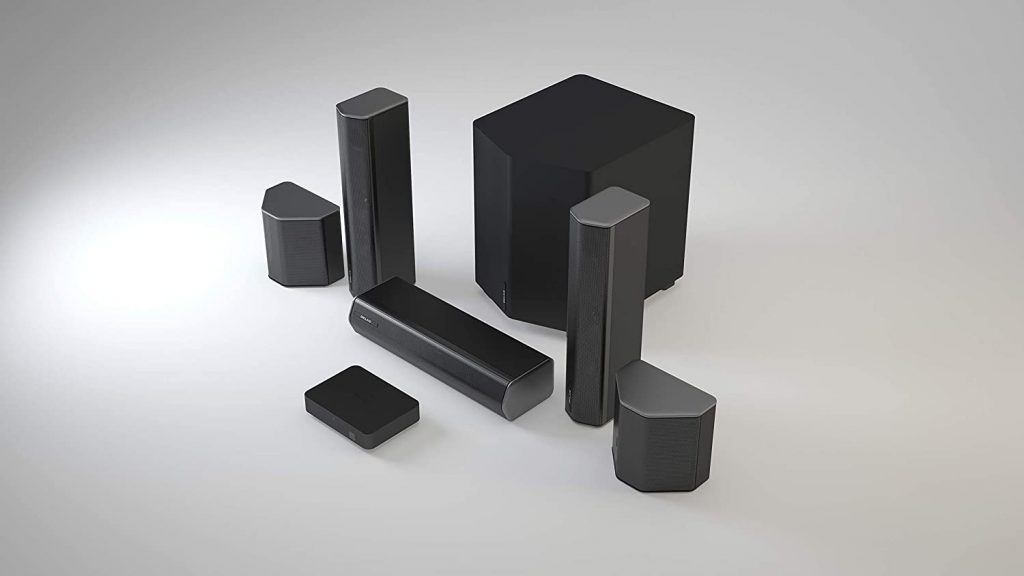 As you can see, a home theater sound system can be as inexpensive as you want. It can also be as somewhat complicated as you want as well. There is a lot to decide when choosing a solid sound system for your home, the first of which is price.
The second thing you need to determine is what type of room are you going to be watching your favorite movies in? How big is your living room space? Are you instead trying to set up a separate media room? How big is that?
How many speakers do you think you need? Is a 5.1 sound system going to cut it or do you want to get more ambiance with a 7.1 sound system? So many questions, so many options.
If you're looking at adding a home theater system to your living room, these five are a great place to start. Fire up that TV, turn down the lights, and turn up the sound on your new home theater sound system.