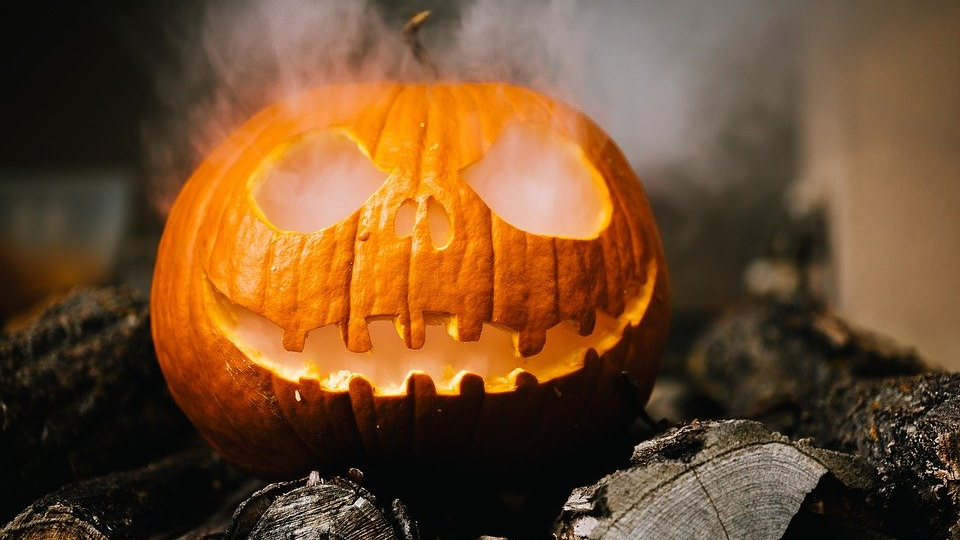 It's that fun time of year where the weather begins to cool, the leaves begin to fall, and the ghosts and goblins start to make their appearances in neighborhoods across the country. Halloween is coming and Halloween decorations are going up in full force.
From the simple to the extreme, Halloween (in terms of decorating) has almost become as big as Christmas in that respect. In fact, in some areas across the country, Halloween even outpaces Christmas with its creativity and scope.
Folks have embraced Halloween in such ways that yards turn into mini-haunted houses, or scary graveyards, and even scenes from your favorite scary movie. Halloween stores pop up everywhere offering the finest, if not cheesiest, decorations one can imagine. Over the past few years, Halloween animatronics have become the new fad, one that looks like will stick around for the foreseeable future.
There are a few ways one can go when deciding how to tackle Halloween decoration shopping. There are cute, loveable Halloween decorations, though not sure how cute and loveable can describe Halloween. They are there if that is the direction you wish to go.
Then there are the gore and scary Halloween decorations that most seem to embrace with a passion. Animatronic characters from scary movies such as Halloween, Friday the 13th, Nightmare on Elm Street, and IT are well represented. There are also a few characters created just for Halloween scares that are quite impressive.
Inflatables are also big sellers during the Halloween season. Fun and inventive, these blowup scares can make any yard look menacing.
It all comes down to just how big and scary you want to go. Do you want to scare the bejesus out of the little ones by focusing on more of the adult horror Halloween decorations, or do you wish to make your scares family-friendly so as not to give the little one's nightmares?
First, we gave you the best deals on Halloween candy, now we are going to attempt to steer you in the right direction for fun, scary, pricey, and inexpensive Halloween decorations. There are thousands out there, but here is what we came up with.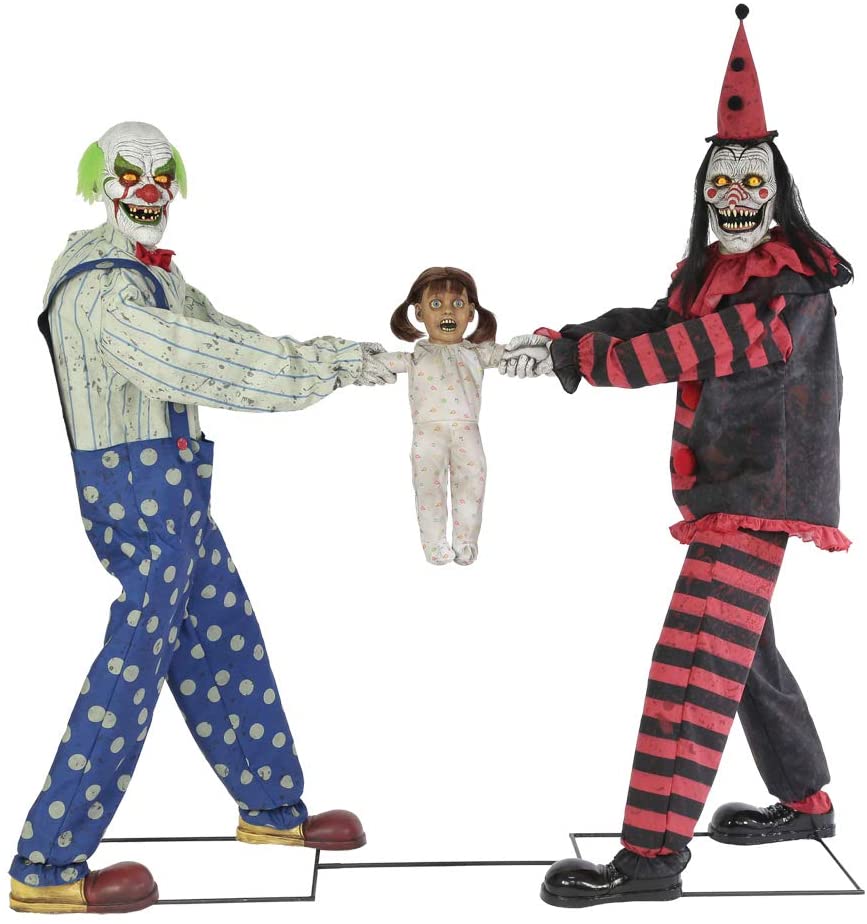 WHAT WE LIKE – One of the best animatronic Halloween decorations out there. This one features two terrifying clowns in a tug of war, but it's what they are tugging on that may cause a bit of a debate here – a small girl. Yes, in between both creepy-looking clowns is a young girl. The clowns hold her by her arms and are locked in a tug-of-war battle with the prize being the little girl.
This terrifying animatronic has the clowns talking to each other, and to onlookers while hooting it up as the young girl continues to scream. Here is a preview of what this creepy decoration looks and sounds like. If you're looking to creep out the little ones, this Halloween decoration just may do it.
PRICE – $389.97 on Amazon
Article continues below headlines
---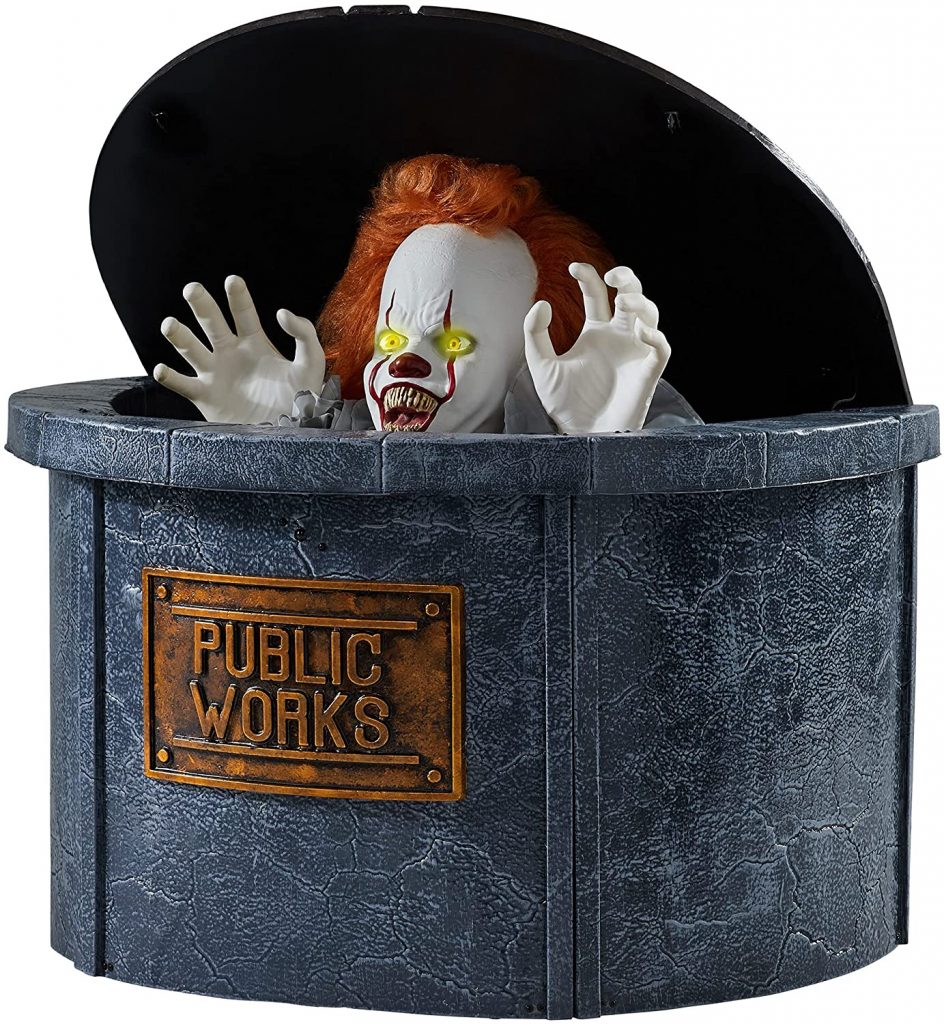 WHAT WE LIKE – If you are still in the mood to cause nightmares, then the Pennywise Sewer Grate Animatronic Halloween decoration should be front and center. If you don't know who Pennywise is, you may want to check out Stephen King's IT, the movies, or the novel. Both are very creepy as Pennywise the Clown is what nightmares are made of.
This creepy animatronic has Pennywise hiding in the sewer grate, asking onlookers if they missed him because he has missed you. Then he pops up to scare the life out of you. It's all good creepy fun that would make any yard a must-see. You can check out a preview here.
PRICE – $219.99 on Amazon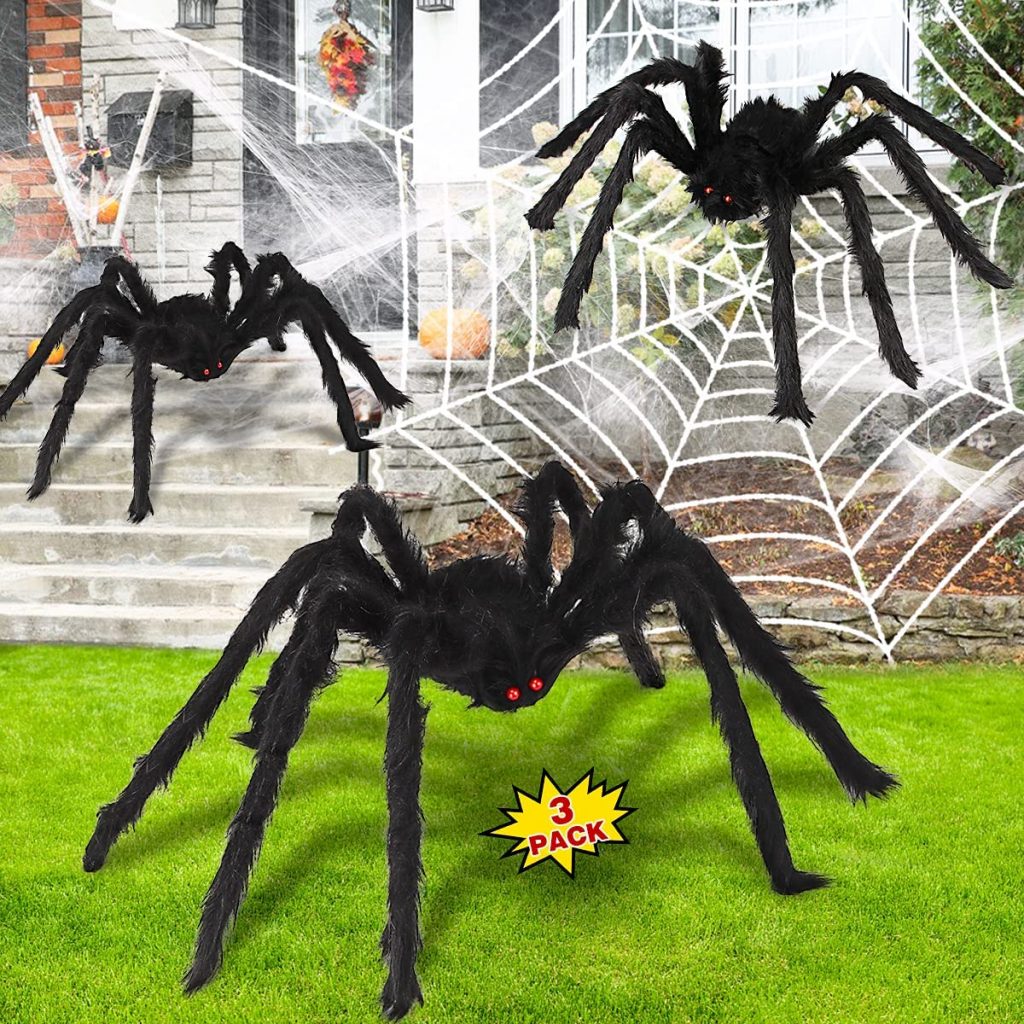 WHAT WE LIKE – Who doesn't love the sight of big, hairy, creepy spiders hanging out on a huge spider web? Halloween is made for spiders, isn't it? Well, this Halloween decoration is made with spider-haters in mind. It features a huge (nearly 12 feet) spider web, 3 large (50", 30", 24") hairy spiders, 20g of cobwebs, and 2 small plastic spiders to complete the ensemble.
Set this thing up near your doorway and watch trick-or-treaters get creeped out. Nothing says Halloween like big, hairy spiders.
PRICE – $24.99 on Amazon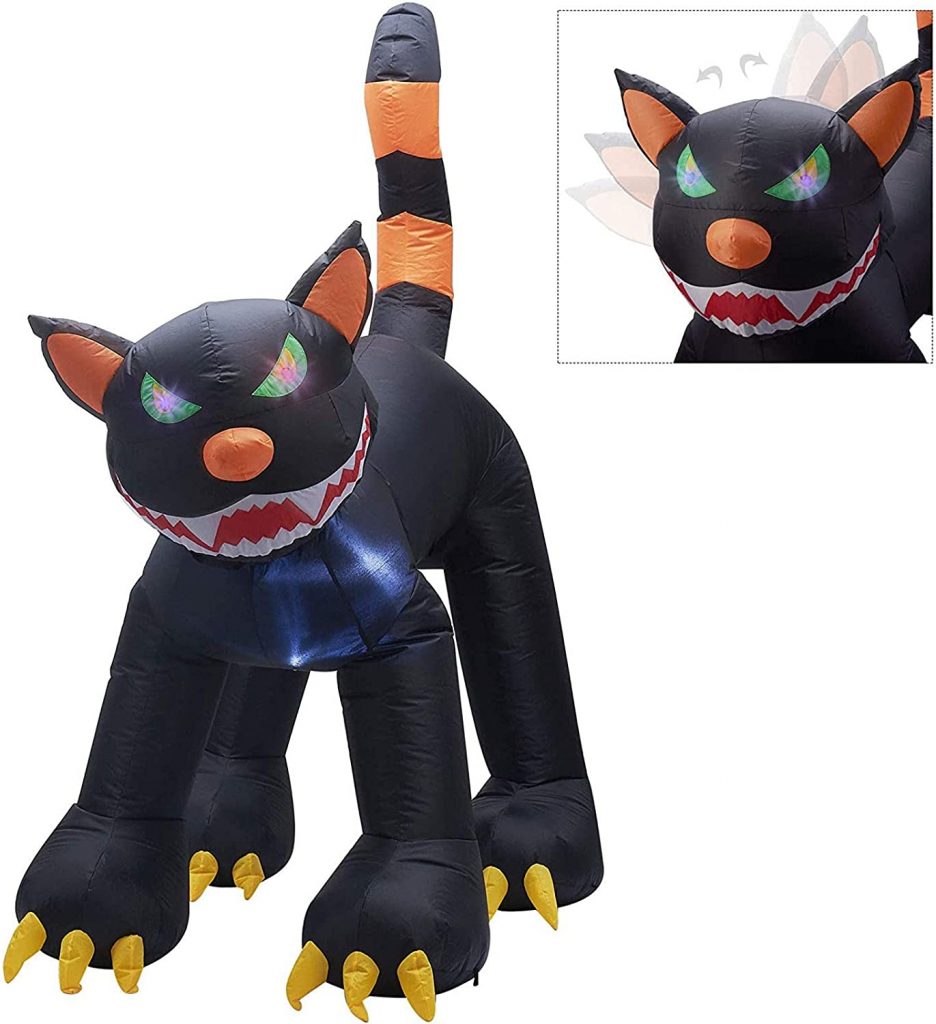 WHAT WE LIKE – Creepy is one way of describing this inflatable Halloween decoration. This black cat is six and a half feet of Halloween fun. Not as scary as the above two decorations, though it does have its look of menace.
The Twinkle Star inflatable cat is quick to inflate. It features a cat head that moves side-to-side and eyes that twinkle with LED lights. It's also waterproof for those late October nights. This is one decoration that kids won't run from. Here is a little preview.
PRICE – $44.99 on Amazon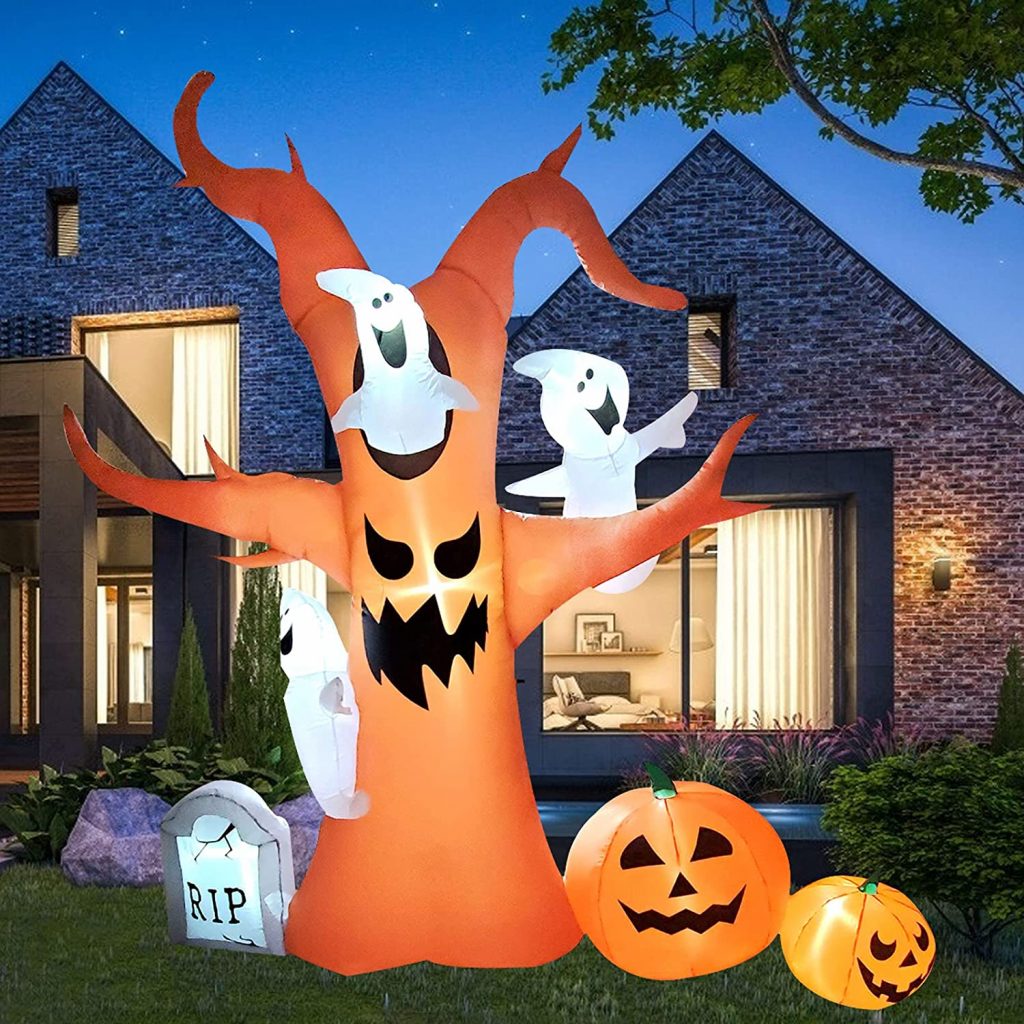 WHAT WE LIKE – What's really fun about this 8-foot Dead Tree inflatable Halloween decoration is that it has something for everyone. Not only does it feature the 8-foot tree, but with it are ghosts, pumpkins, and a gravestone. The faces of the dead tree, pumpkins, and one of the ghosts are drawn to scare, while the other two ghosts are wearing smiles.
This inflatable is definitely one aimed at the younger ones, so adding it to your yard should make you popular with the smaller trick-or-treaters. You can take a peek at it right here.
PRICE – $78.99 on Amazon
HAPPY HALLOWEEN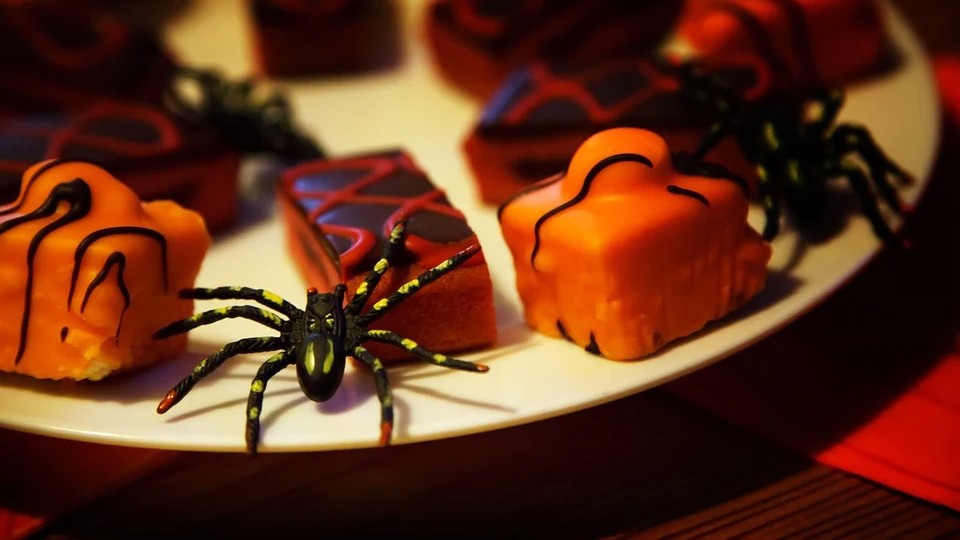 Creepy or fun, you can't go wrong with any of the above Halloween decorations. If you are looking to make your yard into a true creep-fest, which many love, then Pennywise and the Tug-of-Warring Clowns would be strong choices.
If you have young ones around the house, or you don't wish to scare away the young ones, then the Dead Tree and creepy cat would be the way to go.
Remember, these are but a few of the many wonderful Halloween decorations that can be found online. Take a look at these but also take a look around. Scares can be found everywhere and depending on the vision you wish to embrace, you could be the talk of the neighborhood. Happy haunting.