Curls have always been an integral part of hairstyling and certainly one of the most desired forms of styling for the ladies. There are many forms of curls be it tight, loose, big. However, big curls are the new trend and that's what all ladies are yearning on these days. Majority of the celebrities are seen flaunting their big curls in tabloid on recent covers of international magazines. Big curls are an amalgamation of waves and curls. They give the vibes for both. So, today here to excite all the ladies looking for perfect curls, we will discuss the best curling iron for big curls.
LIST OF BEST CURLING IRON FOR BIG CURLS
Beachwaver Pro curling iron has to definitely top the list of the best curling iron for long curls. This curling iron is gaining it's due popularity recently. All the celebrities are using it to get their perfect curls and ideal looks. Beach waver pro the curling iron is invented by celebrity hairstylist Sarah Potempa. The most distinguishing quality of the curling iron is that it rotates in both the directions. That certainly gives a bouncy look to the curls and makes them look flawless. The feature of rotation in both directions of the curling iron also adds convenience to curl your hair yourself. You don't have to worry in which direction to move ahead and which flow of the hair to follow.
It works perfectly for all hair types but definitely, it's ideal for thick hair. The heat of the curling iron is sufficient enough to work in a single go without redoing a certain set of hair. That makes the curling process pretty quick and efficient. Customers have been happily reviewing the product to curl their hair in around 10 minutes. This is also due to the reason that the iron does not require you to manually rotate the curler rather it rotates itself with the touch of a button. Many optimistic reviews have been recollected about the curler perfecting beach waves look. It is predominantly a user-friendly product and can be operated by girls who are no experts at hair styling.
Beachwaver Pro curling iron is the most costly item in our list of best curling iron for big curls. The product is undoubtedly worth every penny and you will not regret your decision after the purchase. Beachwaver Pro curling iron comes with a ceramic barrel with gold infused tourmaline. It smooths and protects the hair from heat damage by allowing uniform heat distribution on the hair. Nevertheless, we can give a key tip to the users. Never wrap around the power cord to the iron especially when it is hot. It may damage the cord due to the high heating competence of the iron. Another tip to attain the beachy waves look is to wait for a while after using the curling iron. After your hair cools down a bit, run fingers in your hair and bam! There you go with the perfect waves!
Key Features
Ceramic rod not only easy to grip but also safe to use.
Heat flows throughout smoothly thanks to the gold power mixed with Tourmaline.
Design is unique, user-friendly and patented.
Clamps can be customized.
A GO button to make things moving.
You can rotate it to left or right based on your liking.s
Internal heaters can be also be customized.
Swiver cord can also rotate full 360 degrees.
Comes with a long 9 feet long cord.
Heating temperature is displayed with an LED screen.
Under half a minute can heat up to 450 degrees Fahrenheit.
It has a quick recovery time.
Handle grip is user-friendly.
You can get a 12 months warranty.
It gets turned off automatically after 30 minutes.
Comparison
Beachwaver pro curling iron comes with 1" diameter. To attain the look for big curls it is suggested to use diameter between 1 to 2 inches. This is the only curling iron in our compilation of best curling iron for big curls with 1" diameter. Due to its outstanding functions of auto-rotating and 6.5 Ceramic Rod it made to our list.
Our Verdict
Our verdict is to buy the product with closed eyes. But only if you have the money to pay the price. If you are looking for products better suited economically then read up on other products from the list.

Bio Ionic OnePass
This is the best product to style your hair while not damaging it at the same time. This is a rare deadly combination. OnePass comes with an outstanding feature of nano-ceramic plates. This enables quick hairstyling and saving time like no other product.
What sets apart this straightener from the other ones of its league is the fact that it has silicone strips on the plates. Not only will this make your hair silky-smooth, but it will also help keep the moisture in the hair. The cherry on the top is that silicon iron heats quicker than other materials. This makes OnePass the fastest heating iron in the market.
Most loved feature of OnePass is that it is super quick and saves time when you are running late and want to quickly get done with your hair. It also soothes frizzy hair which is predominantly experienced in humid and hot weather. Contrarily, one drawback of the straightener is that it takes a lot of maintenance. A lot of dirt is attracted on the rod and requires timely cleaning.
Key Features
Works just before the microwaves and a medium infrared region called far infrared.
Nano-ionic tech ensures that your hairs get heated to the core.
Plates are covered with mineral to protect hairs and rod from getting burnt.
Heat can be controlled to various temperatures.
Light in weight. You can hold it for a longer time.
The speed strips make it the fastest flat iron.
Comparison
Comparing OnePass with other curling irons in the industry we can certainly claim that inbuilt silicone speed strips and nano-ionic built definitely stands it out from other products in the market. However, if we compare it with Beachwaver Pro curling iron and Chi Arc, we can say that it does not have the auto rotate function and requires a bit more of an effort than the ease of product use offered by Beachwaver Pro and Chi Arc.
Our Verdict
The OnePass is fast, efficient, and really makes your hair gleam. You no longer will be leaving the house with messy hair without even spending much time on the hair. That extra time spent already on hair curling can be spent on a long nap or managing other chores.

Chi Arc is also an automatic curling iron. The automatic function adds product convenience and ease at curling the hair. You can just roll around your hair and let Chi Arc do its magic. The auto rotate feature comes in handy for girls who are not pros in curling their hair. You don't have to fret and worry about not being an expert on the skill and asking someone else to do it for you. Just grab it yourself and press the auto button and get it done in a few minutes. This also alleviated wrist discomfort which is experienced while manually doing it. Also, the automatic function provides even curls.
Also, the best part loved about Chi Arc is that you can control the temperature. This is a rare feature and leaves it to the user to decide how much heat they want to let on their hair. Some girls are experiencing hair damaging and in a bad phase of hair, for them, it is recommended to not overheat their hair. This feature comes in handy for such users. Temperature control also helps you decide if you want pitch-perfect hair to go for a formal evening or you want to just lightly neat up your hair which can be managed with low heat. For formal hair it is recommended to use higher temperature as that will tighten the curls to last longer and look more firm. This is surely a feature to have in the best curling iron for long curls.
The ease of product use is acclaimed by all users. However, some of them have complained that they do not like the beeping sound of the product. Apparently, it is very annoying for them. So, this is just a heads up for anyone who does not like beeping sounds.
Key Features
The barrel has automated rotation for your ease.
Heats up in just 30 seconds.
You can control the temperature thanks to the digital LCD screen.
Comparison
Chi Arc offers auto rotate function which is not offered by OnePass or Hot Tools Professional. Also, the temperature control feature is not a widely known feature for curling irons and sets Chi Arc apart from them. It is not present in OnePass as well. However, Chi Arc is slightly lower priced than OnePass. So, we can observe at a lower price than OnePass you can get auto rotate function and also the temperature control feature. Comparing it with Hot Tools we can see that Chi Arc does not come with rubber heat resistant mat and doesn't offer replaceable springs.
Our Verdict
Overall, it is an awesome product. Temperature adjustment prevents unnecessary damage to the hair. The automatic function also makes it easy on the wrists and enables you to get even curls. Chi Arc is definitely worth the money and worthy to be included in our list of best curling iron for long curls.

This one comes with a sturdy clamp and appears very well made. In addition to two extra springs, the curling iron also comes with a black heat-resistant rubber mat to lay the curling iron on that is about 4 inches by 8 inches approximately. This mat is such a life saver. Many times when you are using curling iron which is fully heated up it is difficult to place it on the dressing table or anywhere. The heat can damage the cloth or surroundings. That mat makes is easy to set the curler aside after doing a small ray of hair and then picking it up again from the mat without worrying about it damaging the surroundings.
It is ideal for thick hair which is not managed easily. The iron is however not as long as it is claimed by the company and it's not ideal for ladies with long hair. But the curls are long lasting and you don't have to worry about crushing your hair if you lay down for a while or sit back on them even tangling them up because of they so sticky. The curls last long, therefore you don't need to use a lot of hair spray for them to set back properly. It can be managed with less amount of hair spray.
Key Features
Temperature can go up to 430 degrees Fahrenheit.
Heat is regulated via Rheostat.
Innovative tip to ensure quick wrapping of your curls.
It comes with a user-friendly foldable stand.
The clamp is powerful and strong.
Additional safety for countertop thanks to Heat Resistant surface.
Comes with a long 8 feet strong power cord.
Additional two springs for damage replacement.
Designed to quickly adapt to long hairs.
The light indicates Power ratings.
Increased control on the rod with the thumb grip.
On and off switch.
Comparison
Hot Tools Professional comes with two extra replaceable springs and heat resistant rubber mat. This is an exciting addition to the whole package which is not offered by Ouiast Curling iron and Chi Arc. However, it lacks the auto rotate and temperature control feature offered by Chi Arc.
Our Verdict
Hot Tools professional is a good value for money. At a good price, you can fetch one of the best curling iron for long curls along with two extra easy to replace spring and rubber heat resistant mat.

Ouiast Curling Iron comes with 1.5-inch curling wand which is ideal for big curls. It is one of the best offers one can fetch in less than $30. The product, however, has received a mix of good and critical reviews from the customers.
It heats up quickly which makes the waiting timeless. Just turn on the curler and get going with the curls. Also, it has an automatic shut off. The iron is designed with user-friendliness in mind. It controls actions are placed where they should belong to. You don't have to twist your wrists to reach the odd control buttons. You don't have to freak out on accidentally shifting the temperature up to a burning level.
The curler comes with ceramic tourmaline which is a highly desired feature. It glides through the hair and never breaks or burns them. The ceramic tourmaline barrel release many negative ions to lock more moisture in the hair. That makes the hair look healthy and create a shiny vibe with less damage and frizz. Additionally, one button is used for all purposes. Just press the button to turn on, and later also press the same button to choose temperature from 300 to 430F. Later you can double press to unlock when the LED screen display says "Loc". Just press the button and hold for 2 seconds and it turns off. So, it's pretty much easy with only one button.
However, regarding the curls staying firm a couple of mixed reviews are found. Some of the customers have recounted for the curls to stay firm for long. Conversely, some of them have encountered some difficulty. Critical feedback received by a few customers about the product is that the curls don't last long. So, it is recommended to use a good amount of hair spray if you want to remain firm for longer. Also, fine and silky hair is observed to slip out of the clasp part. So, it gets challenging to keep trying your best to keep trying the hair not to slip out while spinning the curling iron to get the perfect curl of your desire.
Key Features
Barrel length is ideal for Long Loose Curls.
The barrel is layered with Ceramic gives additional heat protection.
A single button to control the operations.
Comes with a 2-year offer which includes the first year for replacement and two years warranty for Safety Use.
Comparison
In comparison to Hot Tools Professional, this curling iron is more economical on the hand. Ouiast Curling Iron also operates only with one button. Both of them can heat up the iron up to 430F and provide perfect heat for curling hair. SwanMyst and Ouiast both come in around the same price range. The features offered by both of them are pretty much alike as well offering ceramic tourmaline coating barrel and quick heat up.
Our Verdict
Despite some of the critical responses this product is worth it and a good purchase at an economical price. It is recommended and a good purchase if you are on a budget and eyeing on a high-end product, it's preferable to buy and try this product first instead.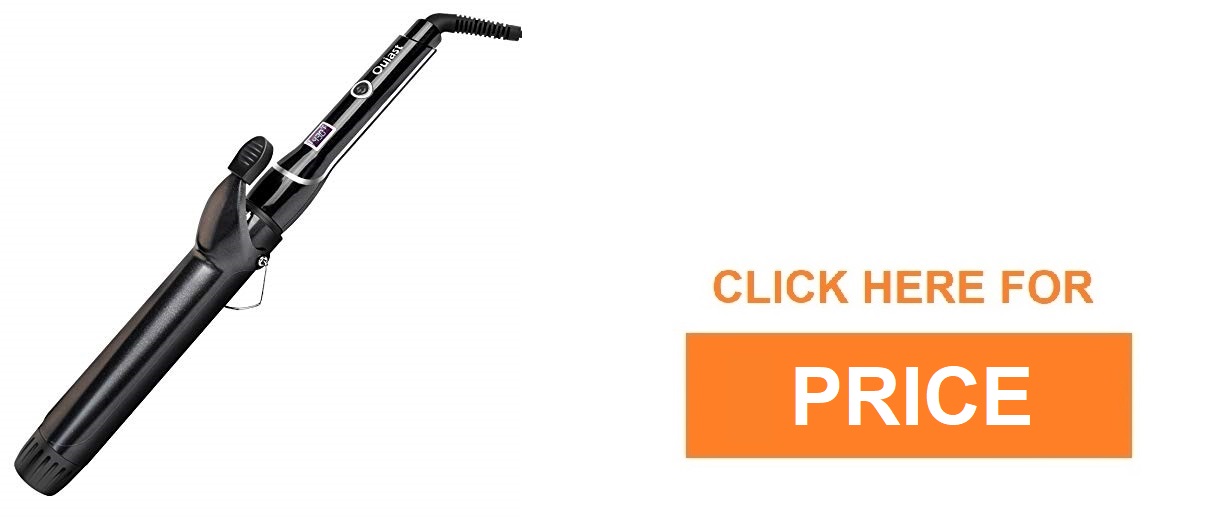 SwanMyst lets you style saloon hairstyle at home. This ceramic curling iron is absolutely an ideal choice for bouncy curls. The curling iron comes in a sleek all-black color which is different from other curling irons in the market and provides a cosmetic upgrade. The clip of the curling iron is firm and holds well. It comes with an auto-off function so the iron offs automatically if it is not used for a while.
It has dual voltage which makes the product travel-friendly and can be used worldwide. It also comes with a heat resistant glove. So, it will definitely not burn your hands and you don't have to be extra careful while operating the curler. The cherry on the top is that sectioning clips come along the curler. So you don't have to buy them separately. Its hair curling wand is ceramic which resist the damage done on the hair by the heat. Moisturization of hairs happens with the ions balancing on your hairs. This balancing act also instills the sought after luminous look.
The iron also heats up in only 30 seconds. So, it is quick and efficient. It is apparently longer than most of the curling irons in the market. This is ideal for ladies with long hair. You can set the temperature at your desired level. The good thing about the curling iron is that once it reaches the set point, it will lock the temperature there. Also, the iron automatically locks in 3 seconds and there is an auto 60 minute shut off. So, if you have used the iron, left the house and forgot to turn it off. You don't need to worry it will automatically turn off without causing any damage.
All these features offered only in $30. Wow! This is definitely a deal not to miss.
Key Features
Temperature up to 430 Degree Fahrenheit will help create quick long lasting curls.
Come with a glove with an insulated glove.
Gets locked in 3 seconds and gets turned off automatically with 60 mins of constant use.
Works on both 110v and 220v. Ideal for those who are frequent travelers.
Comparison
If we compare it to Ouiast Curling Iron we can safely claim that both offering almost the same features in pretty much similar price range. However, if you have to choose one out of the two I would recommend going for SwanMyst. That is just my personal preference based on the fact that I like the 60-minute auto shut off and heat resistant glove. I usually struggle to keep my hand safe while using a hot iron, that's why heat resistant glove is an attractive item being offered along with the curling iron for me. However, if you are a pro and don't really require a glove you can go for Quiast curling iron.
Our Verdict
In such a good price this product offers a lot. It is definitely worth giving a shot. You get ceramic curling wand, heat resistant glove, high-temperature option up to 430F and dual voltage technology. In this price, it is a good package being offered.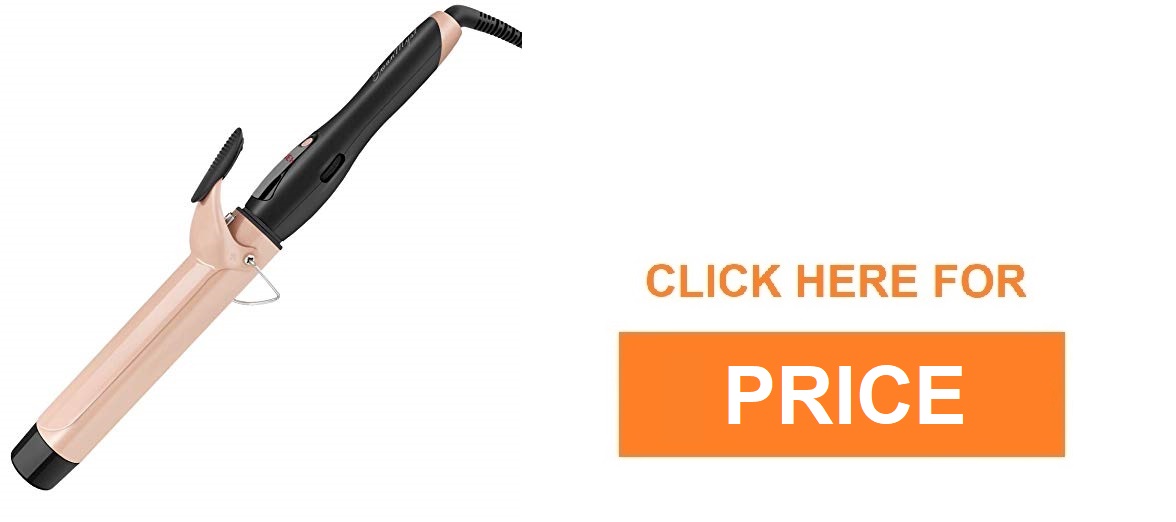 This is the most economical option making it to our list of best curling iron for big curls. The wand size ideal for big curls is 1.5 inch and this is what it is offered by Conair Instant Heat. As the name says, the curling iron heats up pretty fast saving you time in your busy schedule.
The finish and final look provided by the curler is no less than any other product. So, if you are not such high-end fashion freak and don't want to invest big in a curling iron. Conair Instant Heat is the one to go for. It is not ceramic but works well for all hair types, straight, frizzy, long and thick. It heats up in 30 seconds and it is signaled to the user by a red light being turned on. It has 25 heat settings and you have the choice to choose temperature accordingly to your desire. It comes with a dual voltage option which makes it travel-friendly and easy to carry any part of the world.
Key Features
Variable settings up to 25 options to set up the temperature for different kinds of hair.
Temperature elevates to 36°F in just half a minute.
Barrel temperature can also be raised by a good 36°F thanks to Conair's Turbo Heat.
Gets turned off as soon as it gets to the set temperature.
Supports both 220V and 110V if you want to travel internationally.
Comparison
Comparing it to other products in our list, it is certainly the most economical option. Unlike SwanMyst, it does not come with heat resistant glove or ceramic technology. However, the features are not compromised and you get bouncy big curls using this curling iron.
Our Verdict
This curling iron is a good purchase at an economical price of $10. It delivers luscious big bouncy curls. If you are not looking for anything fancy like ceramic and the big curls are what you are after, then this product will do the job and you will not regret your purchase decision.