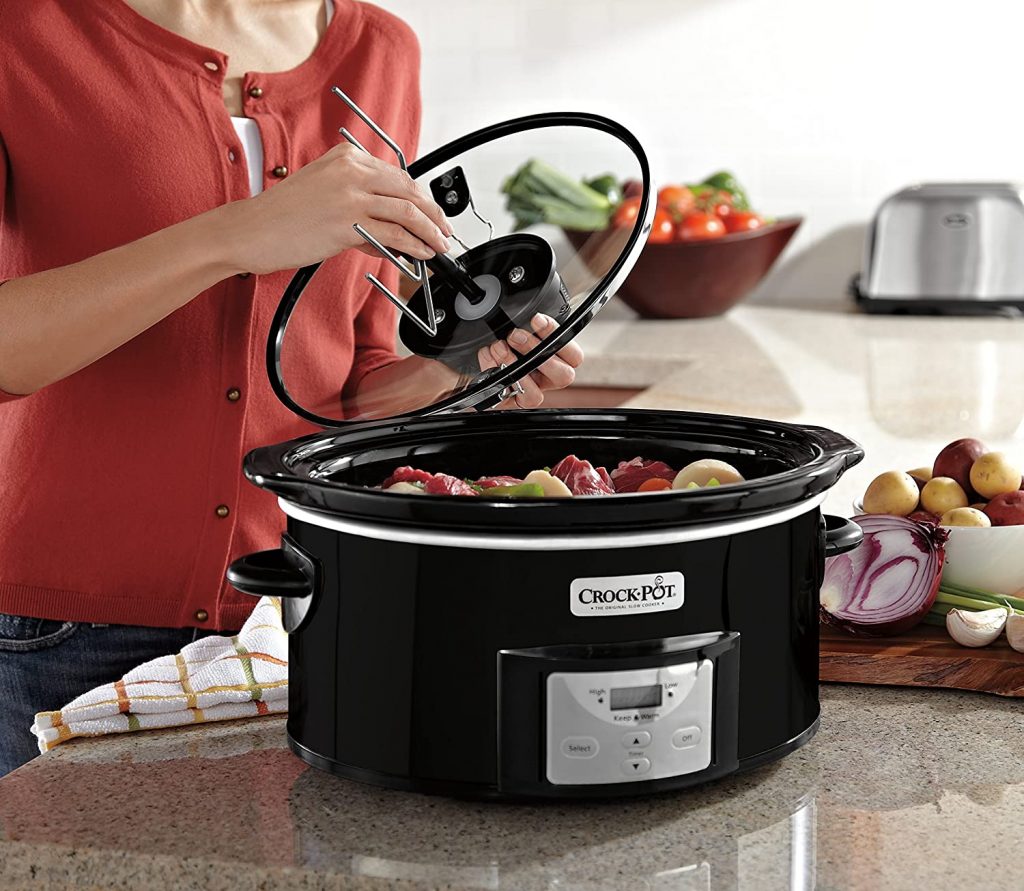 There is something to be said for having dinner ready when you get home from a long day at the office (or wherever work takes you these days). We aren't talking leftovers here, or a call to DoorDash. No, we are talking a full-blown entrée that you can start cooking before you leave for work and have ready to go by the time you walk through the door at the end of the day. Crock-Pots are the best, aren't they?
Before we take a deeper dive into them, let's first clear up a misconception surrounding them. While most of the entire world refers to them as crockpots, in actuality, Crock-Pot is a brand. The actual device is called a slow cooker. The reason we feel the need to differentiate is that we are going to recommend a few "slow cookers" and a couple of them will be called by their Crock-Pot brand name.
The "slow cooker", believe it or not, has been around since before World War II when, in 1936, inventor Irving Naxon applied for a patent for portable cooking device that also offered a solution to the issue that faced previous versions of the cooking device, that being uneven cooking.
For a few years, Naxon refined his cooker and in the 1950s, he bought his device to market. He called it the Naxon Beanery. It wasn't until 1970 that Naxon sold his Beanery to Rival Manufacturing. In 1972, Rival rebranded the Beanery to the Crock-Pot, and history was made. They sold the Crock-Pot for $25 and while there are numerous more expensive models, including the Crock-Pot, the original model they still sell today, hasn't jumped in price that much after all these years.
With the holidays looming, we thought we'd take a look at some of the better CrockPots, ahem, slow cookers, on the market on the notion that they could make a nice gift.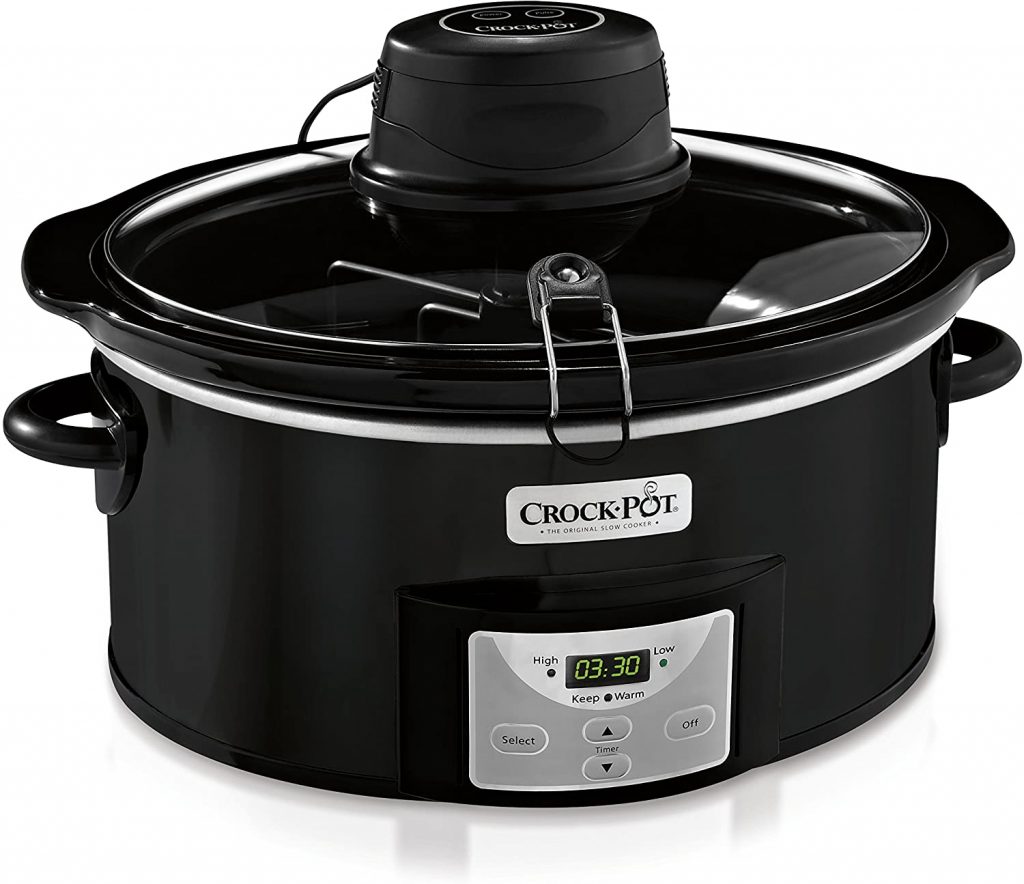 WHAT WE LIKE – Far from the original model, but still from the original brand, this Crock-Pot slow cooker has every modern convenience one could ask for. Not as large as some, it has a 6-quart capacity, but plenty big enough to cook an amazing meal.
This Crock-Pot's programmable panel is simple in design with an adjustable digital timer that allows you to set your cooking time from 30 minutes to 20 hours. Once your timer runs out, the slow cooker automatically switches to Warm.
The Crock-Pot has a removable classic lid handle but what is most unique about this slow cooker is its iStir Automatic stirring system. Not only will this device cook all day, but it will also stir all day to keep even cooking. You simply need to prepare the ingredients, set your cook time, then attach the motor housing with the proper paddle. It comes with two paddles, a general-purpose and a stew paddle. The paddles start with an initial 2-hour delay, then stirring commences automatically every 30 minutes.
PRICE – $150.00 on Amazon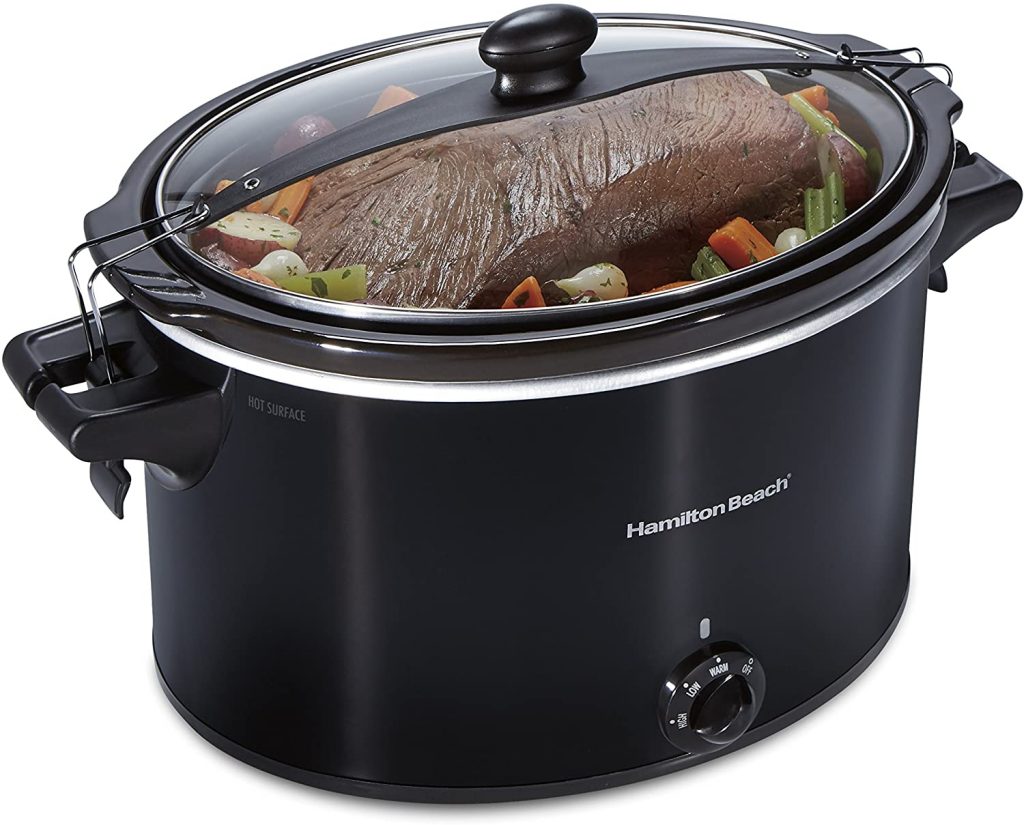 WHAT WE LIKE – This Hamilton Beach slow cooker is a beast. It can hold up to 10 quarts of delicious food (10 pounds of turkey or 12 pounds of roast). This Hamilton Beach model was built with large families in mind or a big tailgate party.
The set-up is more traditional as it has two temperature settings, low and high, and when cooking is complete, you also have a "warm" setting. The slow cooker is outfitted with full-grip handles that have clips attached to keep the lid on tight if you are taking the cooker out and want to prevent messy spills.
Article continues below headlines
---
PRICE – $59.99 on Amazon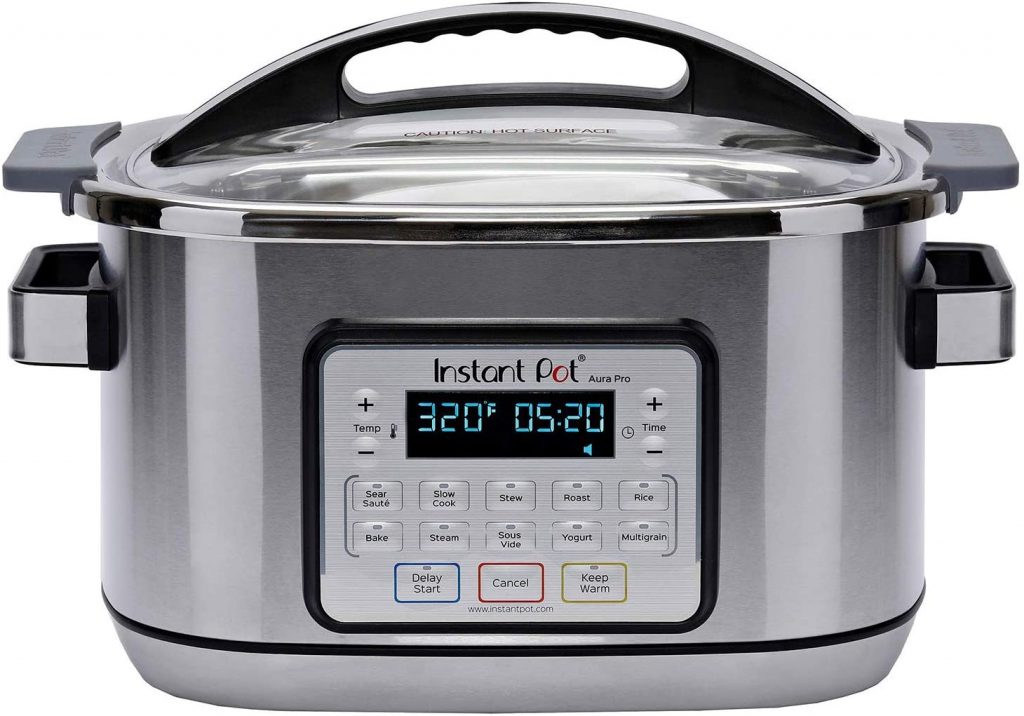 WHAT WE LIKE – There is pretty much nothing to dislike about Instant Pot's slow cooker. Like Crock-Pot's advanced slow cooker, this one maybe even more advanced. The cooker holds 8 quarts in its oval design that comes with a clear lid so you can visually monitor progress without having to open the lid.
Instant Pot's slow cooker is also a "smart" cooker. It has 11 smart programs – sear-sauté, bake, slow cook, steam, stew, sous vide, roast, yogurt, rice, multigrain, and keep warm – that allow you to cook a whole bunch of goodies.
You can program the slow cooker to delay its start for up to 24-hours and once cooking is complete, the cooker will automatically switch to warm-mode to keep foods ready to serve when you are ready.
PRICE – $107.44 on Amazon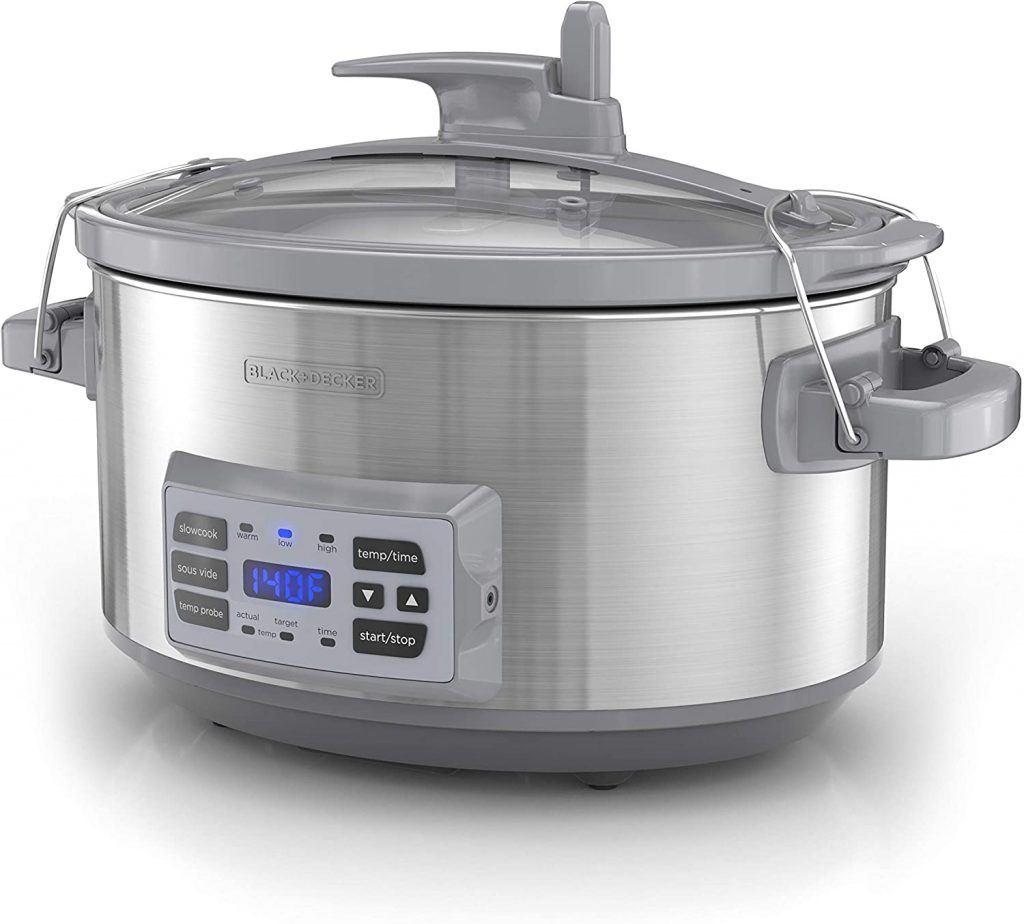 WHAT WE LIKE – Leave it up to Black+Decker to come up with an even more sophisticated slow cooker. This impressive device can hold up to 7-quarts of slow cooking morsels. From there, hi-tech kicks in, and cooking becomes quite simple.
The digital control panel easily allows you to set the temp from low to high and warm when needed. This slow cooker also has a temperature probe, and you can manually set the temperature so when you insert the probe into the selected cut of meat, the slow cooker will hit that temperature for your desired level of doneness. It will then switch heat cycles to hold your food at that temperature level.
To make this slow cooker even more impressive, it also comes with a Sous-Vide function. Just place the Sous-Vide rack inside the cooker, put the meat inside the disposable bag (two are included), and let the slow cooker work its magic. For the price, this truly is one impressive slow cooker.
PRICE – $65.31 on Amazon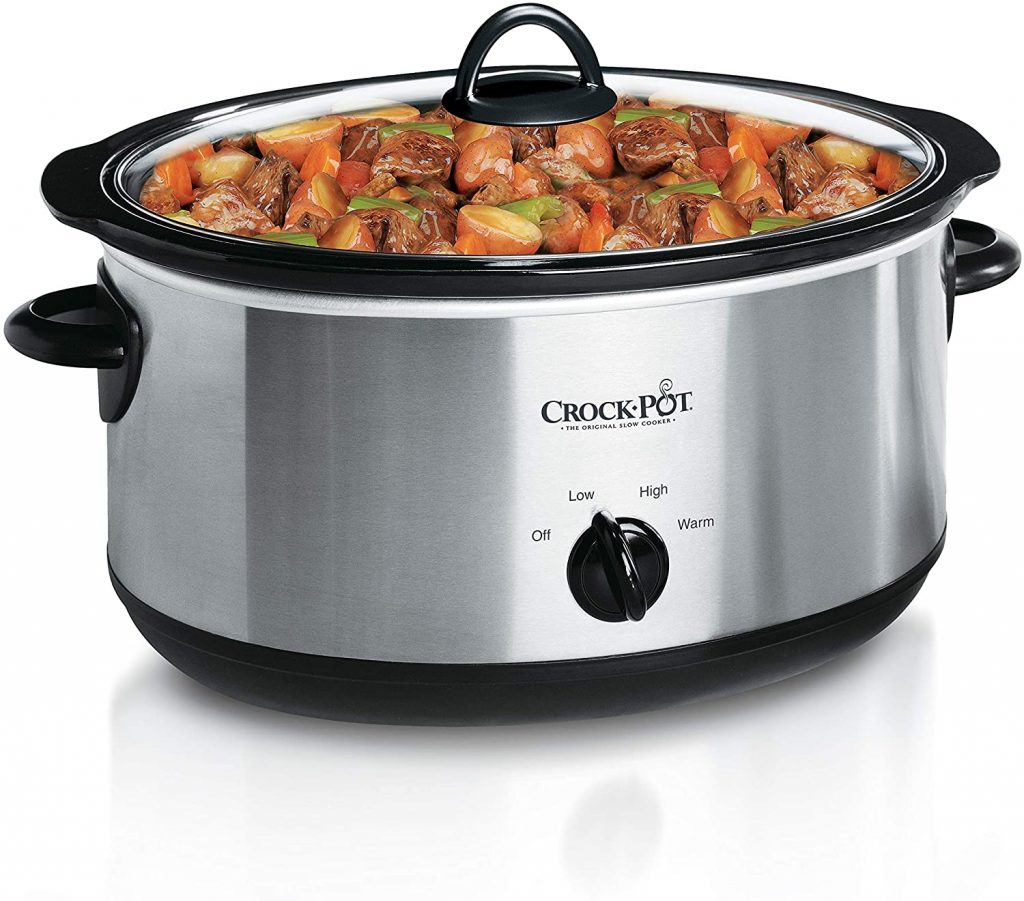 WHAT WE LIKE – Back to where it all started with this Crock-Pot original. It's a simple set-up, one we are all familiar with.
Two cook settings can be had – low and high – and when all is done, you can then switch over to warm. It's that easy. The original Crock-Pot comes with a dishwasher-safe lid and a removable stoneware pot for easy cleaning. You can never go wrong with the original and the price reflects this.
PRICE – $37.70 on Amazon
FINALLY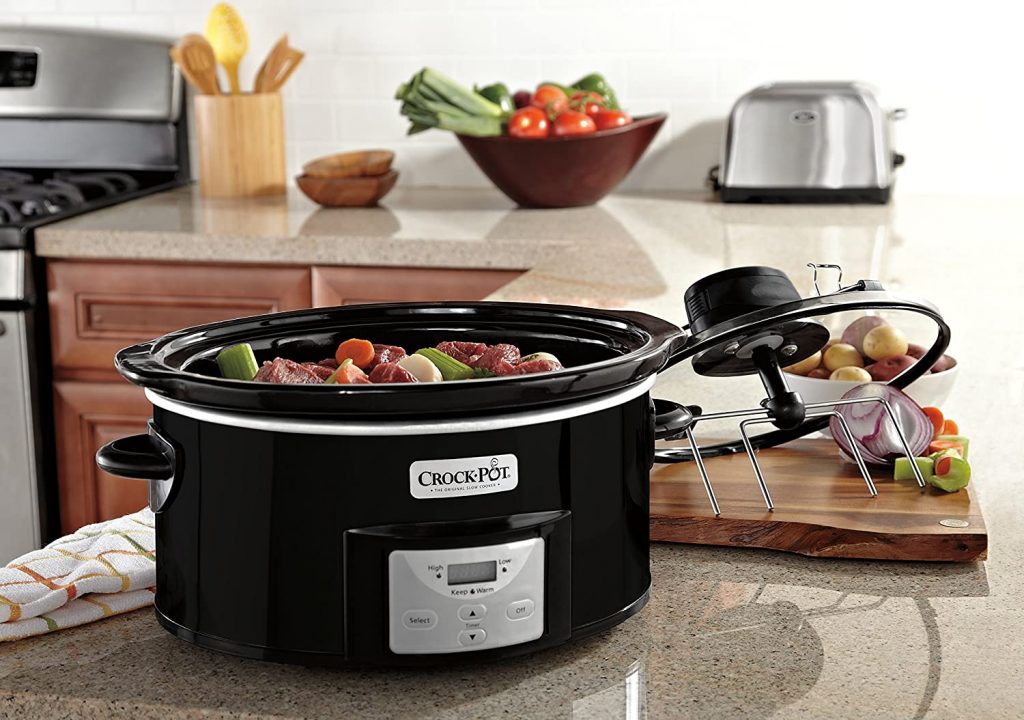 When it comes to slow cookers, why not a Crock-Pot? You can stay old school with one, or you can go hi-tech. Truthfully, the other abovementioned brands offer just as much, if not more in some cases, that a Crock-Pot does, so maybe it will come down to price.
However you decide, slow cookers can be lifesavers. Less fuss and muss, you'll be thankful you decided to invest in one.