Arby's teamed up with Brain Brew Custom Whiskey in Newtown, Ohio to create its own Smoked Bourbon Whiskey which will be available exclusively through the chain's website beginning on October 19, 2022.
Arby's, the fast food establishment famous for its roast beef sandwiches and "We have the meats" slogan, is releasing its next boozy beverage. Arby's Smoked Bourbon will go on sale exclusively on its website on Wednesday, October 19 at noon ET. It will be followed by a second product drop, so fans who miss the first one are encouraged to sign up for an Arby's membership to receive notification prior to the second drop happening.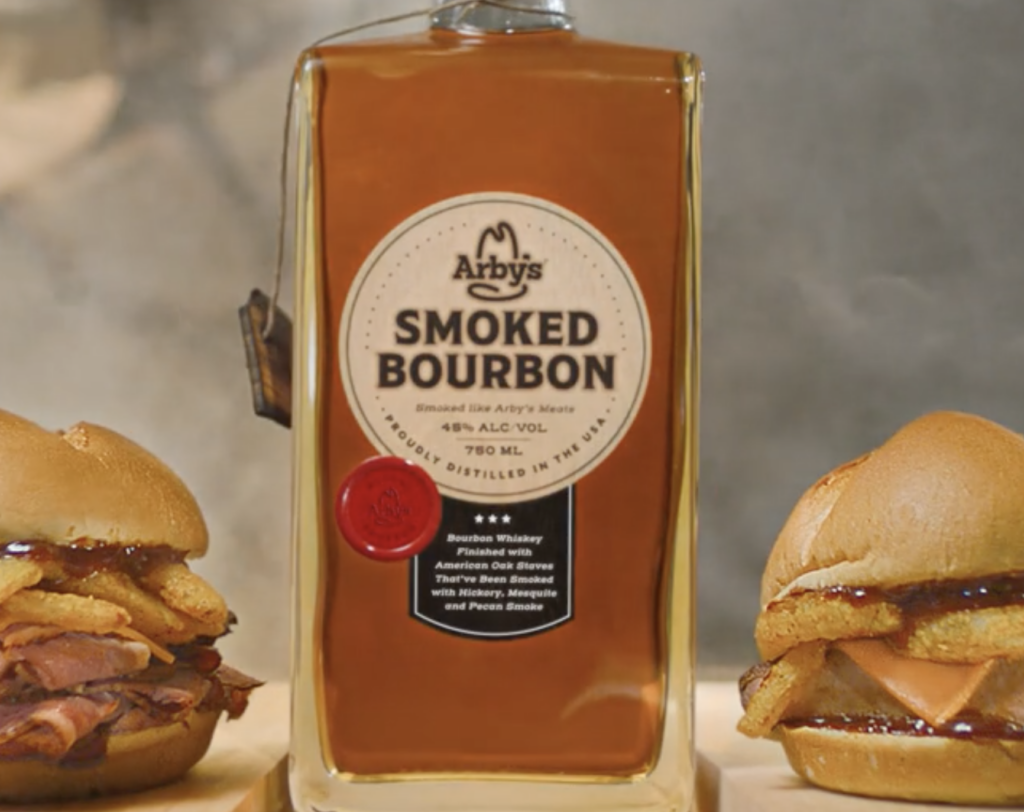 Arby's Smoked Bourbon is a 90-proof, woodcraft-finished bourbon bottled by Brain Brew Custom Whiskey in Newtown, Ohio. Arby's says that the flavor was inspired by the chain's 13-hour smoked brisket sandwich and the limited edition, 8-hour smoked pork country-style rib sandwich. Arby's signature smoke flavor is generated at Sadler's Smokehouse in Texas and consists of a combination of real hickory, mesquite, and pecan wood.
Brain Brew Custom Whiskey adds American oak to Arby's signature wood smoke combination to create each batch of Arby's bourbon. Whiskey experts place Arby's smoked oak in the bourbon, then use a patented WoodCraft finishing process that involves heating and cooling the brew to replicate seasonal temperature variations.
Brain Brew CEO and co-founder Doug Hall said, "We take pride in the hours of research, detail and innovation that goes into creating custom bottles of bourbon for our collaboration partners as well as consumers and enjoyed recreating one of Arby's signature flavor profiles using the same smoked woods that they use at Sadler's Smokehouse."
Though some believe that such collaborations are simply a clever marketing stunt, Arby's bills it as an opportunity to bring its expertise in meat smoking to bourbon. Jim Taylor, president of Arby's, said, "After our successful vodka launch last year, we knew we wanted to release another unexpected liquor that our fans of legal drinking age can responsibly pair with our menu items. Arby's smoked meats are the cornerstone of our brand, so why not use our expertise to create a delicious smoked bourbon that complements the flavors and enhances the experience of enjoying our Smokehouse Sandwiches?"
Arby's Smoked Bourbon will cost $60 plus tax and shipping, and consumers can also buy a wooden individual cocktail smoker shaped like the chain's iconic brown hat for $50 plus tax and shipping. The Lil' Smoker comes with Arby's signature wood chips and is designed to fit on top of a whiskey glass. Although the website's photo shows the hat-shaped smoker atop an Arby's branded whiskey tumbler, it's unclear whether the glass is included with each smoker purchase.
Unfortunately, Arby's exclusive smoky bourbon is only available to residents aged 21 and over living in California, Colorado, Florida, Kentucky, New Hampshire, New York and Washington DC. So if you don't live in one of those seven regions, perhaps ask a friend to order a bottle for you. However, your friend will need to act fast as the smoky liquor is expected to sell out quickly.
Arby's first foray into branded alcohol happened in 2021 when the company released curly fry and crinkle fry flavored vodkas. The two separate flavors both sold out within two minutes, and collectors are still paying $125 for empty bottles on eBay. Other fast food chains that have ventured into the craft beverage world include Hardee's with its Strawberry Biscuit Ale and Sonic's line of hard seltzers and slushes.
If you miss out on Arby's Smoked Bourbon or the Lil' Smoker hat-shaped custom cocktail smoker, you can still try to recreate similar smoky booze at home. Just buy a cocktail smoker kit and experiment with different combinations of alcohol and wood smoker chips. This kit from Amazon includes apple, cherry, hickory, and pear wood chips plus all the equipment needed to quickly make your own personal brand of smoked bourbon, vodka, gin, tequila or rum.
---