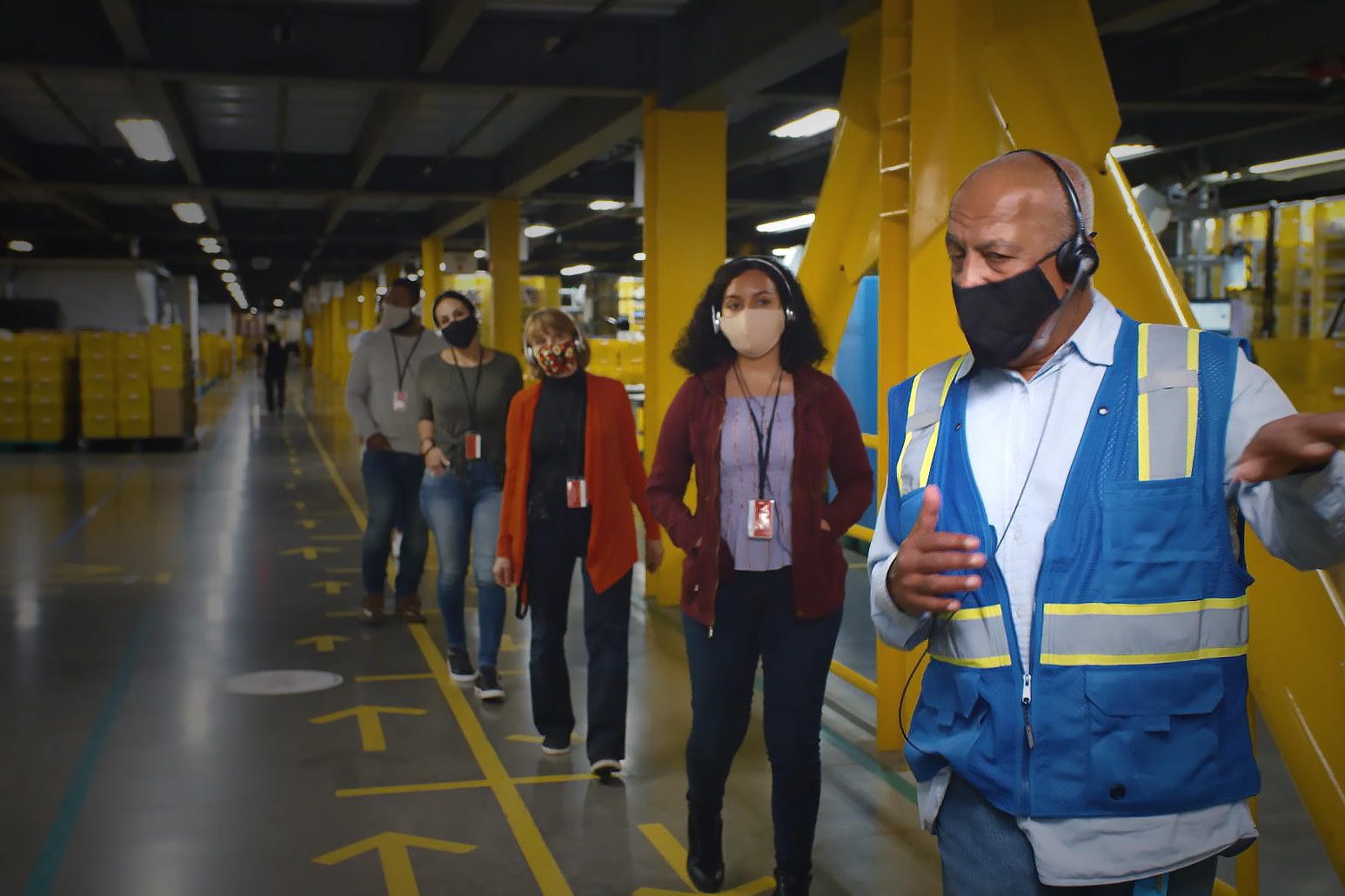 Want to get people back to work? Amazon has a solution. Pay employees' college tuition.
The E-commerce giant has just announced that it will now offer its Amazon workers, which equates to over 750,000 hourly employees, 100% coverage of their college tuition.
Beginning in January 2022, Amazon will now cover not only tuition costs but also said they will cover fees and textbooks as well. This offer will be for the hourly employees in its operations network and will be available to them after completing 90-days of employment. Amazon worker's operations network includes a vast network of warehouses and huge distribution centers.
Previously, Amazon had offered to pay 95% of employee's tuition that also covered fees and textbooks, but this was for Amazon workers who were in their career choice program.
Along with the offer to cover college tuition, Amazon also said they will begin to cover high school diploma programs, GED's, and English-as-a-second-language certifications for their employees.
The college tuition benefit will apply to numerous educational institutions across the nation, though a finalized list has not been fully realized as of yet.
To take advantage of this benefit, an Amazon worker must continue working part-time or full time while taking their classes.
In the past, Amazon only offered this benefit to those Amazon workers working toward their two-year associate's degree. They also offered to cover the cost for those seeking certifications at partner schools such as Miami Dade College and the University of Maryland's online program.
With their new offer of adding a four-year degree tuition payment to Amazon workers, the e-commerce giant is joining other big businesses who have been dangling tuition payment carrots and higher pay in hopes of wooing potential workers back into the workforce.
Amazon's CFO Brian Olsavsky spoke to investors and analysts after Amazon's second-quarter earnings report and told them in order to lure in potential workers in the competitive labor market, higher costs will be seen.
"We're spending a lot of money on signing and incentives, and while we have very good staffing levels, it's not without a cost," Olsavsky said via CNBC. "It's a very competitive labor market out there."
The battle for bodies is intense as rival retailer giants like Target and Walmart are going all-in with their educational benefit offerings. Walmart announced in July that they would be dropping the $1 a day tuition fee their workers previously paid and now will cover tuition at 100%. They also will cover books costs. Walmart employs in the neighborhood of 1.5 million people.
Target rolled out their program in August for their more than 340,00 workers which cover 100% tuition and books at 40 of their partner schools. They also said they will pay n upwards of $10,000 a year for those looking to get their master's degree at any partner school.
But it isn't only college tuition that is so attractive. Amazon is now also offering potential Amazon workers a sign-on bonus of up to $3,000.
Amazon's big move, along with all the other big businesses, comes as the nation continues to deal with the back-to-work malaise gripping our country. According to the Bureau of Labor Statistics, in July there were 879,000 unfilled retail industry jobs. The Bureau also reported another 222,000 vacant positions within the transportation and warehouse industries.
Say what you will about the e-commerce giant, but Amazon is pushing its weight around to try and bring in more Amazon workers. To combat their own workforce shortage, they announced in May that they were looking to hire 75,000 new workers with an offer of raising starting rates from $15 to $17 an hour.
They don't plan on stopping there either. Along with their new college tuition announcement, Amazon said they plan to retrain 300,000 employees for higher-skilled and fast-growing jobs within the company. This pledge will take place over the next four years and replaces an earlier edict of Amazon wanting to train 100,000 Amazon workers for new positions.
It is hard to argue with what Amazon and other big businesses are attempting. The workforce has been depleted for numerous reasons across the country, mainly falling pretty to the COVID pandemic. With many not feeling the push to climb back into the workforce (though that should change with Federal benefits going by the wayside), the hope here is that these added incentives will bring folks out of their COVID slumber.
Let's hope it works.