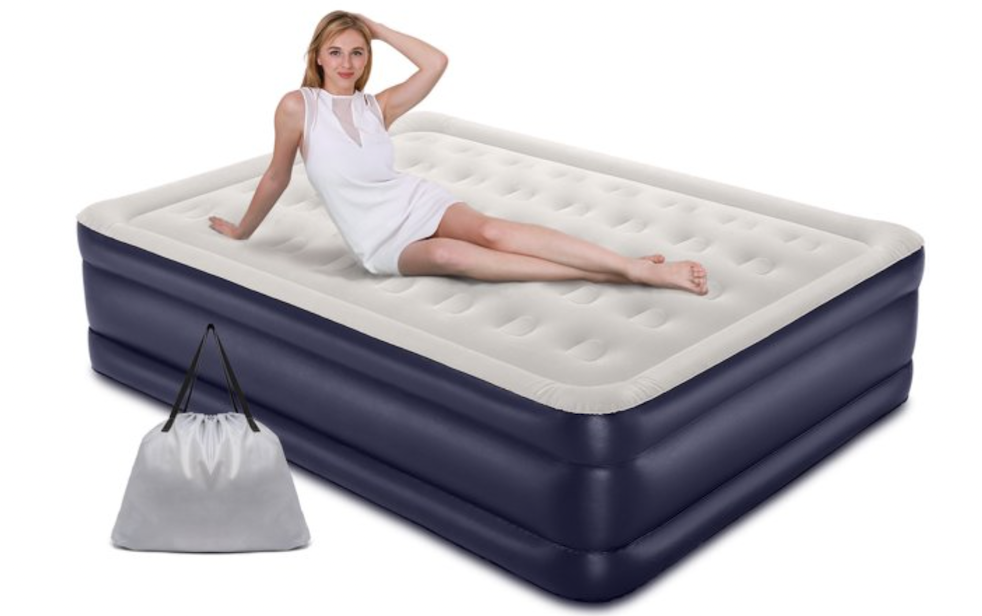 Whether it's for guests coming over for a weekend stay, camping for a bit out in the wild, or are moving and just needing a stop-gap to rest your pretty head on for a few nights, an air mattress from Walmart can be the perfect solution. Air mattresses have come a long way in recent years, improving in both quality and comfort. We are a long way from what your parents might have dusted off coming out of the basement when it was time to bring the family into town for the holidays. And now, there are tons of choices out there, coming at a variety of price points and costs, things you'll want to keep track of as you search for the best air mattress from Walmart.
Let's go through some of the ins and outs of air mattress purchases at Walmart, why you might be looking into these options, and what to consider when figuring out what bests suits your needs.
Can You Sleep On Air Mattress From Walmart Every Night?
Years ago this would have been probably been a firm "no" and we could have moved on with our lives. That's because, as stated above, air mattresses were often thin pieces of plastic you would nearly pass out blowing up with your mouth just to get a thin layer of softness between you and the living room (or forest) floor. But now these things have gone big-time, really stepping up the comfort game to the point that there are some air mattresses you simply can't even tell are inflated.
The more heavy-duty air mattress category from Walmart can be slept on every night if need be, though you will want to make sure you are consistently inflating them to ensure maximum pressure. Even the best air mattresses can lose PSI over time. But the good news is that many now come with easy inflating options that make topping them off before a night's sleep relatively easy to do all things considered.
How Much Weight Can It Hold?
This is sometimes the operative question, isn't it? Are we going to exceed the maximum poundage with our air mattress from Walmart? You'll want to have some idea of this before heading to the store or purchasing online. While there aren't set-in-stone numbers for the amount of weight an air mattress can hold, there are some round numbers that do start pushing maximum capacity.
In general, a good rule for an air mattress from Walmart is 400 to 500 pounds total. Now, that being said, this isn't just a total number, but one that should be (with every effort) distributed evenly across the air mattress. That means roughly 200 pounds per side of the air mattress if you are co-sleeping. And as much as possible, you will want to make sure there isn't an uneven distribution of weight on the air mattress. This means trying to make sure co-sleepers are relatively within the same weight range. If not, it can cause undue strain on one side o the air mattress.
What Are The Disadvantages Of An Air Mattress? 
We are going to go through some of the positives of sleeping (or at least owning) an air mattress from Walmart in a second here, but know there are some disadvantages as well. For starters, just by their nature, air mattresses won't offer quite the same support as a standard mattress because of how they stay inflated. This can mean that the body doesn't get the ideal or optimal support when sleeping on an air mattress, especially over long stretches. Again, these things have come a long way, but the best standard mattresses are still significantly better than any air mattress, something I think most people will understand as obvious.
Find An Air Mattress At Walmart
Intex 24″ Dream Lux Pillow-Top Dura-Beam Airbed Mattress with Internal Pump, King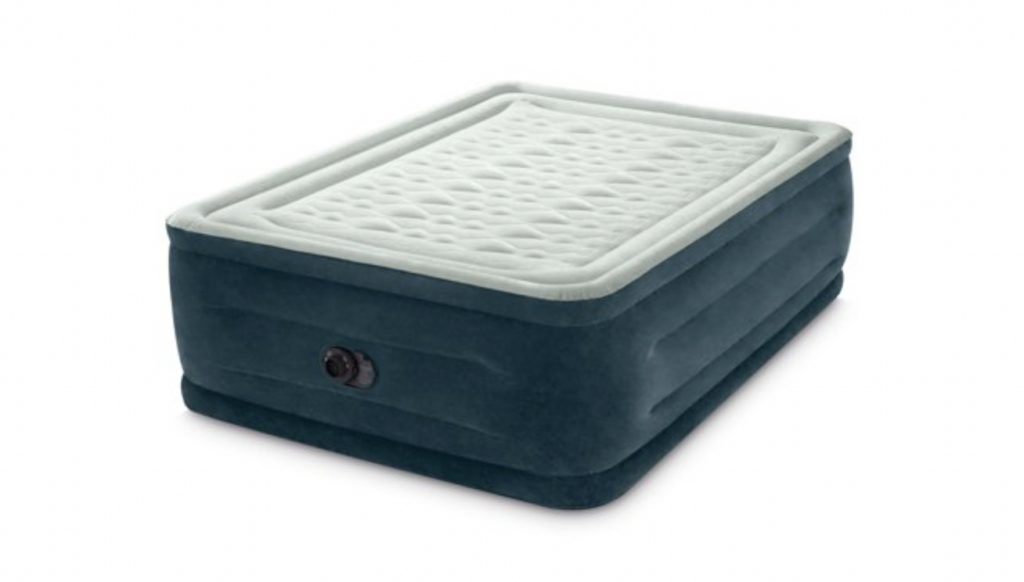 The Index Dream Lux comes in three sizes, King, Queen, and Full ranging in prices from the listed $119 all the way down to $69. This air mattress from Walmart comes with an easily storable, and portable carrying case for when it's at its fully deflated. And there is an internal pump that makes for easy inflating and deflating depending on the need. The internal pump can handle all of your needs from this perspective and the Dream Lux pillow top is also built for maximum comfort. Also, when it comes to weight limits, the King-sized version of this air mattress from Walmart is rated for 600 pounds, so if you are worried about some of the standard sizing then this is a way to step it up some.
Comfort Quest 20″ King Size Air Mattress with Built-in-Pump, Dark Blue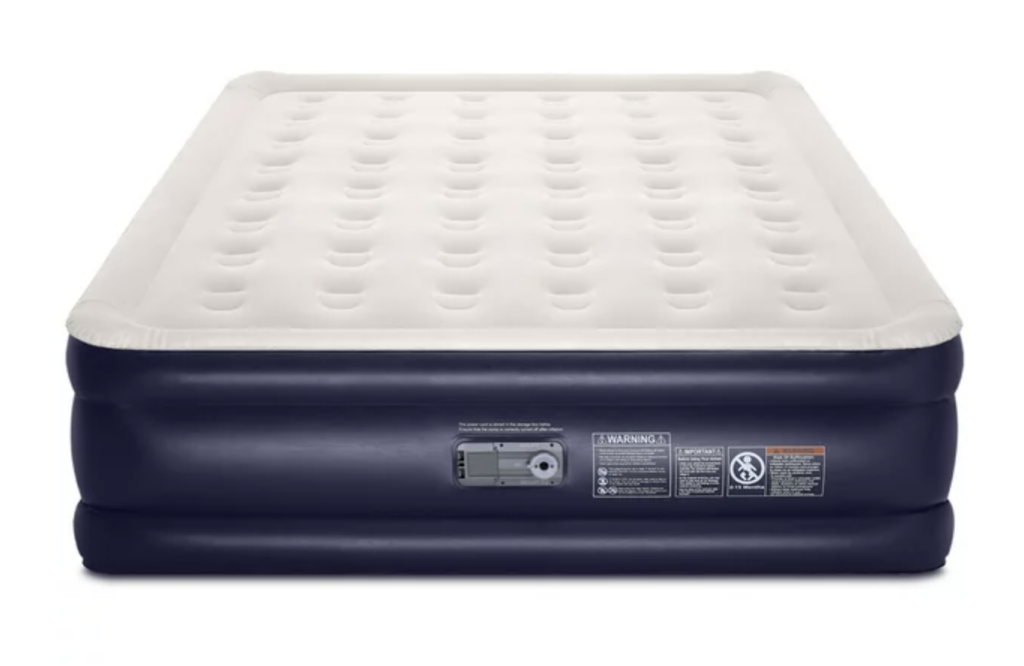 This brand also comes in three sizes, ranging from $57 to the listed $90. Also rated for 600 pounds like the Dream Lux, this one doesn't have quite the same comfort rating on the mattress top exterior. But the built-in pump will still help with inflating and deflating for all of your needs and there is a travel case as well. If you are looking to save a couple of dollars on the King-sized version then this could be the one for you seeing as how it has many of the same specs as the one listed above with only a slight decrease in quality.
EnerPlex Premium Dual Pump Luxury 13″ Queen Size Air Mattress Airbed with Built-in Pump Raised Double High Blow Up Bed, Queen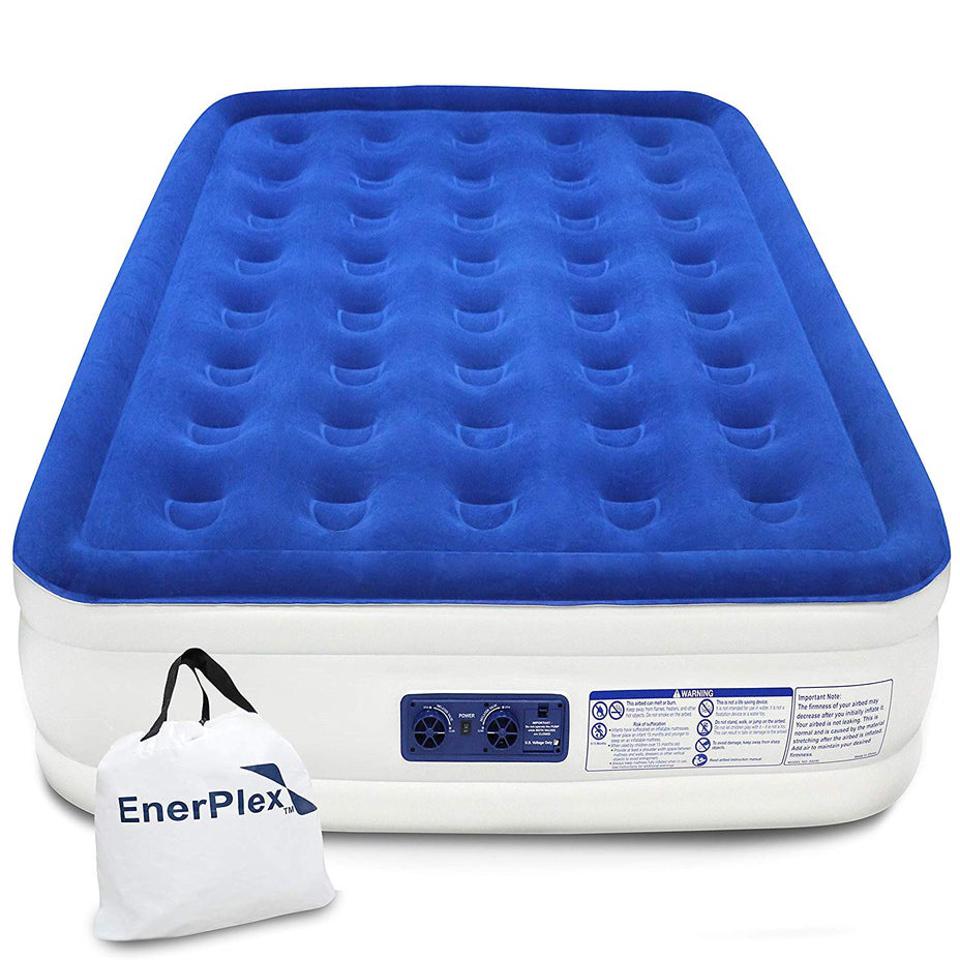 The EnerPlex isn't available in the King size right now so you'll have to settle for the Queen size in this excellent air mattress from Walmart. This waterproof air mattress has fantastic durability and is one of the reasons the price point is a bit higher even for a smaller size. And the double-high construction means that it sits a bit higher off the ground than your standard build. This is a good family air mattress, especially for kids who have some more energy and could do a little bouncing from time to time.
Bestway 12-inch Queen Air Mattress with Built-in Pump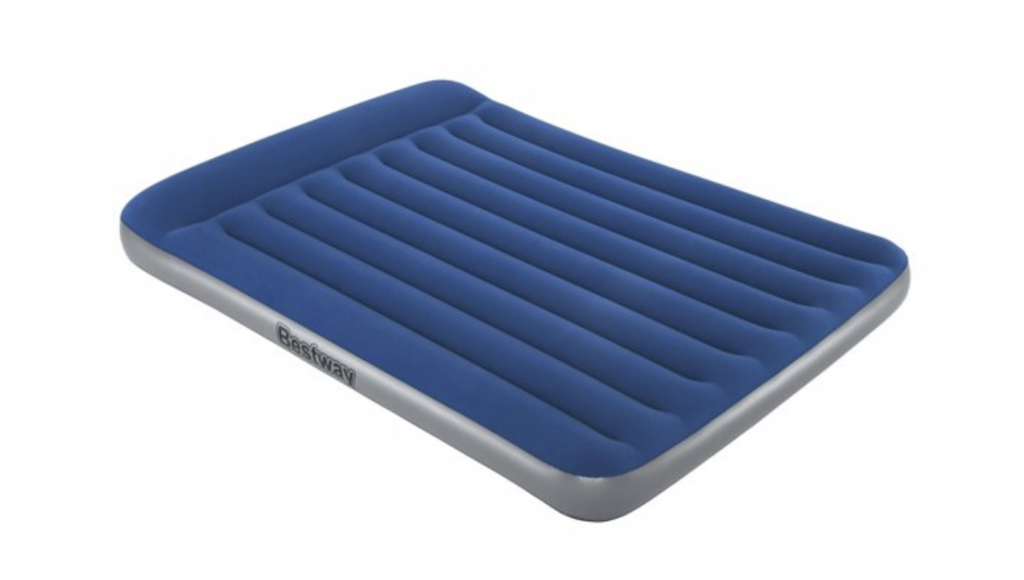 If you are looking to go a little cheaper and easier with your air mattress from Walmart. This Bestway 12-inch is a camping go-to because it doesn't take up much space, can be packed easily, and has a built-in pump so you won't be straining when inside the tent. It's a quick rollout option that won't break the bank on you at all.
Intex Durabeam Headboard 18-inch Twin Air Mattress with Built-in Pump
Wanting to stay a little classier with your air mattress from Walmart? No problem there because the Intex Durabeam with headboard has you covered. This one works for those who might want to sit up more in bed, or have something to lean against before settling down for the evening. The headboard inflates the same way as the rest of the air mattress, providing comfort and just a little something different than the other standard options.
Article continues below headlines
---
—
In all, the air mattress selection from Walmart is a large one and these are just a few of the many options either in-store or on the website. No matter what your needs, there are plenty to choose from and you are sure to find a size, comfort level, and price point that will work into any of your plans.