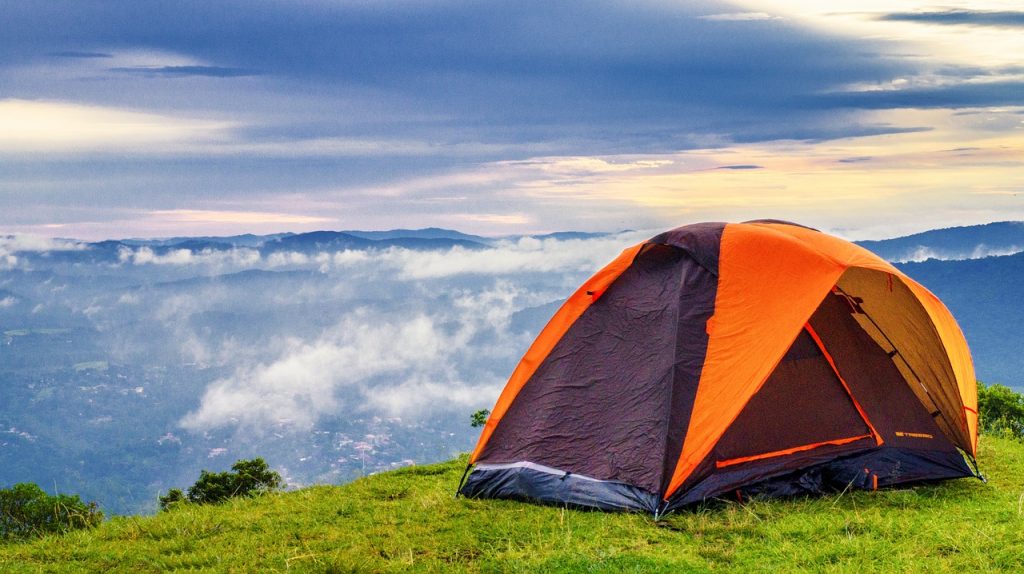 Have you ever had those days when you feel like you just need to escape the clutches of society? Have you ever felt an overwhelming urge to break free of modern conveniences and get closer to nature? You are not alone. We all live in an age where we are constantly being bombarded by external stimuli. From phones and tablets to televisions and gaming consoles, and all of the notifications and screen time that accompanies those things, it's easy to feel like you're being swallowed by a sea of technology. One of the ideal remedies to this sensation of being overtaken by the world is to get away and reconnect to the natural beauty that exists all around us. And the best way to do that is to visit one of the United States' awe-inspiring camping destinations.
From coast to coast and north to south, the US is littered with a plethora of absolutely stunning camping destinations. From jaw-dropping vistas that will take your breath away to serene overlooks that capture the true essence of nature, there are camping locales suited to every person's favorite parts of true wilderness. So, for those times when you really need to get away from it all, we've picked out the best camping destinations for you to pitch your tent and get busy unwinding.
CRATER LAKE NATIONAL PARK, OREGON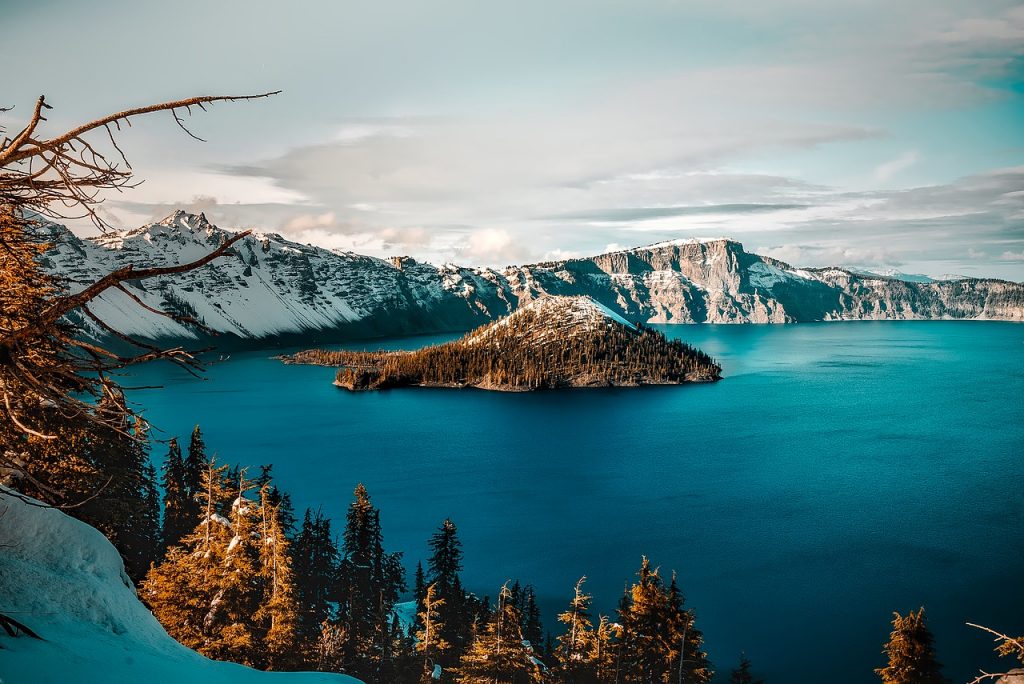 WHY IT'S THE BEST – Crater Lake National Park is an absolute treasure that you have to see in order to truly appreciate its utter splendor. Crater lake was formed after an eruption occurred within the mountain it sits atop, over 7,700 years ago. The eruption caused a caldera to form, and over time rainfall and snow accumulated in the basin to form a lake, and an all-out stunning lake, at that. Crater lake is known for its alluring blue color and pristine clarity.
There are two campsites at crater lake from which to choose, Mazama (named for the mountain it's on) and Lost Creek. Mazama can accommodate both RVs and tents. Lost Creek only allows tents. For the seasoned adventure goers, you can also apply for a permit to camp in the backcountry. There are loads of ways to experience the natural setting at Crater lake. In the summer months, there is a slew of trails to explore where you can spot wildlife and wildflowers native to the area. There are also options to bike, fish, and even swim.
In the winter months, skiing, sledding, snowshoeing, snowboarding, and snowmobiling are all popular activities. However, camping is only allowed in the warmer months at Crater Lake. The one exception is if you have an authorized backpacking permit, which is available for free at the Ranger Station at the park's headquarters.
DENALI NATIONAL PARK, ALASKA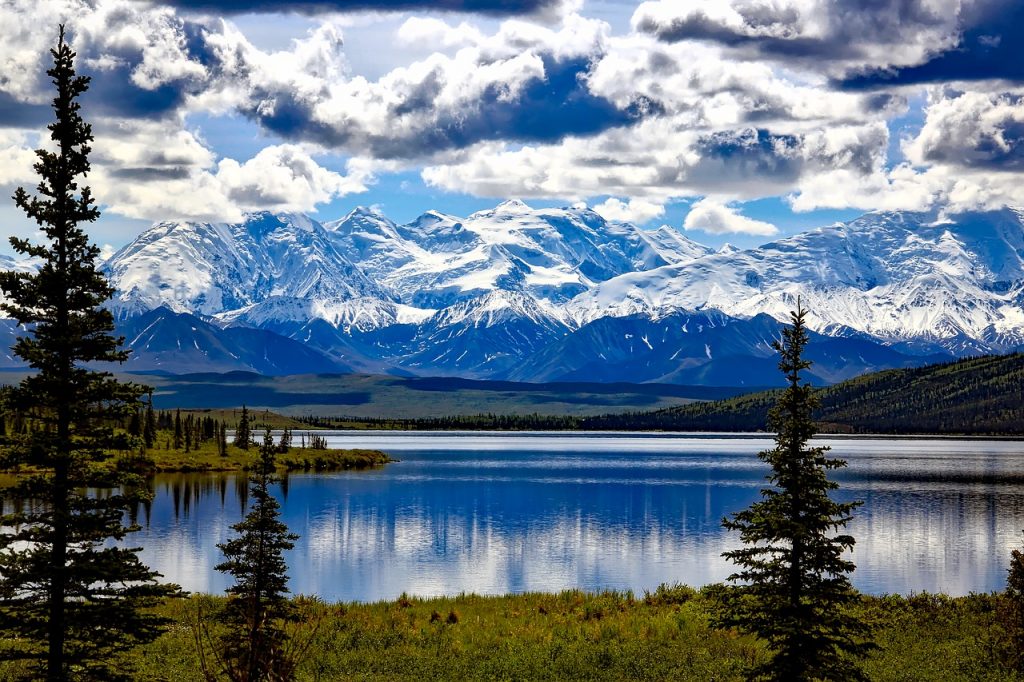 WHY IT'S THE BEST – Alaska is home to some of the most breathtaking unbridled wilderness in the entire country. You really can't truly know nature and not have been to Alaska. Denali National Park is a camping destination that wonderfully encapsulates the true essence of Alaska's wild. The park is comprised of 6 million acres of untouched, protected land and is home to North America's tallest peak which sits at an altitude of over 20,000 feet.
Denali National Park is the camping destination to choose if you are serious about really getting away from it all. There is only one entrance and one road in and out of the park and there are no lodges or hotels anywhere to be found in or around the park. There are six different campgrounds to choose from. Igloo Creek, Wonder Lake, and Sanctuary River campgrounds only allow tents. Riley Creek, Savage River, and Teklanika River campgrounds can accommodate both tents and RVs. Riley Creek is the only campground open year-round, the others are only open seasonally during the warmer months.
Popular things to do at this camping destination include hiking (self-led or with a tour guide), backpacking, catching up-close glimpses of wildlife, and biking. In the winter months, there is cross-country skiing, snowmobiling, and opportunities to witness the aurora borealis first hand. Other must-dos include checking out the park's working Sled-dog kennel and taking a flight-seeing trip aboard a plane to experience the park's sheer grandeur in the sky!
ADIRONDACK PARK, NEW YORK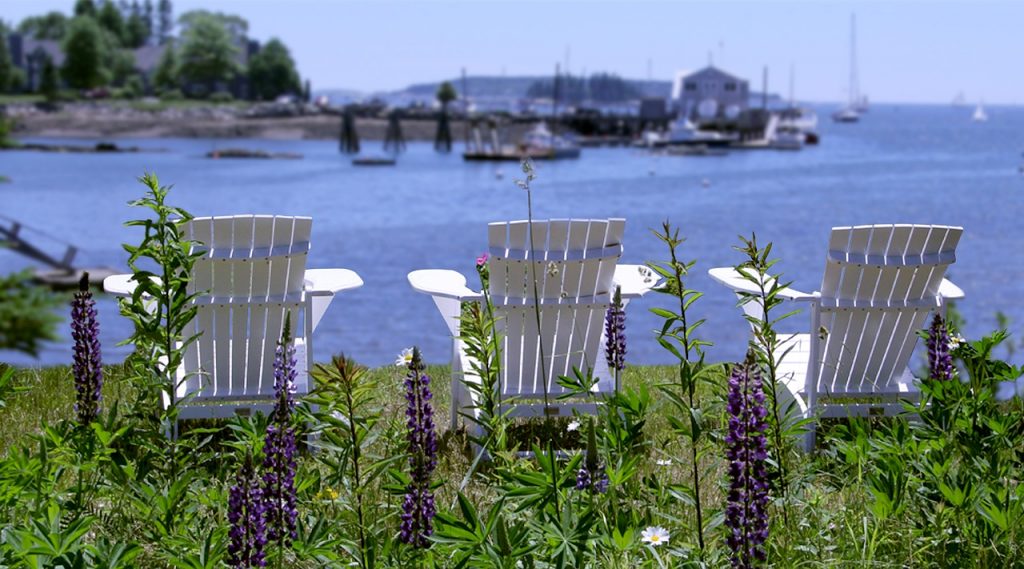 WHY IT'S THE BEST – Adirondack Park is the largest protected land area in the continental United States. It spans a glorious six million acres with scenery spellbinding enough to stop you dead in your tracks. It is home to an impressive 3,000 different lakes and boasts over 30,000 miles of rivers. Adirondack Park is unique in that it is not an official national park. It is partially regulated by New York State. The remaining parts are regulated privately by the Adirondack Park Agency. In addition to its unparalleled beauty, since the park is not an official national park there is no entrance fee and it never closes, which only makes it an even better camping destination.
Only adding further to the fact that this is one of the nation's premier camping destinations, is that there are loads of ways and places to actually go camping within it. There is a slew of traditional campgrounds to choose from that allow both tents and RVs. Blue Jay Campsite and Limekiln Lake Campground are two of the more notable. Island camping at various sites within the park is also very popular. Lake George is among one of the most visited spots. For those looking for a more plush camping experience, there are also tons of glamping locations to book, too.
There is a virtually infinite number of things to do at this camping destination in every season. In the warmer months, there is hiking, paddling, whitewater rafting, canoeing, kayaking, fishing, and birdwatching, just to name a few. In colder weather, there are plenty of options to ski, snowboard, snowmobile, and even ice-climb.
Article continues below headlines
---
ARCHES NATIONAL PARK, UTAH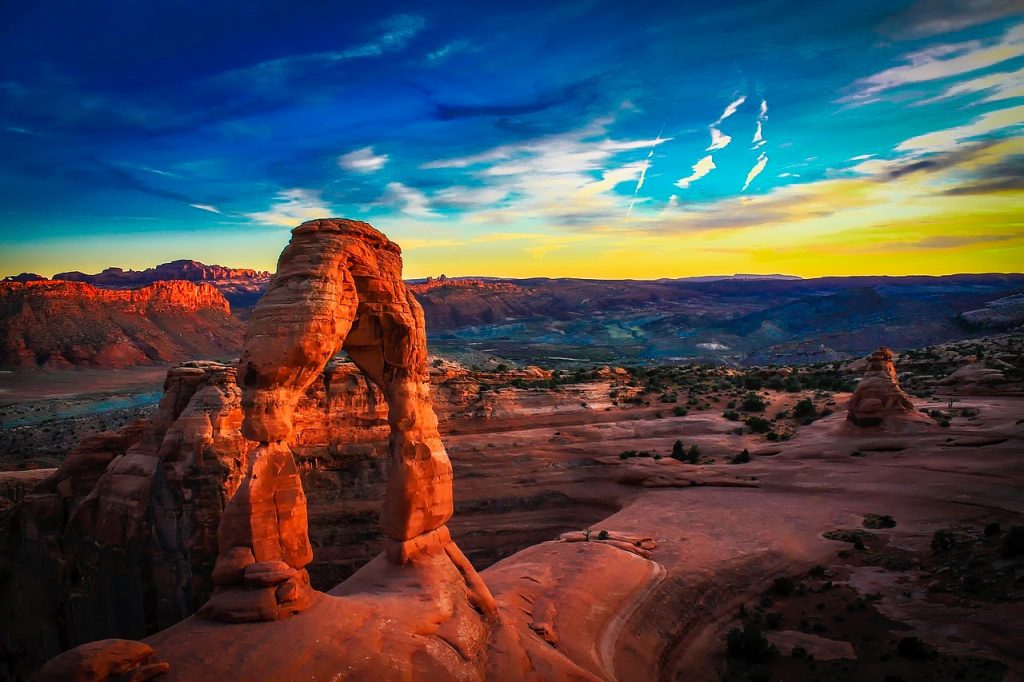 WHY IT'S THE BEST – Arches National Park is the pinnacle example of one of nature's masterpieces. The over 2,000 arches seemingly deliberately strewn about the park's vast expanse hail back nearly 65 million years. The natural history that surrounds these structures is almost palpable and makes it one of the best camping destinations that should be on everyone's bucket list.
There is one campground within the park, Devil's Garden, that boasts over 50 campsites to pitch your tent at. Between March 1 and October 31 reservations are necessary to stay overnight, however, between November and February all spots are first come first serve. There are loads of hiking opportunities in and around the park but Delicate Arch Trail is an absolute must to traverse. The Arch Trail takes you past some of the most awe-inspiring natural structures in the entire park. Other cool things to take advantage of during your stay at this camping destination include canyoneering, horseback riding, biking, and rock climbing.
ASSATEAGUE ISLAND NATIONAL SEASHORE, MARYLAND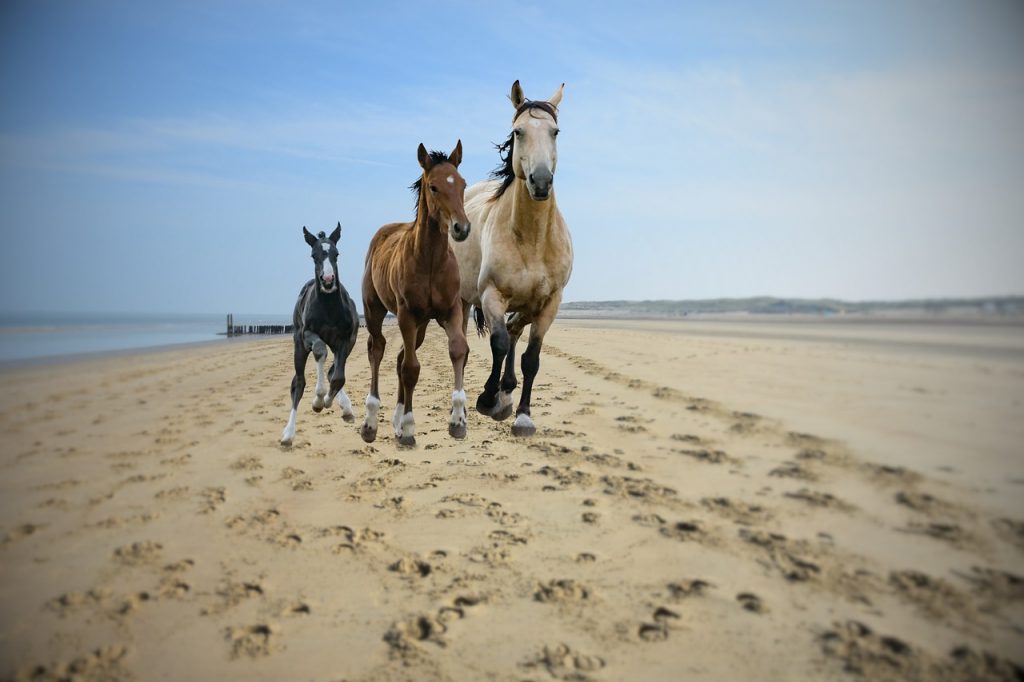 WHY IT'S THE BEST – There might be no better way to experience the allure of the Atlantic Ocean than by visiting this camping destination. It is a barrier island characterized by sandy beaches, marshes, and maritime forests. A vast array of wildlife calls the area home including various species of birds. However, the big draw to camping on this whimsical island is its wild horses.
The herds of horses that call the island home are decedents of those first brought over by the Assateague Indians in the 17th century who were looking to escape colonization. These horses are truly a sight to behold. There is just something so innately moving about watching them thrive in their natural states, as they gallop blissfully along the shoreline. If the wild horses weren't reason enough to visit this camping destination, you can also go crabbing, surf fishing, hiking, biking, and birdwatching. There are a plethora of different campgrounds open from November thru March, both ocean and bayside.
THE CONCLUSION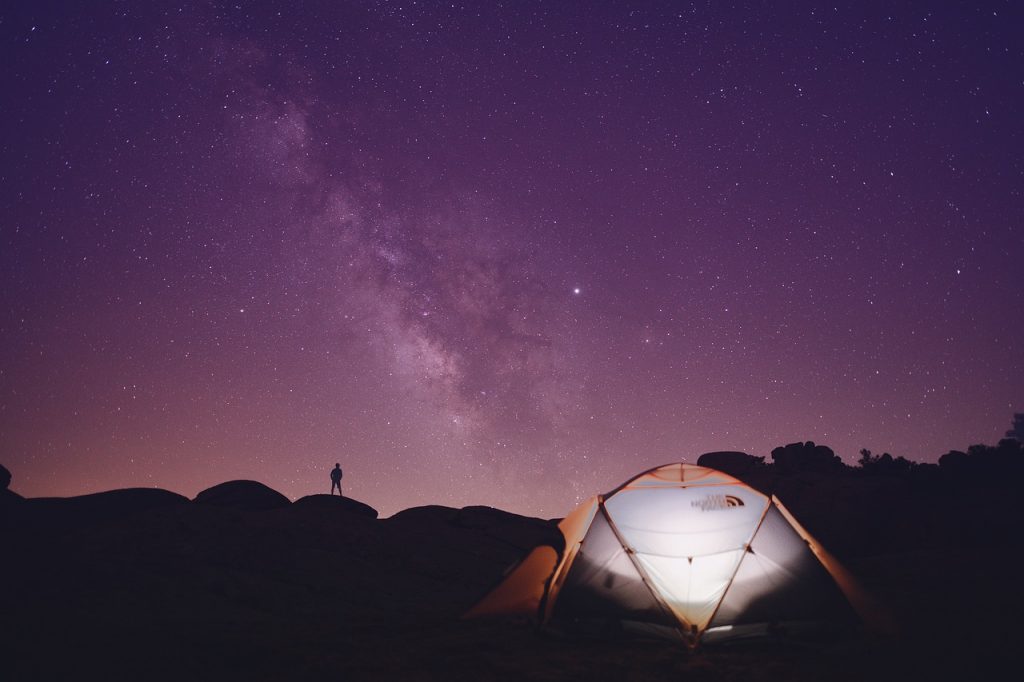 We really are just scratching the surface with some of the best camping destinations we recommended above. I would be remiss if I didn't mention a few more that are well worth checking out. Some other top camping destinations include Olympic National Park in Washington State, Sequoia and Kings Canyon National Park in California, Grand Canyon National Park in Arizona, and Gunnison National Forest in Colorado. Nature is truly calling to you with so many great camping destinations to discover. So get out there, and get in touch with your inner wild.